5-Ingredient Pumpkin Bread
Embrace the simplicity of our 5-Ingredient Pumpkin Bread. It's not just easy to make – it's a delicious treat, lovingly crafted from whole ingredients.
Love fall desserts? Try our Easy Apple Tart, Pumpkin Sheet Cake, or Healthy Pumpkin Bread.
Jump to:
Reasons to Love This Recipe
Easy Recipe – You only need 5-ingredients to make this delicious pumpkin bread!
Fall Flavors – A little pumpkin spice is added for that warm, comforting aroma that embodies the fall season. Love pumpkin? Try our Pumpkin Pasta Sauce.
Wholesome – This pumpkin bread is made with wholesome ingredients, ensuring every bite is light, fluffy, and good for you.
One-bowl – A one-bowl recipe – meaning cleanup is a breeze. Easy to make ahead and freeze for later – just like our chocolate chip pumpkin muffins!
Ingredients
Grab all the simple ingredients you need for this easy pumpkin bread recipe at your nearest supermarket: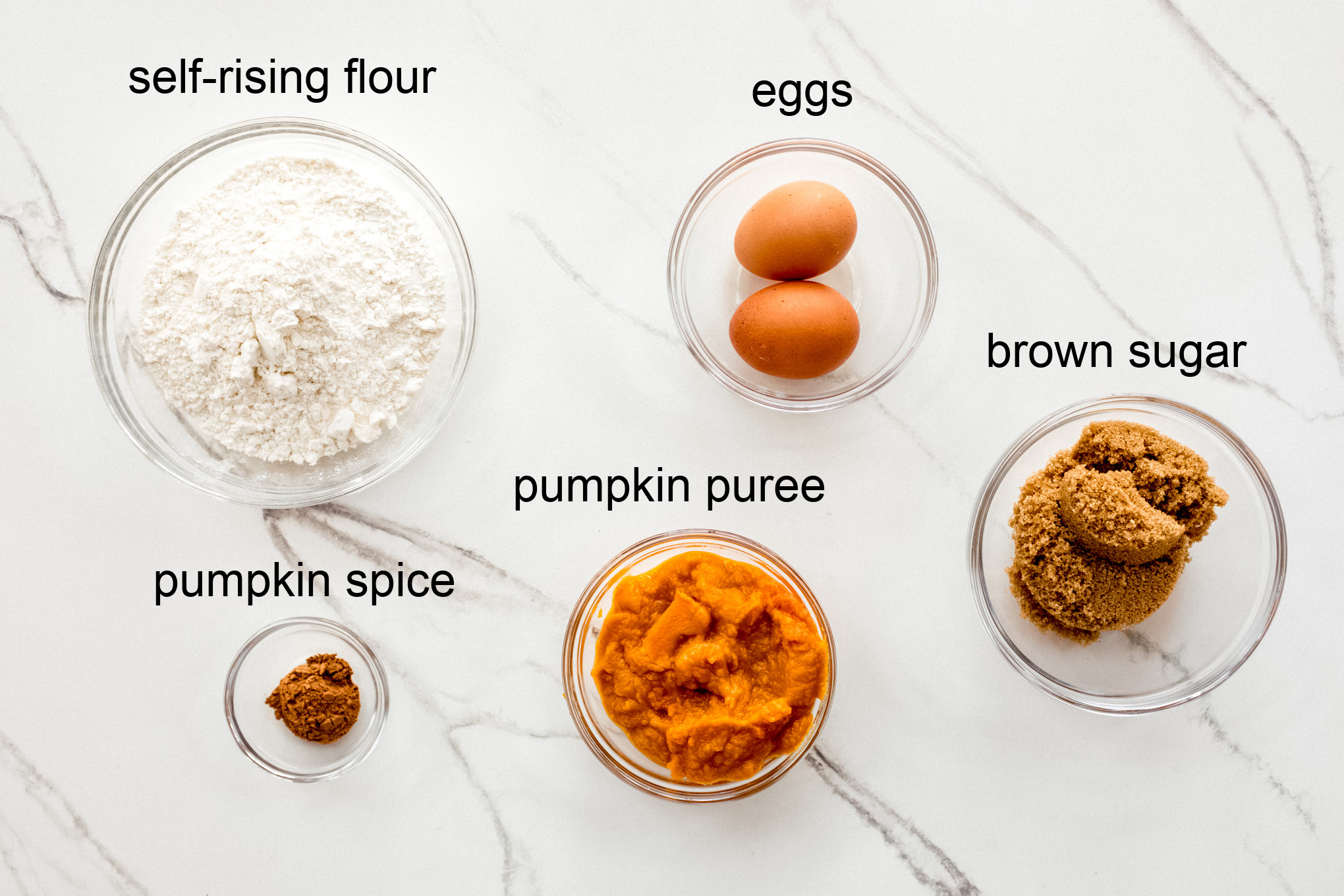 Pumpkin puree: The heart of the bread, giving it a moist texture and distinct pumpkin flavor.
Self-rising flour: The key ingredient that makes this recipe so quick and easy.
Eggs: Bind the ingredients together and help the bread rise.
Pumpkin spice: A blend of cinnamon, nutmeg, cloves, and ginger – those warm spices we all love.
Brown sugar: Adds a deep sweetness with a caramelized touch and makes the bread moist.
See the recipe card for full information on ingredients and quantities.
Variations
Personalize your delicious pumpkin bread recipe with these suggestions:
Glaze: Really make your bread special with a cream cheese frosting glaze or even cream cheese frosting like in our pumpkin sheet cake.
Vegan: Want vegan pumpkin bread? No problem! Use ground flaxseed or chia seed with water instead of eggs.
Vanilla: A dash of vanilla extract can amp up the flavor.
Add-ins
Elevate your pumpkin bread with these enticing add-ins:
Pumpkin seeds: For a thematic touch and a burst of added crunch, sprinkle some on top before baking.
Chocolate chips: Compliment the pumpkin flavor beautifully.
Chopped walnuts: Some added crunch and a nutty taste.
Dried fruit: Fruits like dried cranberries or raisins add a tart sweetness and chewy texture.
How to Make
Want a slice of moist pumpkin bread? Just follow these easy steps. For a detailed guide, see the recipe card below.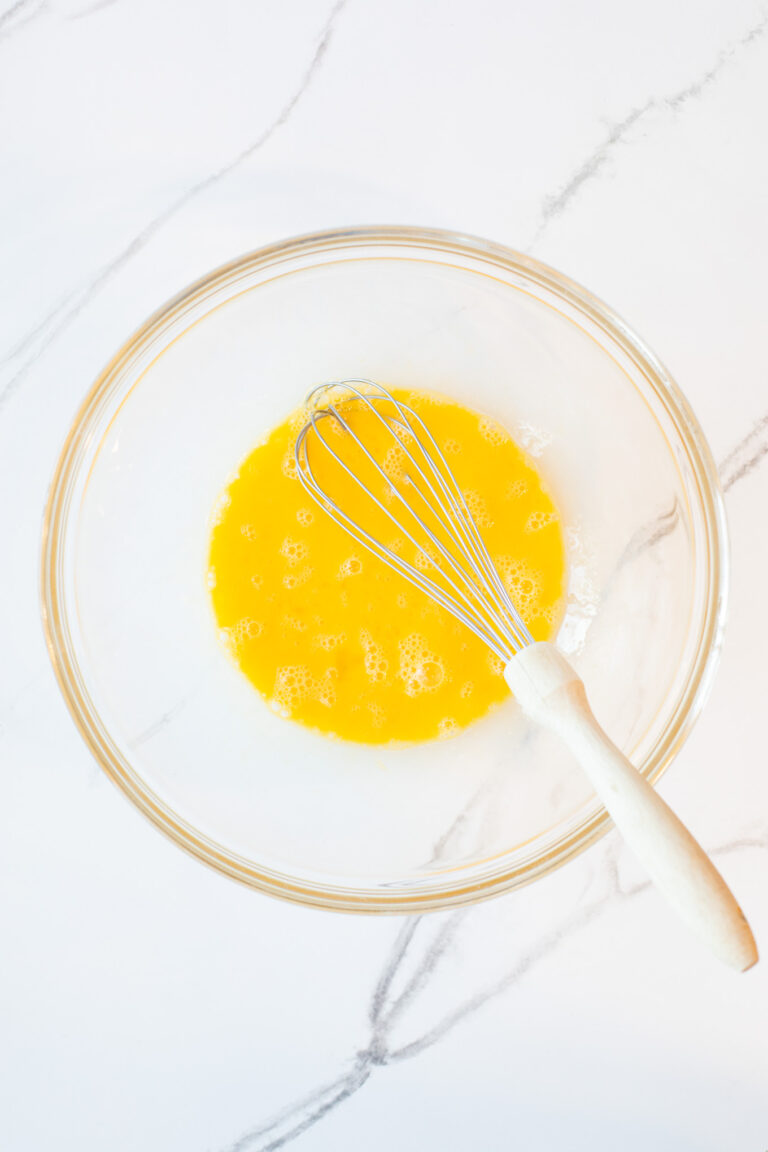 Step 1: In a bowl, whisk the eggs.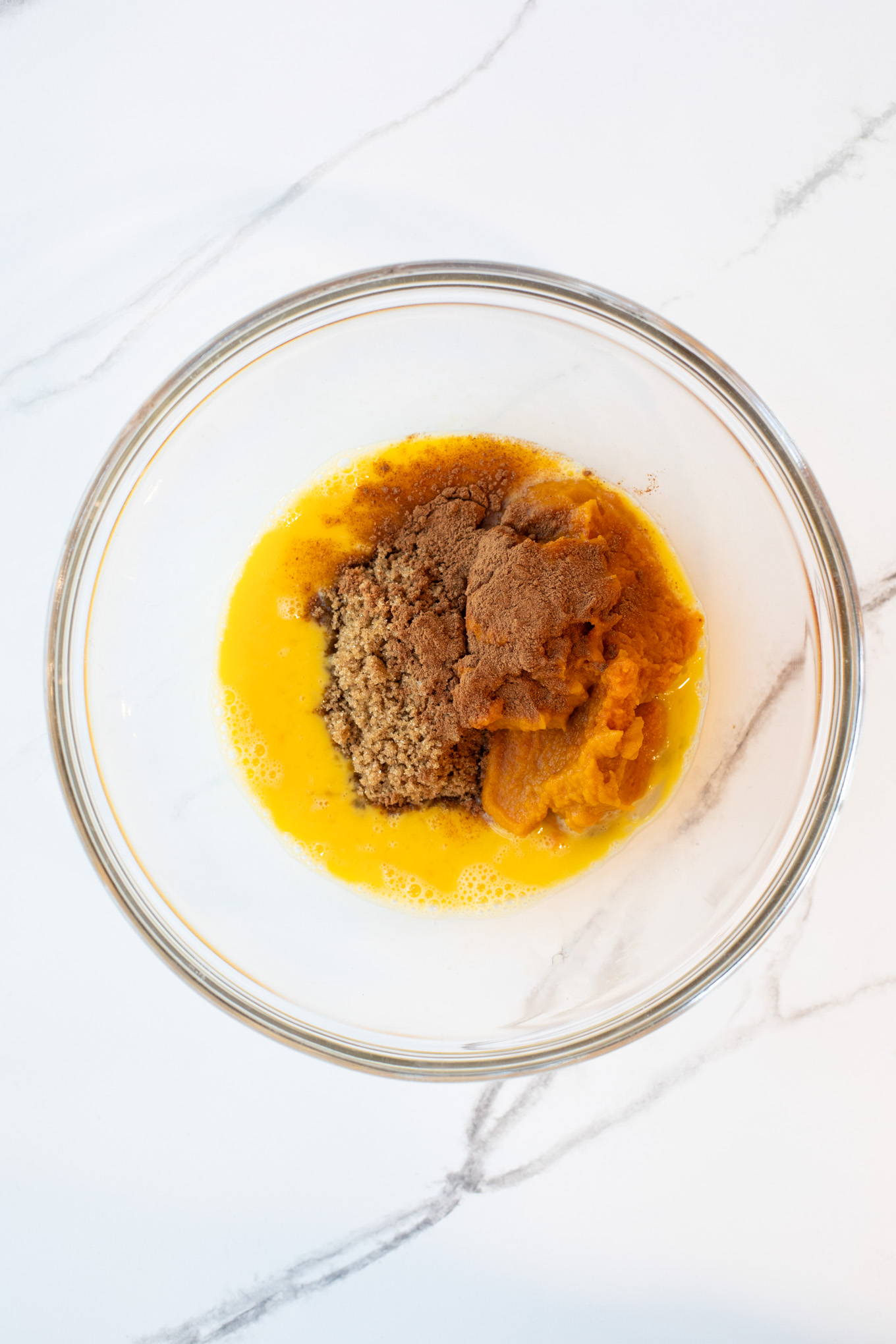 Step 2: Mix in the sugar, pumpkin spice, and pumpkin puree.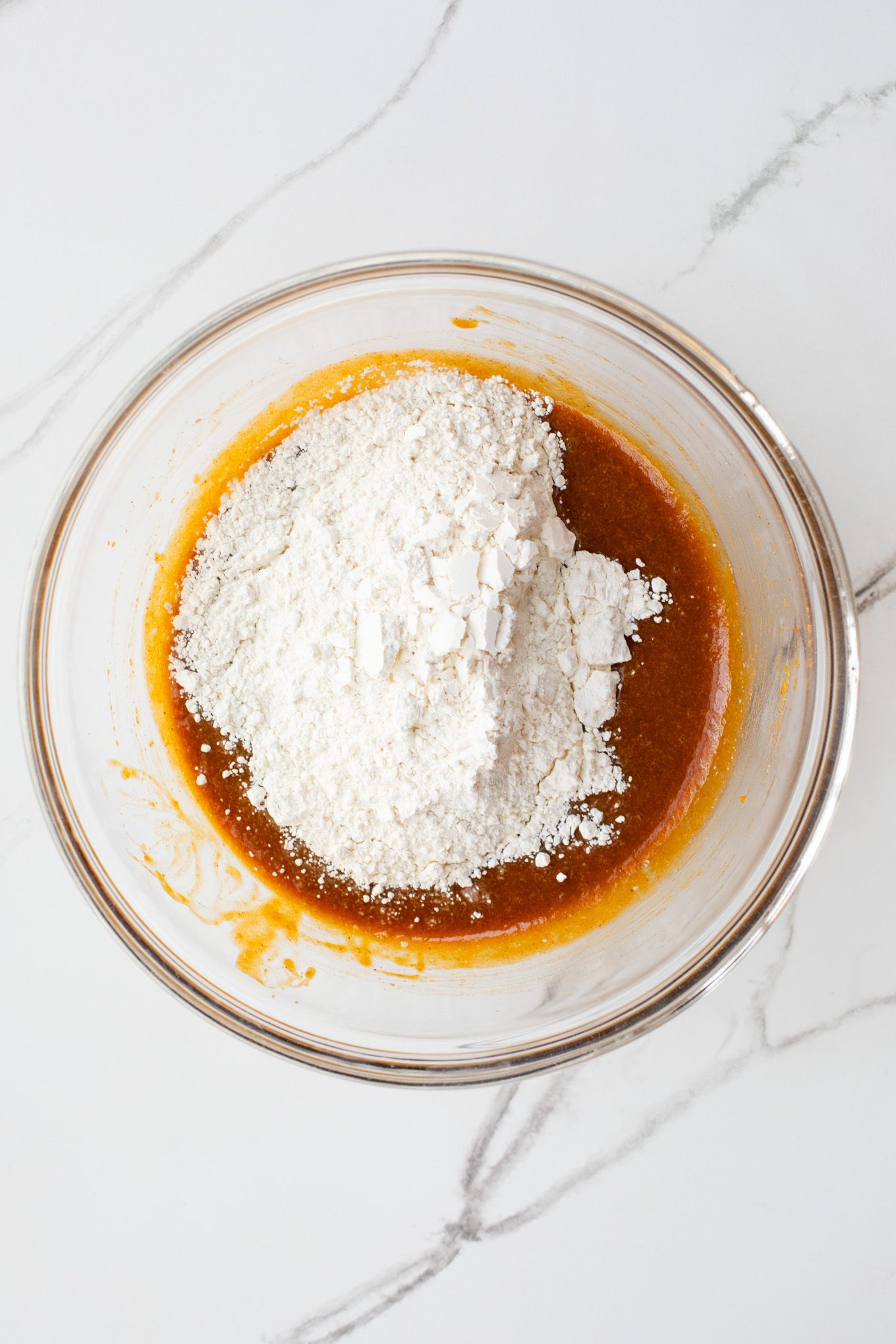 Step 3: Gradually blend in the self-rising flour.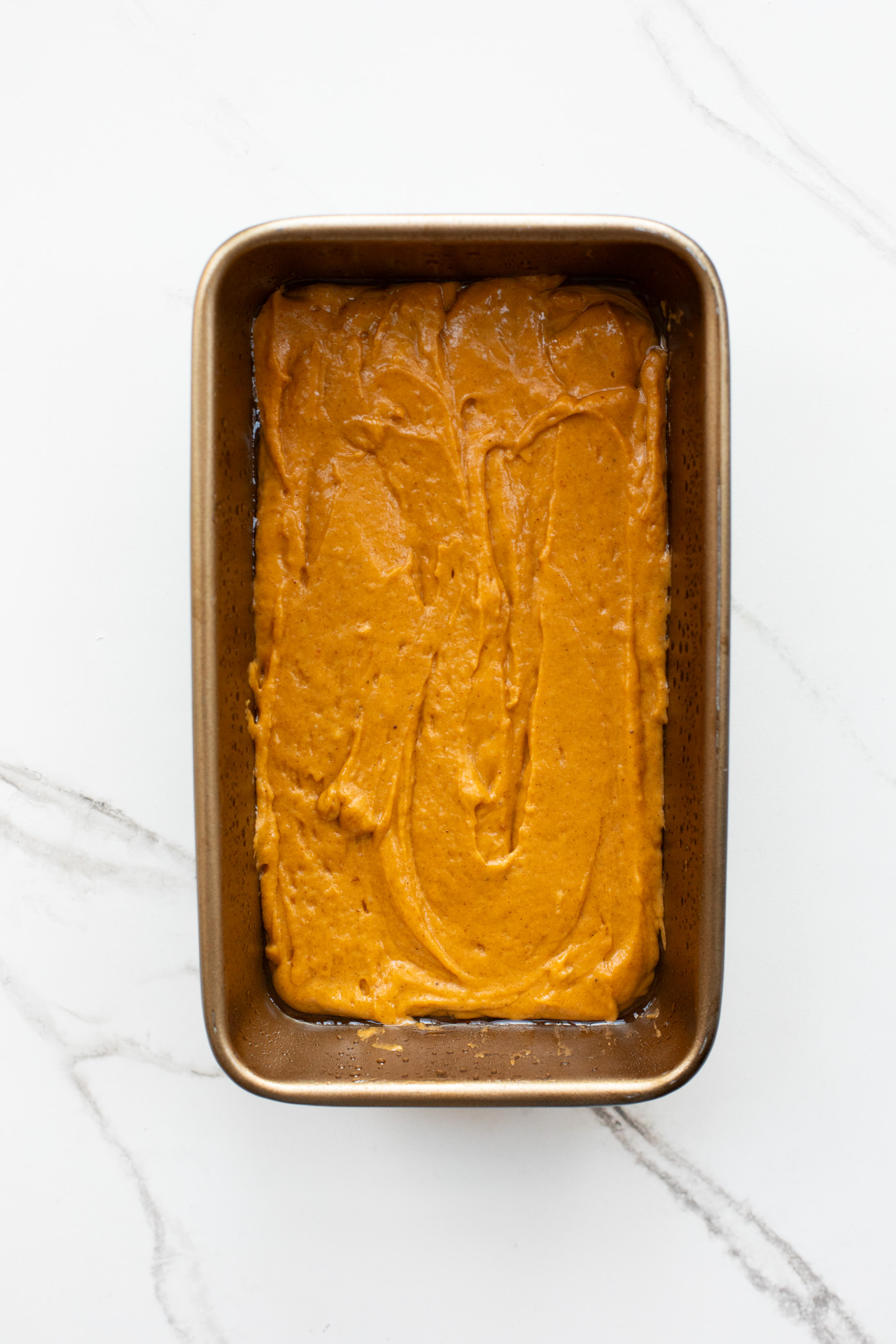 Step 4: Pour into loaf pan and bake for 40-45 minutes at 350 F. Test with a toothpick inserted into the center. Cool on a wire rack before serving.
Expert Tips
Ensure you're making the best pumpkin bread recipe with these pro tips:
Rise Above: This recipe needs self-rising flour as it contains the perfect amount of baking powder. If using all-purpose flour, you'll need to add baking powder and salt. See the recipe card for instructions.
Purely Pumpkin: For that yummy pumpkin flavor, always choose pumpkin purée and not pumpkin pie filling. Pie fillings come with extra additives we don't need here.
Easy Does It: Resist the urge to overmix the batter. A gentle touch gives you the perfect texture.
Measure Master: Correct measurements are crucial! Here's a measuring guide to help you nail it every time.
Double or Nothing: Thinking ahead? Make a double batch and freeze an extra loaf for another day.
How to Serve
Our take on the old-fashioned pumpkin bread recipe has plenty of serving options – perfect for a breakfast spread:
Coffee or Orange Juice: Enjoy with warm coffee or refreshing orange juice for a perfect morning.
Spread it Up: Spread slices with almond butter, pumpkin cream cheese, marmalade, or even maple syrup.
Vanilla Yogurt: Creamy yogurt works well together with warm spices.
Crunchy Granola: A crispy contrast to the moist bread.
Power Smoothie: A fresh, nutritious smoothie to keep you going strong.
Strawberry Chia Pudding: A bit of subtle sweetness and super healthy.
Avocado Toast: Creamy avocado to balance the spice.
How to Store
Make sure your bread keeps its delightful flavor and moist texture. Here's how to best store your freshly baked pumpkin bread:
Counter: Keep the bread in an airtight container, and it will stay fresh for up to 3 days.
Fridge: For a longer shelf life, store it in the refrigerator, where it'll remain good for up to 10 days.
Freezer: Planning to save it for much later? Wrap the bread in two layers of plastic wrap, or place it in a large freezer bag. It will last up to 3 months when stored properly.
Reheat: When you're ready to eat, simply reheat a slice in the microwave for about 10 seconds. Or pop it in a toaster.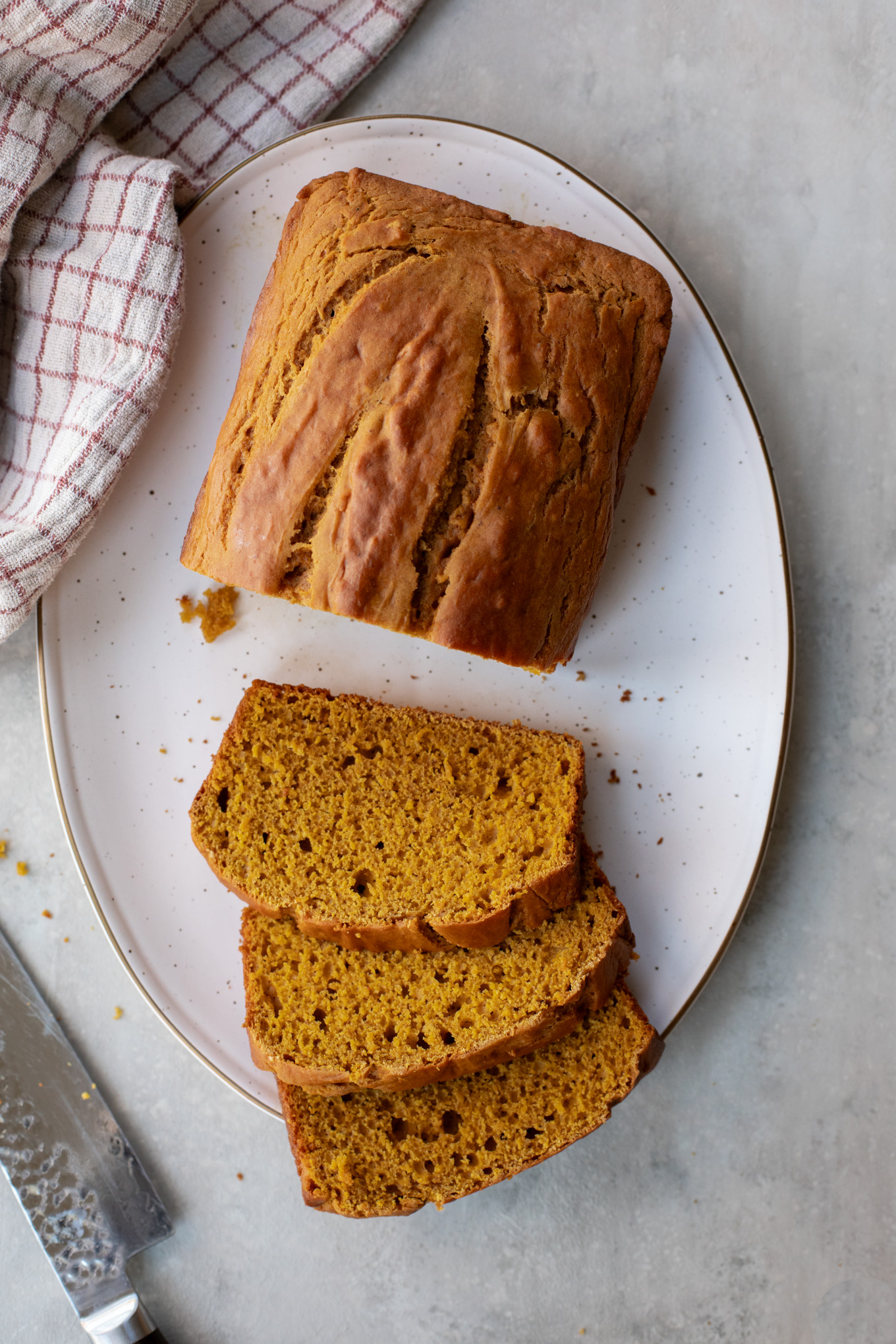 Recipe FAQs
What makes pumpkin bread moist?
Achieving moist pumpkin bread hinges on the right ingredients and methods.

Here, pumpkin puree is the main moisture booster, so use a good quality brand for the best results. Eggs also play an important role – with the water from the whites, and the fats in the yolks. Again, try to buy decent quality.

Another key point is to avoid overbaking. The longer bread bakes, the more moisture it loses – so remove the bread from the oven when it's just done. 

And be sure to store your bread in an airtight container. The air causes bread to lose moisture and become stale.
How do I know when my pumpkin bread is done?
The tried-and-true method involves inserting a toothpick or knife into the center of the bread. If it comes out clean, without any wet batter clinging to it, your bread is done. 

Baking times can vary depending on your oven. This means it's a good idea to start checking around the 40-minute mark. You want to make sure your bread stays moist and doesn't overbake. 
What kind of pumpkin should I use?
We prefer using canned pure pumpkin –  it's a hassle-free choice. However, if you've got plenty of pumpkin that needs using – you can make a homemade pumpkin puree.

Simply roast your pumpkin until tender, blend the flesh, and simmer if too watery. Avoid canned pumpkin pie filling – it doesn't quite produce the flavor we're looking for. 

Can I use a different type of flour instead of self-rising flour?
We use self-rising flour because it already contains just the right amount of baking powder – this is what makes the bread rise. 

If unavailable, you can create your own by adding 1 ½ tsp of baking powder and ¼ tsp of salt to every 1 cup of all-purpose flour.

So, for this recipe, that means about 2 ¼ tsp of baking powder and 1/2 tsp of salt. 

And remember to use baking powder, not baking soda.
If you try 5-Ingredient Pumpkin Bread, please leave a star rating and let me know how you like the recipe in the comments below.
Print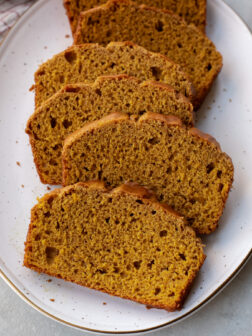 5-Ingredient Pumpkin Bread
Author: Katya
Prep Time: 15 min
Cook Time: 45 min
Total Time: 1 hour
Yield: 12 slices 1x
Category: Dessert
Method: Baked
Cuisine: American
---
Description
Embrace the simplicity of our 5-Ingredient Pumpkin Bread. It's not just easy to make – it's a delicious breakfast treat, lovingly crafted from whole ingredients.
---
---
Instructions
Preheat the oven to 350 degrees F. Grease a standard-size loaf pan and set aside.
In a large mixing bowl, whisk eggs. Then whisk in sugar, pumpkin spice, and pumpkin puree. 
Stir in flour with a whisk or a wooden spoon. Do not overmix.
Pour batter into the prepared loaf pan. Bake for 40-45 minutes or until a toothpick inserted into the middle comes out clean. Cool on a wire rack before slicing and serving.
---
Notes
Brown sugar: Brown sugar sweetens the bread and makes the bread moist. For best results, do not substitute with white sugar or any other sweetener.
Self-rising flour: Contains baking powder and salt. If you use all-purpose flour you'll need to add 2 1/4 baking powder and 1/2 teaspoon salt to the batter.
Nutrition
Serving Size: 1 slice
Calories: 133
Sugar: 12.9 g
Sodium: 16.8 mg
Fat: 1.1 g
Carbohydrates: 28 g
Protein: 3.2 g
Cholesterol: 31 mg
Keywords: pumpkin, bread, fall