Tomato Basil Chicken with Zucchini Noodles
Secret to this tomato basil chicken is a combination of fresh and sun-dried tomatoes. It comes together in about 30 minutes and is served over tender crisp zucchini noodles. So healthy, so good, and SO flavorful!
The other day I asked on IG how you guys feel about zucchini noodles and glad to report most of you said "yeay" to them. I personally love them when I want something light and filling. Not to mention quick! They cook in about 5 minutes tops. Zucchini noodles are definitely not a substitute for pasta. But if you're like me who likes pasta on occasion and craves more veggies then you will love this dish. And if you're someone who always wanted to give zucchini noodles a try this dish is a good start! It's quick, easy, and super good.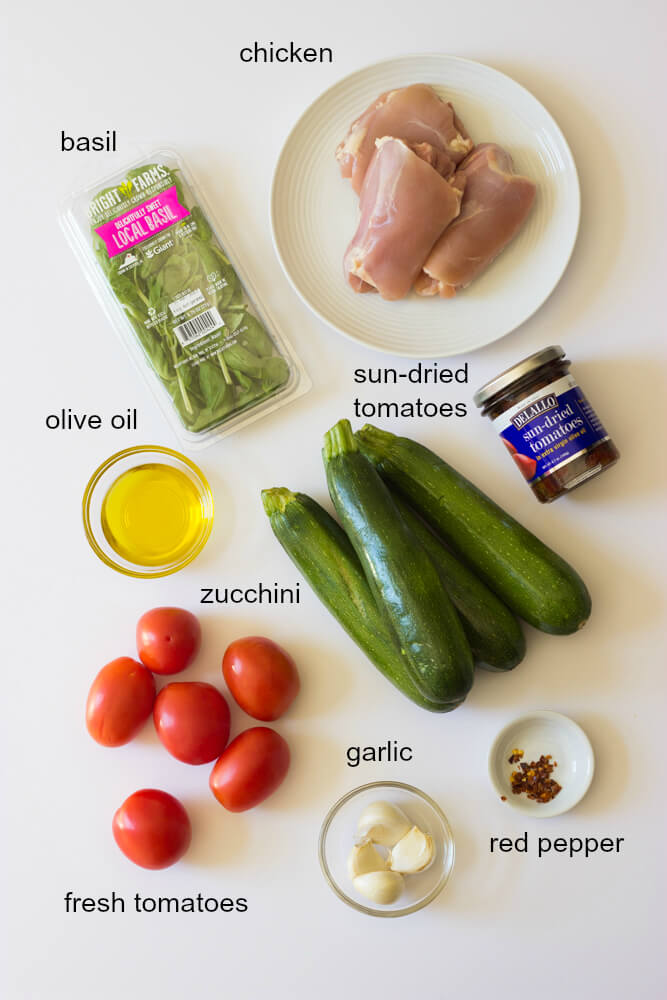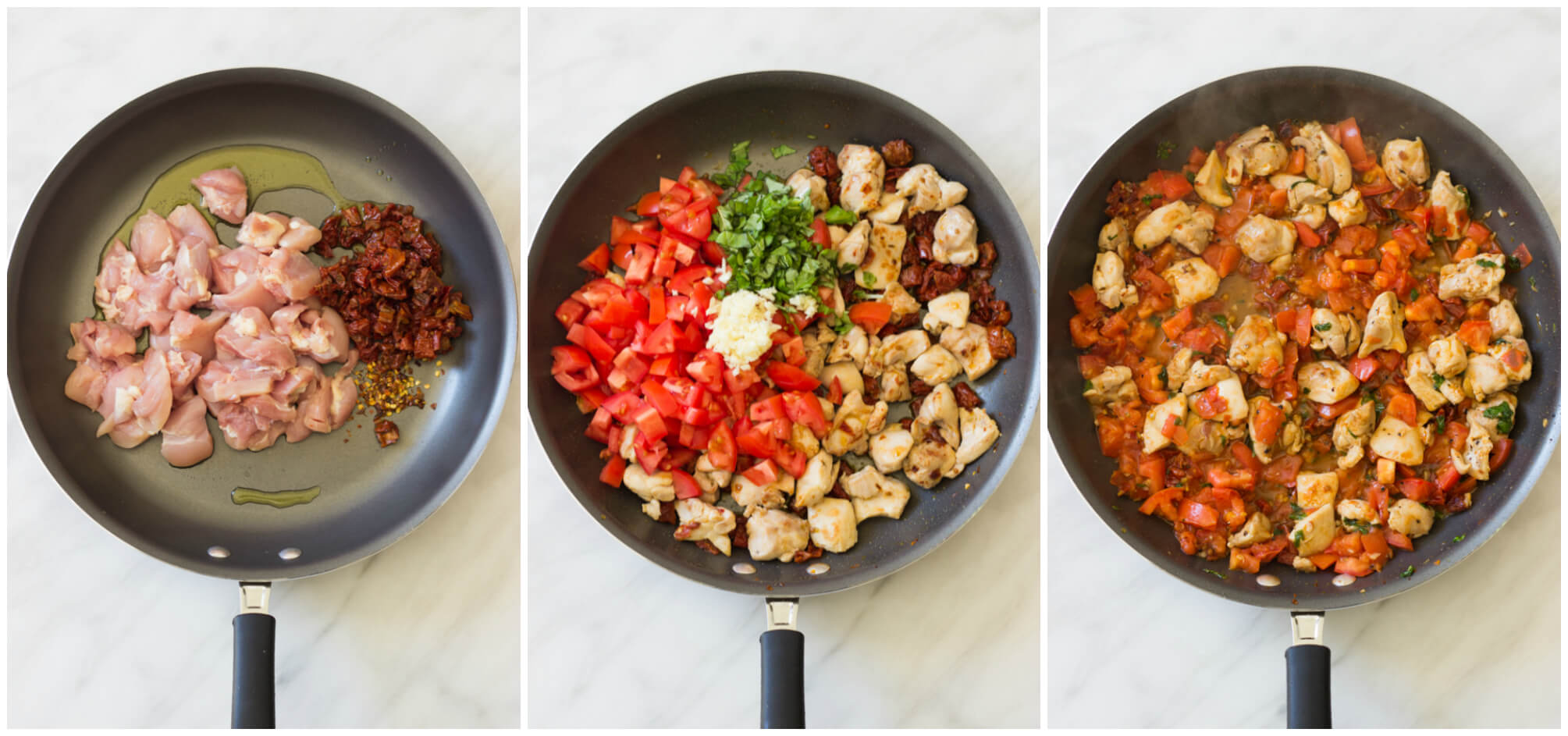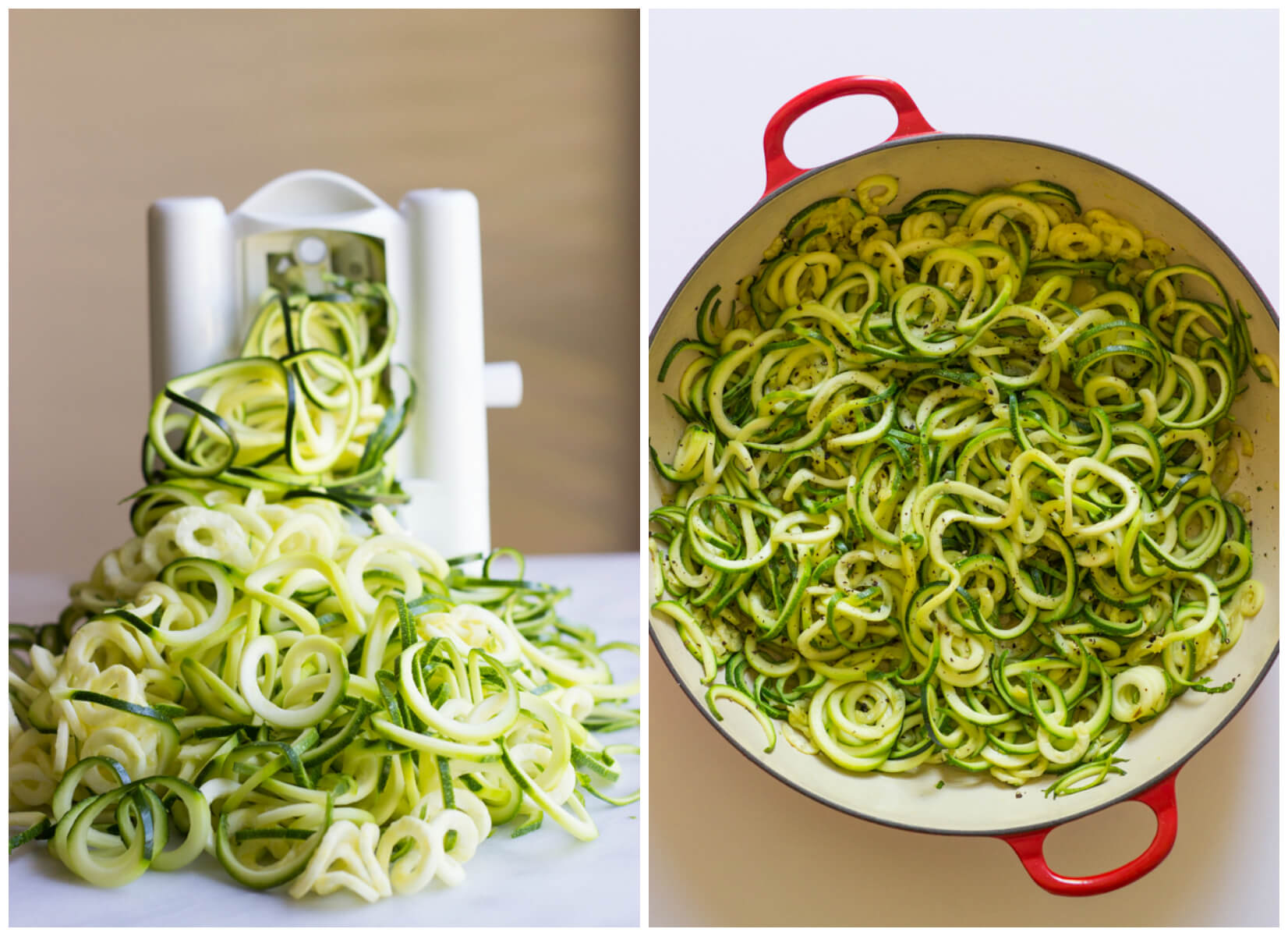 Secret to this effortless meal is using both fresh tomatoes and sun-dried tomatoes. Sun-dried tomatoes in oil are like little bombs of flavor. They are seasoned well and add sweet-tartness to any dish. I love the combo of using both in a simple dish like this because it adds intense flavor without having to whip out a ton of herbs or spices. Basically all the guess work is done for you. Then when you add fresh basil, garlic, and chicken you pretty much have the best meal ever. Not to mention healthy and filling.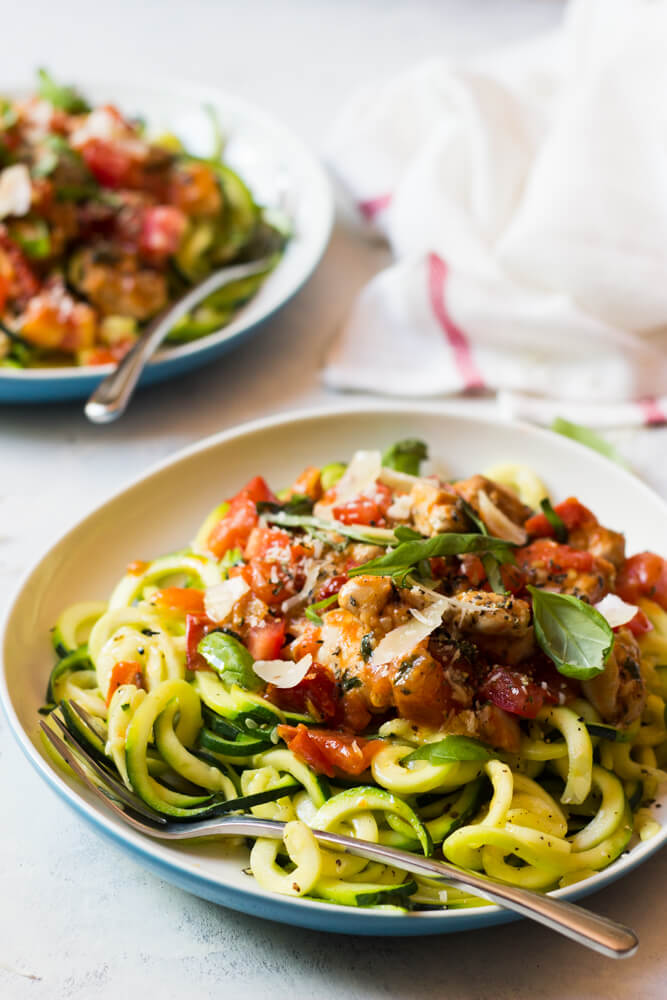 Print Tomato Basil Chicken with Zucchini Noodles
Prep Time: 10 mins
Cook Time: 20 mins
Total Time: 30 mins
Yield: 4 1x
---
3 Tbsp. extra-virgin olive oil, divided
1/3 cup chopped sun-dried tomatoes in oil (drained first then chopped)
1 pound boneless, skinless, chicken thighs, cut into bite size pieces
1/4 tsp. red pepper flakes
1 pound plum tomatoes, chopped
1/3 cup chopped fresh basil
1 Tbsp. garlic, minced
2 pounds zucchini, spiralized using the larger blade
kosher salt and fresh ground black pepper
optional: Parmesan cheese, to serve
---
Instructions
Heat a large non-stick skillet over medium-high heat. Add 2 Tablespoons of olive oil, sun-dried tomatoes, chicken, and red pepper flakes. Season with salt and pepper, to taste. Cook stirring occasionally, until chicken is no longer pink, about 5 minutes.
Add plum tomatoes, basil, and garlic. Cook, stirring occasionally, for about 3-4 minutes or until the tomatoes have released some of its juices. Remove the pan from the skillet and keep warm.
Heat a separate large non-stick skillet over medium-high heat. When hot, add remaining 1 Tablespoon of olive oil and zucchini noodles. Season with salt and pepper, to taste. Sauté for 3-4 minutes or until tender crisp, while constantly tossing with tongs.
Remove immediately from the heat and serve with tomato basil chicken and fresh Parmesan cheese, if desired.
---