Cranberry Coffee Cake
Cranberry coffee cake is the best way to use up leftover cranberry sauce! This cake is incredibly moist with a delicious tanginess from the cranberry sauce.
Love fall desserts? Try our Pear Cake.
What is Cranberry Coffee Cake?
Cranberry coffee cake makes for a perfect treat to enjoy with a hot cup of coffee. It's a wonderful way to bring the holidays together for a Christmas brunch or for tea time in the afternoons.
This moist coffee cake uses leftover cranberry sauce from Thanksgiving dinner, sour cream, and lemon zest and then topped with a lemon sugar glaze. It's sweet and tender with a slight tanginess from the cranberry sauce.
You can bake this coffee cake in various size pans too!
Ingredients
The simple ingredients for this cranberry coffee cake recipe can be found at your local grocery store or even in your pantry at home.
Flour – Use all-purpose for this recipe.
Baking soda – This is used to help the cake rise.
Salt – Kosher salt is best for baking.
Butter – Use unsalted butter so you can be sure to add the correct amount of salt.
Sugar – Cane sugar helps cut the flavor of tart cranberries.
Eggs – Use large, fresh eggs.
Lemon zest – Use a microplane to zest a fresh, washed, and dried lemon.
Vanilla extract – Use pure vanilla extract, not imitation, for the best flavor.
Sour cream – This makes for a moist cake. Feel free to use plain Greek yogurt.
Cranberry sauce – The key part of this cake is using leftover cranberry sauce from the holiday season. Either homemade or store-bought works well. I used the leftover sauce from my White Cheddar Cranberry Dip.
Confectioner's sugar – This sugar is best for icing because it melts easily to create the glaze.
Lemon juice – This is tangy and delightful over the sweet cranberry cake. You can simply use milk too.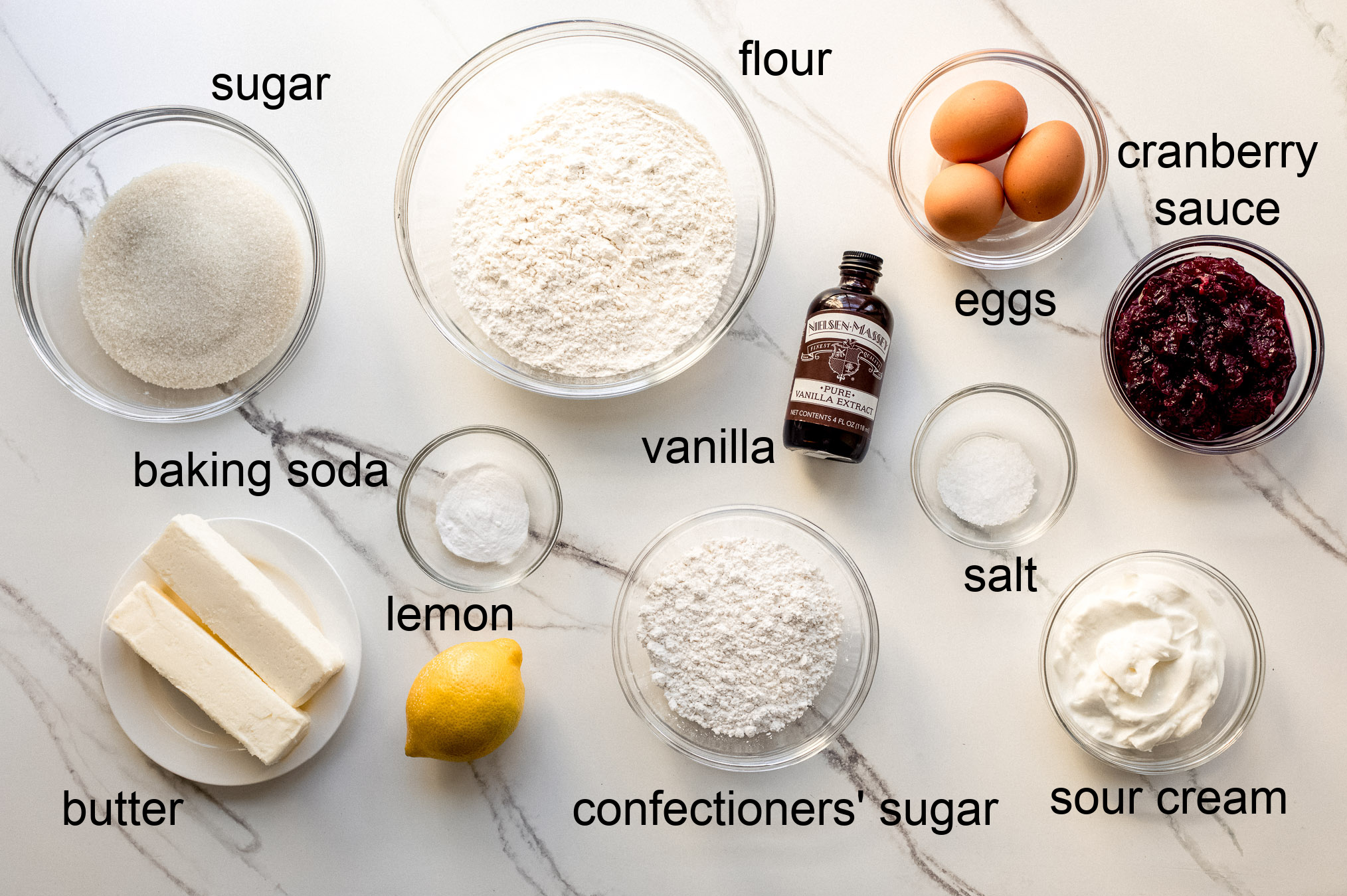 Instructions
Here are the directions for this simple coffee cake. For the full recipe, see the recipe card below.
Whisk the flour, baking soda, and salt together in a bowl.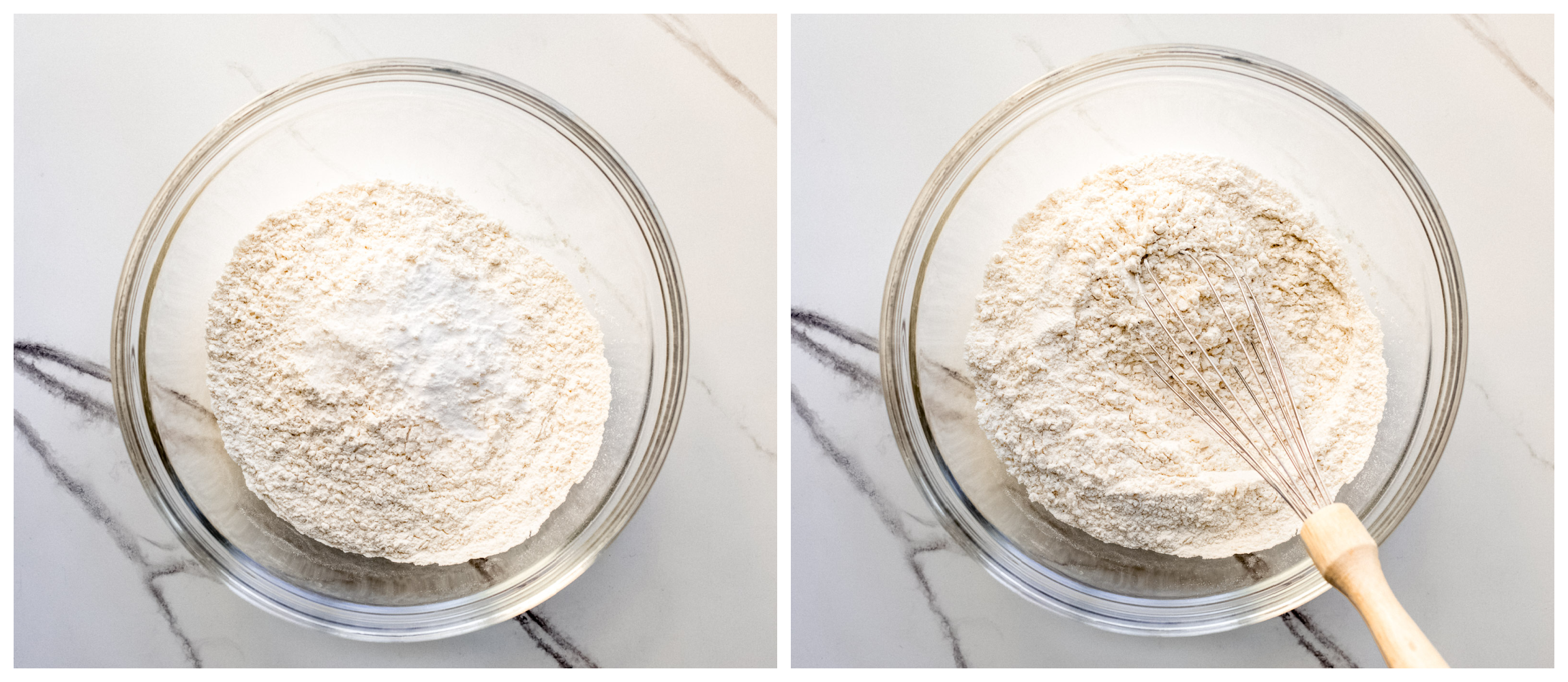 Cream the butter and sugar together until light and fluffy, and then add the eggs one at a time.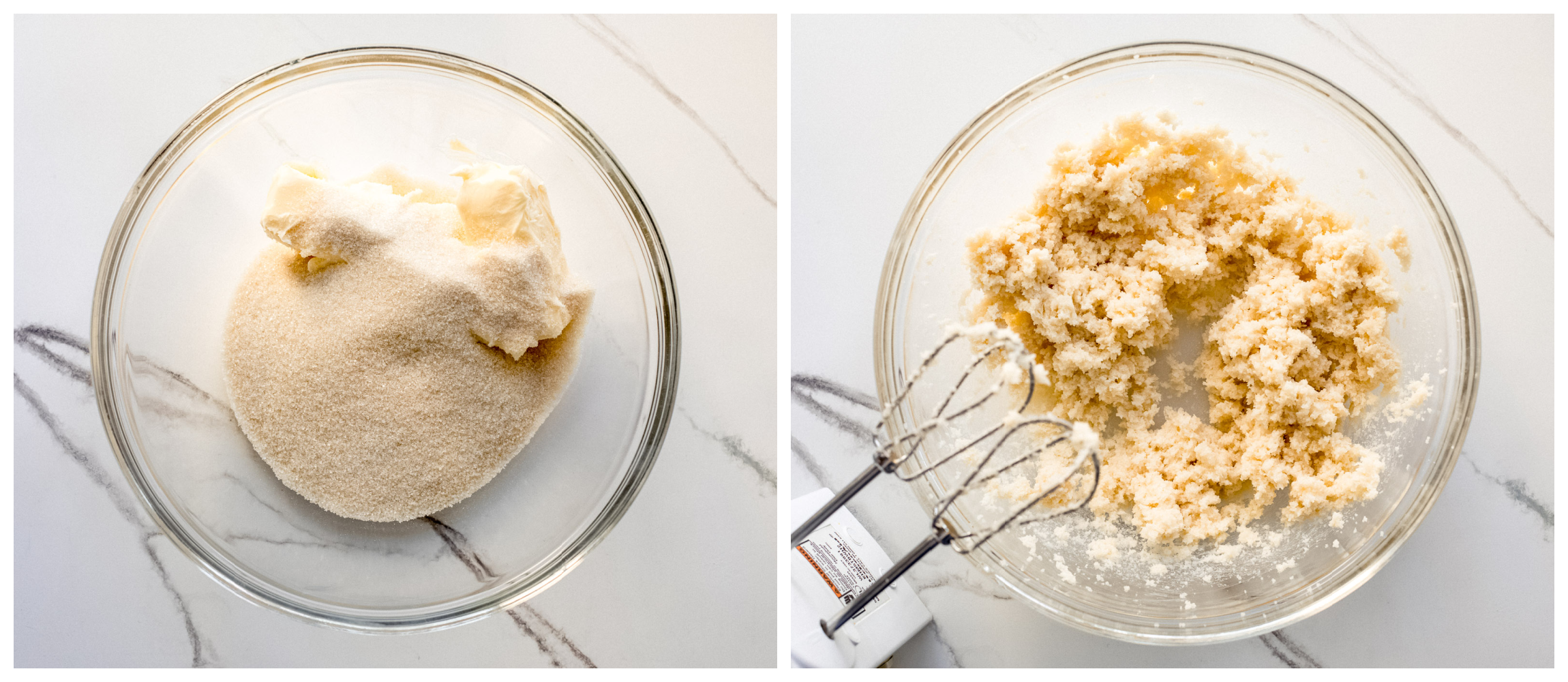 Stir in the lemon zest and vanilla.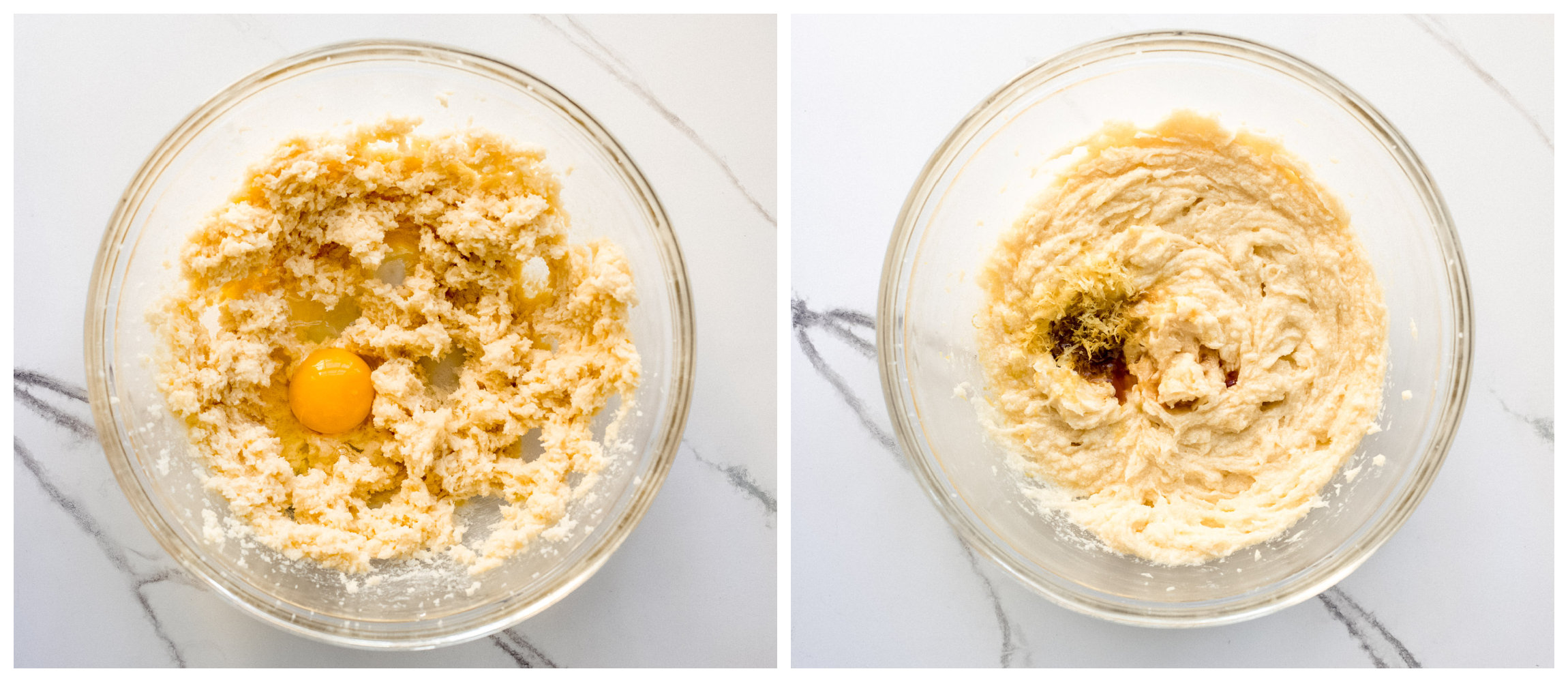 Alternate beating in the flour and sour cream in two additions.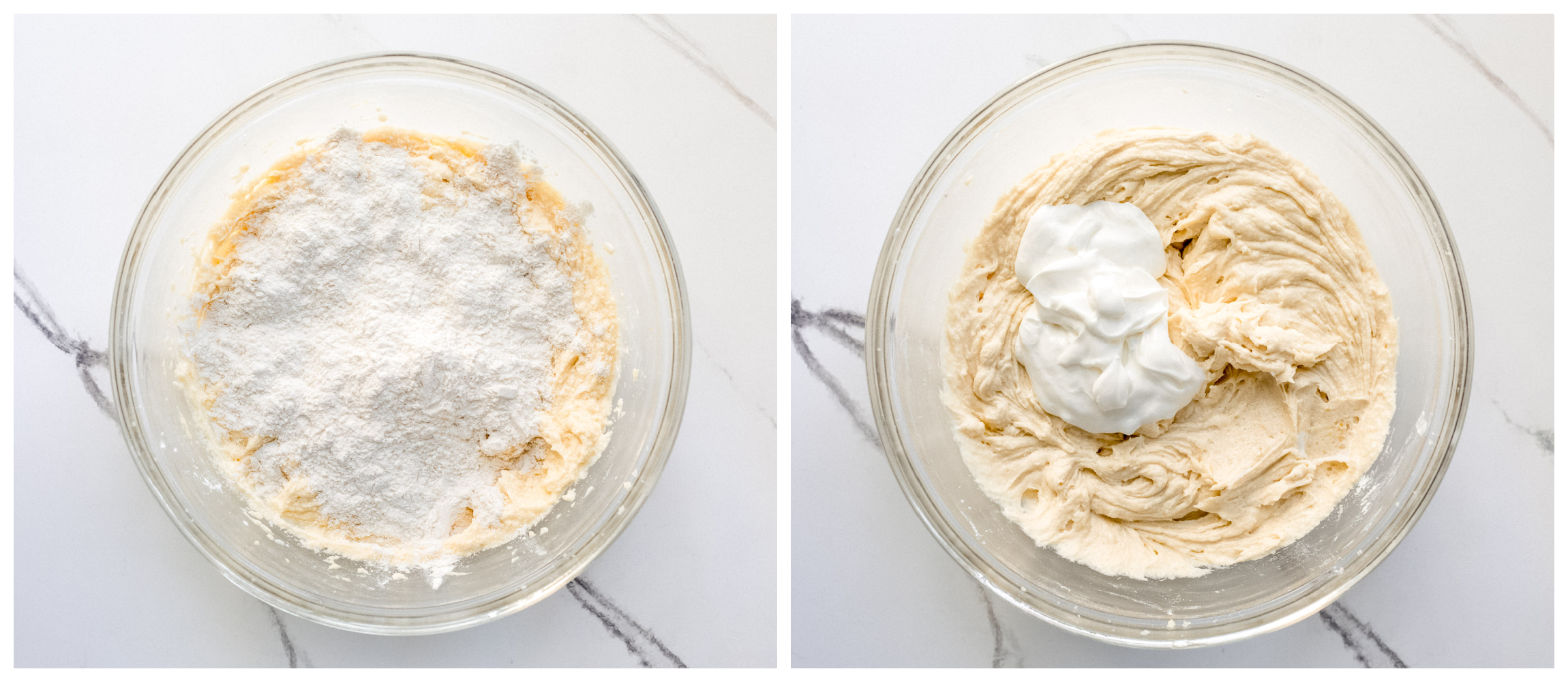 Pour half of the cake batter, then the cranberry sauce, then the remaining batter into a prepared bundt pan.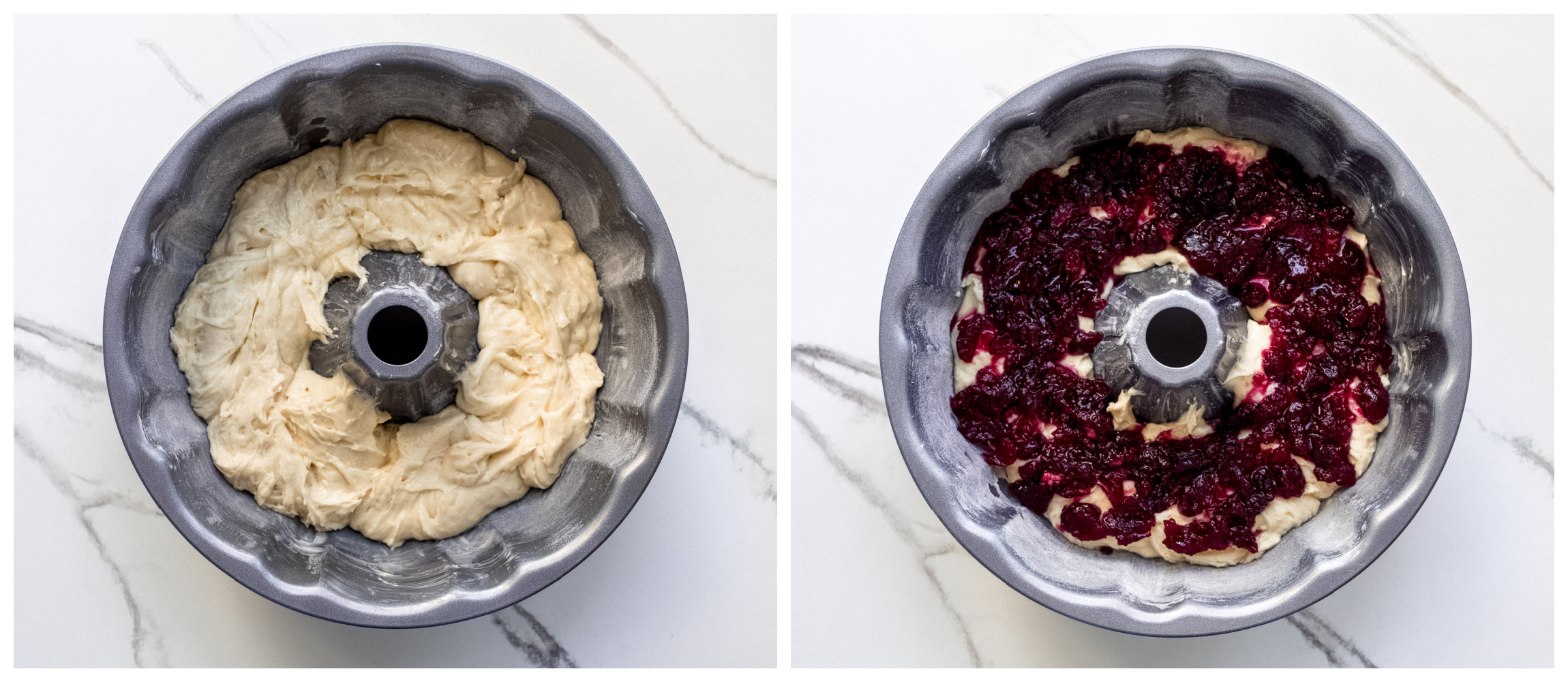 Bake until a toothpick inserted in the center comes out clean and set over a wire rack to cool.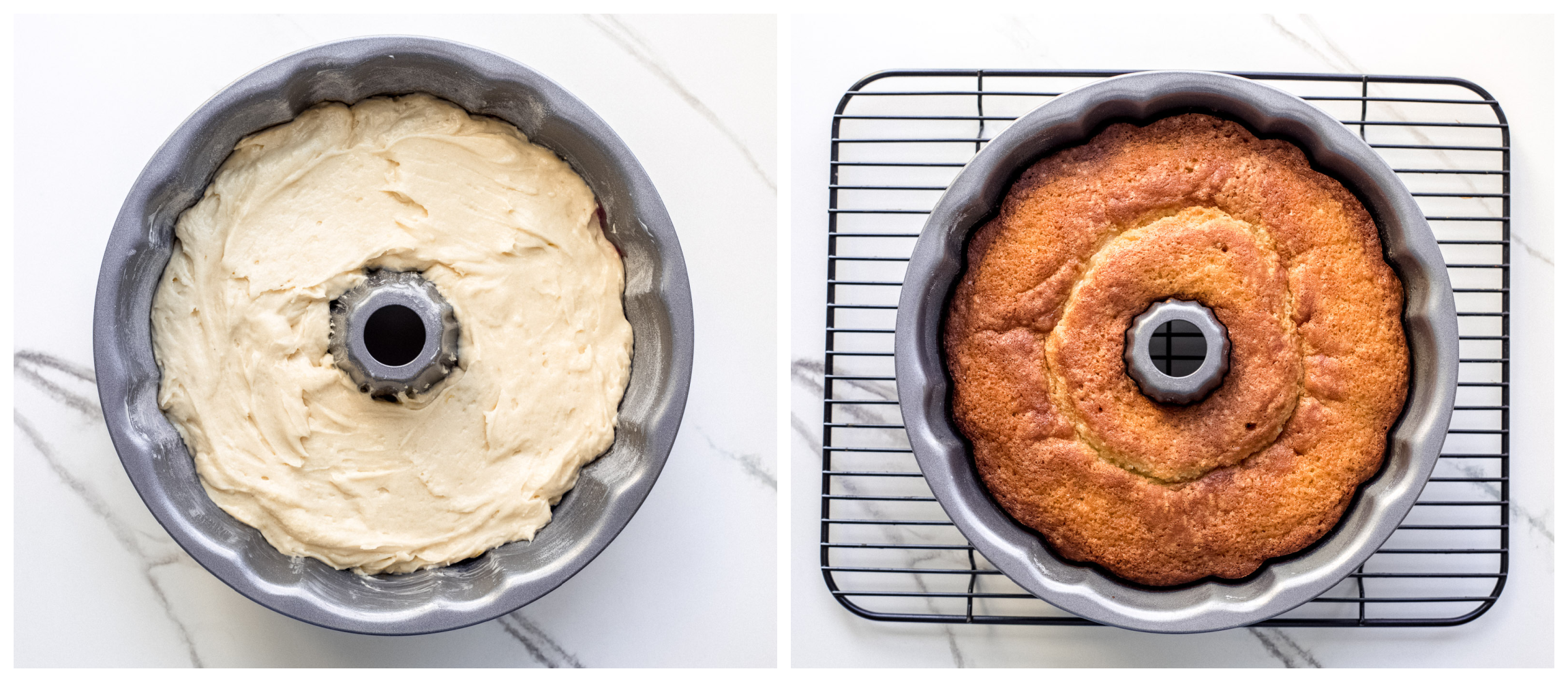 Prepare the glaze by whisking together the confectioners' sugar with lemon juice. Drizzle glaze over the cooled cake and serve.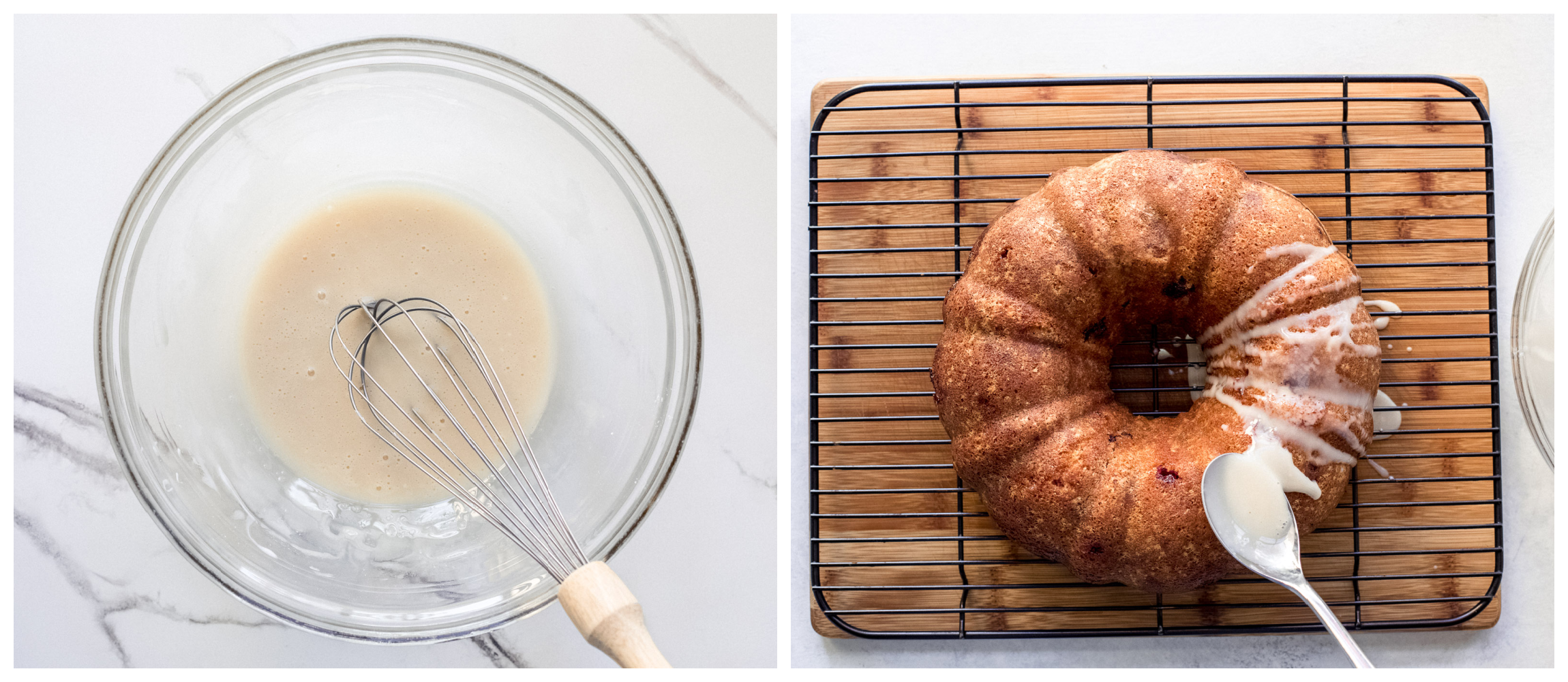 What Other Pans Can I Use?
A 10-cup bundt pan is great for making this coffee cake as it makes for a beautiful presentation. Don't have a bundt pan? No problem! Here are other pans you can use, plus their bake time:
As always, use a toothpick inserted into the middle to check for doneness 5 minutes before the time is up. If the top begins to brown too much, cover it loosely with aluminum foil.
Recipe Tips
This cranberry sour cream coffee cake makes for a perfect holiday brunch. Try these tips and tricks to make it next-level amazing.
Have ingredients at room temperature. Make sure all the cold ingredients are at room temperature before you begin baking. This will help create a smooth and evenly textured batter. A good rule of thumb is to take out your cold ingredients 1 hour before beginning the recipe.
Spoon and level your flour! The most accurate way to measure flour is with a digital scale, however, if you don't have one use the scoop and level method. Use a spoon to scoop the flour into your measuring cup. Then, level off the top with the back of a knife so the flour is level with the top of the measuring cup.
A few more things. Use large eggs and baking soda that has not expired.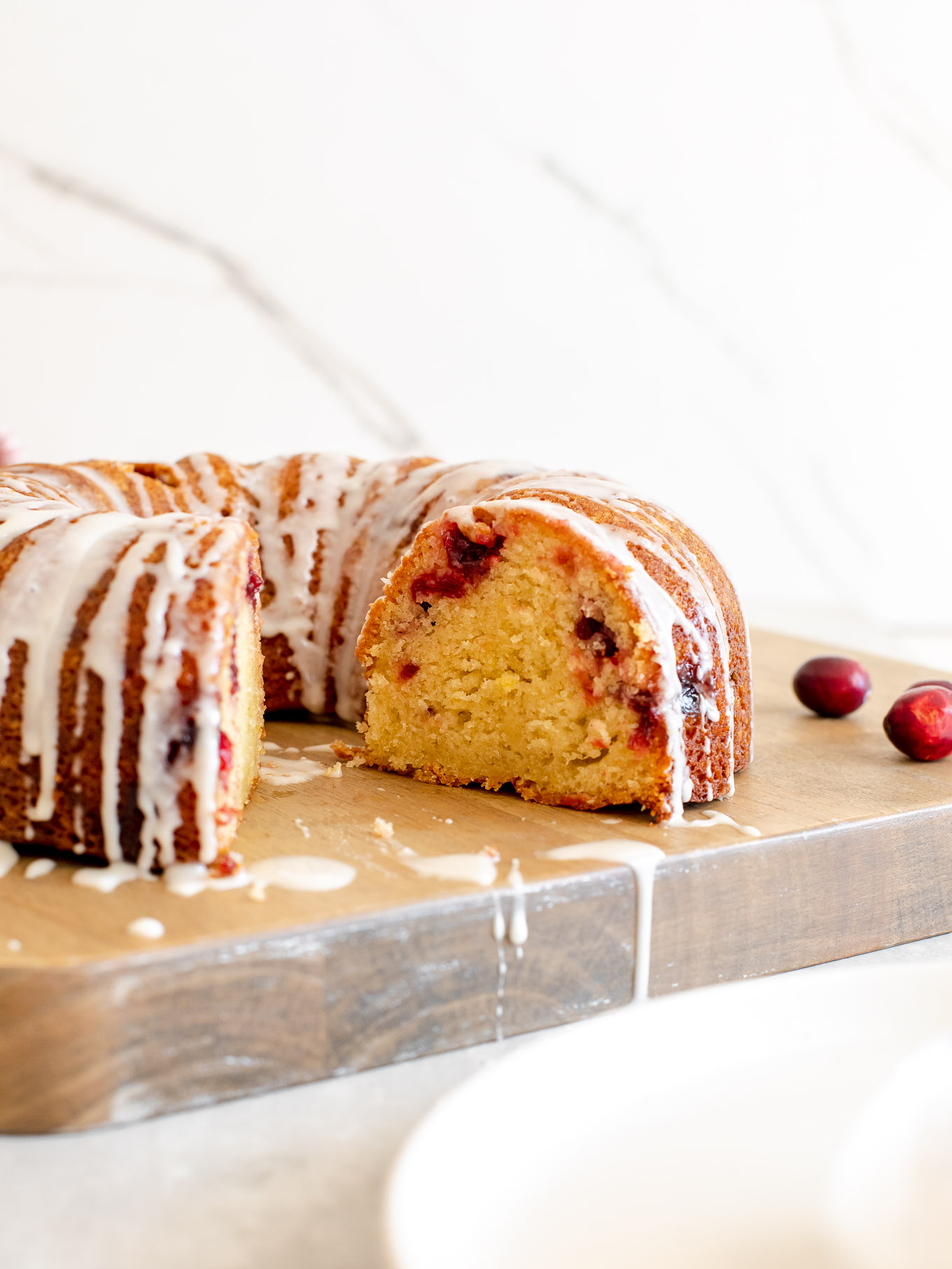 Variations
You can make a few changes to this cake depending on what you like best. Here are some tasty options that your taste buds will thank you for.
Add a handful of dried cranberries to the cake along with the cranberry sauce, and you'll get a pop of wonderful random sweetness!
Top the holiday dessert with toasted, sliced almonds.
Add toasted, chopped pecans or walnuts to the cake for texture and a nutty flavor.
Substitute chunky, homemade applesauce for the cranberry sauce. The cake will have a wonderfully tender crumb.
Sprinkle in a bit of cinnamon to give it a warm, homemade feel.
Pour in a splash of orange juice or add some fresh orange zest for an extra citrusy kick.
Substitute almond extract for the vanilla extract.
How to Serve
Serve this sweet coffee cake with a warm cup of coffee for breakfast, brunch, or dessert.
It pairs well with other brunch recipes such as:
Storing Tips
On the counter: Keep leftover cake in an airtight container on the counter for up to three days.
Freeze: This cake is perfect for freezing to eat later. It's a great option for using leftover cranberry sauce at Thanksgiving and saving the cake for Christmas dinner.
Thawing cake: When you're ready to thaw the cake, put it on the counter and allow it to come to room temperature. You may want to transfer it to another dry container and remove any plastic wrap to avoid condensation, which will make the cake soggy.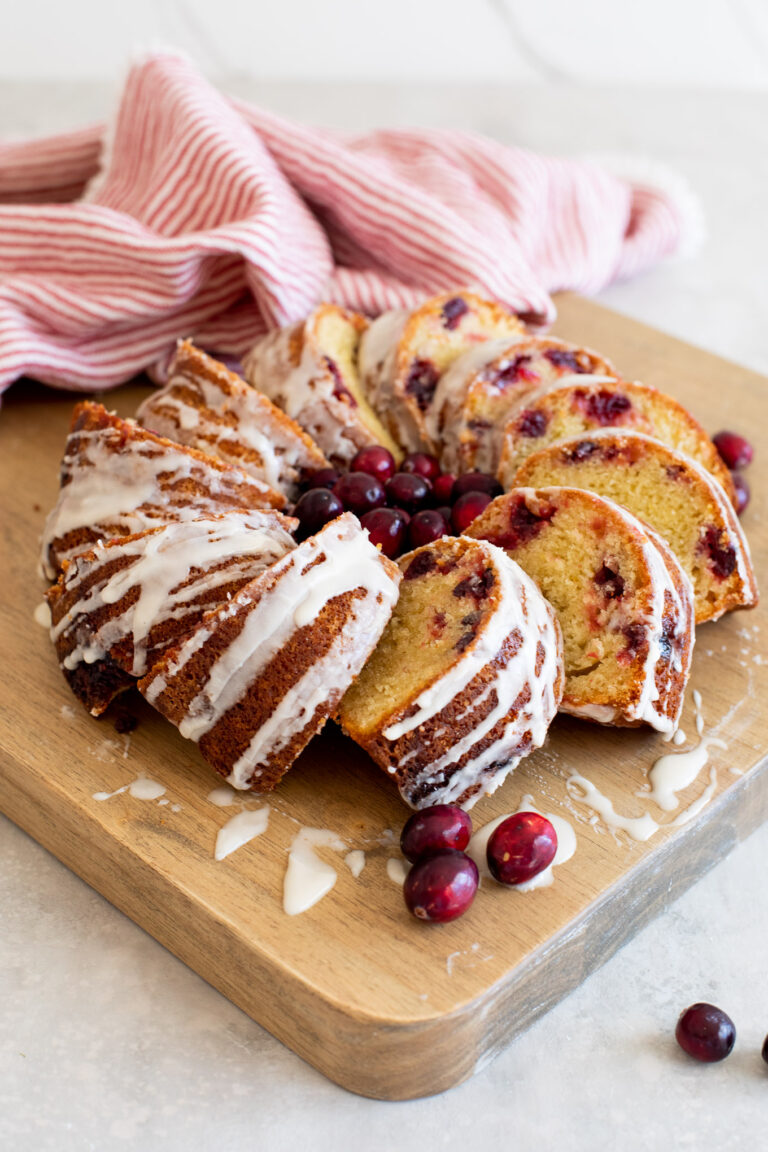 FAQs
Can I use a streusel topping instead of icing on cranberry coffee cake? 
This recipe uses a tasty icing, but you can easily exchange this with a crumbly streusel topping instead.
Can I substitute sour cream for Greek yogurt?
Yes, you can substitute sour cream for the yogurt if you'd like. I recommend plain whole-milk Greek yogurt.
Can I use fresh, frozen, or dried cranberries instead? 
You may use either fresh or frozen (and thawed) whole cranberries in this recipe. The coffee cake will still be delicious, just different from the original recipe. Dried cranberries can also be used. Start out with 1/2 cup as the dried cranberries are sweeter.
You May Also Like…
Print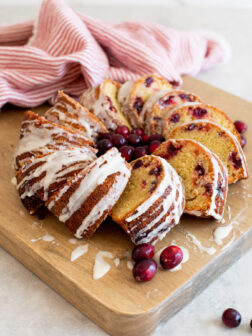 Cranberry Coffee Cake
Author: Katya
Prep Time: 25 min
Cook Time: 60 min
Total Time: 1 hour 25 minutes
Yield: serves 10 1x
Category: Dessert
Method: Baked
Cuisine: American
---
Description
Cranberry coffee cake is the best way to use up leftover cranberry sauce! This cake is incredibly moist with a delicious tanginess from the cranberry sauce.
---
2 1/4 cups all-purpose flour, spoon & leveled
1/2 tsp. baking soda
1/2 tsp. kosher salt
2 sticks (1 cup) unsalted butter, at room temperature
1 3/4 cups cane sugar
3 large eggs
Zest 1 large lemon
2 tsp. pure vanilla extract
1 cup sour cream or Greek yogurt
1 cup leftover cranberry sauce, at room temperature (see note)
Glaze
1 cup confectioners' sugar
2 Tbsp. fresh lemon juice or milk
1/2 tsp. pure vanilla extract, optional
---
Instructions
Preheat the oven to 350 degrees F. Grease and flour a 10-cup bundt pan.
In a bowl, whisk together the flour, baking soda, and salt. 
Using a handheld or stand mixer cream butter and sugar until light and fluffy. Beat in eggs one at a time. Then beat in the lemon zest and vanilla, scraping down the sides as needed.
Alternate beating in the flour mixture on low speed and the sour cream, mixing just until combined. Scrape down the sides with a rubber spatula as needed.
Spoon half of the batter into the bundt pan. Spoon the cranberry sauce and then top with the remaining batter.
Bake for 55-60 minutes or until a toothpick inserted into the cake comes out clean. Cover the cake loosely with aluminum foil if you begin to see the top browning quickly. Once done, remove from the oven and allow to cool for 10 minutes inside the pan.
Invert the slightly cooled bundt cake onto a wire rack set over a large plate or serving dish. Allow cake to cool before glazing and serving.
To make the glaze, whisk the confectioners' sugar, lemon juice, and vanilla together. If you prefer a thicker glaze, add additional confectioners' sugar. To thin out the glaze, whisk in 1 or more tablespoons of milk. Drizzle over the cake. Slice and serve.
---
Notes
Cranberry sauce: The key part of this cake is using leftover cranberry sauce from Thanksgiving. Either homemade or store-bought. I used my cranberry sauce from white cheddar cranberry dip recipe. Leftover cranberry sauce will last in the fridge for 10-14 days and freezer for about 2 months. 
Leftovers: Store leftovers in an airtight container for up to 3 days.
Nutrition
Serving Size: 1 slice with glaze
Calories: 548
Sugar: 54.5 g
Sodium: 230.1 mg
Fat: 23.3 g
Carbohydrates: 80.5 g
Protein: 6.8 g
Cholesterol: 112.4 mg
Keywords: cranberry, holiday, leftovers