Easy Apple Tart
Our Easy Apple Tart: A buttery crust, cinnamon apple slices, a simple sugar glaze, and a sprinkle of toasted almonds make this a fall dessert to remember. 
Love seasonal apple recipes? Try our Apple Coffee Cake, Apple Cinnamon Pancakes, or Almond Flour Apple Crisp.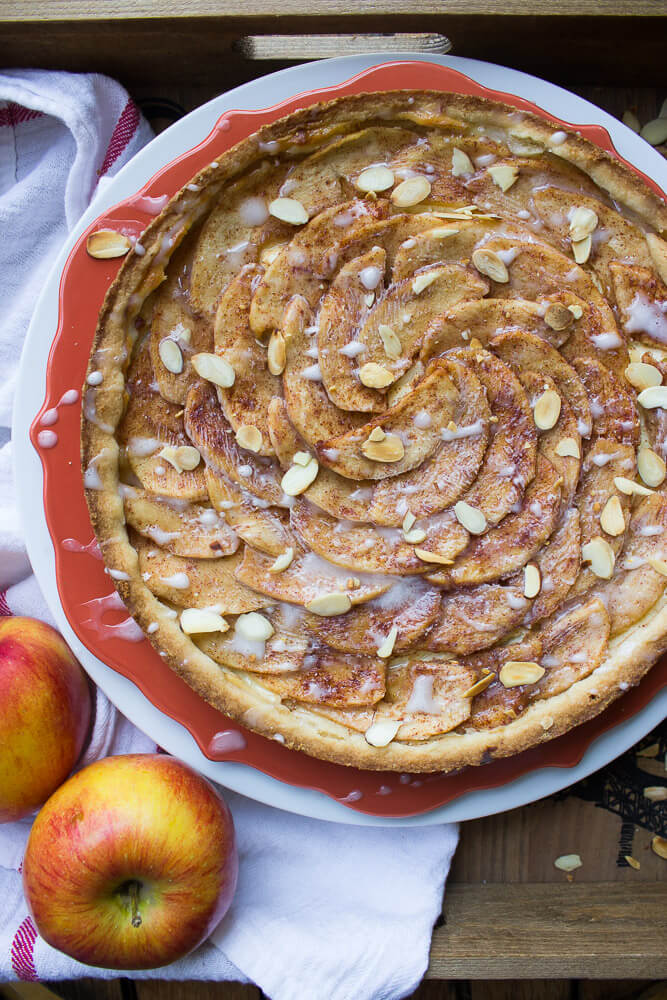 Jump to:
Why This Recipe Works
Seasonal – This easy apple tart recipe is ideal for the fall months, with its familiar seasonal spices. It's perfect for the special celebrations around this time.
Flaky Pastry – Our light flaky crust recipe only needs four simple ingredients, making it a breeze to prepare.
Forgiving – It's an easy dessert that looks impressive even if your crust isn't perfect or the apples aren't neatly arranged.
Rich & Creamy – A classic cream cheese filling makes for a rich, impressive tart that will wow your guests.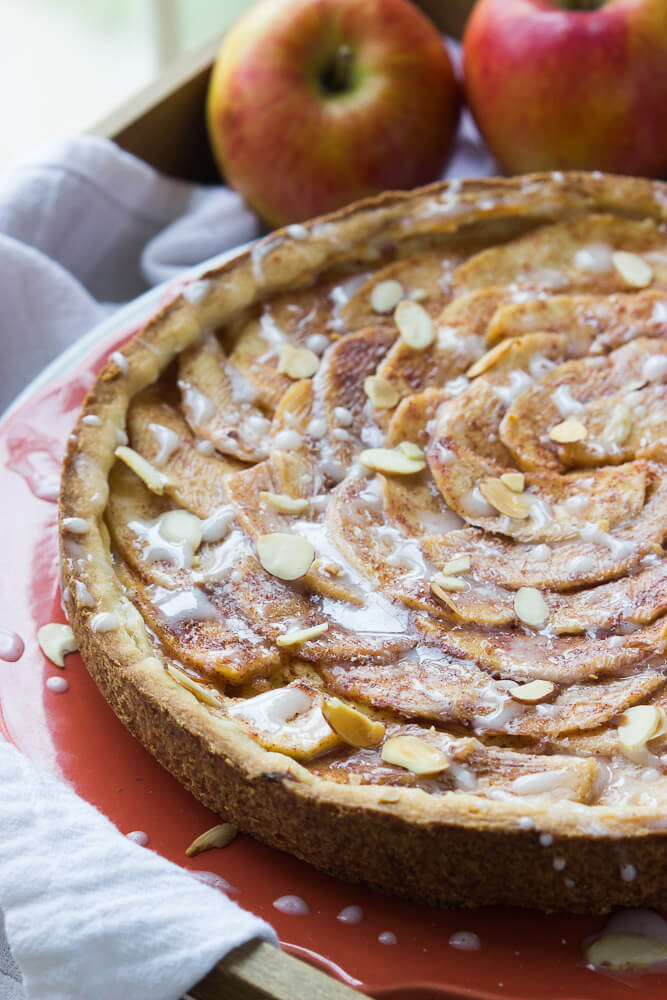 Ingredients
All the ingredients to make this simple apple tart recipe should be available at your local grocery store:
Flour: Gives our crust its structure.
Butter: Adds richness to our pastry. Use cold, unsalted butter.
Sugar: So our tart is nice and sweet.
Vanilla Extract: A dash in our dough improves its flavor.
Cream Cheese: Adds a rich, creamy texture to the tart filling.
Egg: Helps the filling set.
Almond Extract: Adds a subtle nutty flavor to our filling.
Apples: We like to use Granny Smith Apples – their tartness works well with the sweet filling.
Ground Cinnamon: The classic apple spice pairing.
Ground Nutmeg: A bit more depth of flavor.
Confectioners' Sugar: Dissolves nicely to make the sugar glaze.
Milk: For a smoother glaze.
Almonds: Buy ready-sliced to sprinkle over the tart at the end.
See the recipe card for full information on ingredients and quantities.
Top Apple Type to Use in Your Tart
Choosing the right type of apple really makes a difference. Here are your choices:
The Reliable Classic: Granny Smith apples are our top choice for apple tarts. Their slightly tart flavor balances the sweetness of the other ingredients nicely, and they hold their shape superbly when cooked.
Sweeter Alternatives: If you're leaning towards a sweeter tart, go for Honeycrisp, Pink Lady, or Gala. These apples add that bit more sweetness while also keeping their firmness when cooked.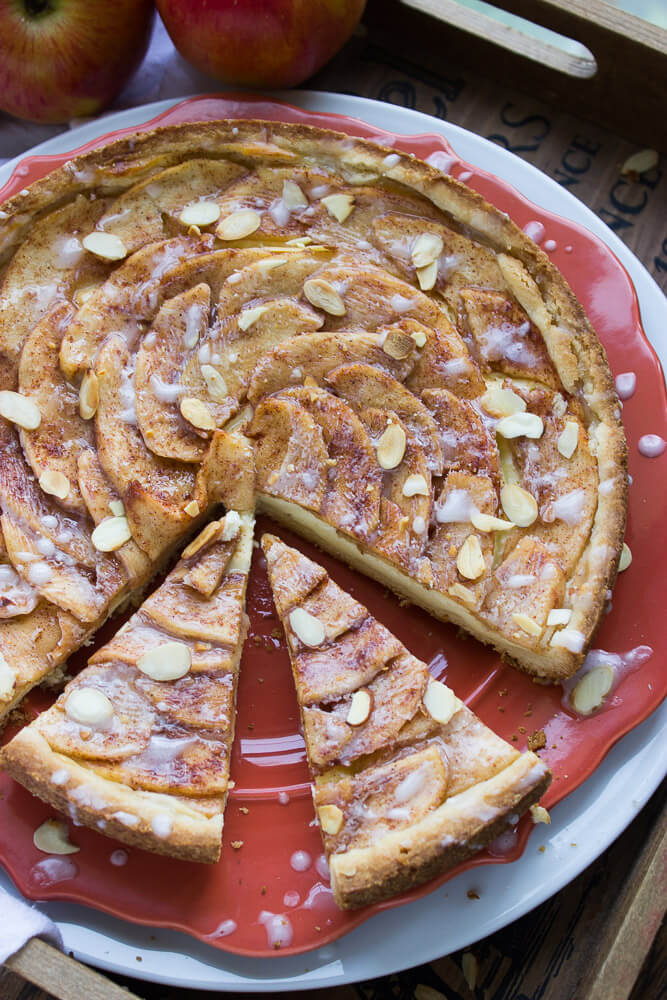 Variations
Here are some ways you can make this classic apple tart recipe your own:
Chocolate Charm: Drizzle melted chocolate over the cooled tart for added indulgence.
Be Jammy: Instead of a sugar glaze, use warm apricot jam. Thin the jam with a touch of hot water.
Berry Burst: Add a layer of mixed berries like blueberries or raspberries for a fruity punch.
Nutty Crunch: Top with chopped walnuts or pecans for added crunch and flavor.
Spice is Nice: Add a pinch of ground cloves or allspice for an even more seasonal flavor.
How to Make Apple Tart
You'll find this apple tart recipe easy – just follow these simple step-by-step instructions. Check out the recipe card below if you need more help.
Cream butter and sugar until light and fluffy. Then beat in the vanilla, and gradually the flour.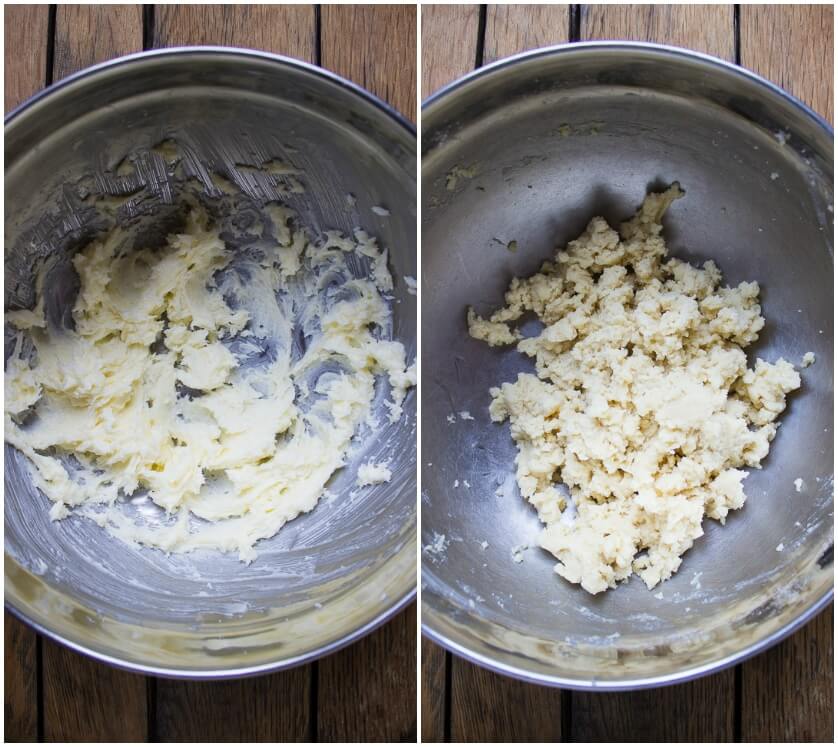 Grease and flour the springform pan. Press the dough onto the bottom and 1-inch up sides of the pan.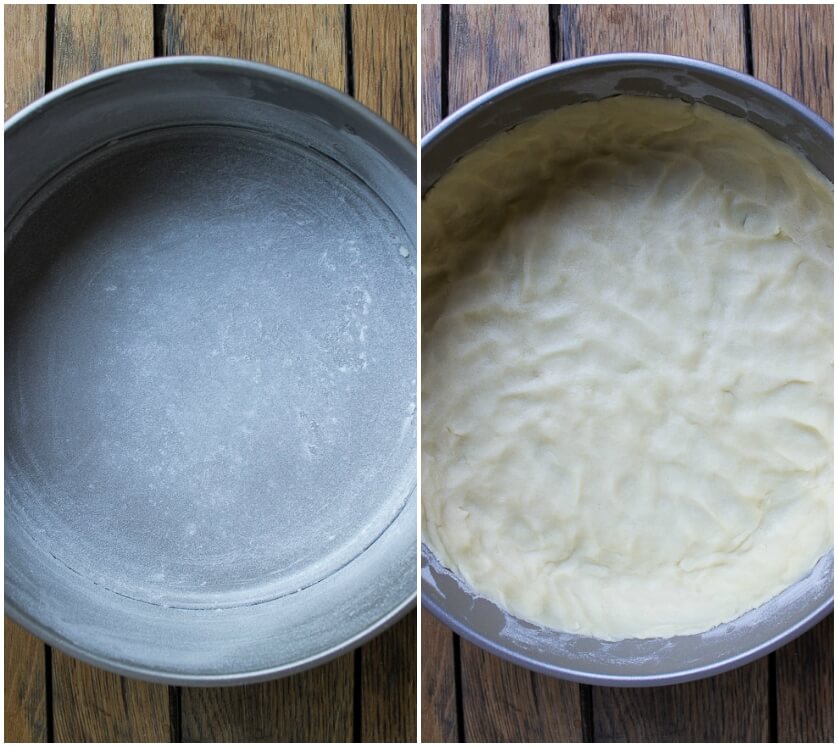 Next, make the apple tart filling.
In a clean bowl, beat cream cheese until smooth. Add sugar and continue beating until combined. Add egg and almond extract. Beat on low speed just until blended. Pour into the crust.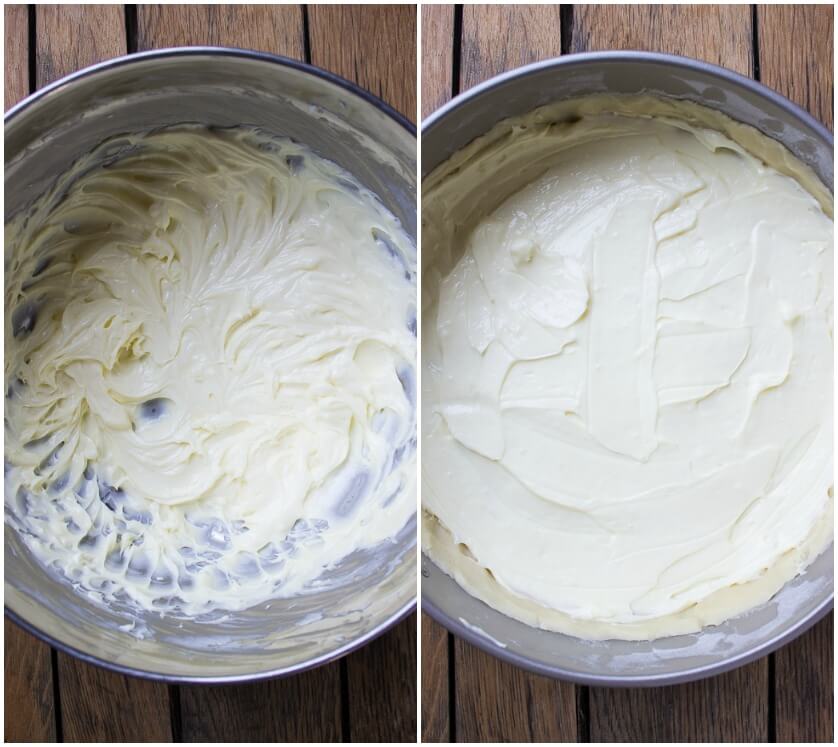 Lastly, prepare the apples and layer.
In a large bowl, toss the sliced apples with the remaining sugar, cinnamon, and nutmeg.
Arrange apples over cream cheese mixture in an overlapping pattern.
Push down the dough lightly around the edges to even out the filling.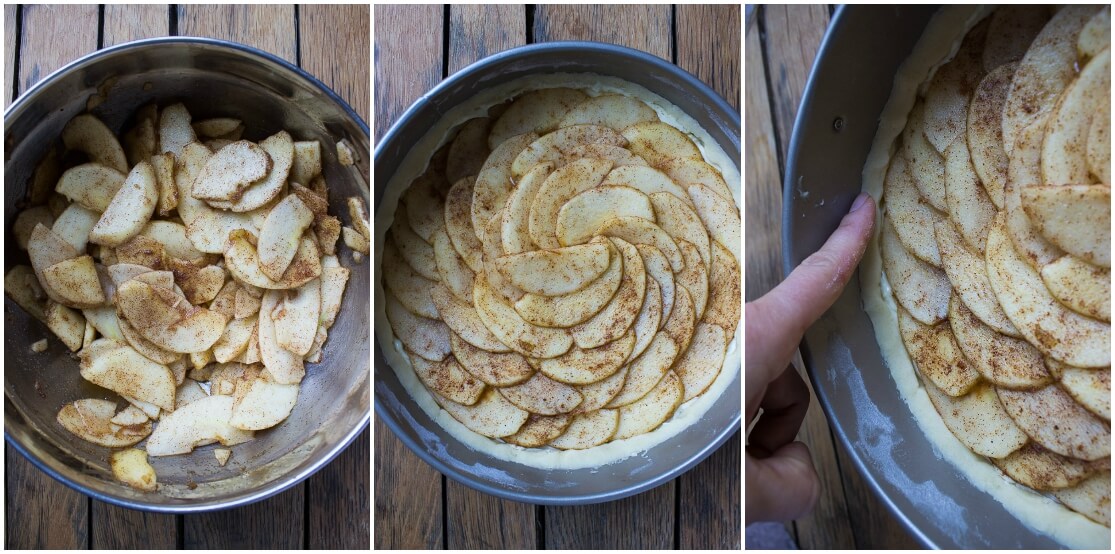 Bake and finish with glaze.
Bake the tart for 5 minutes in a 450F oven. Reduce the oven to 400F and continue baking for an additional 30-35 minutes or until apples are tender and crust golden brown. Cool the tart on a wire rack.
Whisk together the confectioners' sugar and milk. Drizzle the cooled tart with glaze and sprinkle with toasted almonds.
This apple tart is super forgiving. So even if your crust is not perfectly even or apples are neatly arranged it will hardly be noticeable.
Expert Tips
Want to make the best apple tart? Here are some expert tips:
Just Springform: There's no need for a fancy tart pan – a multi-purpose springform pan works just as well!
Thin to Win: Make sure to keep those apple slices nice and thin so they cook evenly. A sharp knife is key!
Chill Out: Let the tart cool to room temperature on a wire rack before glazing. This is so the glaze sets properly and doesn't run off.
A Toast to Almonds: Toast the almonds first in a skillet over medium heat – they'll taste so much better.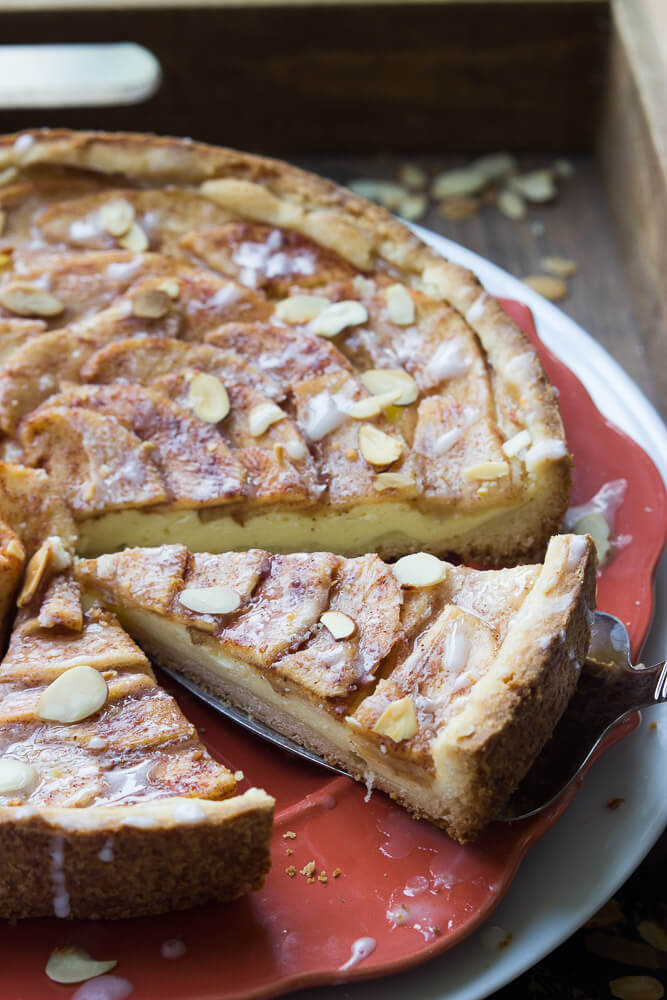 Serving Suggestions
Looking for the perfect way to serve your French apple tart? Try some of these ideas:
À la mode: Nothing complements a warm apple tart quite like a cold scoop of vanilla ice cream melting over it.
Whipped cream: Top your slice with a dollop of fresh whipped cream for a creamy and airy contrast.
Crème fraîche: A spoonful of tangy crème fraîche makes for a richer, gourmet experience.
Caramel sauce: Finish with a rich caramel topping for a truly decadent finish.
How to Store
Got some leftovers or planning to make ahead? Here's how to keep your apple tart fresh:
Fridge: Store the tart in the fridge for up to 2 days. Ensure it's covered well so it keeps its freshness and flavor.
Freezer: Planning on having a ready supply? Slice into portions and place in an airtight container, using parchment paper to separate the slices. Keep in the freezer for up to a month.
Reheat: Ready to enjoy again? Reheat directly from frozen in the oven. Just bake at 400°F for 25-30 minutes.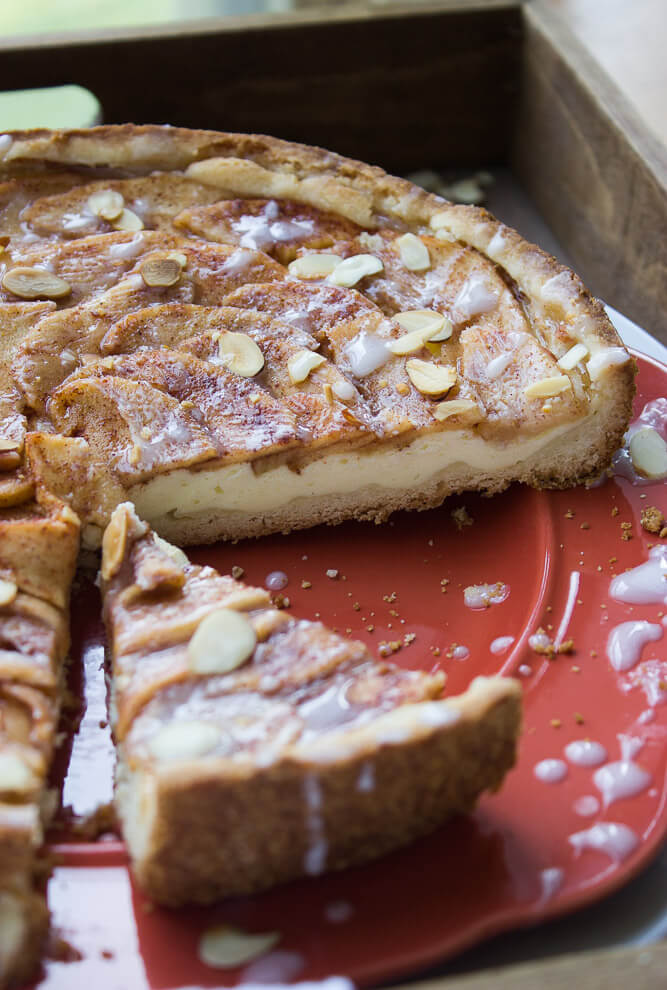 Recipe FAQs
Can I use ready-made frozen puff pastry?
In this recipe, we make our own shortcrust pastry. It's the perfect crust for the type of tart we're aiming for – with its thick, creamy filling.

Puff pastry apple tarts usually have much different recipes. That being said, we'd love to hear if you tried – just leave a comment below.

Should I peel apples for a tart?
Yes, peeling the apples for your tart is recommended. The end result is more delicate and tender without the skins, and it also helps the apples bake more evenly.

However, if you're using Granny Smith apples, their skins are known to soften nicely when cooked – though we haven't tried in a tart recipe yet. If you have, let us know about it!
How do you slice apples for a tart?
Peel and core the apples. Using a sharp knife, slice one side of the apple as closely as possible to the core. Repeat all around with the remaining 3 sides. Then slice each apple chunk 1/8 to 1/4 inch thick.
Why is my apple tart dry?
There could be a few reasons for a dry apple tart, such as overbaking, using apples with a low moisture content, or not using enough fat or moisture. 

Make sure you follow the recipe carefully, get nice and juicy apples like the ones we've recommended, and watch your baking time.
Print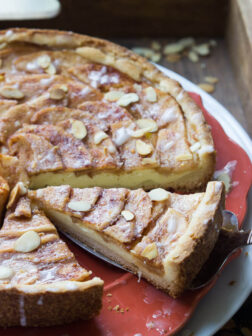 Easy Apple Tart
Author: Katya
Prep Time: 40 mins
Cook Time: 35 mins
Total Time: 1 hour 15 mins
Yield: 12 1x
Category: Dessert
Method: Baked
Cuisine: American
---
Description
Easy apple tart recipe with a buttery crust that is made from scratch and creamy almond filling. Topped with tender cinnamon apple slices and crunchy almonds.
---
1/2 cup unsalted butter, at room temperature
1/2 cup + 2 tbsp. granulated sugar, divided (1/4 c. + 1/4 c. + 2 Tbsp.)
1/2 tsp. pure vanilla extract
1 cup all-purpose flour, measured correctly
1 pkg. (8 oz.) cream cheese, at room temperature
1 large egg, lightly beaten
1/2 tsp. almond extract
2 medium apples such as Braeburn or Granny Smith (3, if apples are small), peeled, cored, and thinly sliced
2 tsp. ground cinnamon
Pinch of ground nutmeg (about 1/8 tsp.)
1/2 cup confectioners' sugar
1 Tbsp. milk
2 Tbsp. sliced almonds, toasted
---
Instructions
Preheat oven to 450F.
In a medium bowl, cream butter and 1/4 cup sugar until light and fluffy. Beat in vanilla. Gradually beat in flour.
Grease and flour 9-inch springform pan. Press the dough onto the bottom and 1-inch up sides of the pan.
In a clean medium bowl, beat cream cheese until smooth. Add 1/4 cup sugar and continue beating until combined. Add egg and almond extract; beat on low speed just until blended. Pour into crust.
Toss sliced apples with the remaining 2 tablespoons of sugar, cinnamon, and nutmeg. Arrange apples over cream cheese mixture in an overlapping pattern. Push down the dough lightly around the edges to even out with the filling.
Bake 5 minutes in the preheated 450F oven. Reduce oven setting to 400F. Do not take the tart out of the oven while reducing the oven temperature. Bake 30-35 minutes longer or until apples are tender and crust is golden brown and begins to separate from the sides of the pan. Check doneness with a toothpick inserted into the middle of the tart. Take the tart out of the oven and cool on a wire rack.
While the tart is cooling, prepare the glaze by mixing confectioners' sugar and milk until smooth.
Remove rim from the springform pan. Using a small sharp knife, gently go around the bottom of the tart crust to loosen the bottom. With a thin spatula or large knife, lift the tart from the pan onto a serving platter.
Drizzle with prepared glaze and sprinkle with almonds. Cut into 12 servings and serve immediately. Refrigerate leftovers covered for up two days.
---
Nutrition
Serving Size: 1 slice
Calories: 209
Sugar: 17 g
Sodium: 44.7 mg
Fat: 10.6 g
Carbohydrates: 26.4 g
Protein: 2.9 g
Cholesterol: 41.4 mg
Keywords: fall, pie, apple dessert
Recipe adapted with changes from Taste of Home and originally published on 9/18/2015.
You May Also Like…