Roasted Brussels Sprouts with Cranberries and Prosciutto
Brussels sprouts roasted until golden tender, then tossed with sweet cranberries, crispy prosciutto, and fresh lemon zest. This easy side dish requires minimal prep and will surely be a favorite!
Holidays are finally upon us and if you're planning out your menu or trying to decide what to bring to a potluck, then I have you covered with these roasted brussels sprouts with cranberries and prosciutto.
Loaded with flavor, color, and texture. Plus the ingredients are simple and short: Brussels sprouts, prosciutto, garlic, thyme, cranberries, and lemon zest.
It pairs amazingly with major holiday dishes but also with weeknight meals, such as Easy Roasted Herb Chicken.
Brussel Sprouts with Prosciutto
The Brussels sprouts are first roasted and then topped with a crispy salty and sweet prosciutto cranberry mixture. You get so much flavor in each bite!
Of course, don't wait until the holidays to make this dish, because it's easy enough to put together during the weeknight.
I personally love it served with any type of roasted chicken, such as Lemon Roasted Chicken and Potatoes or Roasted Lemon Rosemary Chicken. You can also serve it alongside roasted salmon or juicy grilled steak.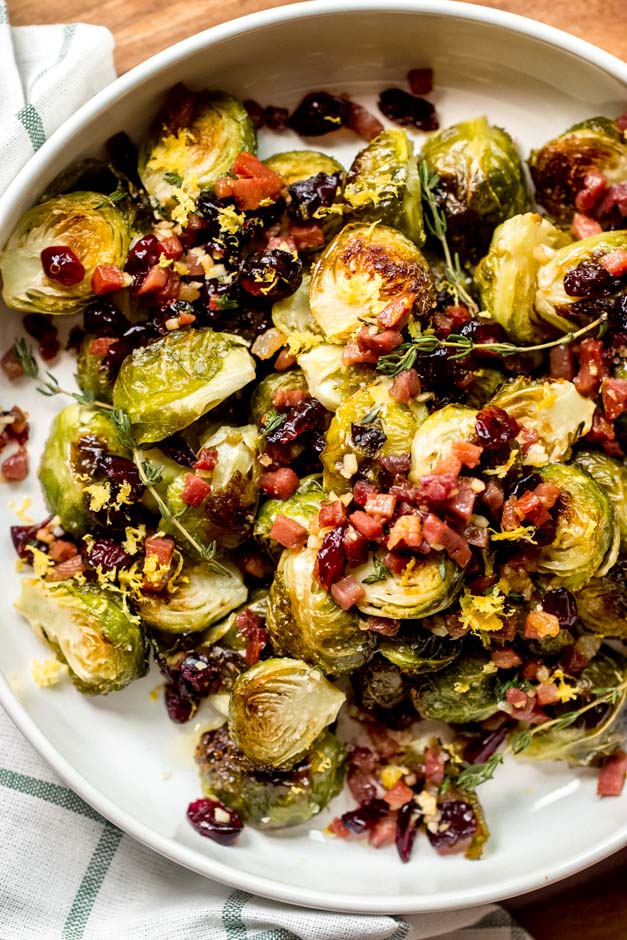 How to Buy Brussels Sprouts
The freshest and best-tasting Brussels sprouts are small, firm, and have an intense green color. Look for small to medium sprouts without any holes.
They're going to be sweeter and most flavorful. They should be bright green with no yellowing, and with the leaves tightly wrapped.
If you find Brussels sprouts on a stalk, definitely take advantage of them. They're going to be fresher and richer in flavor.
I usually find Brussels sprouts on a stalk at my local farmers' market and some of the nicer grocery stores.
Ingredients
Brussels sprouts
Prosciutto
Garlic
Thyme
Cranberries
Lemons
Pantry staples: olive oil, salt, and pepper
How to Clean Brussels Sprouts
First, using a paring knife, trim off the bottom stem of the sprouts, especially if they are dry or yellowed.
As you trim off the stem, some of the outer leaves will fall off, which is fine. You want to remove any of the outer leaves that have blemishes on them. Such as leaves with yellowing and black spots.
Next, place the Brussels sprouts into a colander and rinse under cold water. You can also rinse them in a large bowl of cold water.
Lastly, cut the sprouts in half lengthwise through the stem and prepare as needed.
If you're using Brussels sprouts on a stalk, you'll want to follow the same directions for cleaning, except first cut the sprouts off the stalk.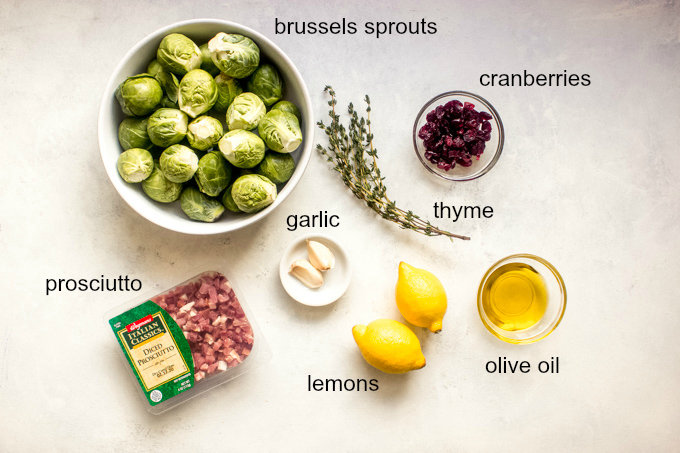 How to Make Brussels Sprouts and Cranberries
The recipe is quite simple. Brussels sprouts are oven-roasted until tender and golden brown in a 400 degree F oven for about 35-40 minutes.

I used the Food Network method for roasting the sprouts. It's a foolproof recipe that I've adapted over the years. The brussels sprouts turn out perfect every single time.
How do you know when sprouts are done? They should be crispy and lightly charred on the outside and tender on the inside.

Then they are topped with pan sautéed crispy prosciutto, sweet cranberries, garlic, and thyme. It's so easy to make.
You basically cook the prosciutto until crispy. Stir in the garlic and cook for about 30 seconds, and then add the thyme and cranberries.

I love using prosciutto instead of bacon. It's salty, crispy just like bacon but without the ginormous amount of grease. Then the dish is finished off with fresh lemon zest.
It's got saltiness combined with little sweetness and plenty of freshness from the lemon zest. These Brussels sprouts are super tender and make a festive side dish to serve with your main course.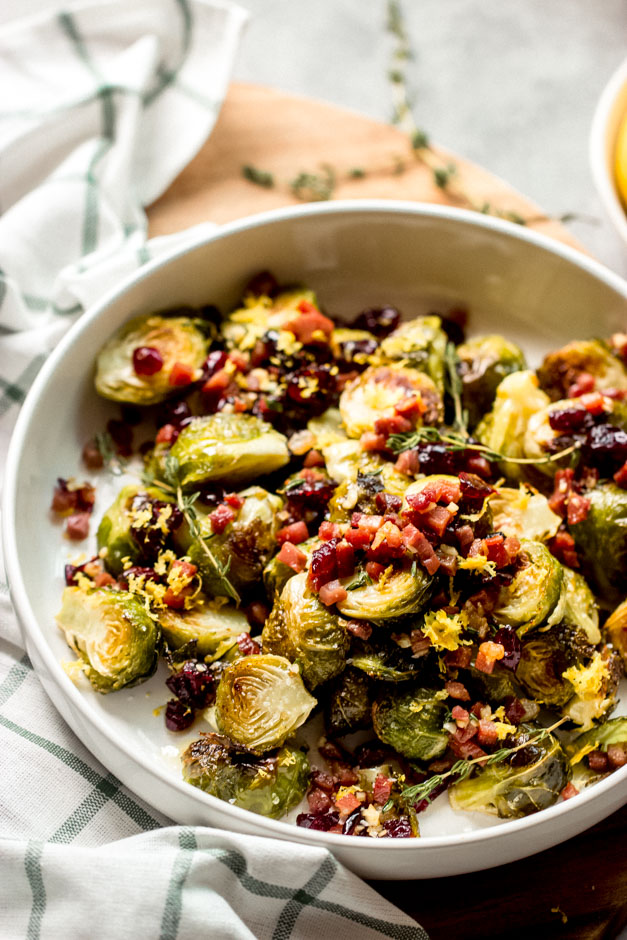 Making This For the Holidays?
These roasted brussels sprouts make a festive holiday side dish. Here are some other dishes they serve well with:
Print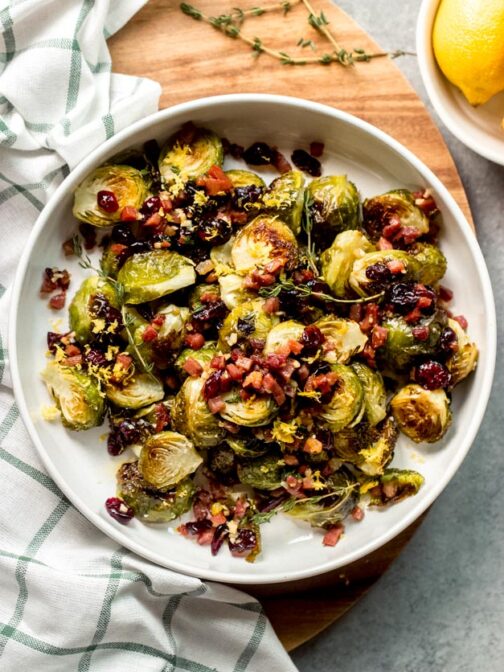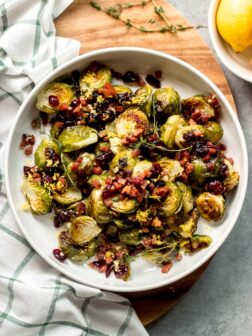 Roasted Brussels Sprouts with Cranberries and Prosciutto
Author: Katya
Prep Time: 10 mins
Cook Time: 40 mins
Total Time: 50 mins
Yield: 4-6 1x
Category: Side
Method: Roasted
Cuisine: American
---
Description
Brussels sprouts roasted until golden tender, then tossed with sweet cranberries, crispy prosciutto, and fresh lemon zest. This easy side dish requires minimal prep and will surely be a holiday favorite!
---
1 1/2 lbs. Brussels sprouts, cleaned, trimmed + halved
5 Tbsp. olive oil, divided
1/2 tsp. kosher salt
3 oz. diced prosciutto
2 garlic cloves, minced
1 tsp. fresh thyme
1/3 cup dried cranberries
2 tsp. lemon zest, about 1–2 lemons
Fresh black pepper
---
Instructions
Preheat the oven to 400 degrees F. Line a baking sheet with parchment paper and set aside.
Toss the Brussels sprouts with 3 tablespoons of olive oil, salt, and pepper. Arrange on the prepared baking sheet. Roast for 35-40 minutes, tossing halfway, or until crisp tender.
Meanwhile, heat the remaining 2 tablespoons of olive oil in a large skillet over medium heat. Cook prosciutto until crisp, about 4-5 minutes.
Add garlic and cook just until fragrant, about 30 seconds. Stir in thyme and cranberries and cook for about 1 minute, stirring constantly.
Transfer the roasted Brussels sprouts to a serving bowl. Spoon the prosciutto and cranberry mixture over the sprouts, including the drippings. Garnish with lemon zest and serve immediately.
---
Notes
Brussels sprouts: When roasting brussels sprouts, make sure to spread them out onto a baking sheet. You want to see some space around the sprouts. Otherwise, if crowded, they will steam instead of roast.
Prosciutto: Prosciutto is an Italian dry-cured ham. Ask your deli counter to cut you a slab and dice it yourself. Or sometimes you can find pre-diced prosciutto near the specialty meats.
Nutrition
Serving Size:
Calories: 172
Sugar: 13.5 g
Sodium: 313.7 mg
Fat: 5.1 g
Carbohydrates: 26.8 g
Protein: 10 g
Cholesterol: 9.6 mg
Keywords: fall, holidays, easy, roasted brussels sprouts
You May Also Like…