Avocado Egg Salad
Delicious Avocado Egg Salad with crunchy veggies and creamy herb dressing. It's perfect for lunches, picnics, or snack.
If you're a fan of avocado toast, then this salad is for you! Avocado egg salad made with hard-boiled eggs, creamy avocado, fresh cucumbers, pickles, and green onions tossed in a sour cream herb dressing.
This healthy egg salad is incredibly fresh, light, and so easy to make. Feel free to use your favorite fresh herbs, such as dill, cilantro, or parsley.
Reasons to Love This Recipe
A classic made better. That's right, this egg salad elevates the traditional by adding avocado and cucumbers but also switches up the flavor a bit with sour cream as the main dressing ingredient. Smooth, fresh, earthy flavors are welcome in Spring as a quintessential recipe.
A quick way to add a superfood to your meal. Avocados are one of the most well-known, nutrient-dense fruits utilized today. What's great about it is that it's mild in flavor, won't overpower your egg salad, and instead adds a tasty, creamy bite!
Easy to scale. No matter how many eggs you've got, you can make this avocado egg salad recipe by doubling the batch or dividing it to fit your needs. Use a smaller avocado if needed.
Makes a hearty sandwich. I absolutely love using this recipe to make an avocado egg salad sandwich topped with fresh spinach and a few ringlets of red onion for extra crunch. You could also use it to make a wrap, serve in lettuce cups, or use crackers to scoop the egg salad with avocado.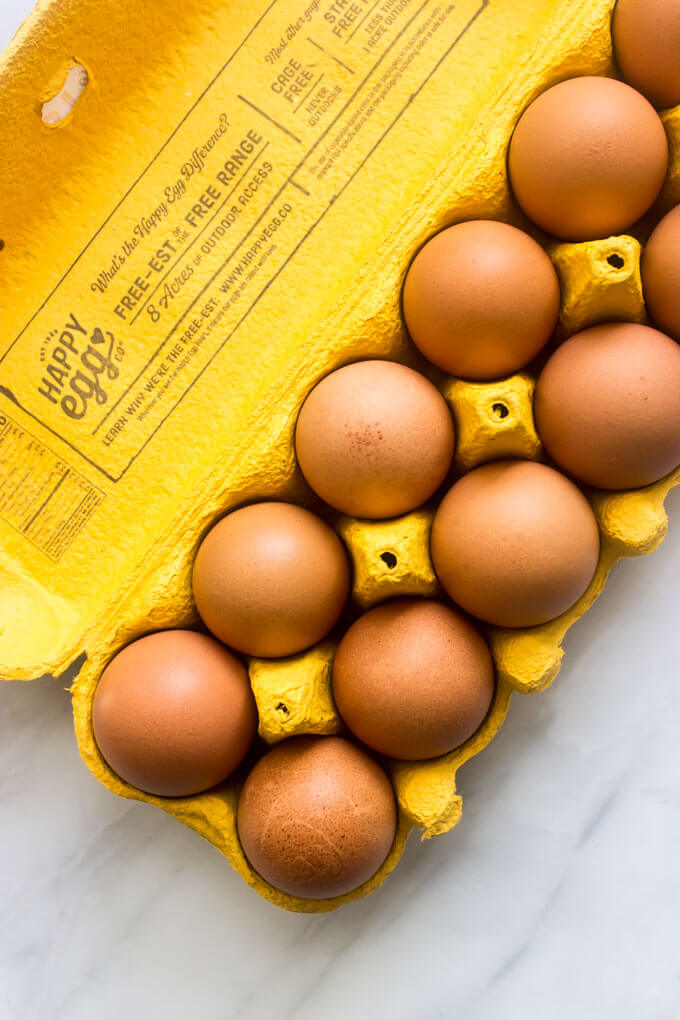 Ingredients
Egg salads all use similar ingredients: eggs (of course), a creamy-based dressing with a bit of tanginess, and some crunchy veggies, and this takes it one step further with a creamy bite of avocado.
Eggs: Follow my step-by-step method below for perfect hard boil eggs, or use whatever process you prefer.
Avocado: Choose a soft, ripe avocado that still holds its shape when cut.
Pickles: Dill kosher pickles will give you the best tangy flavor that brings out the most flavor in an egg salad.
Cucumber: English cucumbers are ideal as they aren't as bitter as a regular cucumber and have thinner skin and smaller seeds.
Green onions: Use the whole stalk or just the greens if you prefer a more subtle onion flavor.
Sour cream: I like using whole milk sour cream as it adds more flavor and is thicker.
Mayonnaise: To balance the thickness of the sour cream and add more flavor, I use a few tablespoons of mayo.
Dijon mustard: Dijon is less spicy than yellow mustard, but either can be used.
Olive oil: This last dressing ingredient helps to smooth the mayo, sour cream, and dijon mustard into a creamy sauce for the egg salad.
Fresh herbs: Feel free to use a combination of fresh dill, parsley, and cilantro.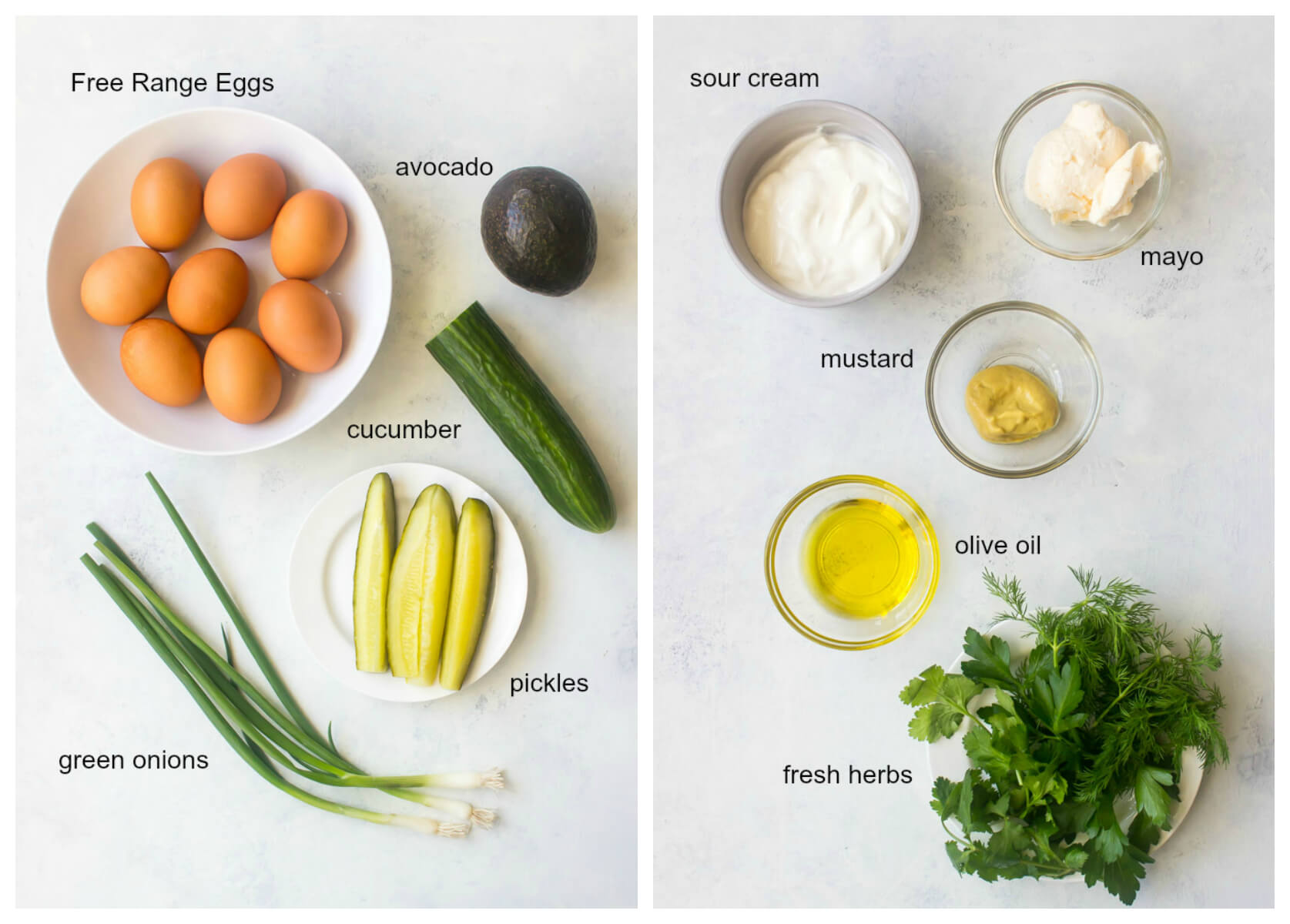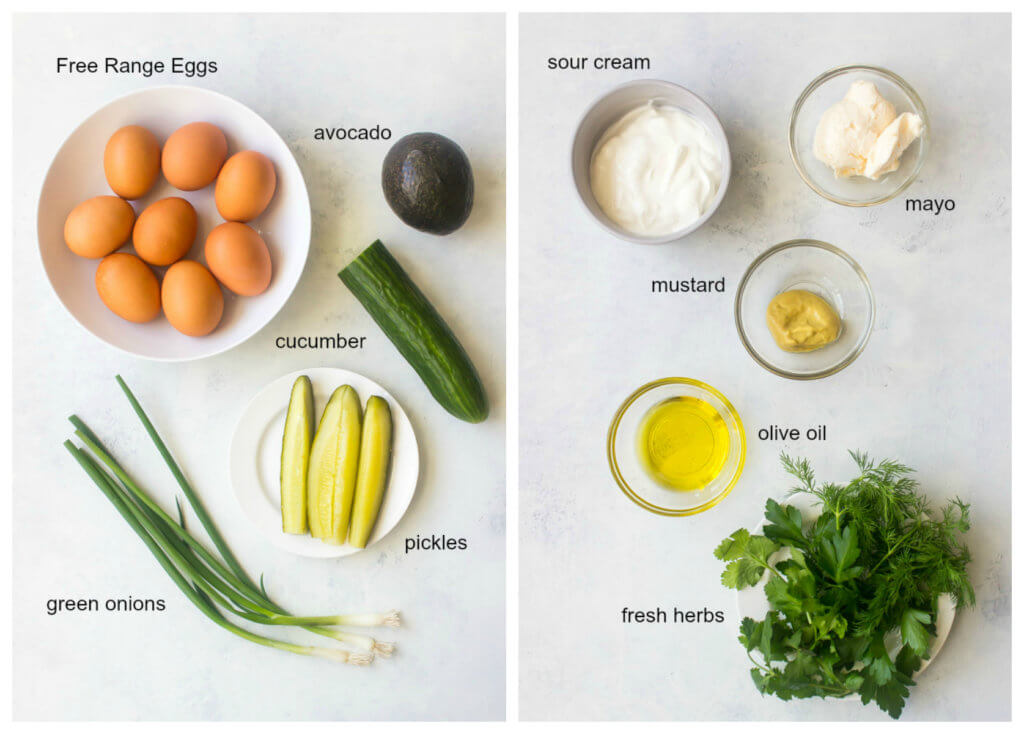 How to Make Avocado Egg Salad
First, you'll want to cook the eggs. I've used this foolproof method to hard-boil eggs for years. Place eggs in a pot and cover with cold water.
Bring to a boil over medium-high heat, cover, and boil for exactly 5 minutes at a rolling boil. Turn off the heat while leaving the pot on the hot burner for 5 more minutes. Drain, cool in ice water, and peel.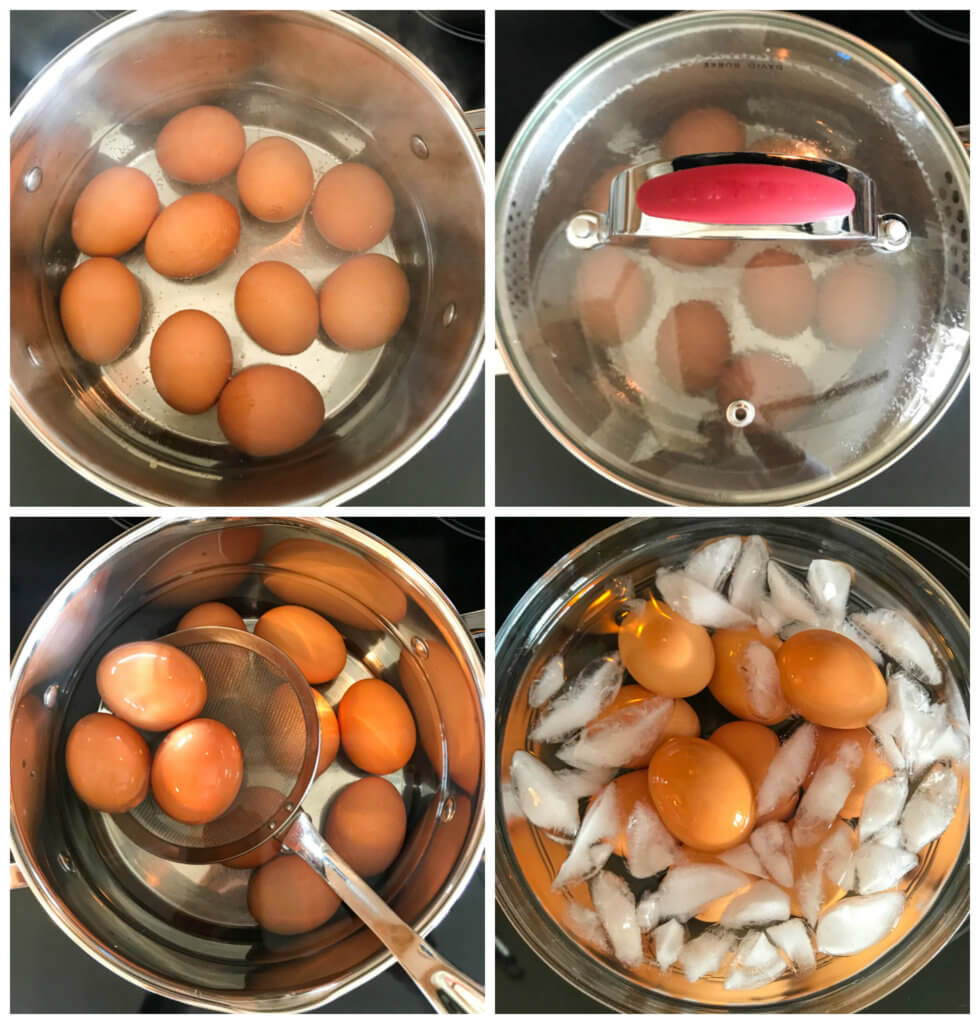 Next, whisk the dressing ingredients in a small bowl until combined. Season with salt and pepper to taste. Dressing might be more on the thick side depending on the brand of sour cream used.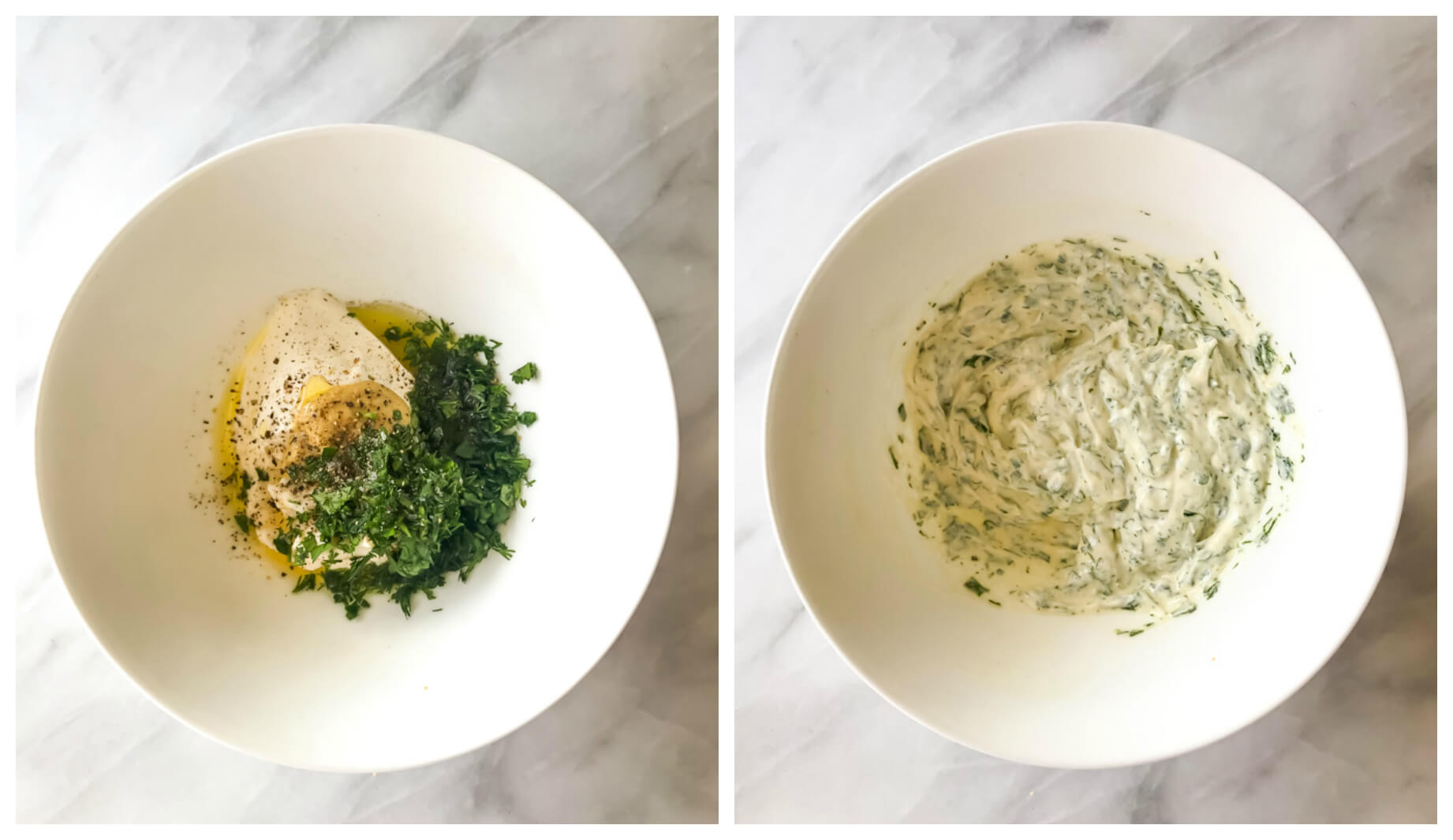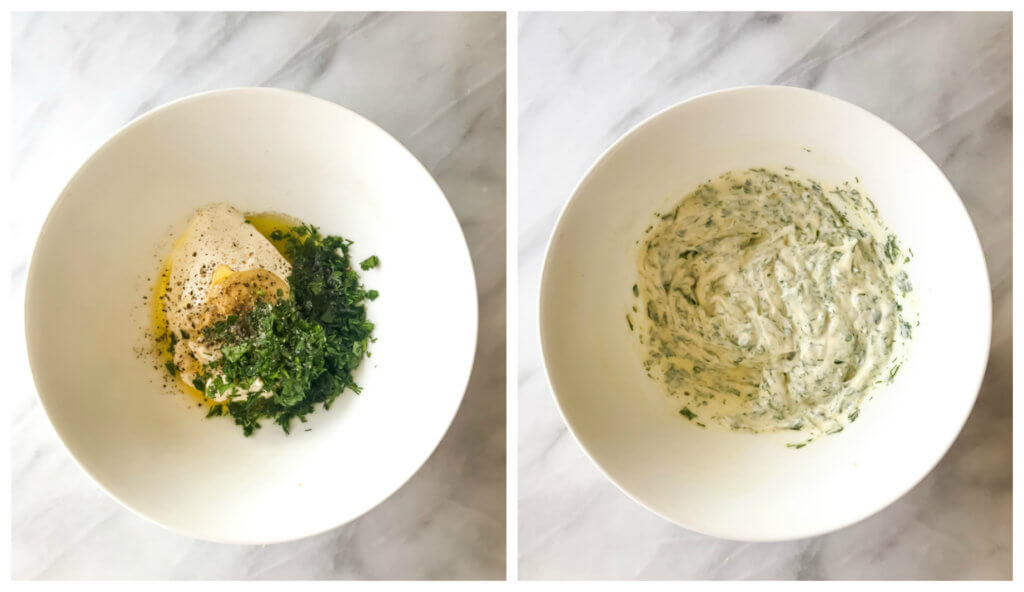 Lastly, add the salad ingredients to a large mixing bowl. Add the dressing and gently toss to combine. Taste for salt and pepper. Chill for at least 30 minutes before serving.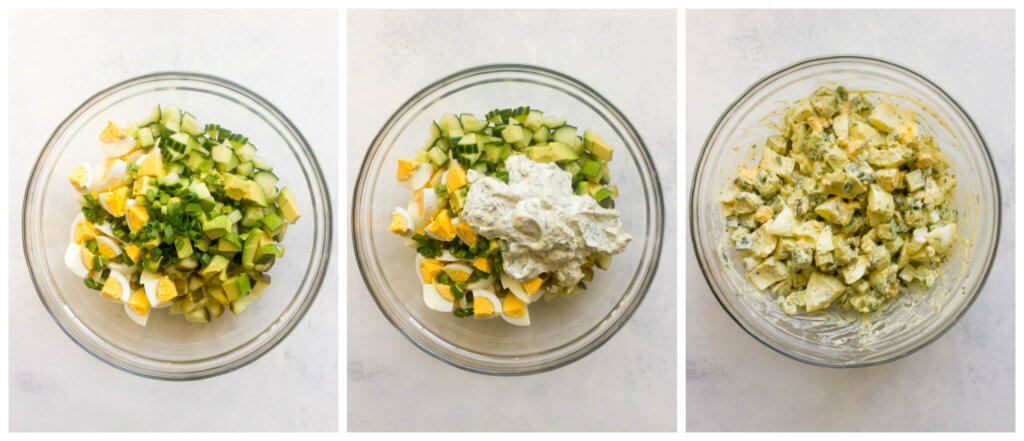 Recipe Tips
Boil eggs ahead of time. Once boiled, you can store them in the fridge with or without the shell on for a few days before making your avocado egg salad. They'll last a little longer, though, with the shell on.
Allow the salad to chill first. After mixing everything, you may want to dig right in, but if you want a fully flavored egg salad, let everything meld in the fridge for at least 30 minutes. The dressing combined with the pickles and green onions will develop more as it sits, giving you the best creamy, tangy egg salad with avocado and dill.
Add in red onions. Do you like a zesty, crunchy egg salad? Swap out the green onions or add red onions to the recipe. It's a quick way to add texture and a lot of flavors and leans more into a guacamole egg salad.
Smash in the avocado. Cubed pieces of avocado add a delicate soft bite, but you can also mash it first and smooth it into the dressing. You'll have a bright green egg salad that is just as tasty, if not more so!
How to Serve
Sandwich – This avocado egg salad serves well over a toasted slice of whole-grain bread with arugula or baby spinach for an open-faced sandwich.
Low-carb option – For a low-carb option, serve it inside a lettuce leaf as I have done here. Another option would be to serve it over salad greens.
Side dish – During the warmer months, it can be the ultimate side dish to burgers, sliders, or grilled meats!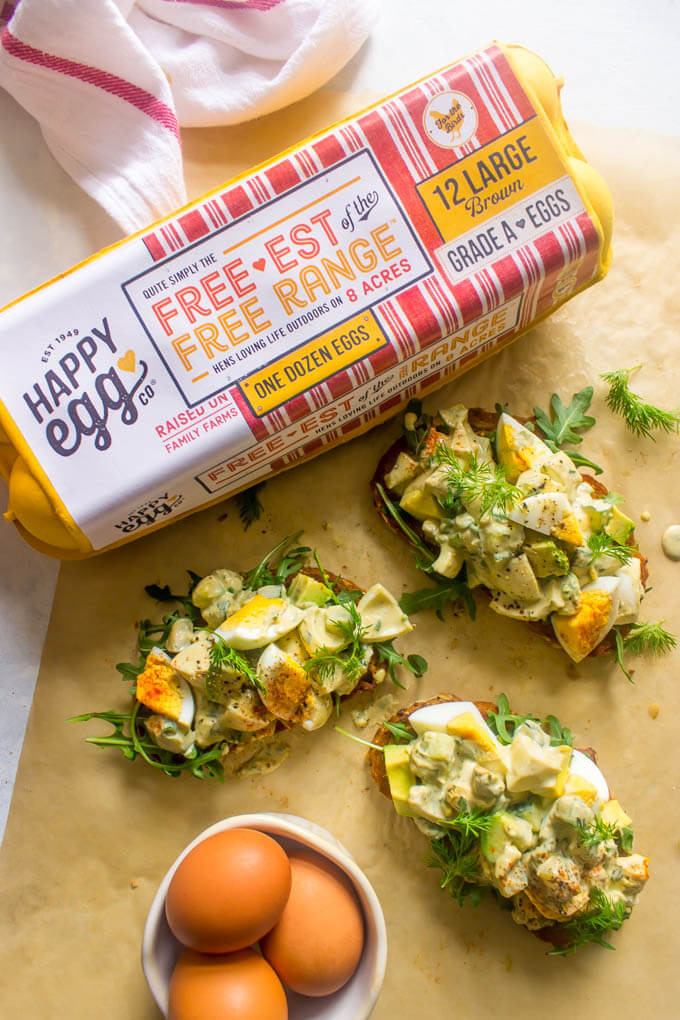 Storing Leftovers: Avocado egg salad is best enjoyed the same day but can store for up to 2 days in the fridge. It doesn't last quite as long as regular egg salad because the avocado will begin to oxidize and brown, which can be unappealing.
FAQs
Do eggs and avocado taste good together?
Absolutely, and this easy avocado egg salad recipe is proof! If you love a classic egg salad recipe with a creamy yet tangy dressing, then you will love the addition of avocado with its creamy consistency and earthy flavors. It pairs perfectly with eggs and other ingredients such as fresh dill, pickles, and cucumbers. 

Can I use tuna instead of eggs?
If these flavors appeal to your tastebuds, but you're craving tuna, I think it would be delicious. I would suggest reducing the eggs and adding the fish for a tuna egg salad with avocados.

What can I use instead of mustard in egg salad?
Instead of mustard, choose another acidic ingredient such as vinegar (white or apple cider will do), dill pickle juice, or citrus juice like lemon or lime.
More Creamy Salad Recipes
Print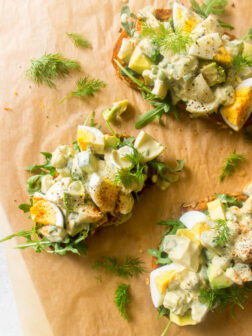 Avocado Egg Salad Recipe
Author: Katya
Prep Time: 25 min
Total Time: 25 minutes
Yield: 6 1x
Category: Salad
Method: Chopped
Cuisine: American
---
Description
Delicious avocado egg salad with crunchy veggies and creamy herb dressing is the best healthy egg salad I have tasted!
---
8 large eggs, hard-boiled, peeled and chopped
1 large avocado, chopped
3/4 cup kosher dill pickles, chopped
1/2 English cucumber, chopped
3 green onions, chopped
Dressing
1/4 cup sour cream
2 Tbsp. mayonnaise
2 tsp. Dijon mustard
1 Tbsp. olive oil
1/4 cup fresh chopped herbs, such as dill, cilantro, parsley
Kosher salt and fresh black pepper
---
Instructions
Prepare the dressing. In a small bowl, whisk the dressing ingredients until combined. Season with salt and pepper to taste. 
Prepare the salad. Add salad ingredients to a large salad bowl. Stir in the dressing and gently toss to combine. Taste for salt and pepper. Refrigerate the salad for at least 30 minutes before serving.
---
Notes
Sour Cream: Depending on the brand of the sour cream used, the dressing might be more on the thick side. Do not add any additional ingredients to thin out the dressing. As the salad chills, the vegetables will release some of their juices and the salad will be perfectly creamy.
Herbs: You can use a combination of your favorite fresh herbs for the dressing. I personally love parsley, dill, and cilantro, but fresh oregano, chives, and even a little fresh tarragon would be great.
Serving: For an open-faced sandwich, I toasted whole wheat bread, topped it with arugula, and then added the salad. Fresh sliced radishes or cucumbers would also be tasty to add. 
Nutrition
Serving Size:
Calories: 219
Sugar: 1.8 g
Sodium: 289.2 mg
Fat: 17.7 g
Carbohydrates: 5.6 g
Protein: 10.4 g
Cholesterol: 253.3 mg
Keywords: easter, leftover, seasonal, spring, easy, healthy
You May Also Like…