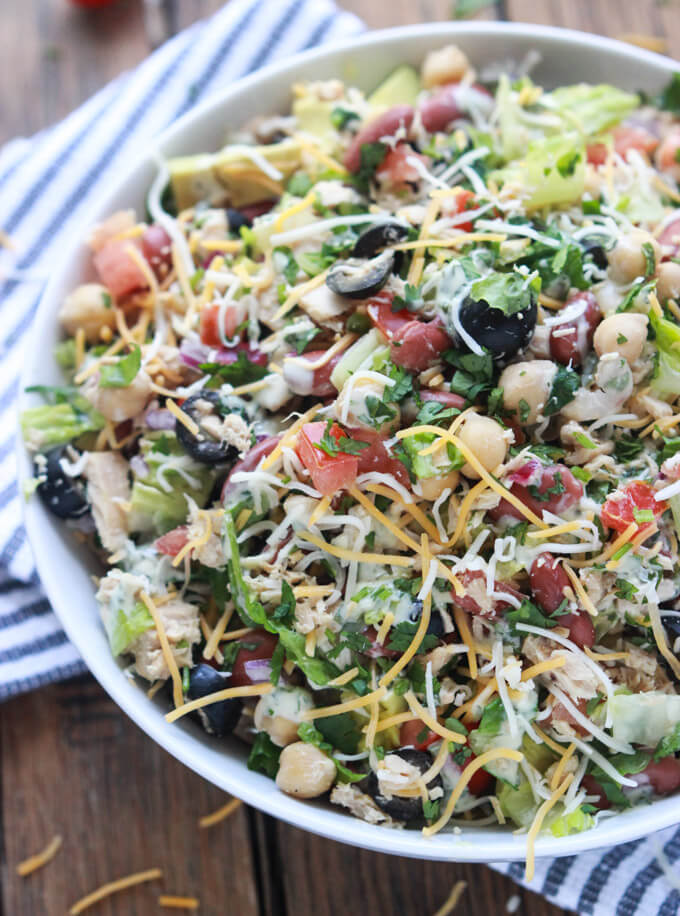 So every Monday goes like this…
I'm going to eat better, drink more water and go the gym as much as I can. Usually my Mondays are pretty good but the rest of the four days…..well that's a hit or miss sometimes. This week though, I gotta admit has been good. I think because I'm back on my salad binge. I feel like I went through a phase where all I wanted was fried food and the thought of a salad didn't do anything for me. Even though, I was always a salad lover.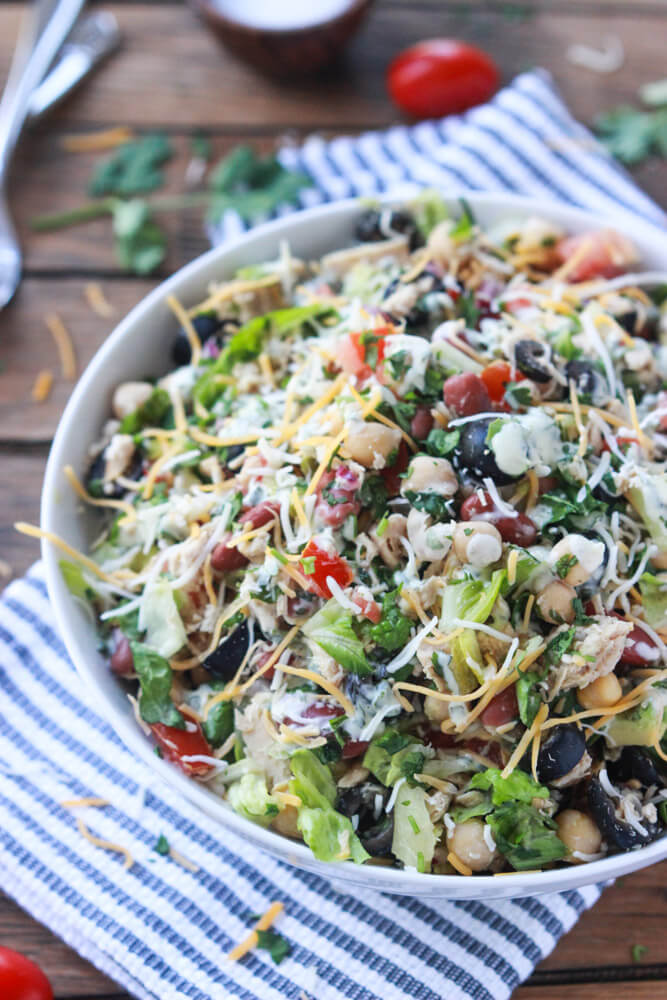 I grew up eating a lot of chopped salads but most of them smothered in mayo. That's Russian cuisine for you! Then when I moved away and became more "Americanized" I discovered an absolutely new world of salads! In Russian cuisine, salads are served more as a side than a full meal so the idea of having a salad for lunch or even dinner was never heard of. So, just like with anything new, I obsessively ate my way through college and early married life with a salad.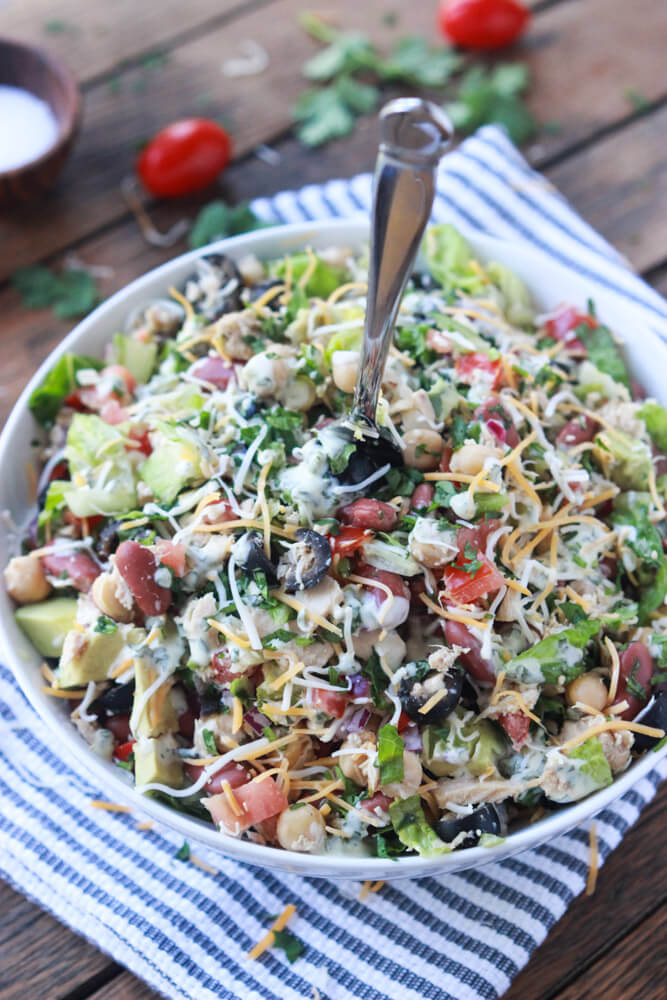 Last week or so, I've been on a chopped salad kick. Not sure whether it's because we're officially in fall season now, even though that's usually a season for fatty foods or because I'm feeling a little nostalgic and homesick (most of my fam is on west coast…waaa) or what but I'm seriously loving this. We've had greek chopped salad, italian chopped salad, mediterranean chopped salad all within the last week. I love the finely diced veggies combined with a good homemade dressing.
Mexican Chopped Tuna Salad is a fresh lunch or even dinner meal. And it's chopped! I don't do much canned tuna but I do enjoy it once in a while, depending how it's used. I found a great brand Wild Planet at my local supermarket that makes Wild Albacore Tuna without any added salt or any other additives. It's just one ingredient: tuna. And I love that! It's a little pricier than your Bumble Bee or Chicken of the Sea but I feel like it is so worth it. It taste great and has good texture.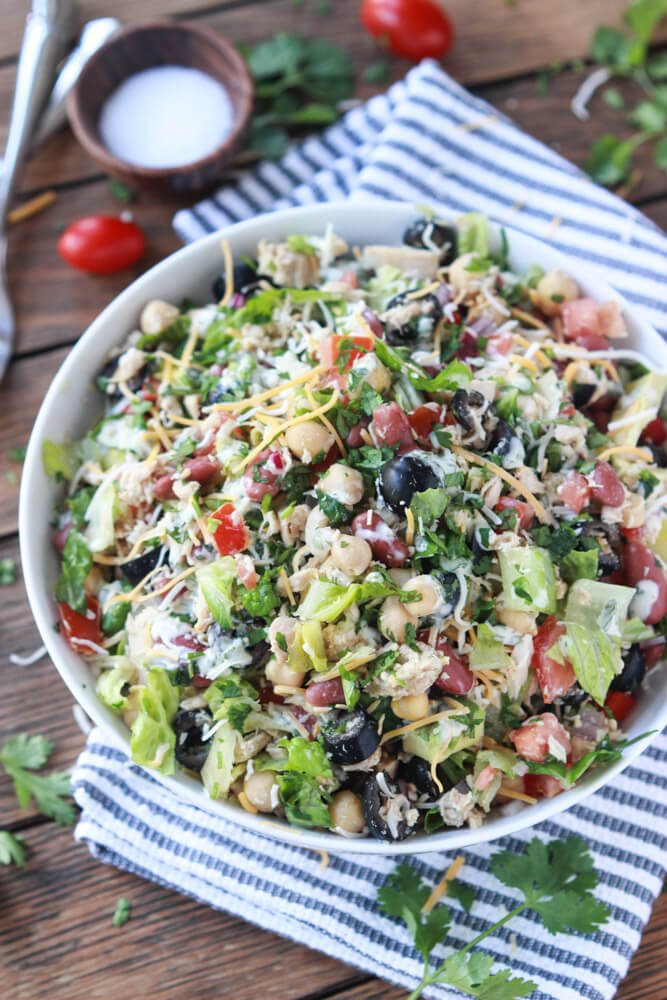 You combine the tuna with chopped romaine, garbanzo and kidney beans, olives, avocado, fresh pico de gallo (so easy to make your own!) and cheese. That homemade pico de gallo is amazing and super quick to make! Drizzle creamy homemade cilantro dressing and you have a delicious, healthy and quick meal. This salad packs really nice for next day, just omit the dressing and maybe avocado. Nothing worse than a brown avocado. Complete buzz kill. I also like to cook my own beans most of the time but I went with organic this time that I rinsed really well. I normally don't buy organic beans but I couldn't find a conventional brand that wasn't packed with junk. So if you guys know of any, I'm all ears!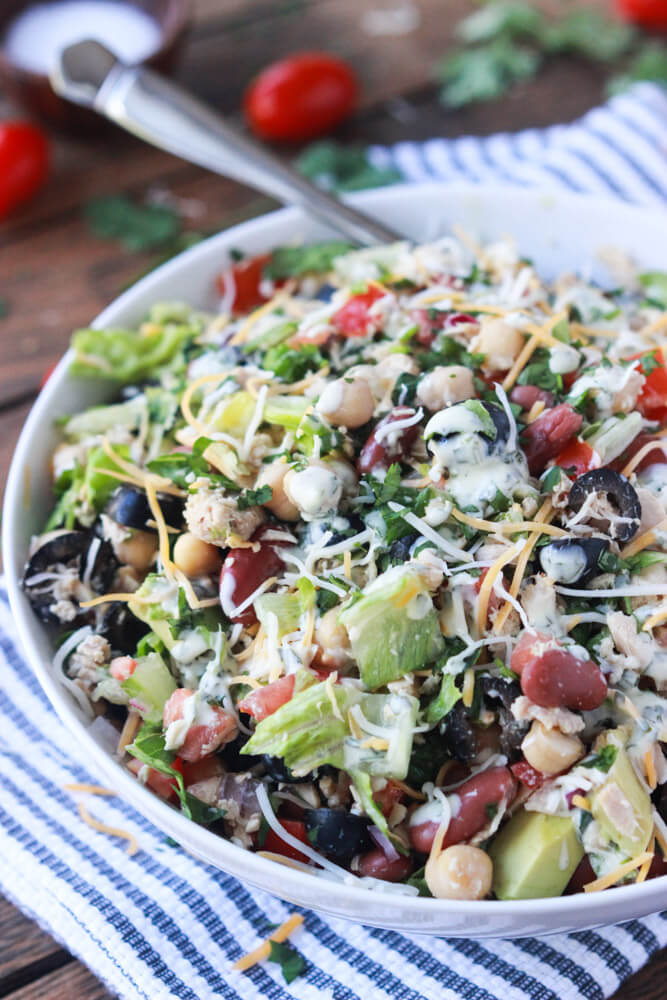 Mexican Chopped Tuna Salad with Creamy Cilantro Dressing
Author:
Katya @ https://www.littlebroken.com
Ingredients
Creamy Cilantro Dressing
3 Tbsp. sour cream
2 Tbsp. mayo
3 Tbsp. extra-virgin olive oil
2 Tbsp. cilantro, minced
2 garlic cloves, pressed
¼ tsp. dry mustard
¼ tsp. sea salt
juice 1 small lemon
fresh ground black pepper
Salad
2 (5 oz.) canned tuna in water, drained and flaked
4 cups chopped romaine lettuce
1 (15 oz.) garbanzo beans, drained and rinsed
1 (15 oz.) kidney beans, drained and rinsed
1 (2.25 oz.) sliced back olives, drained
½ cup shredded Mexican blend cheese
1 avocado, diced
1 cup fresh pico de gallo (recipe below or from the deli)
Pico De Gallo
2 roma tomatoes, diced
¼ cup red onion, chopped
1 small jalapeno, chopped
⅓ cup cilantro, chopped
1 lime, juiced
sea salt
Instructions
Creamy Cilantro Dressing
In a small bowl, combine all ingredients expect for lemon juice. Whisk until smooth. Add lemon juice gradually according to taste. Season with pepper.
Salad
In a large bowl, combine all the salad ingredients. Drizzle with salad dressing and serve.
Pico De Gallo (yields exactly 1 cup)
Combine all the ingredients.