Cream Cheese Fruit Dip
Cream cheese fruit dip is a creamy and soft complement to fresh fruit. It's made with only four ingredients and is the perfect addition to any fruit platter.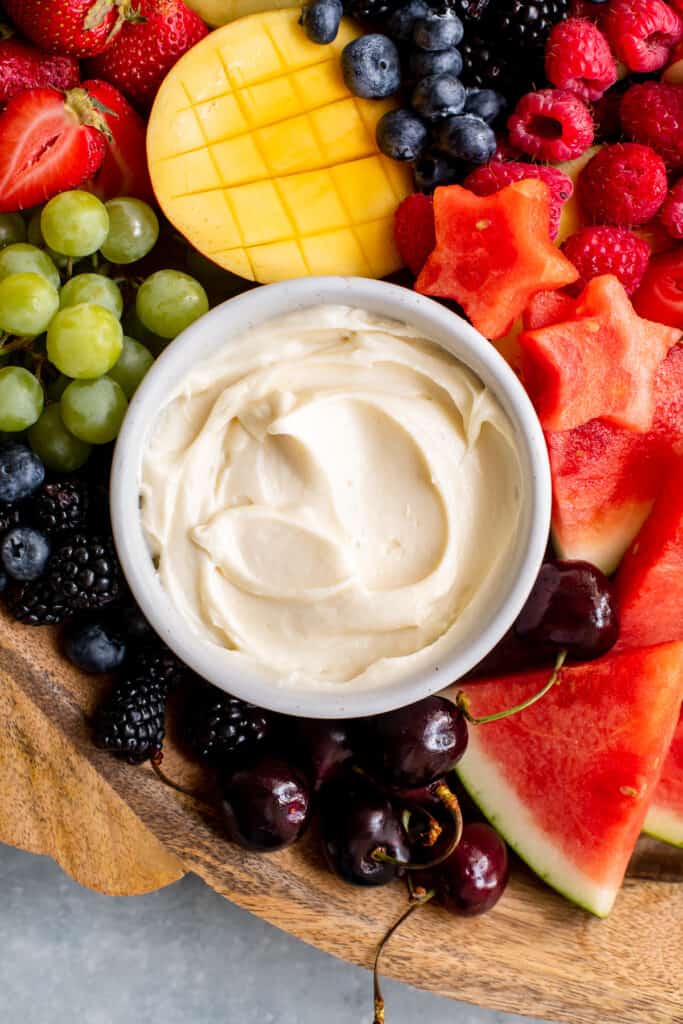 What is Cream Cheese Fruit Dip?
This easy fruit dip is made without marshmallow cream and is perfect for get-togethers or parties in the summer.
Change the fruit depending on the season, just like in our summer fresh fruit platter or a Christmas fruit salad, and serve these two dishes any time of year for holidays or themed parties.
The dip is easily adaptable with the addition of strawberry blueberry jam, jellies, cinnamon, lemon zest, cocoa powder, or other ingredients.
Ingredients
This dip has only four ingredients:
Cream cheese: Use a block of cream cheese and not cream cheese in a tub.
Sugar: Cane or granulated sugar works great in this recipe.
Heavy cream: Heavy cream or heavy whipping cream both work. Make sure your cream is cold.
Vanilla extract: Vanilla adds delicious flavor!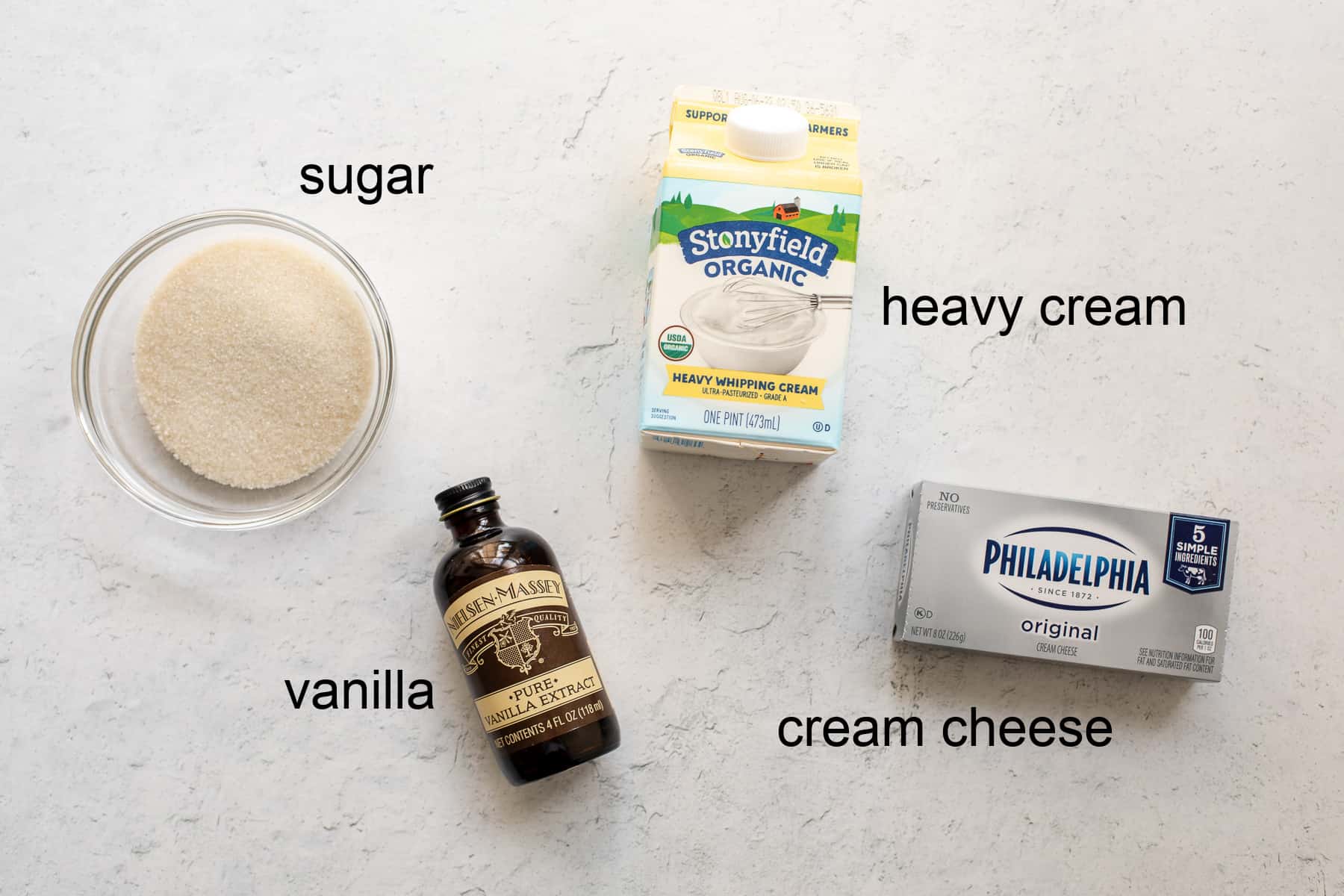 Other Ingredients to Add
This dip recipe only has a few delicious ingredients that can also be combined with other ingredients to really elevate it! Add some mashed fruit, cocoa powder, or other tasty things to eat with fruit.
Here are some tasty options:
Jams or jellies
Fresh fruit
Macerated fruit
Blended fruit
Cocoa powder
Brown sugar
Toffee bits
Nutmeg
Cinnamon
Lemon juice
Lemon zest
Philadelphia flavored cream cheese
Strawberry cream cheese
Coconut flakes
Coconut extract
Vanilla extract
Almond extract
Recipe Tips & Variations
Cream cheese fruit dip is easily adaptable to fit your tastes and preferences. Here are some ideas to make changes.
Make the dip in advance, so you have it ready to go when you want to serve your fruit platter.
Soften the cream cheese before trying to mix it with the other ingredients.
Feel free to use Neufchatel cream cheese.
Use powdered sugar instead of cane sugar if you want the texture to be nice and smooth.
Fold in whipped cream in place of sugar to make the dip fluffier.
Add a scoop of vanilla yogurt to the dip for flavor and to make it lighter.
Use brown sugar in place of cane sugar.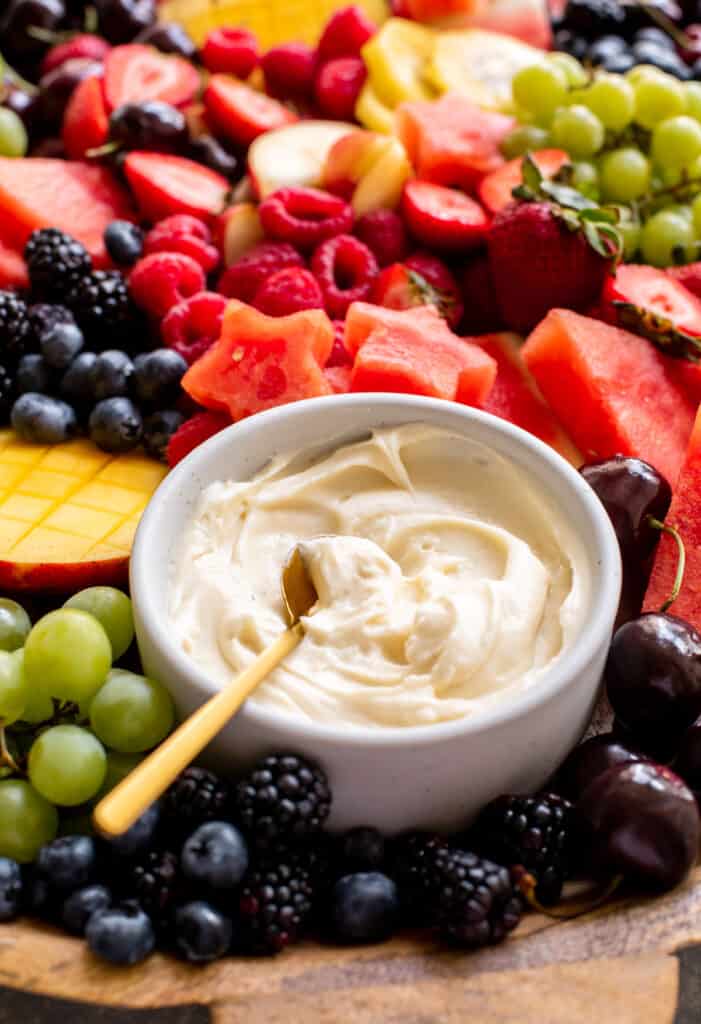 Other Ways to Use Fruit Dip
Besides fruit, there are other things you can dip in this mixture of cream cheese, sugar, and cream. You can add these ingredients to a fruit platter or serve them with the dip by themselves.
You can also dunk graham crackers, vanilla wafers, or cookies in this sweet fruit dip. Serve it on top of desserts, use it as a spread for fruit pizza, or mix it into a bowl of diced fruit to make a creamy fruit salad.
What Fruits Go Well With Cream Cheese Fruit Dip?
Any fruit you can dip can be served with this rich and creamy side. Depending on the ingredients you use in the dip, some fruits go better than others with dip flavors.
Some options include:
Grapes
Strawberries
Blueberries
Pineapples
Kiwi
Bananas
Figs
Oranges
Papaya
Mangoes
Peaches
Nectarines
Cherries
Raspberries
Persimmons
Blackberries
Cantaloupe
Watermelon
Honeydew
How to Store
Keep any leftover fruit dip in an airtight container in the refrigerator for up to five days.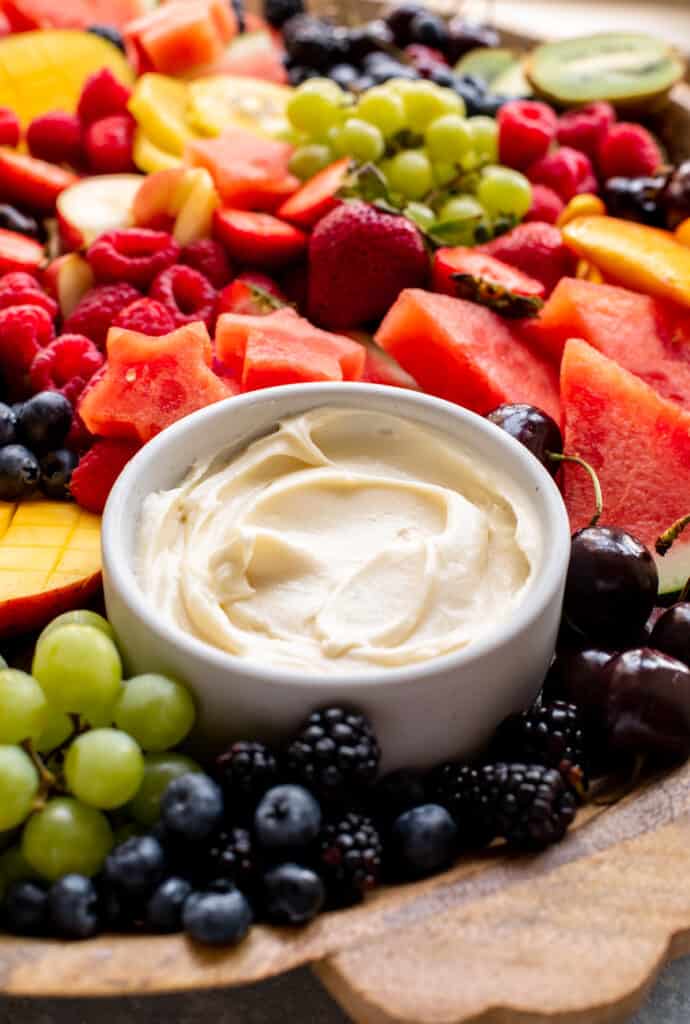 FAQs
How long can I leave fruit dip on the counter?
You should only leave cream cheese dip on the counter for less than two hours. The longer it sits at room temperature, the bigger the chance of growing bacteria and spoiling.  
How do you keep fruit from turning brown?
Try squeezing some fresh lemon juice over the fruit to help with browning. The acid in the lemon prevents oxygen from turning the fruit brown. Another option is not to serve fruit that browns easily on your fruit platter.
Can you freeze cream cheese fruit dip?
While you can freeze this fruit dip, it doesn't have the same creamy texture when thawed. The cream cheese and heavy cream can become grainy when defrosted.
You May Also Like…
Print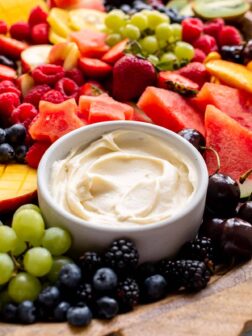 Cream Cheese Fruit Dip
Author: Katya
Prep Time: 10 min
Total Time: 10 minutes
Yield: 12 1x
Category: Dip
Method: No-Cook
Cuisine: American
---
Description
Cream cheese fruit dip is a creamy and soft complement to fresh fruit. It's made with only four ingredients and is the perfect addition to any fruit platter. 
---
1 pkg. (8 oz.) cream cheese, softened
1/4 cup + 2 tbsp. cane sugar
1/4 cup cold heavy cream
1 tsp. vanilla extract
To Serve
---
Instructions
In a mixing bowl with an electric mixer, beat cream cheese and sugar until smooth, scraping down the sides as needed. 
Add heavy cream and vanilla. Beat until smooth and creamy. Serve immediately with fresh fruit or refrigerate until ready to serve. Makes 1 1/2 cups.
---
Notes
Cream cheese: You'll need one brick of cream cheese for this recipe. Do not use cream cheese in a tub.
Sugar: Cane or granulated sugar both work.
Cream: Keep the cream cold until ready to use it. Heavy cream or heavy whipping cream can both be used in this recipe.
Leftovers: Refrigerate leftover dip in an airtight container for up to 5 days.
Nutrition
Serving Size: 2 tablespoons
Calories: 92
Sugar: 5 g
Sodium: 60.2 mg
Fat: 7.4 g
Carbohydrates: 5.3 g
Protein: 1.2 g
Cholesterol: 21.9 mg
Keywords: fruit dip, summer, easy