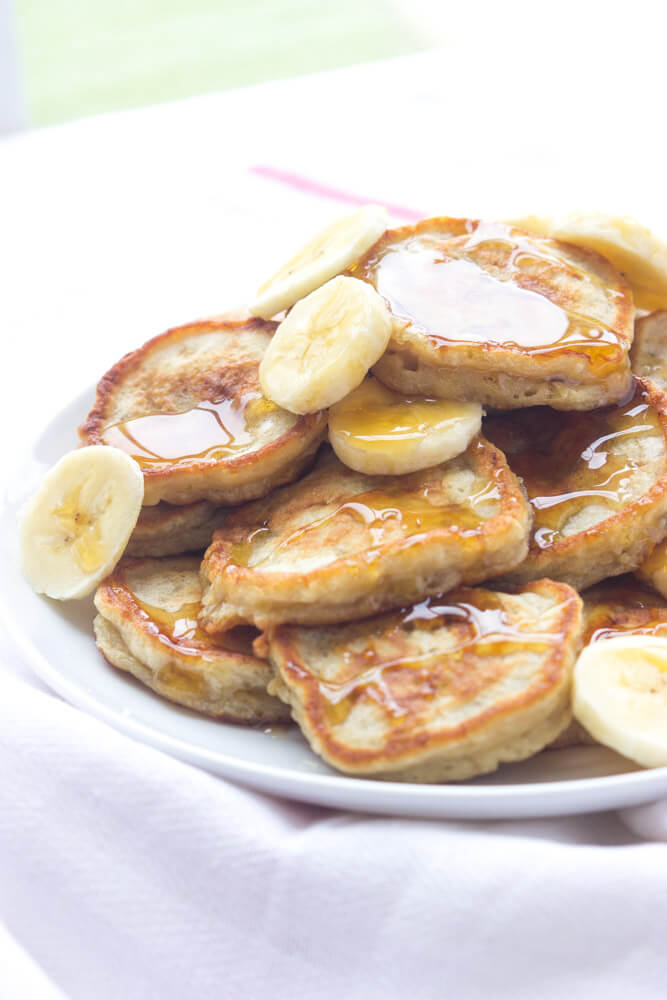 I'm sharing a childhood favorite with you guys today. These buttermilk pancakes or as we call them oladi were always on our table growing up. My mama always made a huge batch that never lasted too long. Whether for breakfast or on the go snack they were a family favorite with side of sour cream or sweet jam. Sweet and delicious! I made a mini version of them for guilt free eating 🙂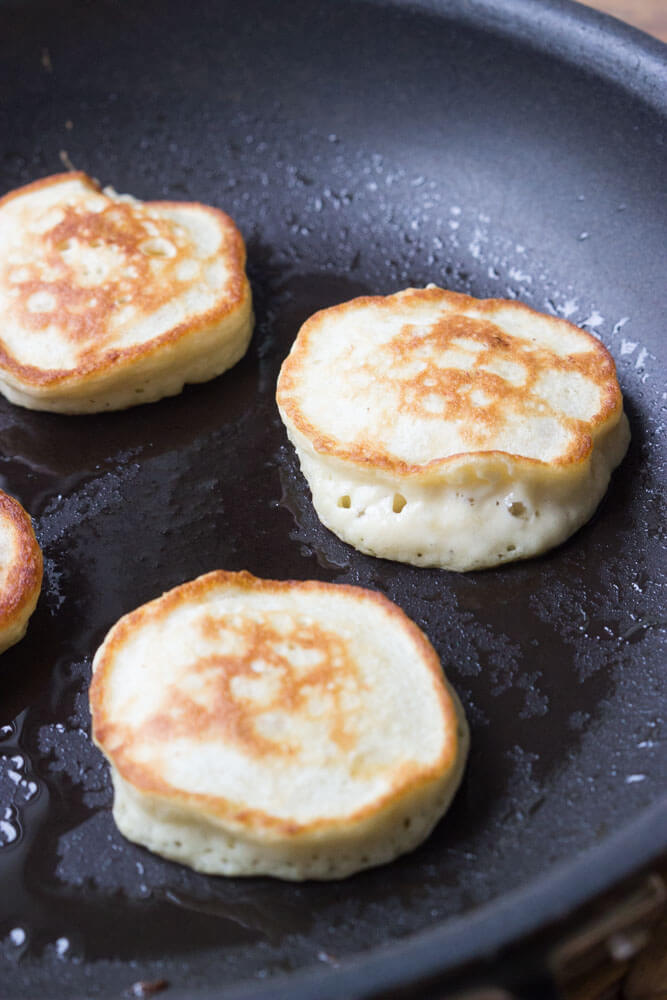 They call for buttermilk + ripe (preferably overripe) bananas.  Two ingredients that I probably throw away the most. I hate, hate, HATE to throw away food! Hate is a strong word and my use of hate here should say something about how much I despise throwing food away because I'm the mom that does not allow the word hate in the household. So yes, hate feels the most appropriate here because buttermilk and overripe bananas always end up in the trashcan. I had some leftover buttermilk from donuts and couple overripe bananas that were more brown than yellow. Combined the two to make these mini pancakes.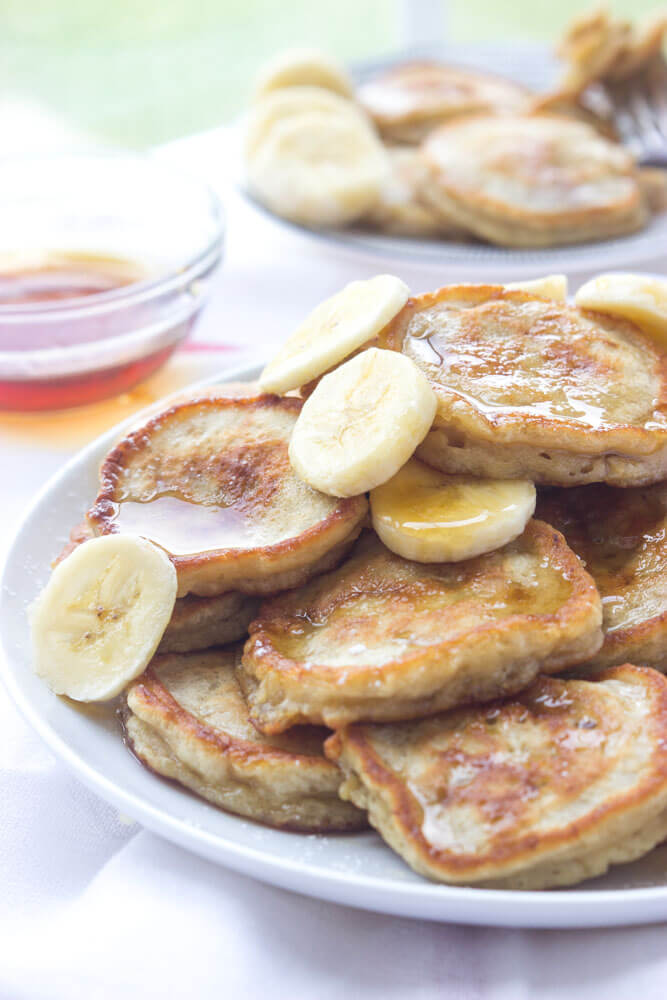 This is your simple pancake recipe made with buttermilk instead of milk. Buttermilk makes these super light, fluffy, and melt in your mouth good without going the yeast or egg white route. Bananas not only add sweetness but also make these delicate, fall apart good.
Then it's the basic stuff: flour, sugar, baking soda, salt, egg, and vanilla. They are quick to whip up and take no time to eat.  We doubled the batch and my son pretty much ate all of them. I blame the size. They are cute, small, and just pop in your mouth good 🙂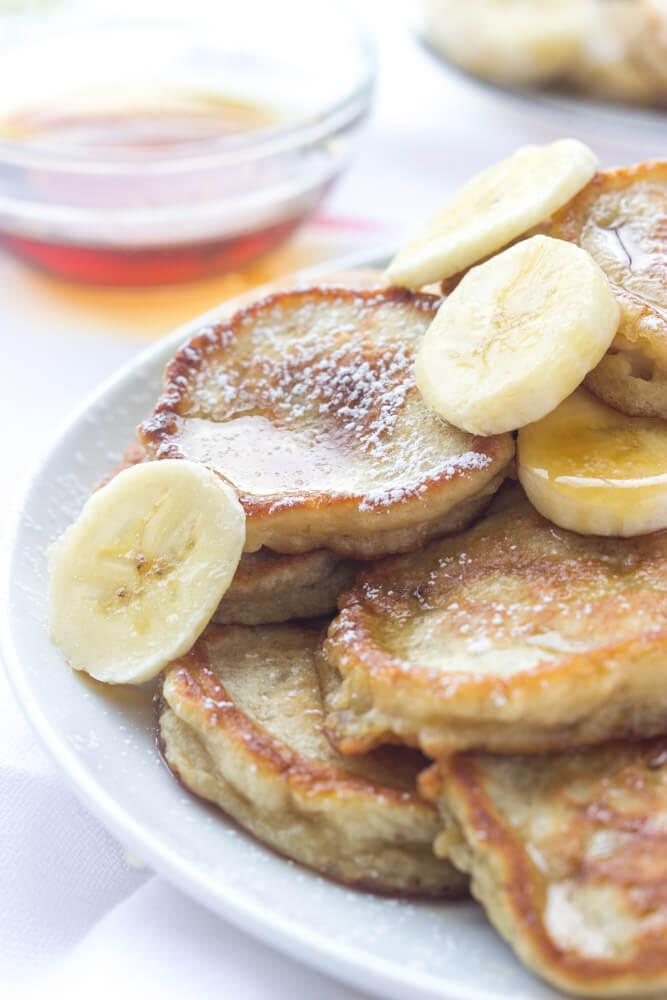 Serve them with your favorite pancake toppings. We like sour cream a lot at mi casa so sour cream with these are a must, plus that's how we ate them growing up. But you can do your favorite syrup, greek yogurt mixed with little bit of jam (yummie), or maybe simply eat as is. I also dusted little bit of powdered sugar on top for presentation purposes but so not required.
Enjoy friends !!!
Tag me @littlebrokenblog showing me your food creations whether from Little Broken or your own. I don't discriminate 🙂 >> Facebook, Instagram

Mini Buttermilk Banana Pancakes (Oladi)
Author:
Katya @ https://www.littlebroken.com
Ingredients
1 cup flour
1 Tbsp. sugar
½ tsp. baking soda
¼ tsp. salt
1 egg, lightly beaten
1 cup buttermilk
1 tsp. vanilla
2 ripe bananas, sliced and mashed with fork
2-4 Tbsp. canola oil, for frying
to serve: sour cream, greek yogurt, pancake syrup, whipping cream, jam
Instructions
In a large bowl, combine the dry ingredients; set aside.
In a medium bowl, whisk the wet ingredients, including the bananas, until combined.
Pour the wet ingredients into the dry ingredients and stir just until combined. The batter will be somewhat thick. Do not overmix.
Heat 2 tablespoons of oil in a non-stick 10-12 inch skillet over low heat. Add more oil as needed (you want the bottom of pan lightly coated the entire cooking time). Add batter by tablespoonfuls into skillet. Cook 2 minutes until the edges begin to puff up and are golden. Flip and cook for additional 2 minutes until lightly golden. Remove to a paper lined plate and repeat with the remaining batter.
Serve immediately with favorite toppings. Yields 30 pancakes.
© Little Broken. All images and content are copyright protected. Please do not use my images without prior permission or claim my work as your own. Feel free to Pin, Tweet, Facebook and share away with a link back to the recipe post. If you want to republish this recipe, please re-write the recipe in your own words and link back to this recipe.