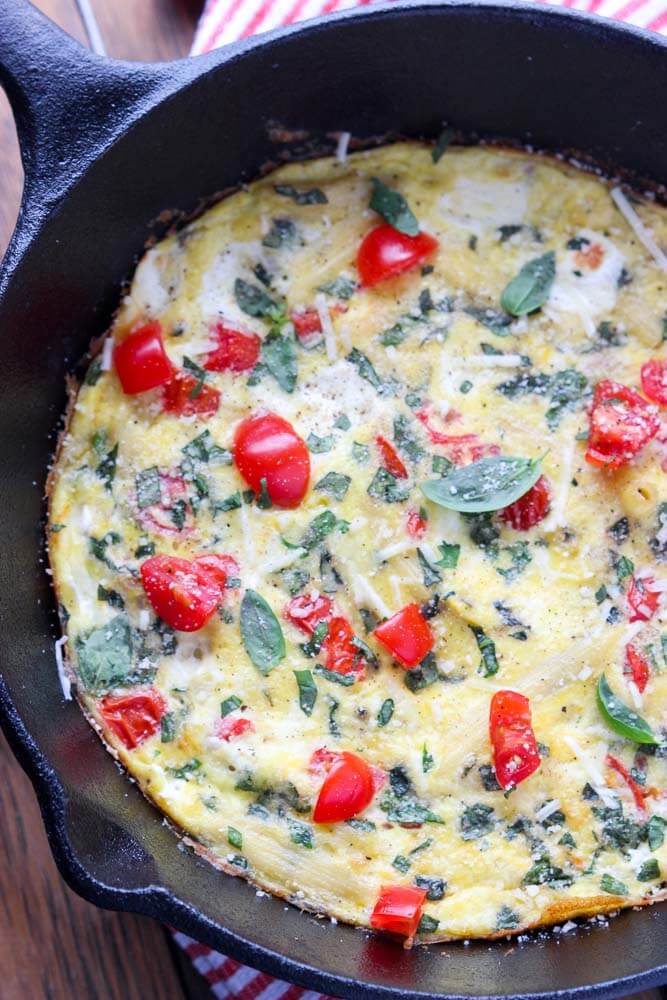 If you have eggs, pasta and cheese, then you have a meal! Caprese Egg and Pasta Frittata is a colorful frittata that is loaded with so many flavorful ingredients. Perfect for not only breakfast or brunch, but for a hearty dinner, as well. Not to mention it is quick cooking and inexpensive to put together and serves right from the oven to the table without any extra dishes.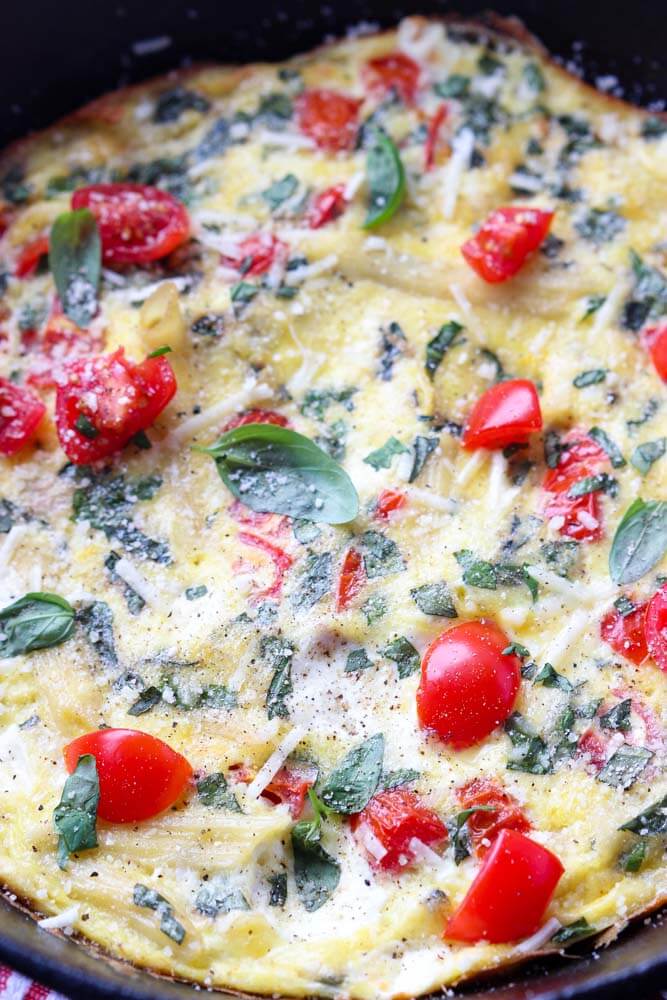 It's a veggie based frittata with an Italian kick that calls for leftover cooked pasta. Whether you have pasta with veggies, pasta with meat sauce, or pasta with tomato sauce, any type of pasta will work. Combined with fresh mozzarella, grape tomatoes, aromatic basil, and shredded Pecorino Romano cheese. Feel free to change up the veggies and herbs to your tastes or what you have on hand.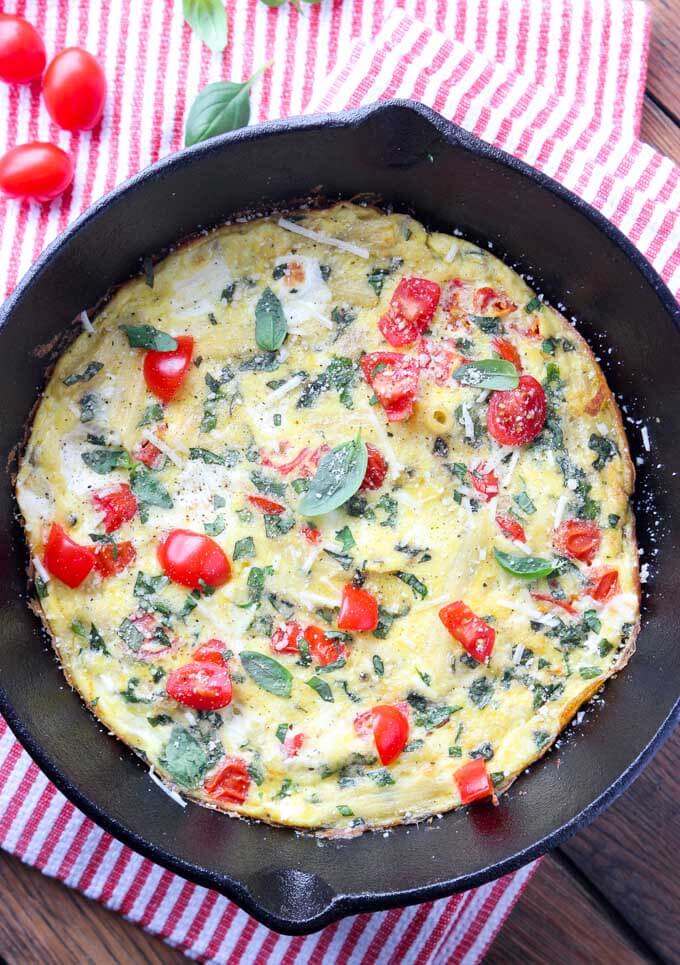 For the fluffiest frittata, I like adding heavy cream to the eggs. Half and half or milk can also be used. I used an iron-skillet for easy cooking on the stove top, oven, and serving. Oven-safe non-stick skillet is a great alternative. Stainless steel pan will work too, but you'll need extra oil to make sure the eggs don't stick to the pan.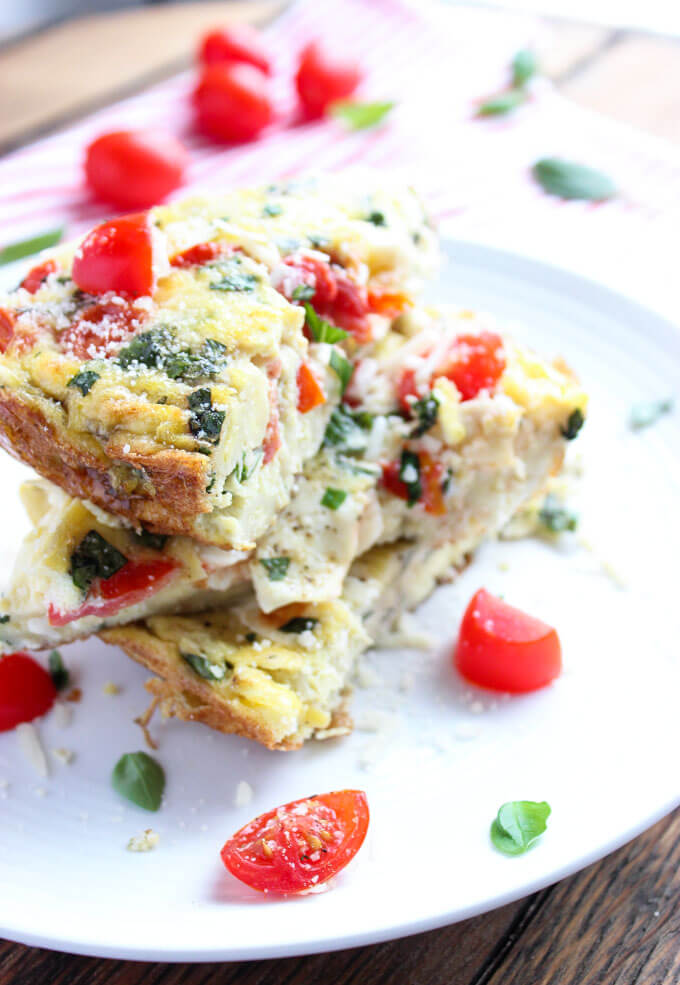 FOLLOW ME and use hashtag #littlebrokenblog or tag me @littlebrokenblog if you try my recipes! Facebook, Instagram, Google+, Pinterest.

Caprese Egg and Pasta Frittata
Author:
Katya @ https://www.littlebroken.com
Ingredients
5 large eggs + 4 egg whites*
2 Tbsp. heavy cream**
1 cup (about 4 oz.) cubed fresh mozzarella cheese
½ cup halved grape tomatoes
½ cup chopped fresh basil
¼ cup shredded Pecorino Romano cheese or Parmesan
2 Tbsp. olive oil
1 cup leftover cooked pasta (any type of pasta on hand with or without sauce will work)
salt and pepper
Instructions
Preheat the oven to 350F.
In a large bowl, beat the eggs with heavy cream. Stir in mozzarella, tomatoes, basil, and Pecorino Romano cheese. Season with salt and pepper according to taste.
In a 10-12 inch ovenproof skillet, heat the olive oil over medium heat. Add the pasta and cook for 2 minutes.
Pour in the egg mixture and cook until the edges begin to firm up, while drawing the cooked egg edges toward the center of the pan, letting the raw egg run to the perimeter of the pan, about 5 minutes. You want the frittata to be almost done but still runny in the center.
Transfer the frittata to the oven for 10 minutes.
Switch the oven to broil (high) and broil the frittata for 2 minutes until the top is set. Remove from the oven and let sit for 5 minutes.
Using a rubber spatula, loosen the edges of the frittata and cut into wedges (6-8). Serve immediately.
Notes
*you can use a total of 8 whole large eggs
**half and half or whole milk can also be used but I wouldn't use any lower fat milks
© Little Broken. All images and content are copyright protected. Please do not use my images without prior permission or claim my work as your own. Feel free to Pin, Tweet, Facebook and share away with a link back to the recipe post. If you want to republish this recipe, please re-write the recipe in your own words and link back to this recipe.