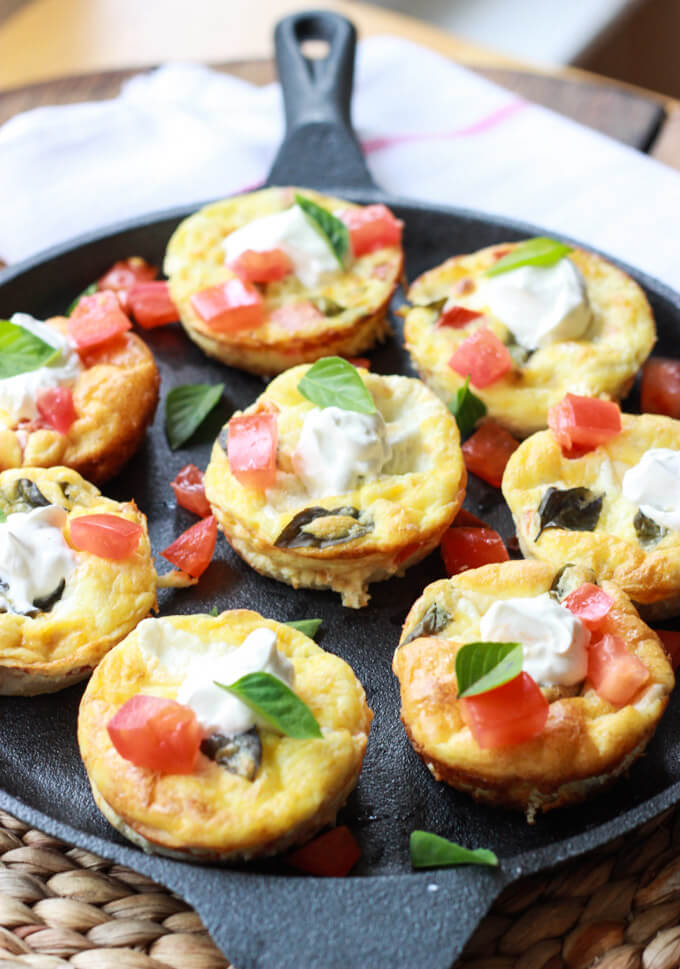 I love eggs. Eggs to me scream weekend.
I grew up on bread/butter  and "kasha" breakfast. Kasha in Russian is a general term for hot cereal cooked in milk. Oat bran, grits, rice, oatmeal. You name it. I had it all. On weekends though, my mom would fry us eggs. Sunny side up.  It was a treat. Always. Even now as an adult, I associate eggs with a weekend. In the midst of crazy days and mornings it's hard to sit down as a family and have breakfast together but on a weekend breakfast together is a ritual in my house, along with Food Network. That's pretty much the only time I turn on t.v. is on a Saturday morning to watch Ina roast a chicken but that's another story.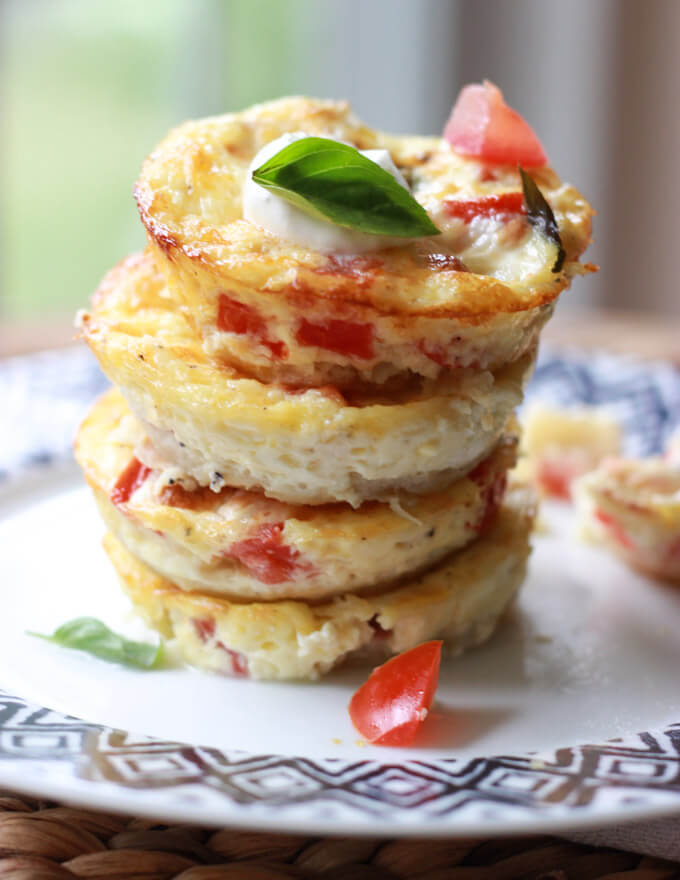 I love eggs not only for breakfast but for lunch or even dinner. In my case it's usually the last resort when the fridge is empty and I need to feed my family. Eggs always come to the rescue. I started off this recipe as an appetizer in mind but it turned out to be a breakfast dish. So instead of revising the ingredients I went with the flow and I must say, I'm happy with the way it turned out. Don't you love when that happens? One possible recipe fail turns into a success story.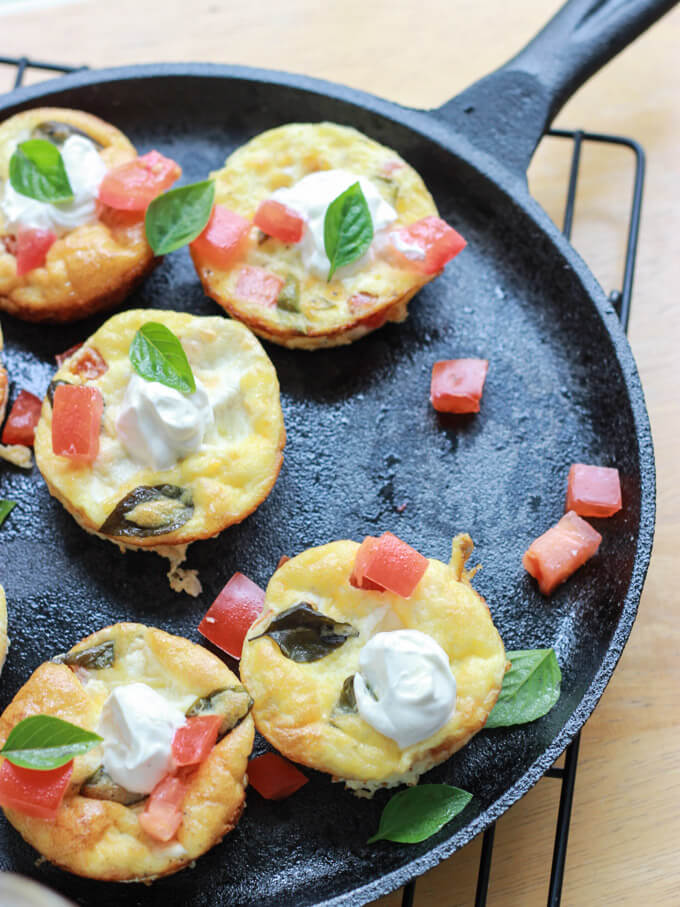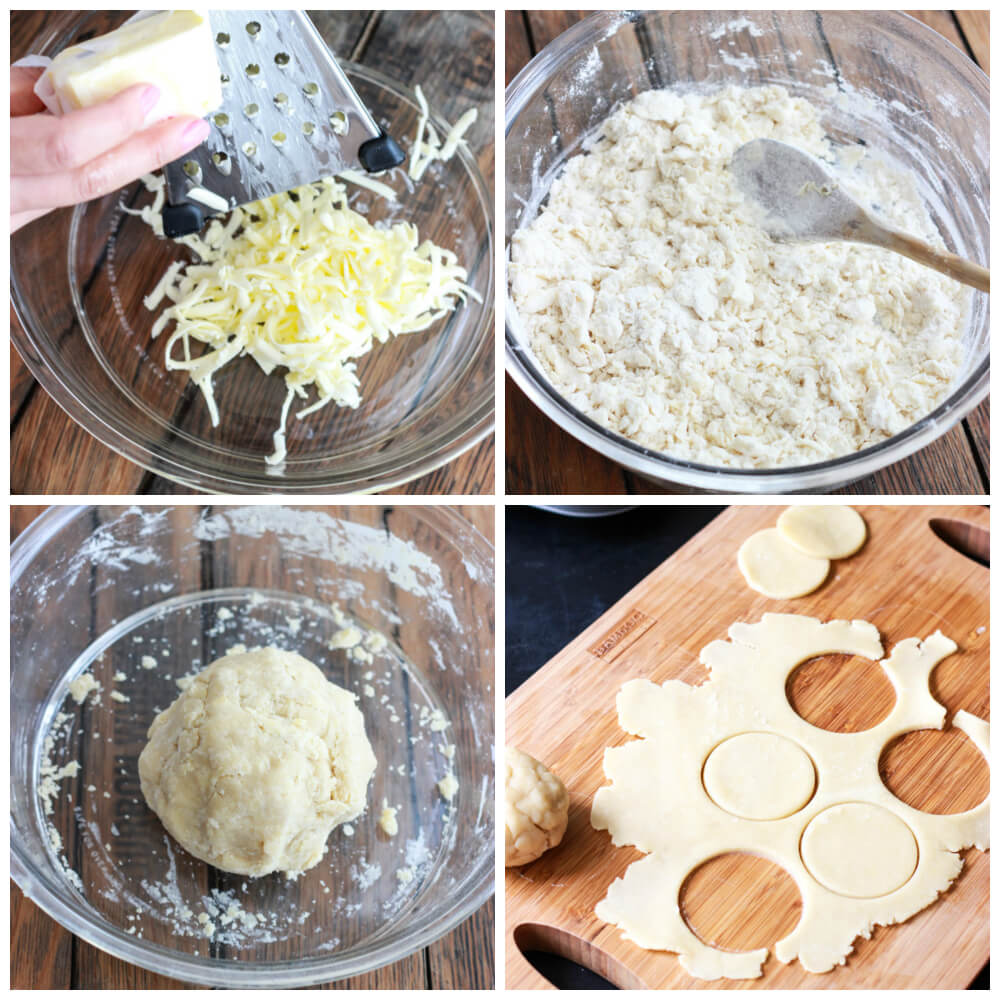 These caprese cups are all your classic caprese salad ingredients. Fresh tomatoes, mozzarella and basil. I used Thai basil as the leaves are small and delicate so they fit perfectly in the little cups but sweet basil will do. Just sliver or slice the basil before adding. I added flaky crust to these cups for a little twist, using my version of simple "pie crust dough", which is pretty much butter, flour, egg and teaspoon of sour cream. The secret to flaky crust is trapping bits of butter in the flour. I used a simple box cheese grater to grate my cold butter before mixing with the flour. Simple and very practical technique I learned from my mama. Then it's just a matter of layering all the fresh ingredients and topping off with cream and eggs and baking until hot and bubbly.

You will love these as they can be served hot, room temperature or cold. I packed leftovers for lunch one day with some sour cream and they were perfect. I also like the idea of having these on the go when there is not time for fancy weekend eggs.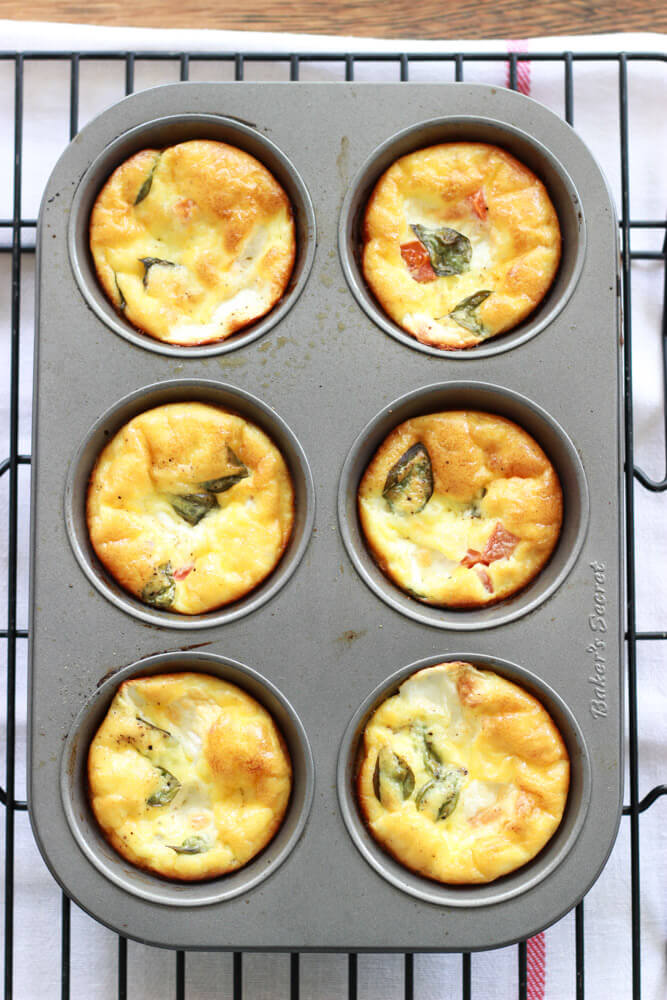 Baked Caprese Breakfast Cups
Author:
Katya @ www.littlebroken.com
Ingredients
1 stick (8 Tbsp.) cold unsalted butter
1½ cups all-purpose flour, sifted
5 eggs
1 tsp. sour cream
3 large roma tomatoes, seeded and diced into ¼"-inch cubes
2 cups heavy cream
8 oz. fresh mozzarella, diced into ¼"-inch cubes
Thai basil leaves
sea salt & fresh ground pepper
cooking spray
Optional
1 cup sour cream
2 small garlic cloves, pressed
Instructions
Crust
Grate the cold butter using the largest holes of a box cheese grater (butter has to be cold right out of the refrigerator to grate properly). Add sifted flour to the butter and mix until combined.
In a small bowl, whisk 1 egg with pinch of salt and add to the butter and flour mixture; add sour cream and mix with a wooden spoon until the dough resembles coarse crumbs and holds together when squeezed with fingers. With hands, form a ball and add to a plastic wrap. Refrigerate the dough for 30 minutes.
Roll out the dough to ¼-inch thickness and cut out 18 (2-1/2 inch in diameter) circles.
Cups
Preheat the oven to 350F.
Whisk heavy cream with the remaining 4 eggs. Season with salt and pepper; set aside.
Spray a standard muffin pan with cooking spray (thoroughly) and place one circle dough in the base of the prepared muffin pan, 1 tablespoon diced tomatoes, 5-6 pieces of mozzarella (about 1 Tbsp), 3 basil leaves, and 3 tablespoons of heavy cream mixture. Continue filling the rest of the cups in the same order and bake in the preheated oven for 25-30 minutes or until toothpick comes out clean.
Remove the cups from the oven and cool in the pan for 10 minutes before removing. I found that running a knife lightly around the cups to loosen them up and popping them out with a fork works best for getting them out of the pan.
To Serve
Mix the sour cream with pressed garlic. Season with salt and pepper.
Top each caprese cup with a dollop of sour cream and serve immediately. You can also serve these cold or at room temperature depending on your personal taste.
Notes
Thai basil leaves are small and delicate and work well with these cups, however, chopped or slivered sweet basil can be used as an alternative.
© Little Broken. All images and content are copyright protected. Please do not use my images without prior permission or claim my work as your own. Feel free to Pin, Tweet, Facebook and share away with a link back to the recipe post. If you want to republish this recipe, please re-write the recipe in your own words and link back to this recipe.