Insanely easy way to make homemade chicken stock. All you need is a slow cooker, rotisserie chicken, and some basic vegetables.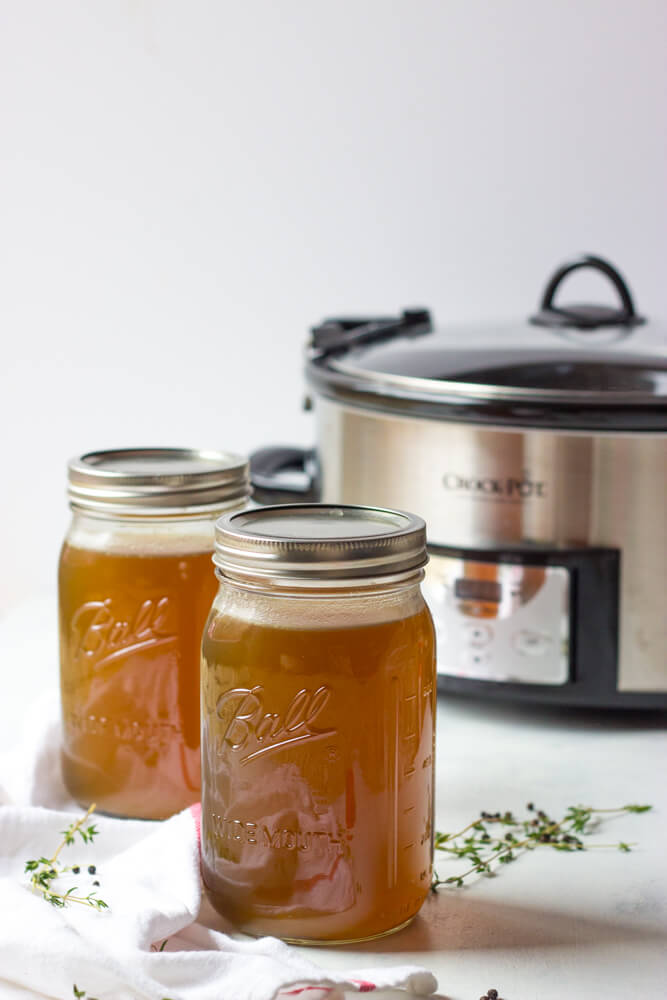 Making your own homemade chicken stock just got a whole lot easier! All you need is a slow cooker, rotisserie chicken, and some basic veggies + spices. No really guys it's that easy! You pick all the meat off your rotisserie chicken or roasted chicken and save the bones, skin, spine, etc. to use in the stock. Then throw everything into your slow cooker and eight hours later you have a delicious homemade chicken stock to use in ALL of your recipes.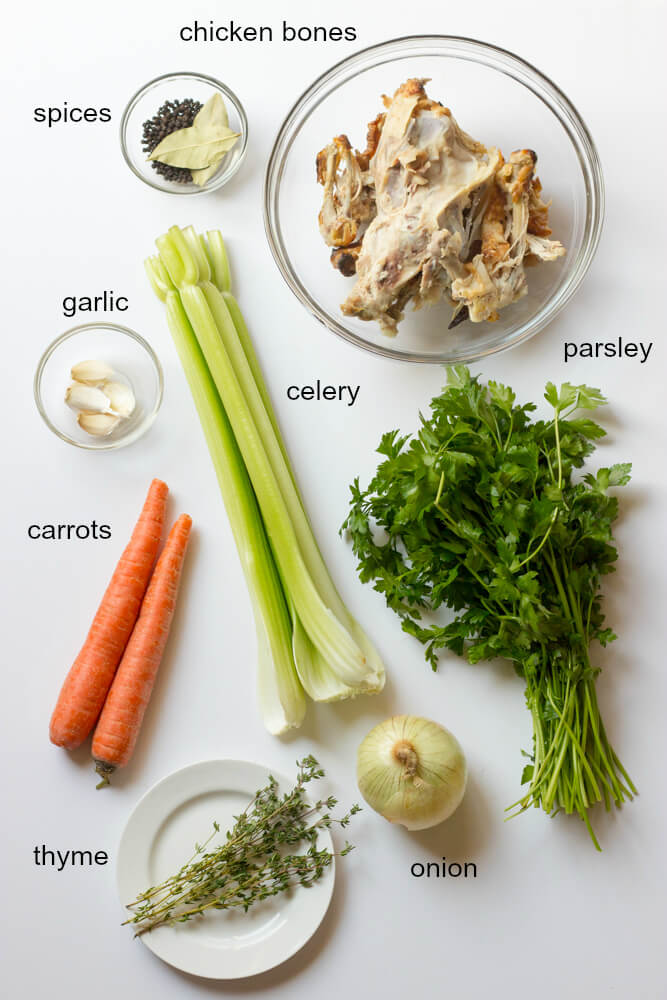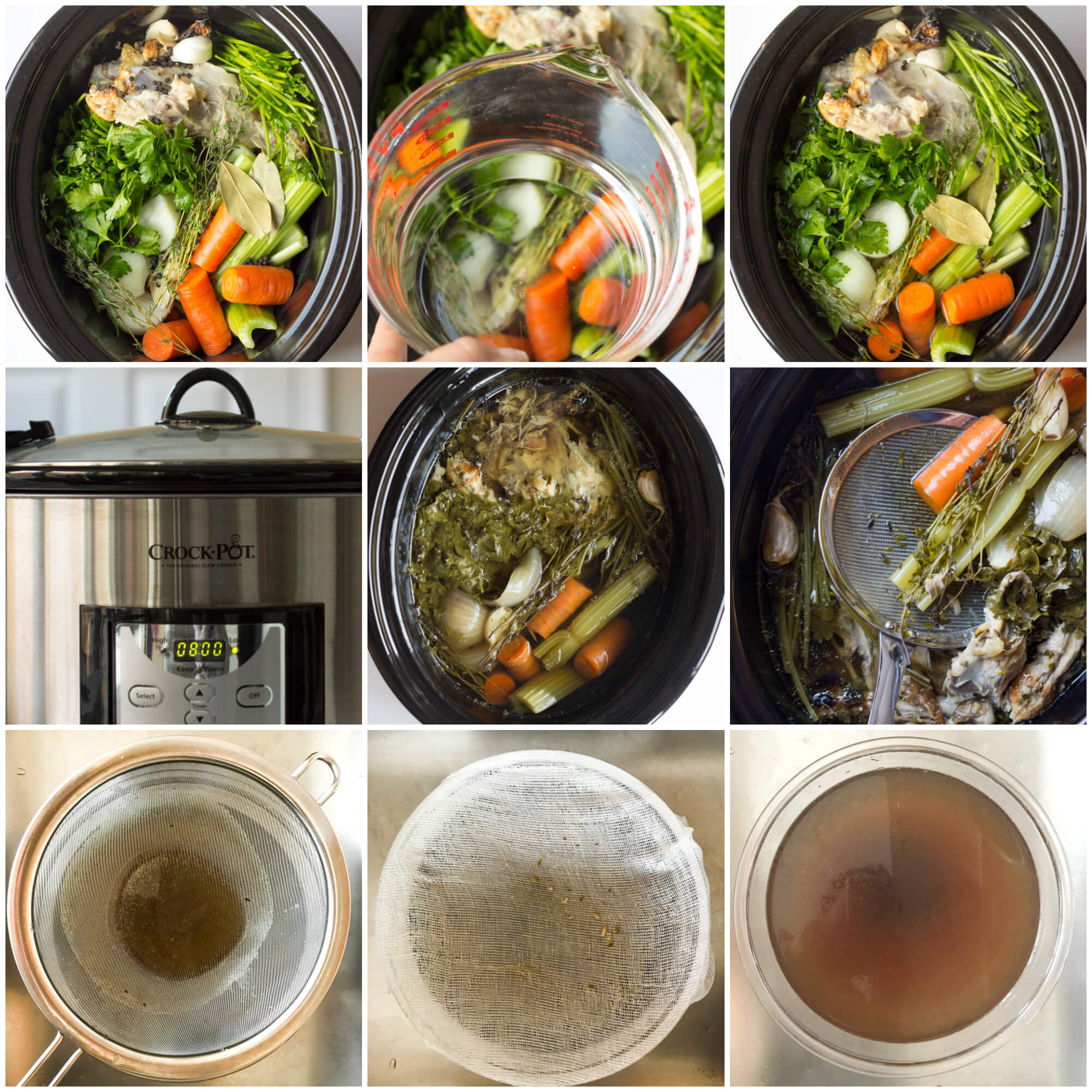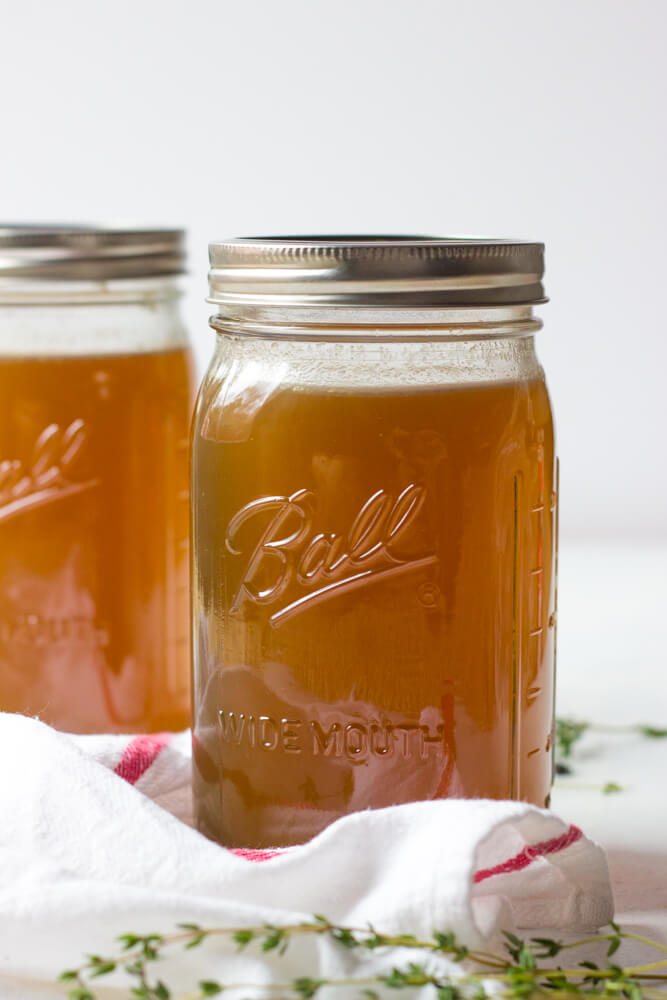 Easy Slow Cooker Chicken Stock
Author:
Katya @ https://www.littlebroken.com
Ingredients
Bones and skin from 1 whole rotisserie or roasted chicken*
1 large onion, peeled + quartered
2 carrots, cut into chunks (no need to peel)
3 celery ribs, cut into chunks
5 fresh sprigs of thyme
½ bunch fresh parsley leaves + stems, roughly chopped
4 cloves of garlic (no need to peel)
2 bay leaves
1 Tbsp. whole peppercorns
2 quarts water
Tools
slow cooker (I just purchased this exact one! It's such a great value)
fine mesh skimmer or tongs
large bowl
cheesecloth, optional
storage jars or containers
Instructions
Combine all ingredients in the slow cooker. Cover with water. It's okay if not everything is fully submerged. Cook on low for 8 hours.
After the stock is done cooking, remove all the bones and vegetables with tongs or a fine mesh skimmer. Pour the stock through a fine mesh strainer and into a large bowl. For a cleaner, clearer stock, clean out your strainer, and line with a cheesecloth, and strain the stock again or line your bowl directly with cheesecloth.
Divide the stock between several mason jars or storage containers. Cool completely, then cover and refrigerate for up to a week, or freeze for up to 3 months. Makes about 6 - 6½ cups stock.
Notes
*I used a whole rotisserie chicken to recipe test and I basically picked off the meat from the chicken and whatever was left (bones, skin, spine, some meat chunks, etc.) I used for the stock.
© Little Broken. All images and content are copyright protected. Please do not use my images without prior permission or claim my work as your own. Feel free to Pin, Tweet, Facebook and share away with a link back to the recipe post. If you want to republish this recipe, please re-write the recipe in your own words and link back to this recipe.
*Disclaimer: this post contains affiliate links, which means I receive a small commission if you make a purchase using this link.