No more rubbery and dried out baked chicken breast! With one simple trick, these oven baked chicken fajitas are juicy and flavorful. All made in oven and served as a lettuce wrap! Once you give these a try, you will have them on repeat.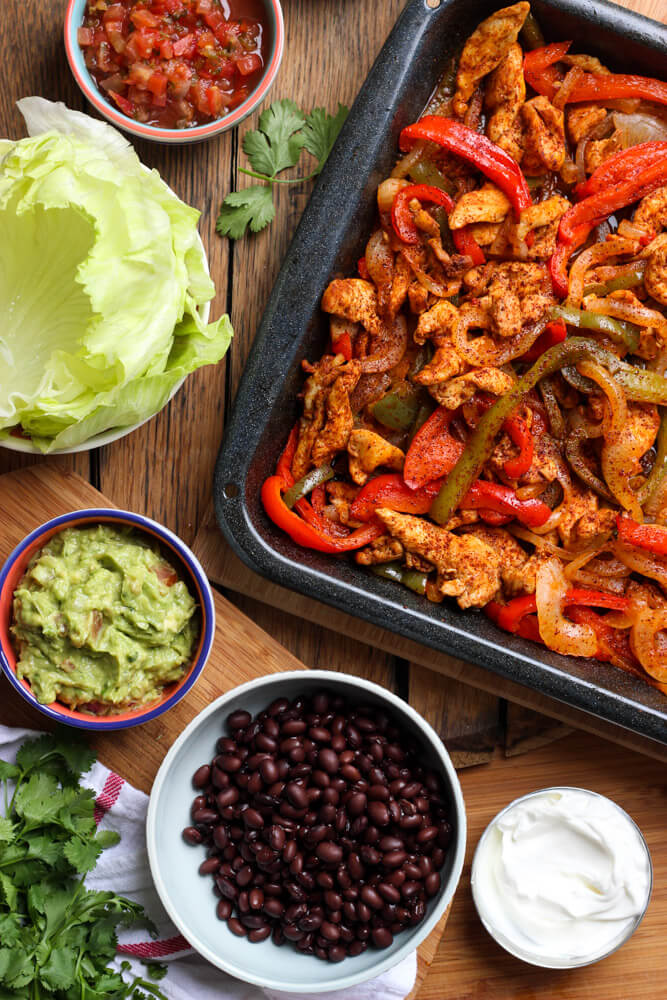 I had no intention of timing this recipe with Cinco De Mayo tomorrow but it's 100% appropriate! LIGHTENED up Mexican food easily made in the oven. Who doesn't love that?! So whether you're having a typical Thursday night dinner with the family or a full blown fiesta, this recipe is for you!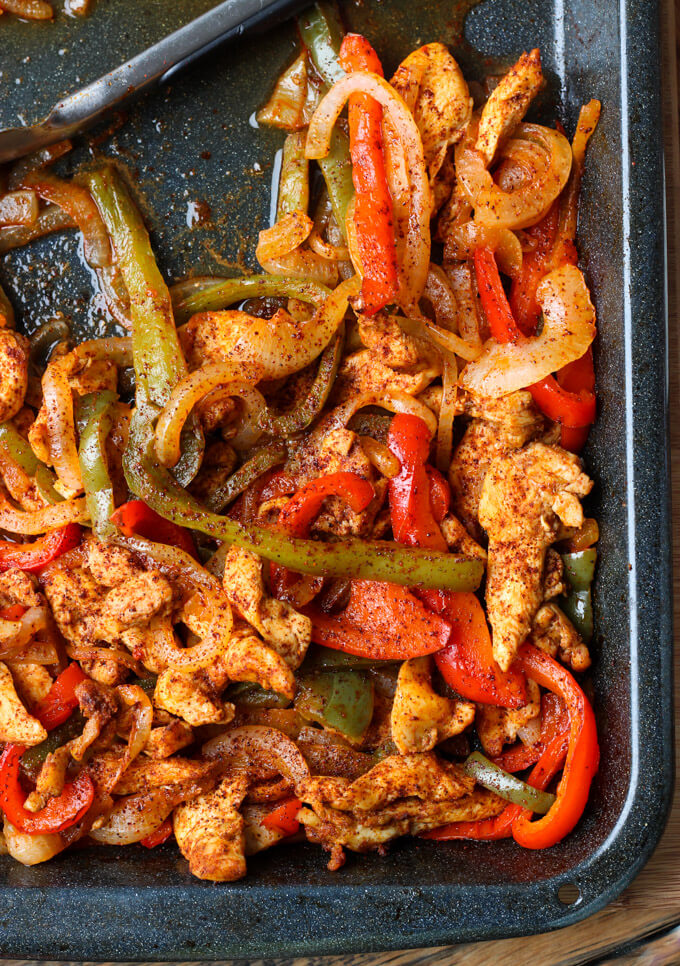 I've been playing around with the idea of oven roasted chicken fajitas for quite some time now. I tried the recipe a while back and it turned out really good but I knew I could make it better, especially when it comes to chicken breasts. Thing with chicken breasts is that they can easily turn into rubber if not properly cooked. I know you guys been there because I totally have. I wanted amazing flavor, ton of juice without having to make chicken on a stovetop or grill.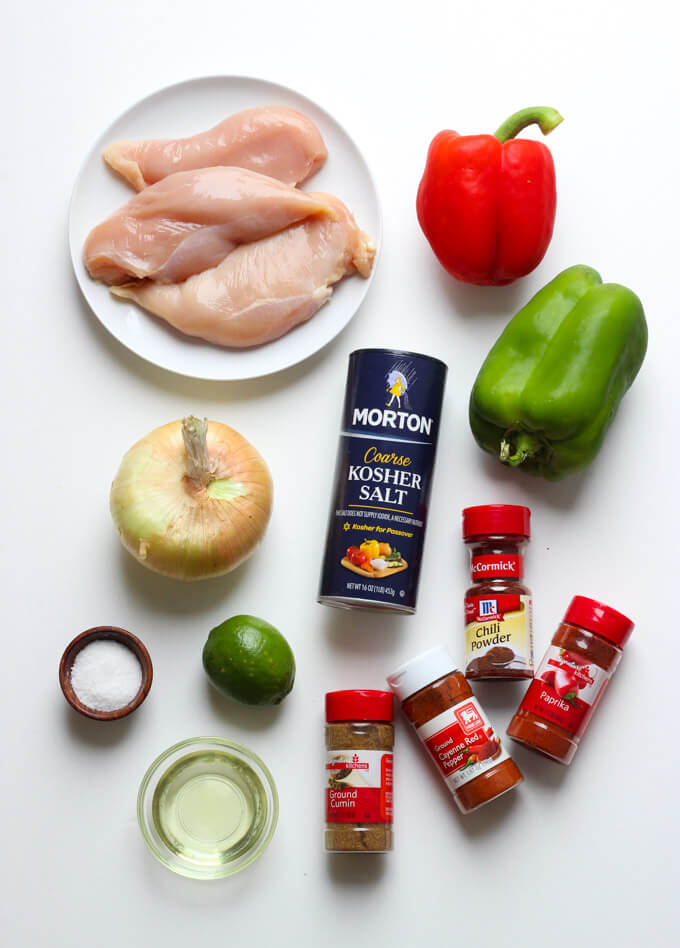 I also did not want to make this recipe with chicken thighs because I know so many of you LOVE cooking with breasts and honestly I don't mind switching it up once in a while from the thighs. So I started experimenting around with the idea of brining the chicken before roasting and guess what?! It totally worked!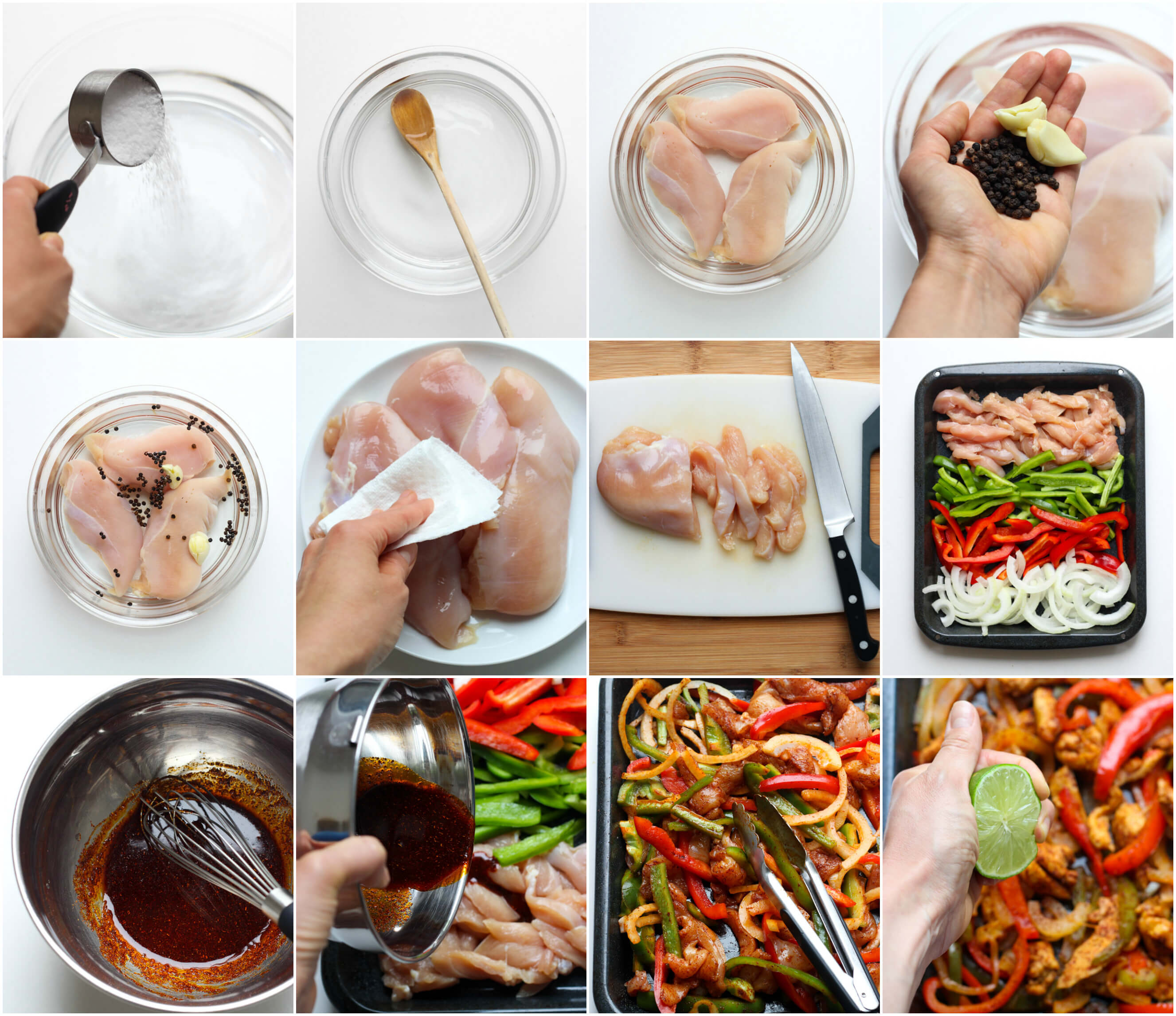 It's such a simple little trick but it makes a world difference in taste, texture, and tenderness of the chicken. Once you try it, you will want to brine all of your chicken recipes! It's so simple. All you need is warm water. I used tap water from the faucet, kosher salt, and chicken. I included garlic and peppercorns as optional ingredients but honestly they add an extra boost of flavor and I would SO recommend it. You combine all the ingredients together. Let the chicken sit in brine for 30 minutes while you prepare the rest of the ingredients. It's that simple! The end result is much juicier and flavorful chicken.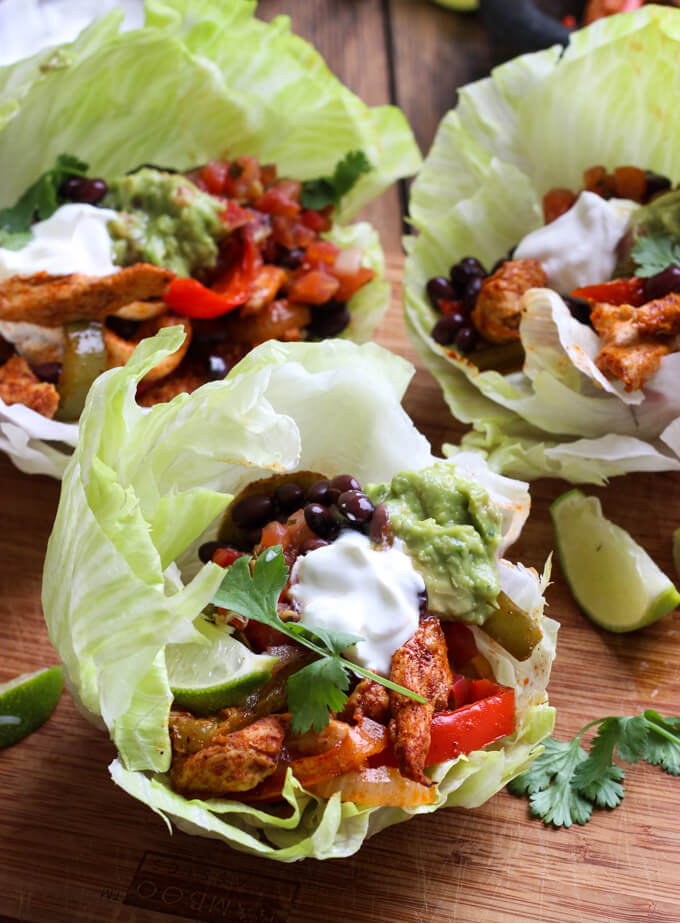 Once the chicken is done brining, rinse, pat dry, and slice. Toss with peppers, onions, and seasoning. Bake for 23-30 minutes until tender. I used an odd size baking pan that measures about 11X14 and it was perfect! But a 9X13 pan works just as good. I would not go any smaller as you want your chicken + veggies to have plenty of room to roast and moisture to escape. You also want a pan with short sides.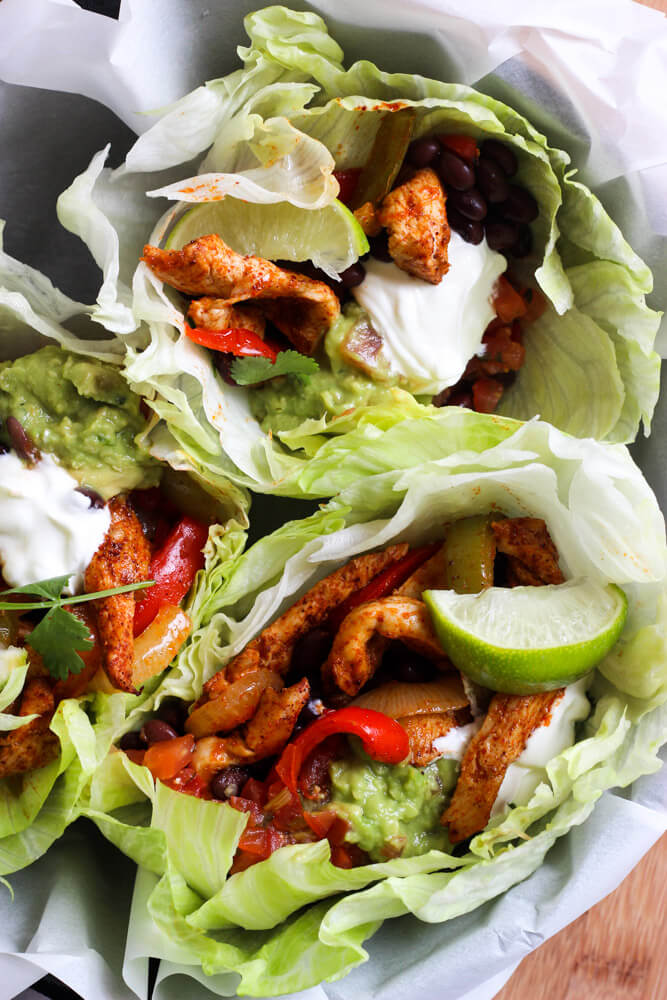 What I LOVE most about this recipe besides that it's made in the oven is that it's served in a lettuce wrap instead of traditional tortilla. I actually so so LOVE that! Super light, loaded with so much yummy flavor and wrapped in a crisp lettuce shell totally makes this meal into a dinner or a fiesta party that you can pretty much enjoy every single day. Yeay to that!!! ♥
Make it. Snap it. Show it. Instagram @littlebrokenblog or snapchat → littlebrokenblg
Chicken Fajitas Lettuce Wraps (Oven Baked!)
Author:
Katya @ https://www.littlebroken.com
Ingredients
Brine
1 - 1¼ pounds boneless, skinless chicken breasts
4 cups warm water
¼ cup kosher salt
Optional: 2 cloves garlic, peeled + smashed with side of knife
Optional: 1 Tbsp. peppercorns
Veggies + Seasoning
1 medium red bell pepper, cut into thin strips
1 medium green bell pepper, cut into thin strips
1 medium sweet onion, thinly sliced
2 Tbsp. canola oil
2 tsp. chili powder
1 tsp. cumin
1 tsp. paprika
1 tsp. sea salt
¼ tsp. cayenne pepper
1 lime
Lettuce Wraps
iceberg lettuce, leaves separated
black beans
guacamole
sour cream
fresh cilantro
Instructions
For the brine: combine water and salt in a medium bowl. Stir until all of the salt is dissolved. Add the chicken breasts, garlic (optional), and peppercorns (optional). Let chicken sit in the mixture for 30 minutes, uncovered, at room temperature.
Preheat the oven to 400 degrees F.
Remove the chicken breasts from the brine, rinse under cold water, then pat dry with paper towels.
Cut the chicken into thin strips and add to 11X14 or 9X13 short rimmed baking pan. To the chicken, add both peppers and onion.
In a small bowl, stir together the canola oil, chili powder, cumin, paprika, sea salt, and cayenne pepper. Pour the mixture over the chicken and toss with tongs to coat until the vegetables and chicken is coated in seasoning.
Bake, uncovered, for 23-30 minutes or until the chicken is fully cooked and vegetables are tender. Stir once halfway.
Remove the chicken from the oven and top with fresh lime juice, to taste. There will be some juices on the bottom of the pan and depending on personal preference, you can remove the chicken to a serving platter with tongs or serve in the baking pan. Taste for salt before serving with lettuce leaves and toppings.
Notes
*Make sure to use short rimmed baking pan that is large enough to fit the chicken and veggies in a light layer without overcrowding too much to ensure plenty room for moisture to escape.
**Add 30 minutes to time for chicken to brine.
© Little Broken. All images and content are copyright protected. Please do not use my images without prior permission or claim my work as your own. Feel free to Pin, Tweet, Facebook and share away with a link back to the recipe post. If you want to republish this recipe, please re-write the recipe in your own words and link back to this recipe.
Nutrition information is only for the Brine, Veggies + Seasoning. It does not include lettuce and toppings as it will vary based on how you build your lettuce wrap.