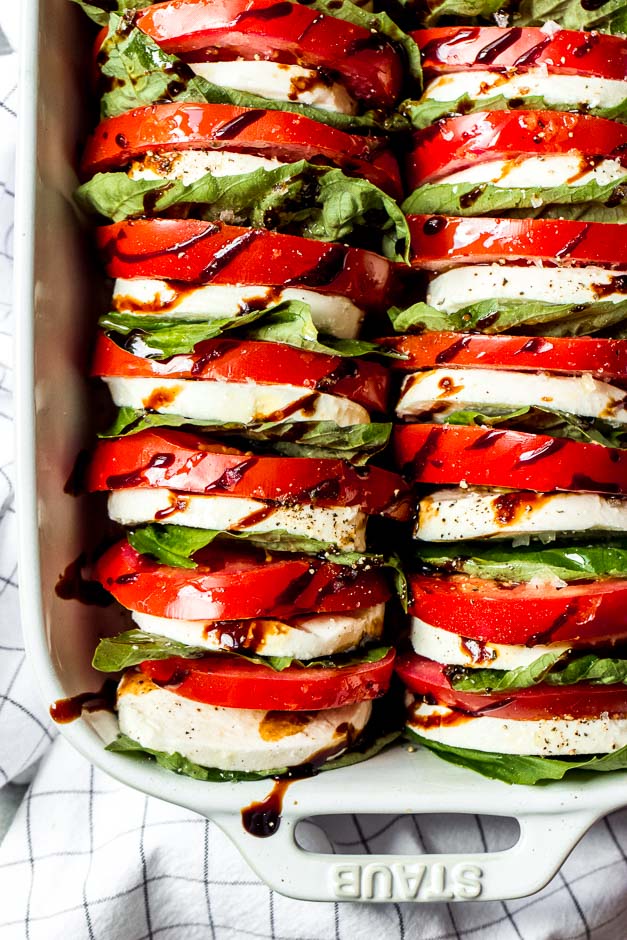 I'm teasing you guys with a classic summer favorite that you can enjoy right now, even if you're in the middle of a major winter storm and summer seems like ages away. Winter has officially overstayed its welcome here in Maryland and summer can not come any sooner. Best part though, summer is not the only season to enjoy beautiful fresh salads, including this mozzarella, tomato, and basil combo. It's a classic caprese salad with balsamic reduction that you can make any time, whether it's cold or hot outside your window.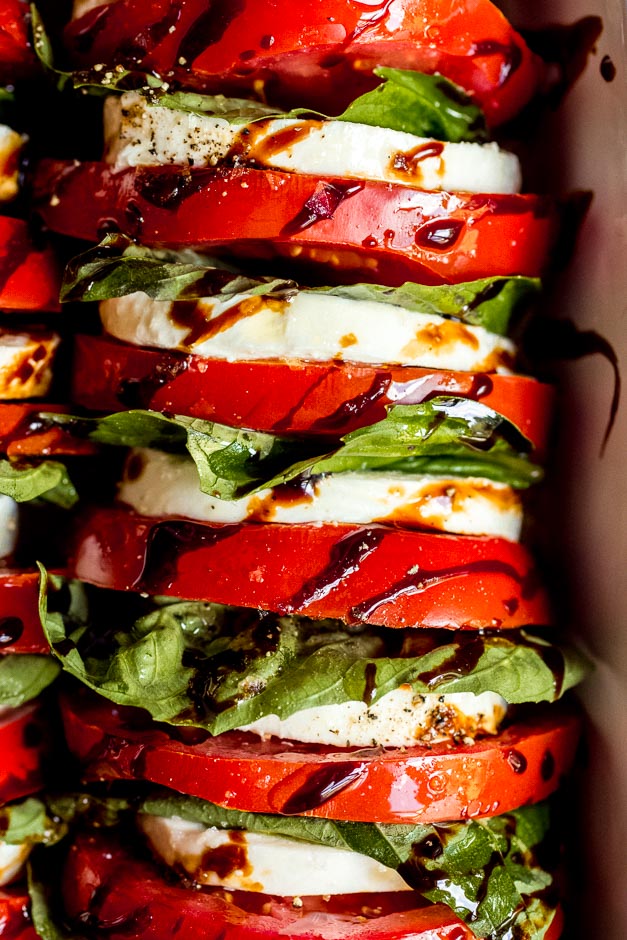 We are slowly weaning off the comfort dishes or we can just be brutally honest and say fatty dishes and being in the home stretch of my pregnancy, in the middle of a cold winter is not really helping this eating situation. I recently posted a picture on IG of a homemade salad I made one afternoon and realized I can't recall the last time I made myself a fresh salad for lunch. It's sad. This fatty food gotta go. So, I'm slowly changing it up, starting with this Tomato Mozzarella Salad.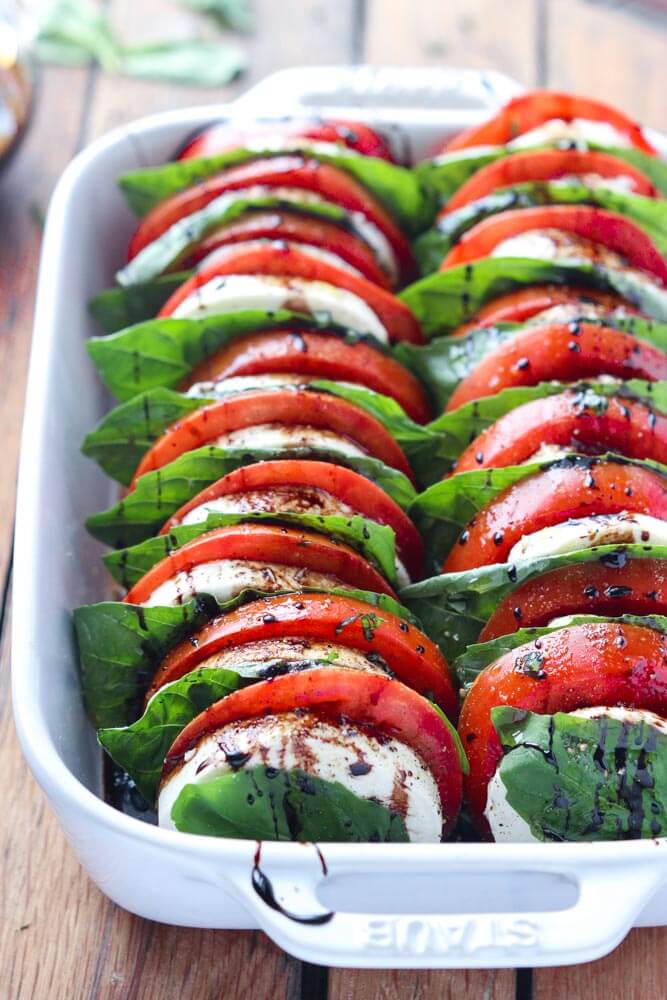 It's one of the quickest and easiest salads you can put together with ingredients that are easily available year round, like tomatoes, fresh mozzarella, and basil, then drizzled with sweet homemade balsamic reduction, which is my new favorite! No, seriously, balsamic vinegar reduced to a sweet glaze adds so much flavor to this salad vs. just using regular balsamic vinegar. I think I'm in love.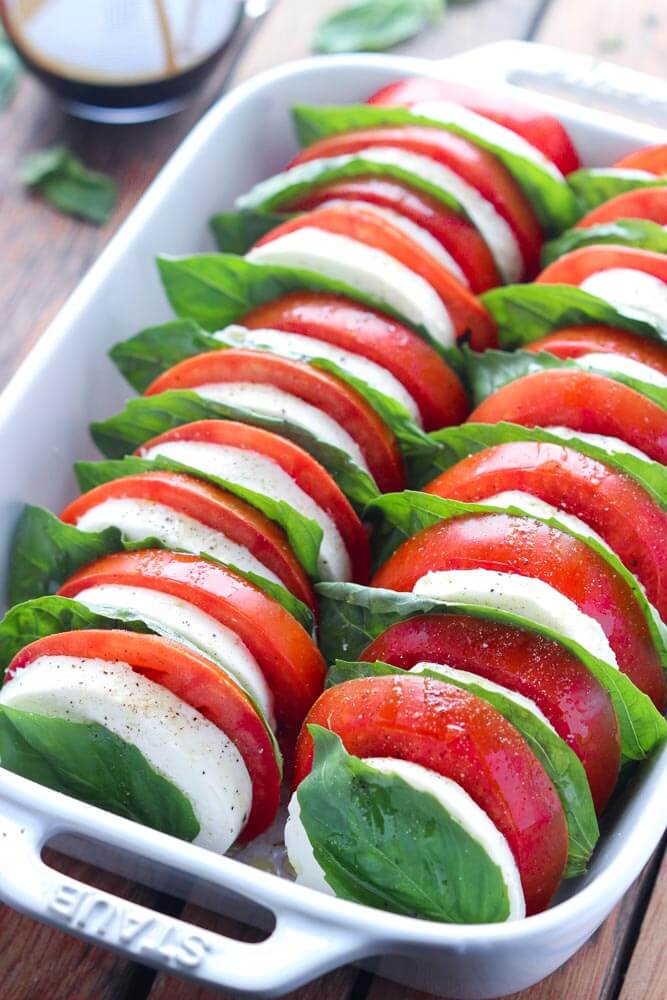 I love vertically stacking this salad in a casserole dish as you can make a big whooping serving and enjoy it over couple days. Just leave out the olive oil and balsamic reduction, and add right before ready to serve.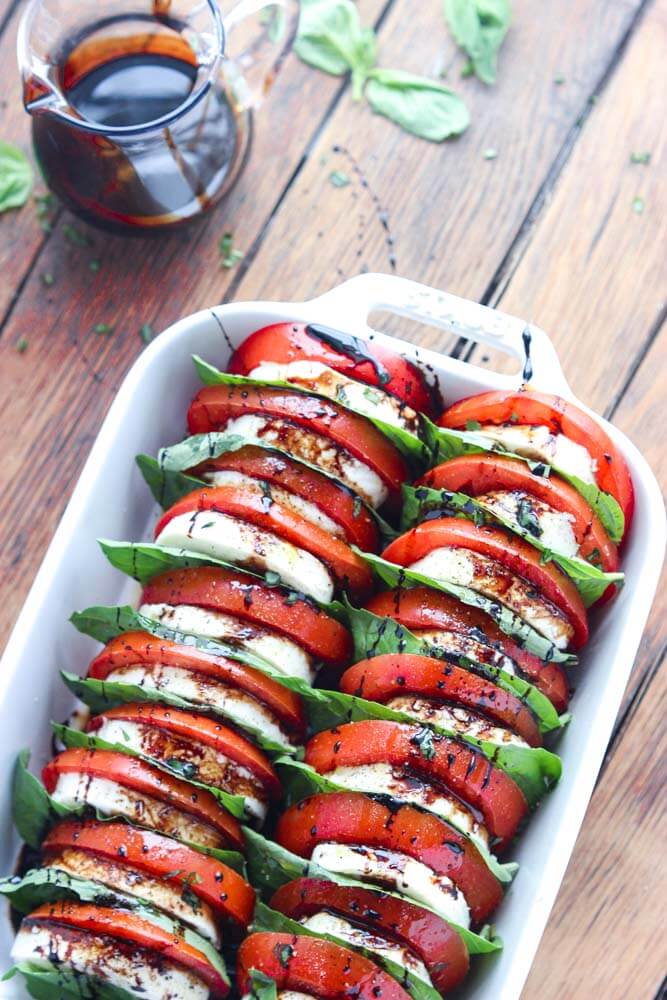 Have this as an appetizer or serve it along side your favorite entree, or top a crusty slice of bread for a light lunch. Either way is awesome.

Tomato Mozzarella Salad with Balsamic Reduction
Author:
Katya @ https://www.littlebroken.com
Ingredients
4-5 hothouse tomatoes, sliced ½-inch thick
2 (16 oz.) logs of fresh mozzarella cheese, sliced ½-inch thick
generous bunch of fresh basil leaves
extra-virgin olive oil
coarse sea salt and fresh ground black pepper
Balsamic Reduction
Instructions
In a small casserole dish (I used 8X11X3) arrange slices of tomatos, mozzarella, and basil vertically, in an alternating patten until you have created two rows.
Drizzle olive oil over the top of the salad, followed by drizzle of balsamic reduction.
Sprinkle with sea salt and fresh ground black pepper. Serve immediately.
Balsamic Reduction
In a small saucepan, bring balsamic vinegar to a boil over medium-low heat. Cook 20-30 minutes, partially covered, until balsamic vinegar has reduced to a thicker glaze.
Cool and store covered in the refrigerator. Bring to room temperature before use.
© Little Broken. All images and content are copyright protected. Please do not use my images without prior permission or claim my work as your own. Feel free to Pin, Tweet, Facebook and share away with a link back to the recipe post. If you want to republish this recipe, please re-write the recipe in your own words and link back to this recipe.
FOLLOW ME and use hashtag #littlebrokenblog or tag me @littlebrokenblog if you try my recipes! Facebook, Instagram, Google+, Pinterest.