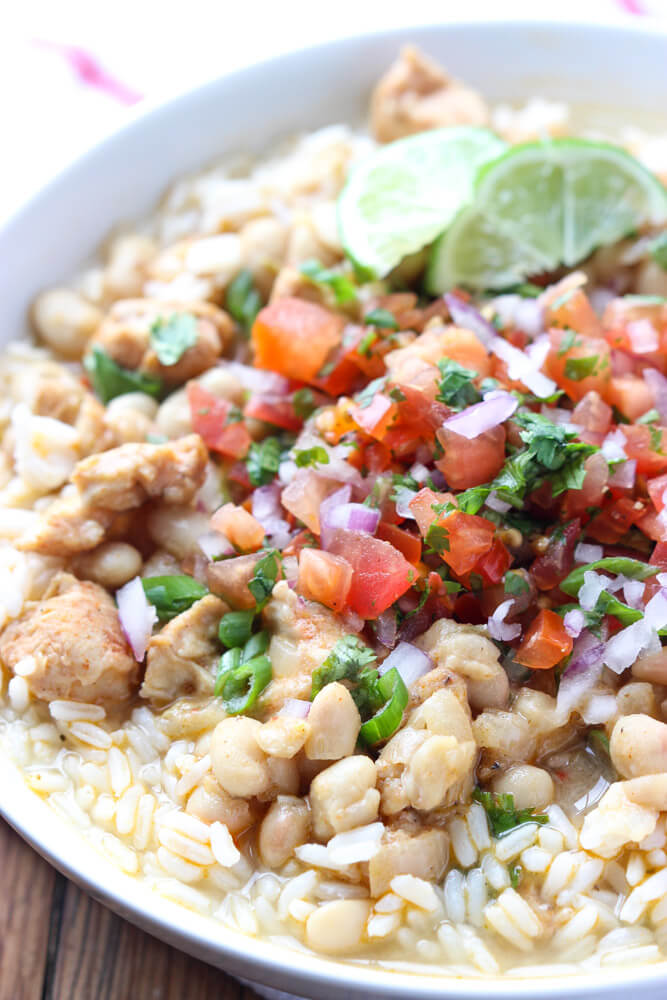 White Chicken Chili Rice Bowl is finally making its debut today! Sorry for sounding a bit dramatic but it deserves all the attention. More so for my own sake. See, I've been playing around with this recipe for too long now trying to figure out how to make it less spicy and here goes my blond moment (no hate to blondies!): it was chili powder all along! Yep, good 'ole chili powder. I've been cooking with chili powder forever and not in a million years would I think it was the one behind all the heat.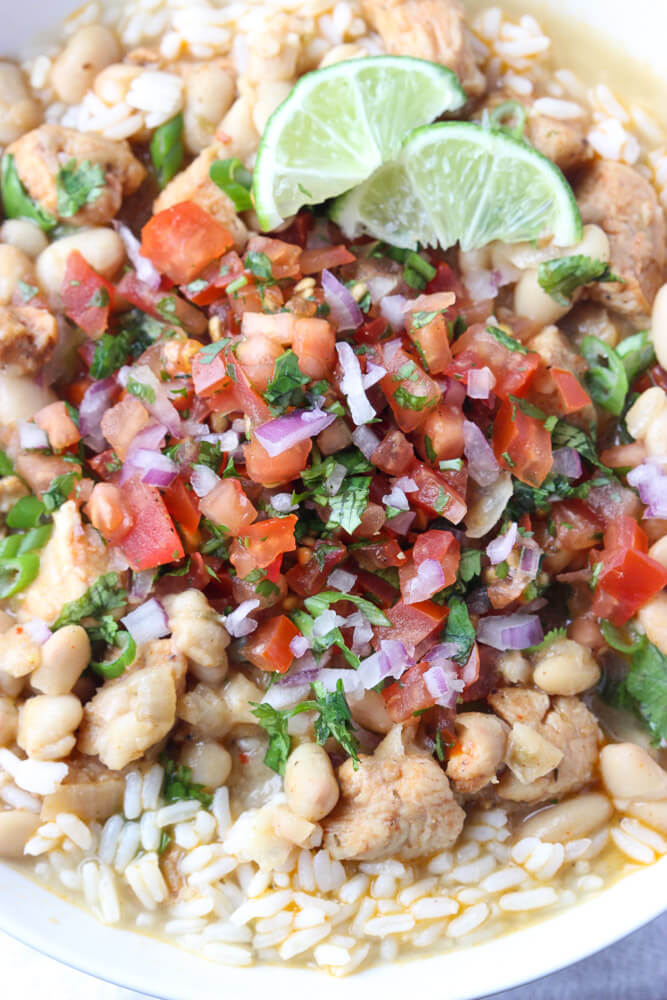 I mean, I'm thinking well it has to be Chipotle Tabasco sauce or maybe the chili garlic sauce, or even the salsa verde. But nope. I tasted each and every single one of those and nothing compared to the taste of chili powder. Because this thing is SPICY but when I started testing the recipe the chili was beyond spicy! I mean burn your mouth H-O-T to a point of laughter, tears, and choking on water HOT (true story btw).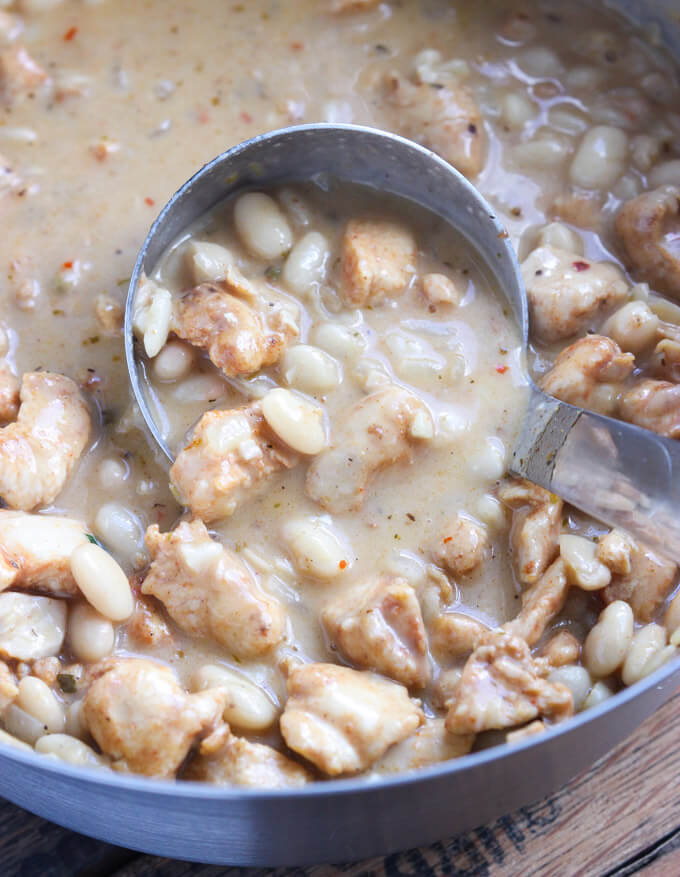 So, pardon me, while I praise my chili today more so for the fact that I'm relieved that my family doesn't have to eat another week of chili and for the fact that it tastes pretty darn good too. What inspired this chili bowl was my lunch date with my little man at Cheesecake Factory sometime before the holidays. I ordered their white chicken chili and it was so so simple but so so good. So, I knew I wanted to replicate the recipe and share it with you guys.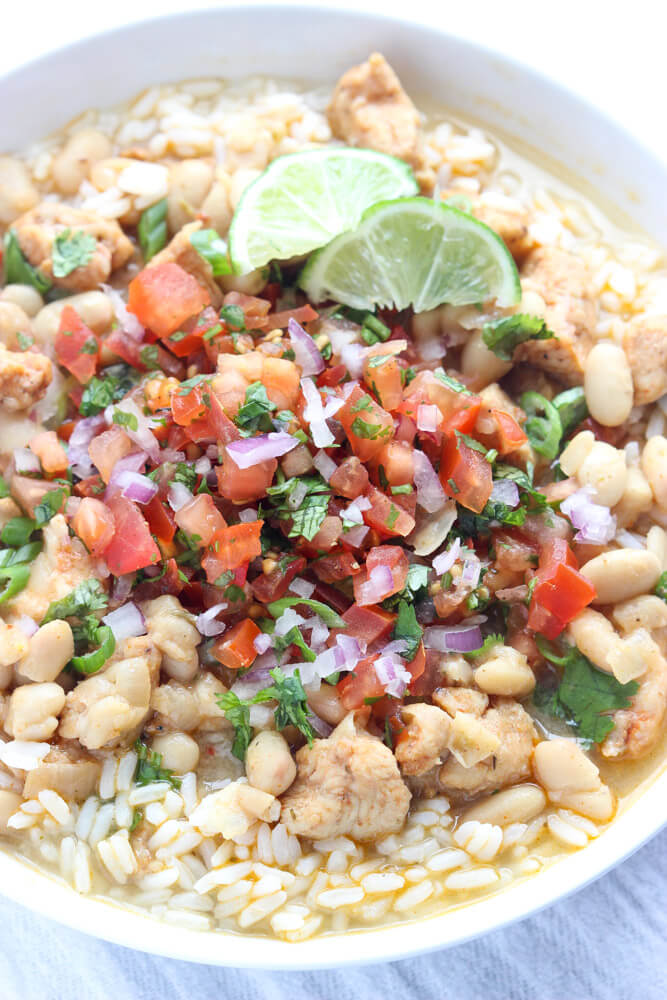 The chili itself is simple but what makes it so different and unique is the fact that it's served over rice and topped with pico de gallo. And it is still SPICY (but not crazy spicy) and when you combine it with the rice and pico de gallo, it all balances each other out really nicely. The flavors of the hearty thick chili with fresh cut tomatoes are amazingly good combination. Not to mention it is super filling and perfect for cold days or upcoming big game. Make a big pot and create a chili bar where everyone serves themselves. It refrigerates super good and tastes even better the next day.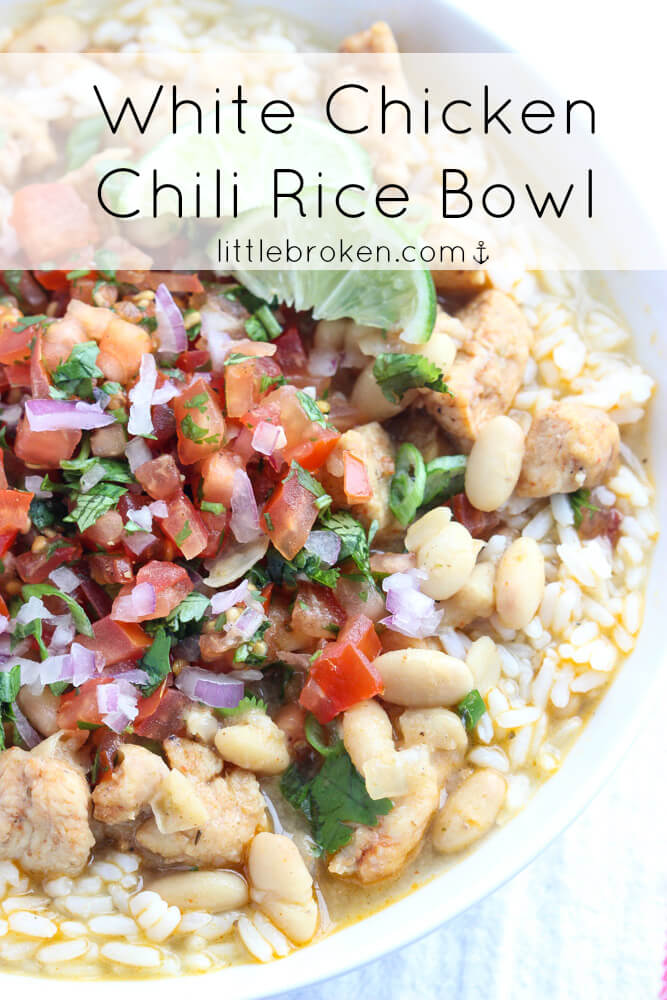 I only lead to good food! FOLLOW ME and use hashtag #littlebrokenblog if you try my recipes! Facebook, Instagram, Google+, Pinterest.

White Chicken Chili Rice Bowl
Author:
Katya @ https://www.littlebroken.com
Ingredients
1½ lbs. chicken breast, cut into bite size pieces
1½ tsp. + ¼ tsp. cumin, separated
1½ tsp. chili powder
1½ tsp. salt
2 Tbsp. olive oil
2 Tbsp. unsalted butter
1 Tbsp. minced garlic
1 small onion, chopped (about ¾ cup)
¼ cup all-purpose flour
3 cups chicken stock
2 (15 oz.) cans cannellini beans, drained and rinsed
1 Tbsp. salsa verde (I used medium)
1 tsp. chili garlic sauce
½ tsp. Chipotle Tabasco sauce
¾ tsp. dried oregano
¾ tsp. brown sugar
3 Tbsp. heavy cream
fresh ground black pepper (optional)
1½ cups uncooked rice
2-3 green onions, thinly sliced
Pico de Gallo
2 medium tomatoes, finely chopped
1½ Tbsp. finely chopped red onion
¼ cup chopped cilantro
½ lime, juiced (about 1 Tbsp.)
salt and pepper
Instructions
Mix chicken with 1½ tsp. cumin, chili powder, and salt. You can also add fresh ground black pepper for taste but is optional since the chili is already spicy.
In a heavy-duty dutch oven, over high heat, cook chicken in olive oil for 3-4 minutes or until golden brown. Remove to a plate with a slotted spoon.
Lower the heat to medium and melt butter in the same dutch oven. Add onion and cook for 2-3 minutes or just until soft; add garlic and cook for 1 minute; add flour and cook for 1 minute, stirring. Add chicken stock and bring to a simmer.
Add the cooked chicken, beans, salsa verde, chili garlic sauce, Tabasco sauce, oregano, brown sugar, and ¼ teaspoon of cumin to the dutch oven. Simmer partially covered over medium-low heat for 10 minutes.
Add cream and simmer for additional 2 minutes. Adjust salt and pepper as needed. Remove from heat.
Cook rice according to package directions, omitting salt or butter.
To serve: spoon rice into a serving bowl, top with chili, salsa verde, and sprinkle of green onions.
Pico de Gallo
Combine all ingredients in a small bowl. Season with salt and pepper as needed. Store covered in the refrigerator.
Notes
Chili is SPICY! If you want less heat, add 1 or even ½ teaspoon of chili powder instead of 1½ teaspoons.
© Little Broken. All images and content are copyright protected. Please do not use my images without prior permission or claim my work as your own. Feel free to Pin, Tweet, Facebook and share away with a link back to the recipe post. If you want to republish this recipe, please re-write the recipe in your own words and link back to this recipe.
these are some of the products I either used in this recipe or similar ones I recommend: