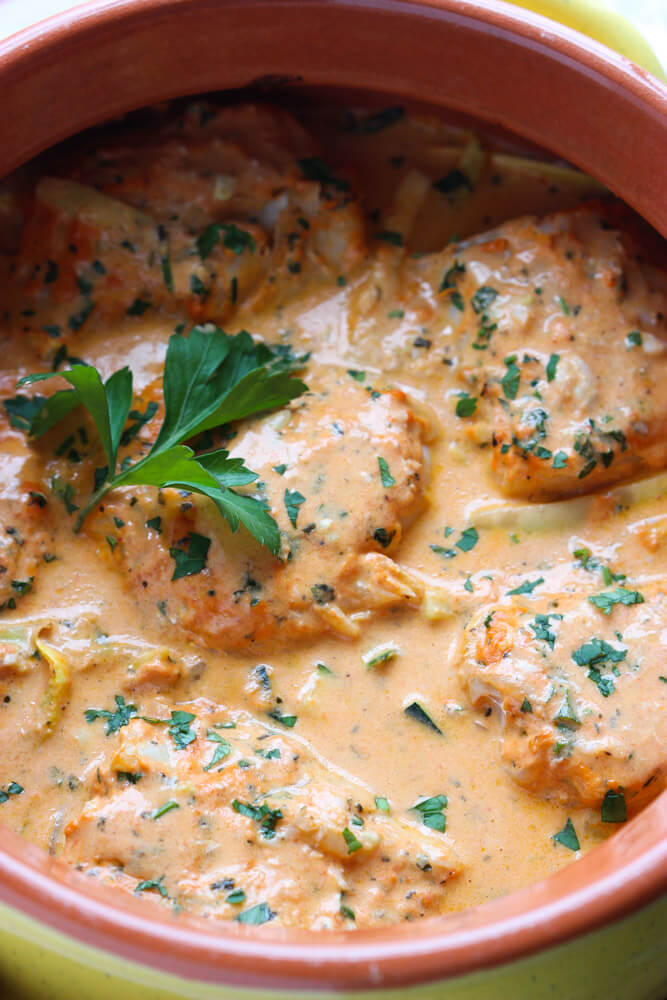 I finally did it!
I'm posting a fish recipe. So here it is…
First of all, my hubby is going to be sooo proud. He's been on me about posting more seafood on my blog just because we eat so much fish on weekly basis and you would think I have a stash of recipes but I actually keep it simple. Fresh lemons and herbs. That's my go to for roasting whole fresh fish. I just switch up the fish. So, when I came across this delicious combo of fresh cod + roasted red pepper sauce. I knew it was going to be a family favorite and a definite blog worthy recipe.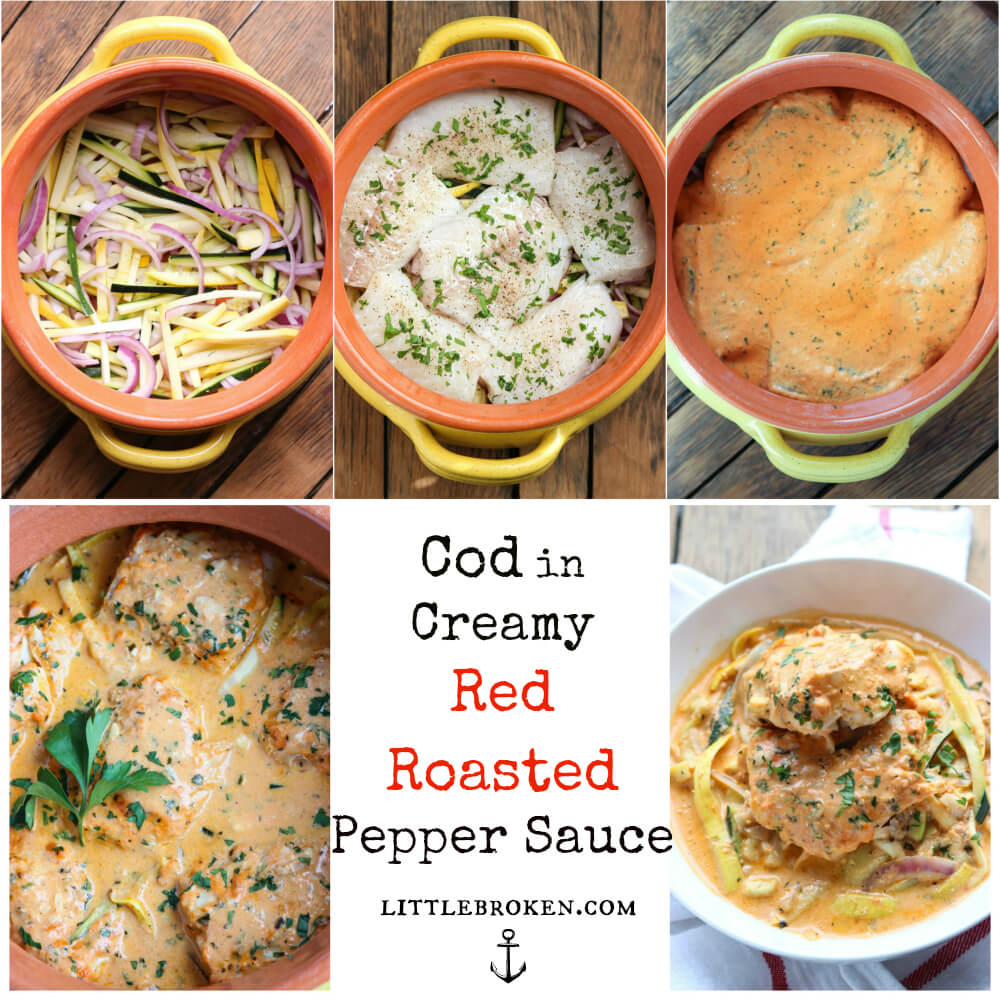 My local grocery does little tastings every Friday (similar to Costco) and I tried their cod in roasted red pepper sauce one week and was in love! The flavors of mild cod fish in a sweet and peppery sauce is ahh-mazing! So I wanted to replicate the recipe but add a little more of my own love to it.
I made this numerous times now with home roasted bell peppers and store bought jarred roasted peppers and honestly not a big difference in taste but humongous in time. So, I stuck with jarred for this time around. So this can easily be a weeknight dinner without slaving away in the kitchen all night long.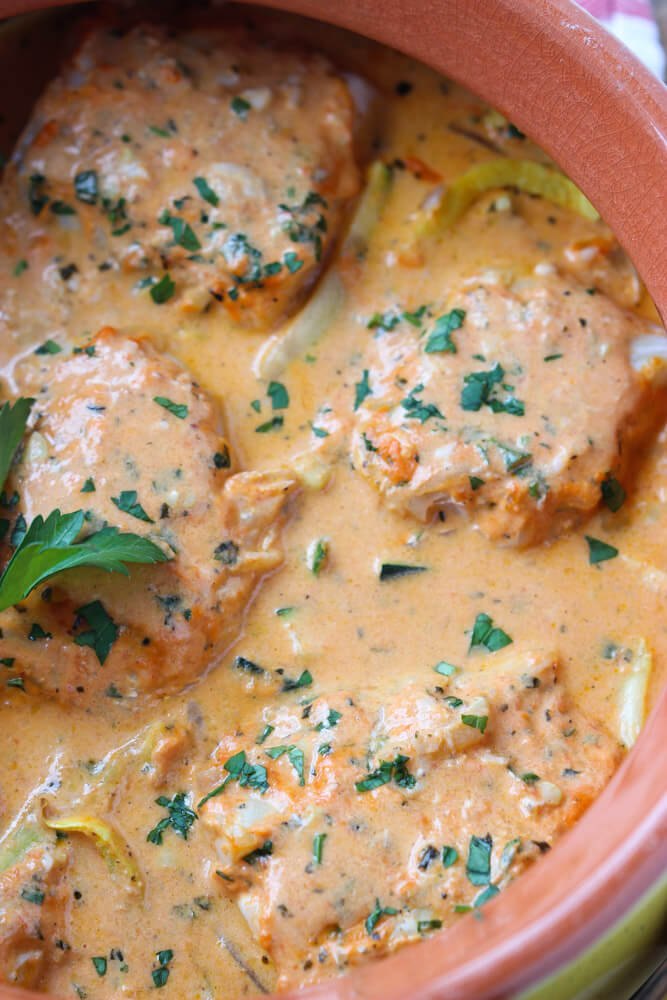 The recipe combines fresh cod with creamy red roasted pepper sauce made with light cream, so it's a little lighter on the calories but without any compromise to the taste. Baked in the oven a top of zucchini, yellow squash, and red onion. Result: fall apart cod fillets (without any fishy taste) in a sweet and peppery creamy sauce over tender cooked veggies. Simple, healthy, and light.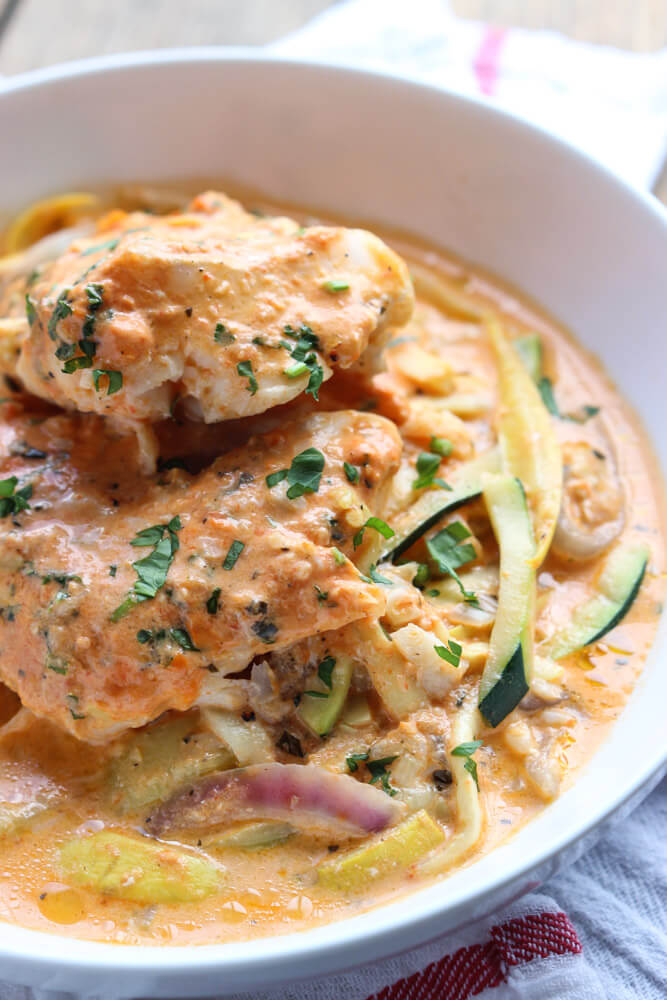 You can make the sauce ahead of time and may want to double up the recipe because you will want to smother it over everything and anything. Not only is it delicious over cod but use it over pasta, veggies, chicken, or any other white mild fish. With just enough sweetness from the cream and bite from the peppers it's not overwhelming on whatever you serve it on.
Follow me, I only lead to good food and use hashtag #littlebrokenblog if you try my recipes! Facebook, Instagram, Google+, Pinterest.

Cod in Creamy Red Roasted Pepper Sauce
Author:
Katya @ https://www.littlebroken.com
Ingredients
Creamy Red Roasted Pepper Sauce:
12 oz. jar whole roasted red peppers, drained and chopped (or you can purchase already chopped roasted red peppers)
2 Tbsp. minced garlic (about 6 medium cloves)
2 Tbsp. chopped fresh basil
3 Tbsp. olive oil
1¼ cup light cream
¼ cup grated Parmigiano-Reggiano cheese
salt and pepper
Cod + Veggies:
2 lbs. cod fillets, cut into serving pieces (I had 2 fillets and was able to cut into 2-3 pieces each)
1 small zucchini, cut into matchsticks
1 small yellow squash, cut into matchsticks
½ red onion, sliced
1 Tbsp. fresh chopped parsley, plus extra for garnish
salt and pepper
Instructions
Creamy Red Roasted Pepper Sauce:
In a medium skillet over medium heat, cook peppers, garlic, and basil in olive oil for 10 minutes, stirring occasionally, until flavors come together.
Transfer the pepper mixture to a food processor and puree until smooth.
Return the mixture to the same skillet and bring to a simmer; stir in cream, cheese, and season with salt and pepper to taste; simmer for 5 minutes, stirring; set aside.
Cod + Veggies
Layer the veggies on a bottom of a large baking dish (about size of 9X13 maybe a little smaller- I used a round baking dish). Season lightly with salt and pepper. Top with single layer of cod fillets; season the cod with salt/pepper and sprinkle with fresh parsley.
Pour the red pepper sauce over the cod and veggies.
Bake, uncovered in a 350F oven for 30-40 minutes until the fish is flaky and veggies are tender.
Sprinkle with fresh chopped parsley. Serve immediately.
Notes
Make Ahead: prepare the Creamy Red Roasted Pepper Sauce the night before and store covered in the refrigerator. Bring to room temperature before using.
© Little Broken. All images and content are copyright protected. Please do not use my images without prior permission or claim my work as your own. Feel free to Pin, Tweet, Facebook and share away with a link back to the recipe post. If you want to republish this recipe, please re-write the recipe in your own words and link back to this recipe.
RECOMMENDED PRODUCTS FROM THIS RECIPE: