Thank you to my friends at Shady Brook Farms for sponsoring todays post! As always, all opinions stated are my own.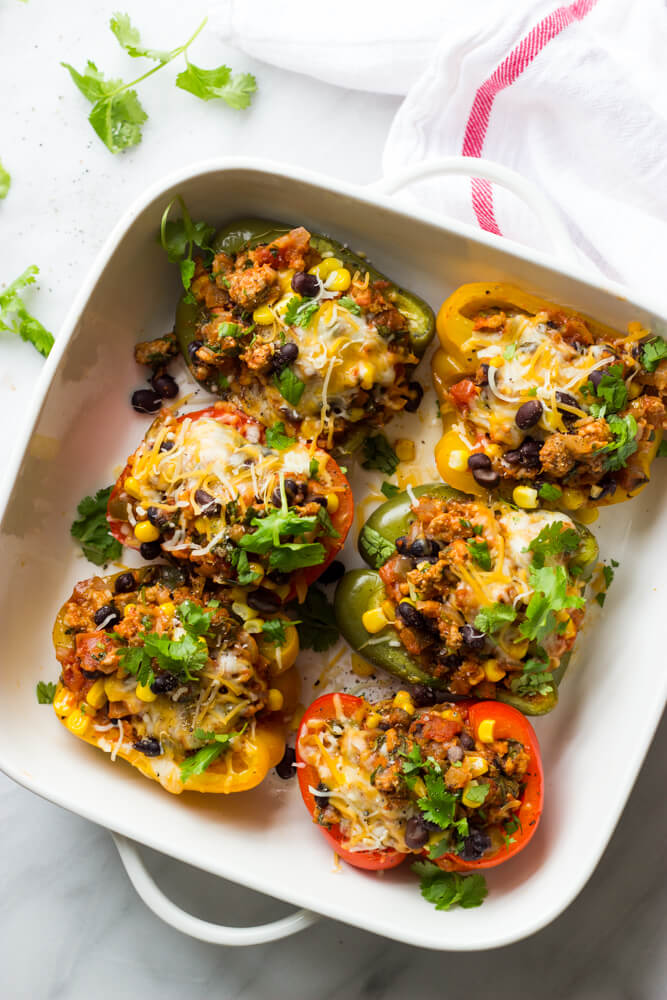 Stuffed bell peppers with lean ground turkey, turkey sausage, corn, black beans, salsa, spices, and fresh cilantro. Healthy and flavorful dinner for the whole family to enjoy!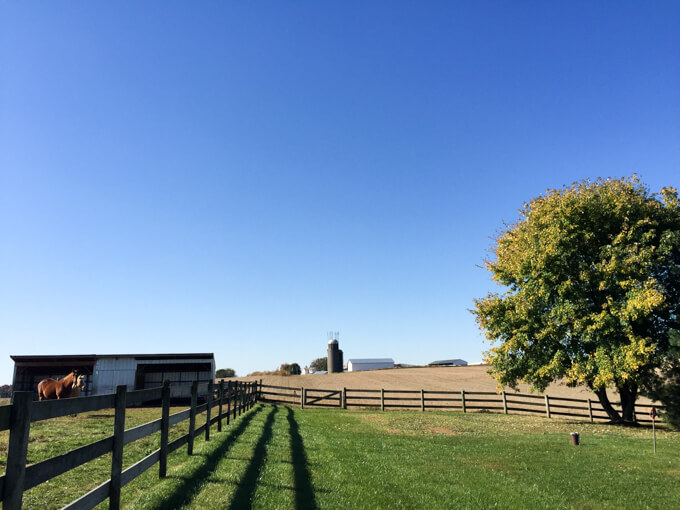 Stuffed bell peppers are one of those dishes that have endless possibilities. You can pretty much stuff them with just about anything and they'll taste good! Today, I have a simple, yet delicious, yet healthy, southwestern inspired stuffed bell pepper recipe for you. It's loaded with so much flavor! The secret is simply good-quality turkey meat, turkey sausage, and a well seasoned bell pepper. But before I jump into the recipe, let me tell you about my field trip.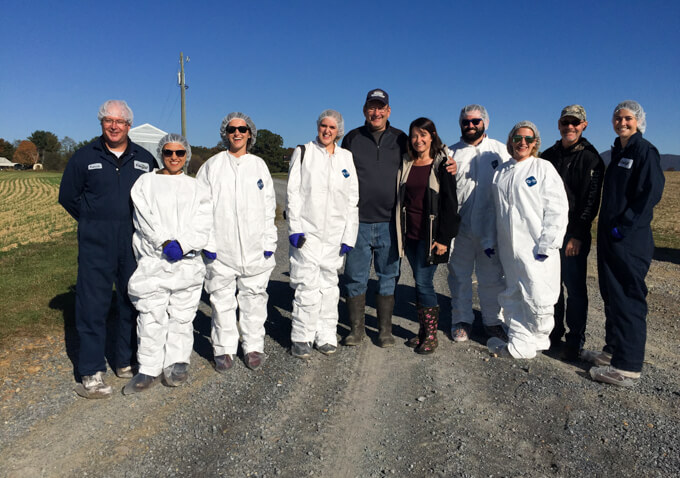 from left in white: Erica (My Colombian Recipes), me, Katie (Made to Be a Momma), Dan (The Food in My Beard), and Sarah (Savoring the Good).
In the fall of this past year, I had the pleasure of traveling with a group of food bloggers to a picturesque Shenandoah Valley in Virginia to meet Glen and his sweet wife Sheri, who are one of 700 independent farmers that raise turkeys for Shady Brook Farms. It was such a neat experience for me personally because I grew up in the Shenandoah Valley but never set foot on a turkey farm until then. Glen comes from a long history of family farmers, so he knows everything about raising turkeys in the most humane way possible that exceeds industry standards. Not only that but I've never met anyone who is so passionate about what he does.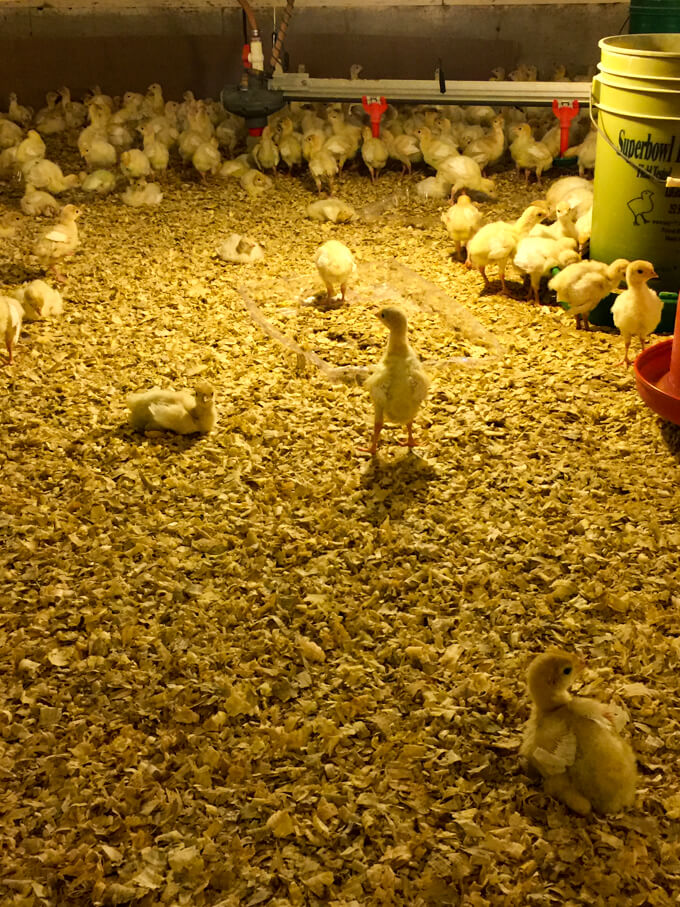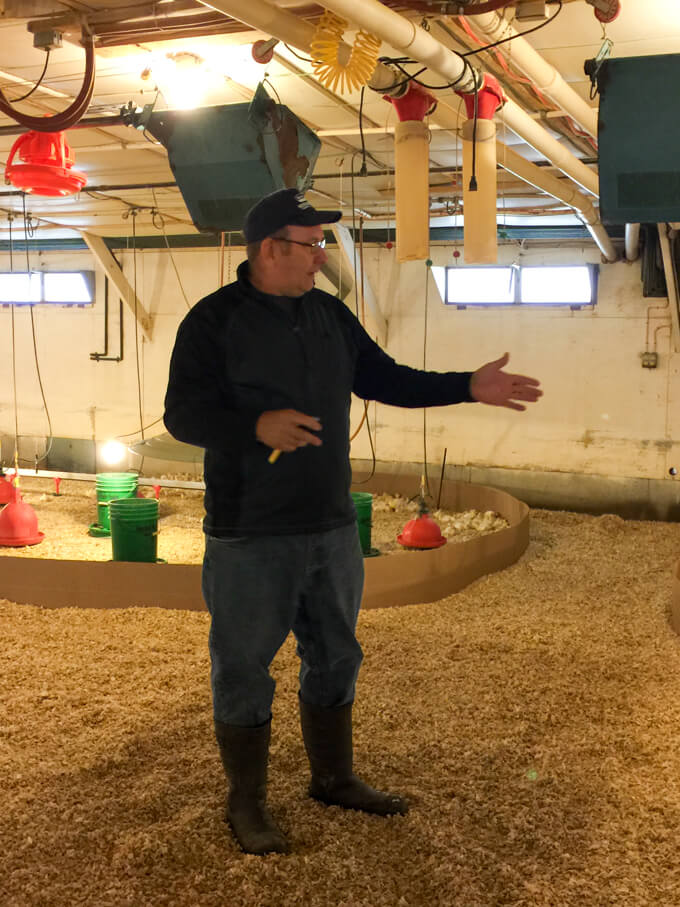 Riverhill Farm sits on the most picturesque 800 acres with Blue Ridge Mountains as the back drop. Absolutely beautiful, clean, and 100% owned and operated by the family. We got to tour one of the turkey barns and learn a little about how the turkeys are raised. Glen is super passionate about his turkeys from everything they're fed, the way they're handled, and the way they live. So there's no growth-promoting antibiotics, hormones, or steroids ever used. The inside of the turkey barn is super super clean. I mean you have to wear special clothes and get scrubbed down to even enter. I was personally surprised at that! In a good way….of course. They sure do like to keep it comfortable for all little guys they're raising.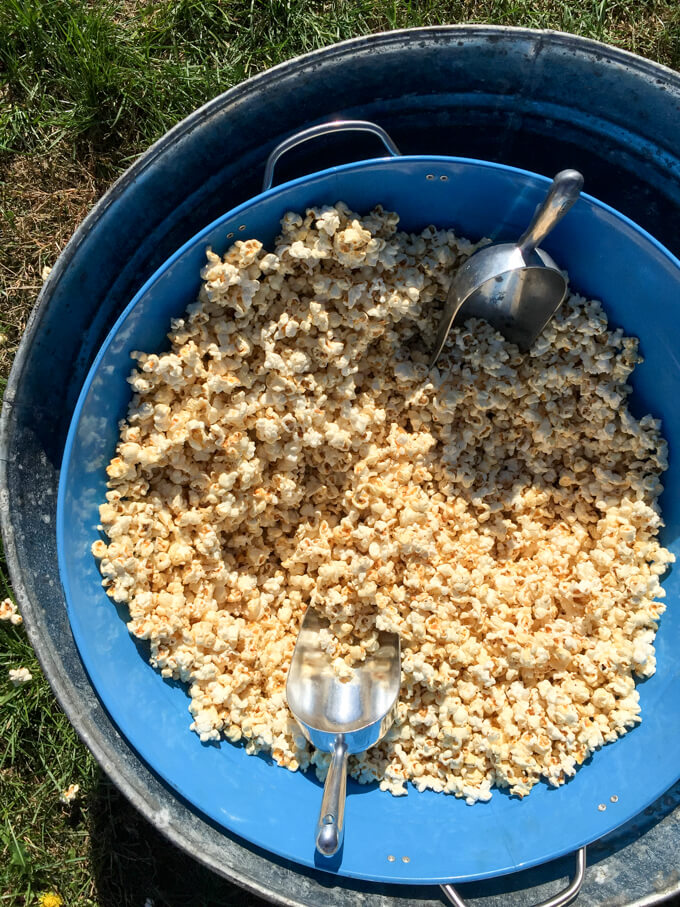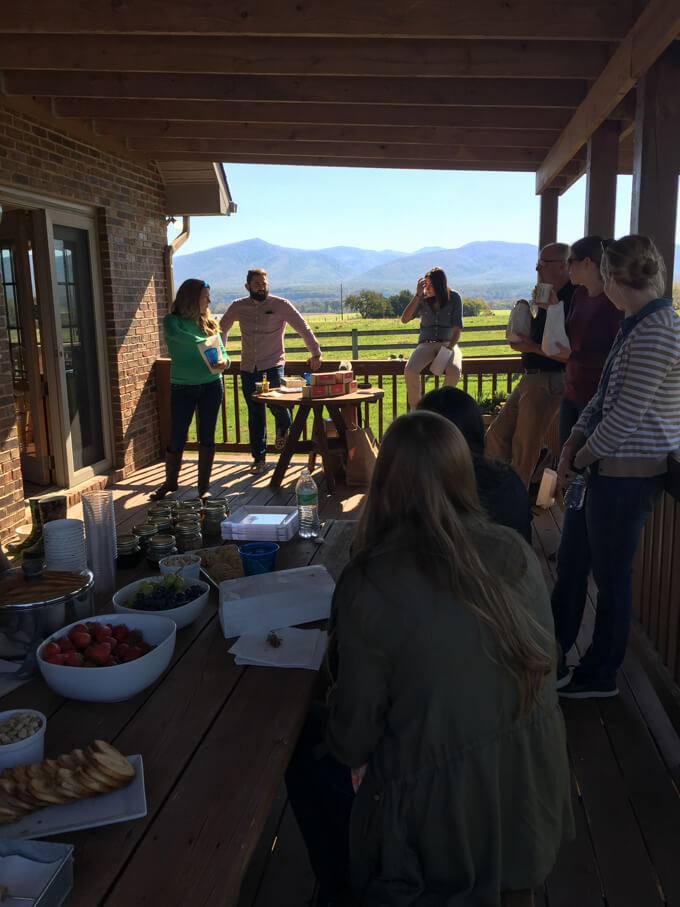 After the tour, Glen was kind enough to open his home to us, where we enjoyed homemade kettle corn and drinks on his back porch. Overall, it was such a neat experience and I'm so grateful I got to be a part of it!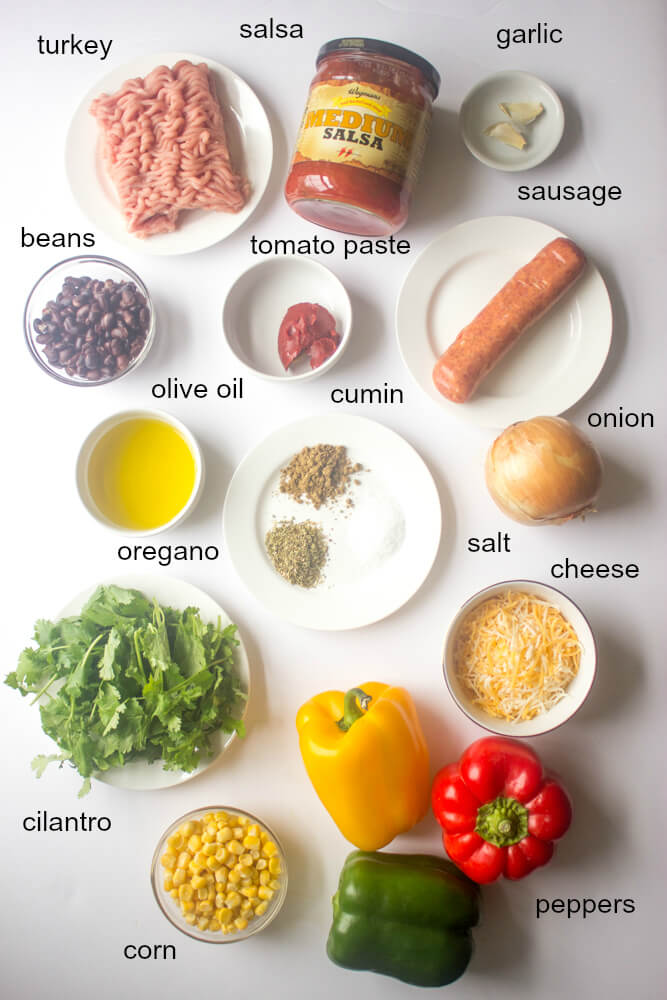 Now back to the recipe. I'm using Shady Brook Farms ground turkey and turkey sausage. Why turkey instead of chicken? Well, turkey actually has more protein than chicken. Not to mention fewer calories and less total fat. To the turkey mixture I added sweet  Italian turkey sausage. It adds just the perfect amount of flavor without overpowering the whole filling. Then I finished it off with salsa, spices, corn, beans, and plenty of fresh cilantro. You can really use this filling for just about anything. It's super flavorful and light.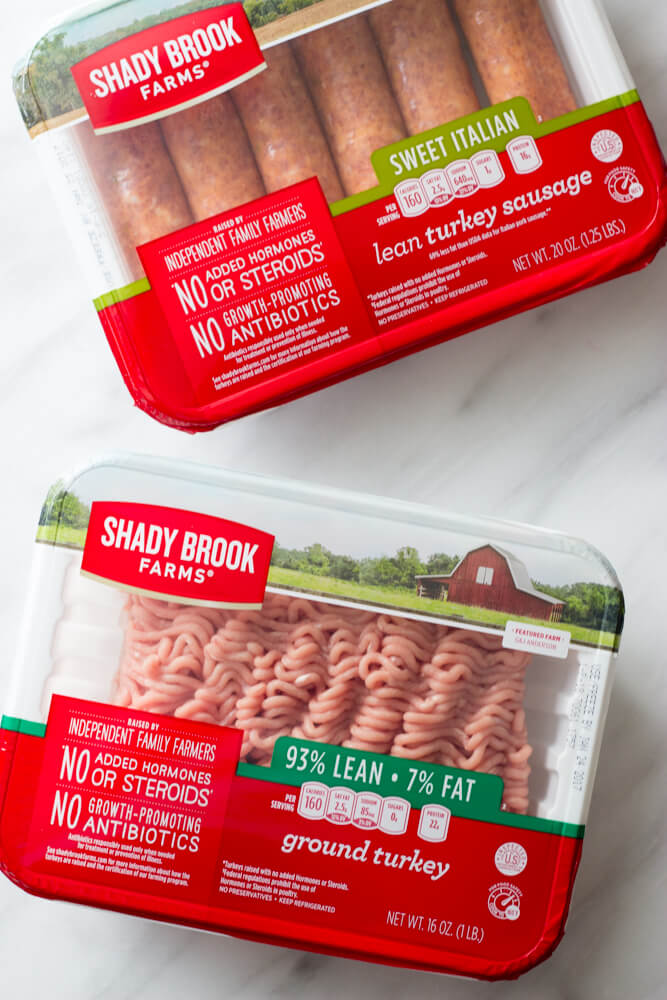 For the bell peppers, you want to use large peppers and season them with salt and pepper before stuffing with the turkey mixture. Then bake for about 40-50 minutes, top with cheese, and serve. You can serve these as is or go all out and top it with guacamole (or simply avocados), fresh salsa, sour cream, and fresh cilantro. They're super tender, flavorful, and healthy! I mean does it really get better than that?!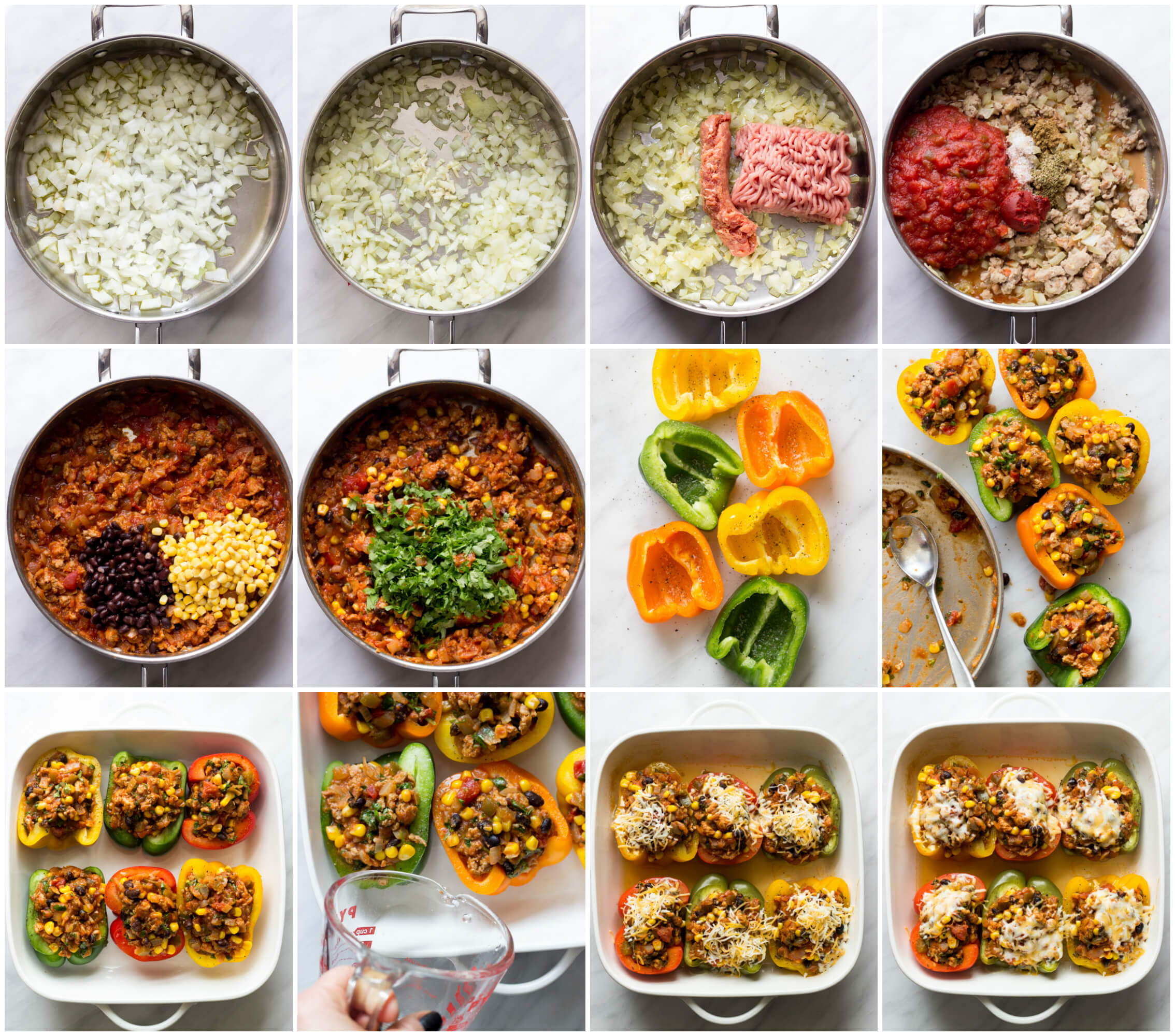 If you're trying to eat a little lighter, check out Shady Brook Farms (east coast) and Honeysuckle White (west coast) turkey's variety of products, including ground turkey, turkey sausage and turkey breasts. I'm a huge fan of ground turkey and sausage. Oh..the possibilities!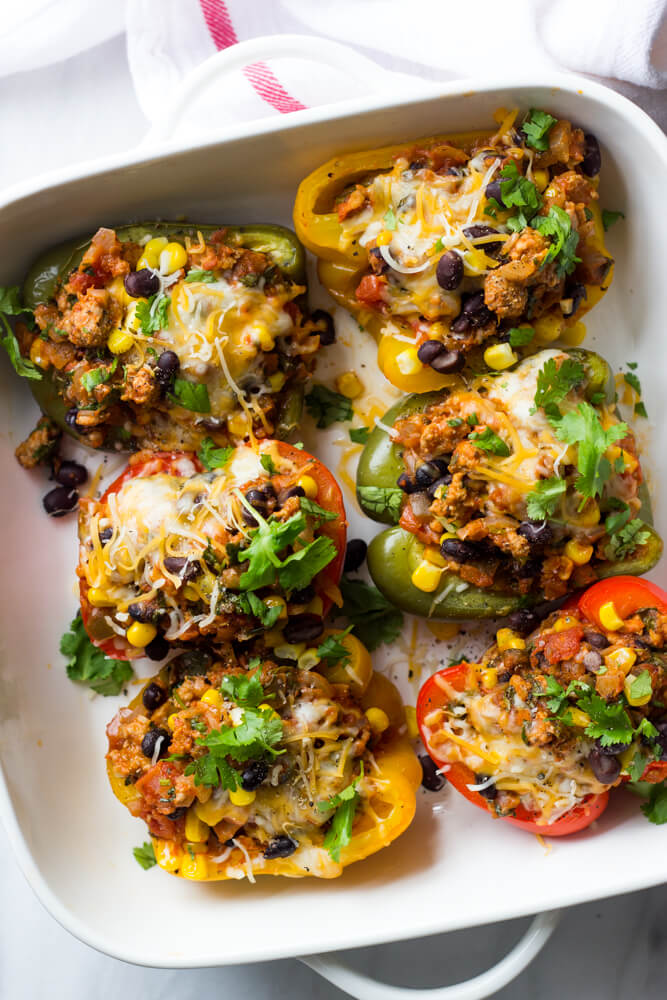 Make it. Snap it. Show it. Instagram @littlebrokenblog or snapchat → littlebrokenblg
Mexican Turkey Stuffed Bell Peppers
Author:
Katya @ https://www.littlebroken.com
Ingredients
3 Tbsp. extra-virgin olive oil
1 medium white onion, chopped
2 garlic cloves, minced
½ pound Shady Brook Farms Ground Turkey
16 oz. jar mild or medium salsa (depending on how spicy you want it)
1 Tbsp. tomato paste
1 tsp. kosher salt
1 tsp. ground cumin
1 tsp. dried oregano
½ cup frozen corn
½ cup black beans, drained and rinsed
½ bunch fresh cilantro, chopped
3 large bell peppers (any color), cut in half lengthwise, seed + stem removed
¼ cup water
½ cup shredded Mexican cheese
kosher salt and black pepper
Instructions
In a large sauté pan, heat olive oil over medium heat. Add onion and cook for 3-4 minutes or until soft. Add garlic and cook for 1 minute. Add turkey and sausage, and cook until no longer pink, about 5-6 minutes, while breaking up with a spoon.
Stir in salsa, tomato paste, salt, cumin, and oregano. Bring to a simmer, reduce heat to low, and let simmer partially covered for 20-23 minutes, while stirring occasionally. The liquid will cook down to almost none.
Stir in corn and beans, and cook for 2-3 minutes or until heated through. Remove the mixture from the heat and stir in chopped cilantro.
Preheat the oven to 350 degrees F.
Season the inside of bell peppers lightly with salt and pepper. Spoon generous amount of meat mixture into each pepper half and place in a 10 X 10-inch baking dish. You want the peppers sitting snuggly in the baking dish.
Pour water on the bottom of the pan. Cover tightly with aluminum foil and bake for 40-50 minutes or until peppers are tender.
Remove from the oven. Sprinkle each pepper evenly with cheese, cover tightly with foil and let sit at room temperature for about 5 minutes. Heat from the peppers will melt the cheese.
Serve immediately.
© Little Broken. All images and content are copyright protected. Please do not use my images without prior permission or claim my work as your own. Feel free to Pin, Tweet, Facebook and share away with a link back to the recipe post. If you want to republish this recipe, please re-write the recipe in your own words and link back to this recipe.