Most tender, flakiest, and flavorful cod you will ever make! This tomato and herb butter compliments the mild tasting cod in the most delicious way ever. It will be the only cod recipe you will crave time after time.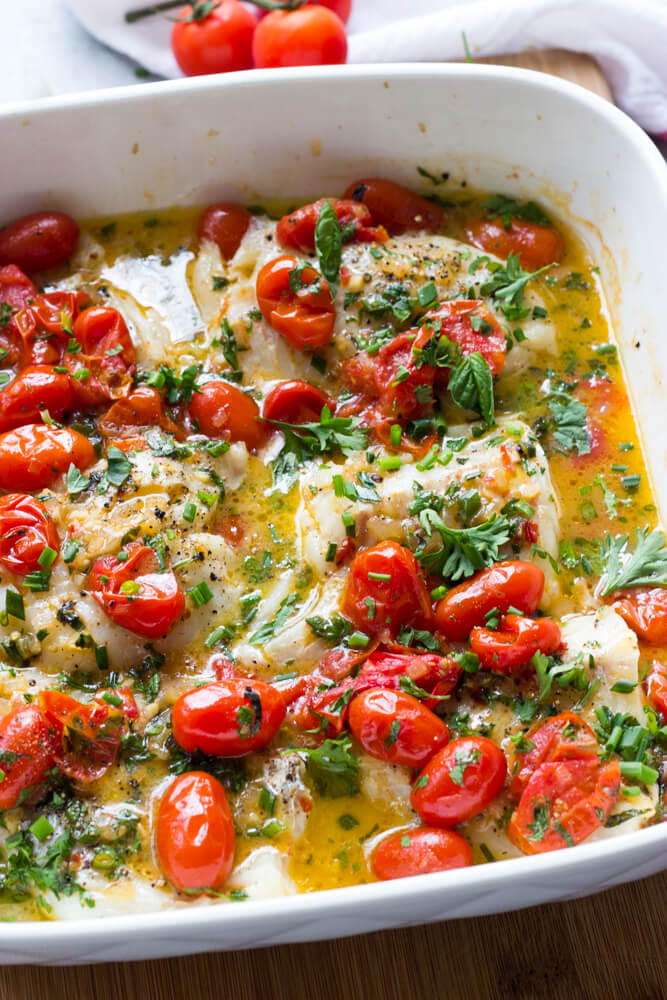 Okay friends. So this recipe has been a long time in the making. Three months is a long time for me and don't ask why it took so long to share. But I came across a tomato and herb butter recipe beginning of the summer in the Cooking Light magazine and let me tell you, it was everything, plus more! You guys know that I try to limit butter and processed foods on this blog but believe me when I say a little goes a long way here. I can't get over how flavorful the herb butter is, especially when paired with a mild and lean fish like cod.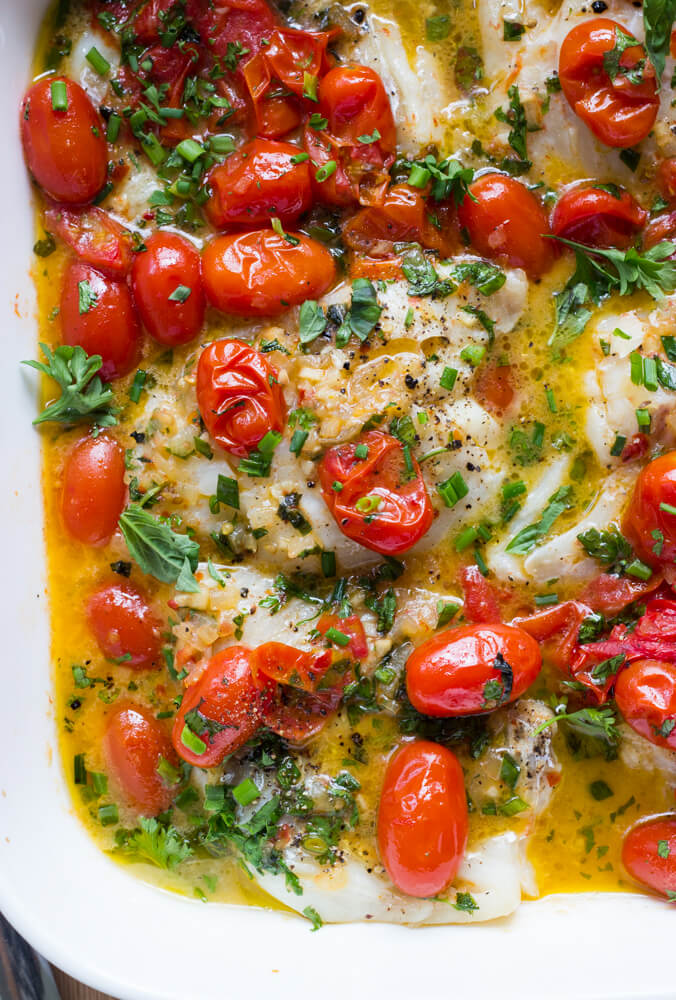 So I changed the recipe up a bit and put my own little spin. It's basically garlic, shallots, tomatoes, spices and broth simmered until tomatoes burst and release their juices. Then you stir in the butter and fresh herbs and OMG! The result is velvety, thick, slightly spicy and sweet butter that you will want to eat by a spoonful. It truly is. Spread it over baked cod and you have yourself one delicious dinner. Plus all those juices on the bottom of the pan…(my heart) ♥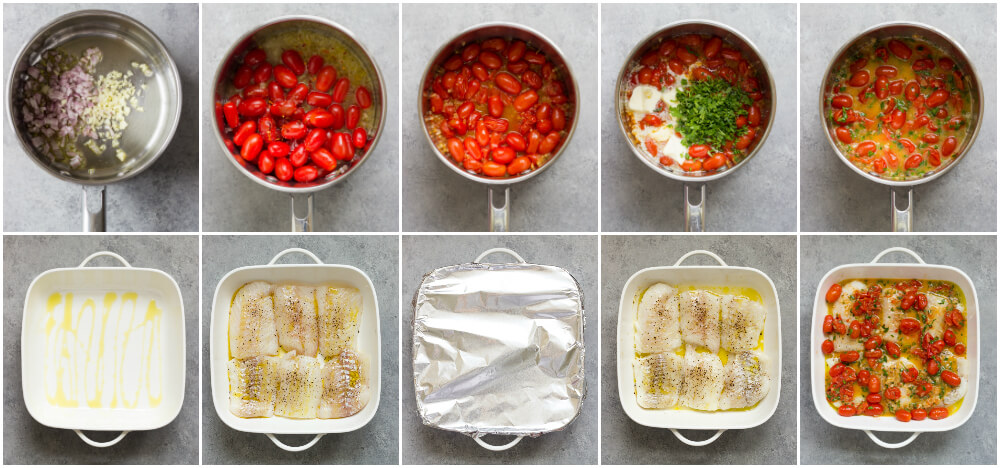 You can serve it with rice, quinoa, or my favorite…crusty bread to soak in all the juices. I mean does it get better than that!? I'm really hoping you give this one a try and even if you're not a fish lover, I'm hoping it will change your mind 🙂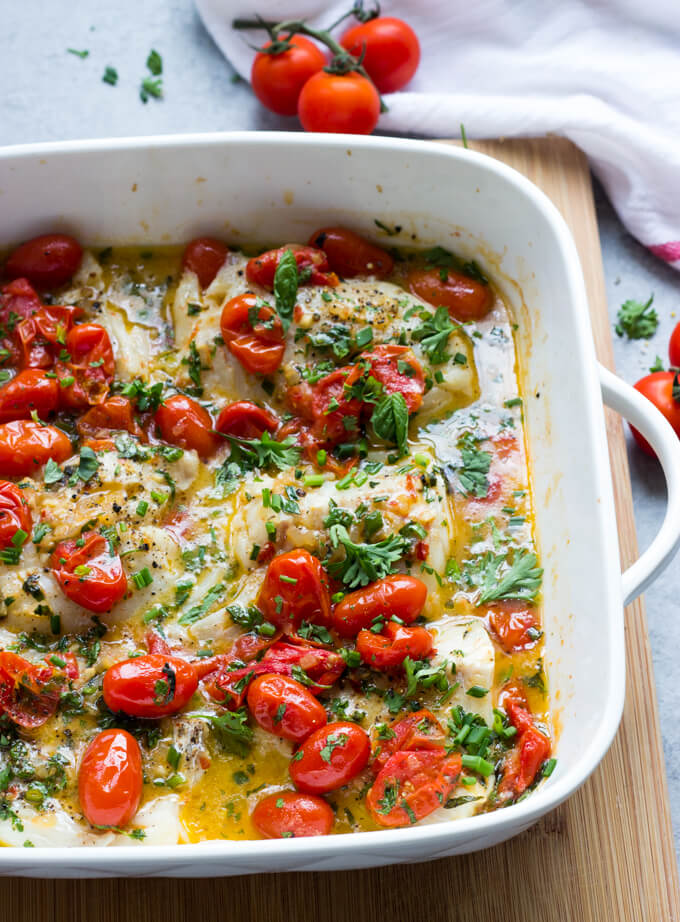 Make it. Snap it. Show it. Instagram @littlebrokenblog or snapchat → littlebrokenblg
Cod with Tomato and Herb Butter
Author:
Katya @ https://www.littlebroken.com
Ingredients
Tomato and Herb Butter
1 medium shallot, finely chopped
2 garlic cloves, minced
1 Tbsp. olive oil, plus extra for drizzling
1 pint grape or cherry tomatoes
½ cup chicken stock
½ tsp. sea salt
¼ tsp. red pepper flakes
¼ tsp. granulated sugar
4 Tbsp. unsalted butter, sliced
3 Tbsp. fresh chopped herbs (basil, parsley, chives, cilantro), plus extra for garnish
Cod
2 - 2¼ pounds fresh cod fillets, cut into 6-8 oz. portions*
1 lemon
salt and fresh ground black pepper
Instructions
Tomato and Herb Butter
In a small saucepan heat olive oil over medium heat. Sauté shallot and garlic for 4-5 minutes or until soft, stirring occasionally.
Add tomatoes, chicken stock, sea salt, red pepper flakes, and sugar. Simmer, uncovered, for 15-17 minutes or until tomatoes break down and release their juices and liquid has almost evaporated.
Remove the saucepan from the heat and stir in the butter and fresh herbs. The herb butter should be velvety and thick. Cover and keep warm while the cod is baking.
Cod
Preheat the oven to 400 degrees F.
Drizzle the bottom of a casserole dish lightly with olive oil. You want a dish big enough to fit the cod in a single layer with some room around or you will get too much juice during baking.
Pat dry the cod really well and place in a single layer. Season with salt and pepper to taste but be generous. Drizzle the top lightly with olive oil and squeeze of fresh lemon. I used about ½ lemon. Cover tightly with aluminum foil and bake for 12-18 minutes or until easily flaked. Baking time will depend on the thickness of the cod.
Remove from the oven and evenly spread the tomato butter over the cod. Cover back with aluminum foil and let stand at room temperature for 1-2 minutes before serving. You just want all the flavors to come together.
Garnish with fresh chopped herbs, if desired, and serve immediately.
Notes
*I used about 2¼ pounds of cod that I was able to cut into six (6-8 oz.) individual portions
**This cod serves really well with cooked rice, quinoa, or crusty bread to soak in all the juices.
Serving size: 1 (6-8 oz.) cod fillet with butter sauce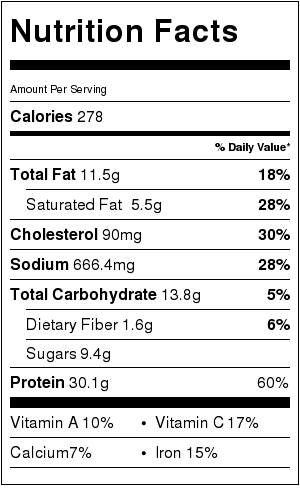 © Little Broken. All images and content are copyright protected. Please do not use my images without prior permission or claim my work as your own. Feel free to Pin, Tweet, Facebook and share away with a link back to the recipe post. If you want to republish this recipe, please re-write the recipe in your own words and link back to this recipe.