This Mediterranean bean salad is a flavor bomb! Simple ingredients with SO much flavor. Serve it with pita bread for a light meal or alongside your favorite entrée.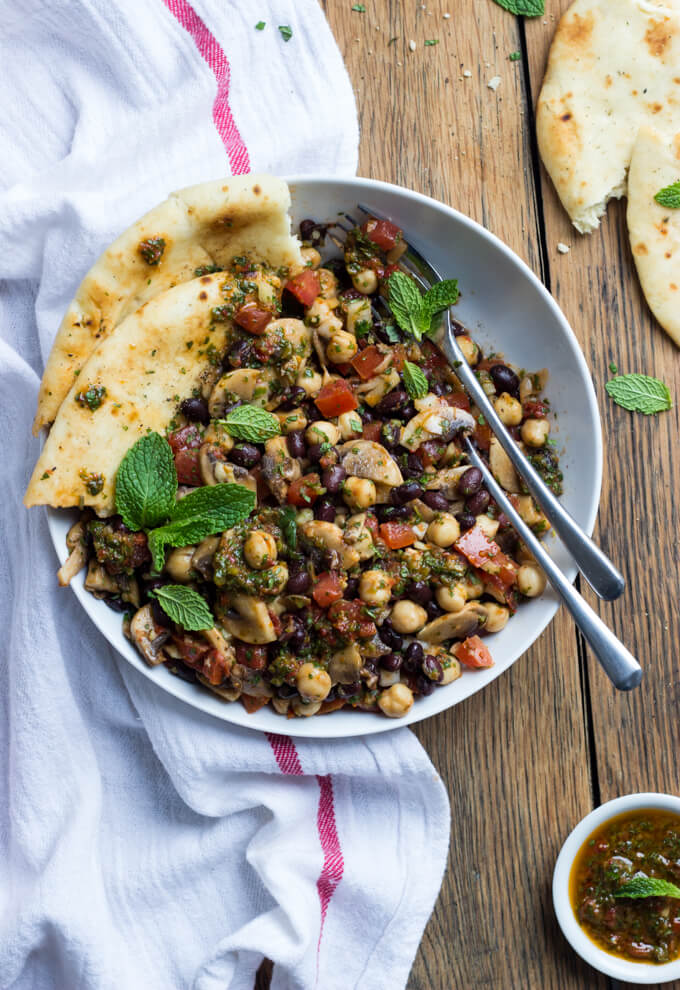 Hi friends! I missed you all. I know, I know…I was a little MIA last week but in my defense I wasn't feeling too hot. I am feeling better though and am back with a side that you will want to make stat. It's vegetarian, vegan, and made the night before to enjoy the next day. Plus it stores in the fridge up to 3 days! I mean, you pretty much got your side and lunch covered for half a week. Does it get any better than that?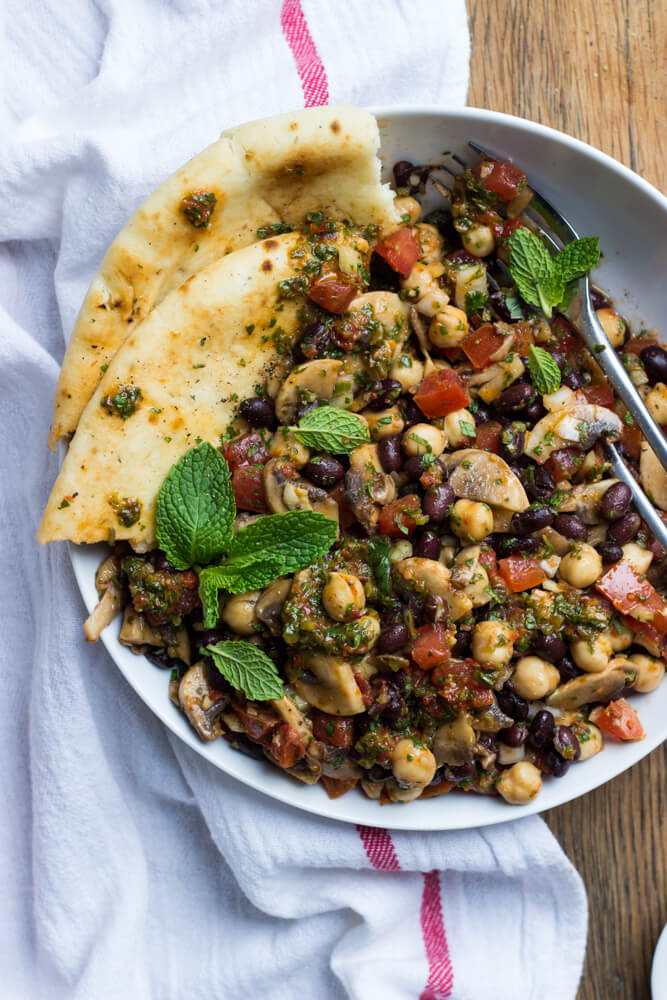 100% flavor bomb. Is what this side is all about. And there is zero exaggeration in that statement. It has so much going on in the most delicious possible way. Starting with the dressing.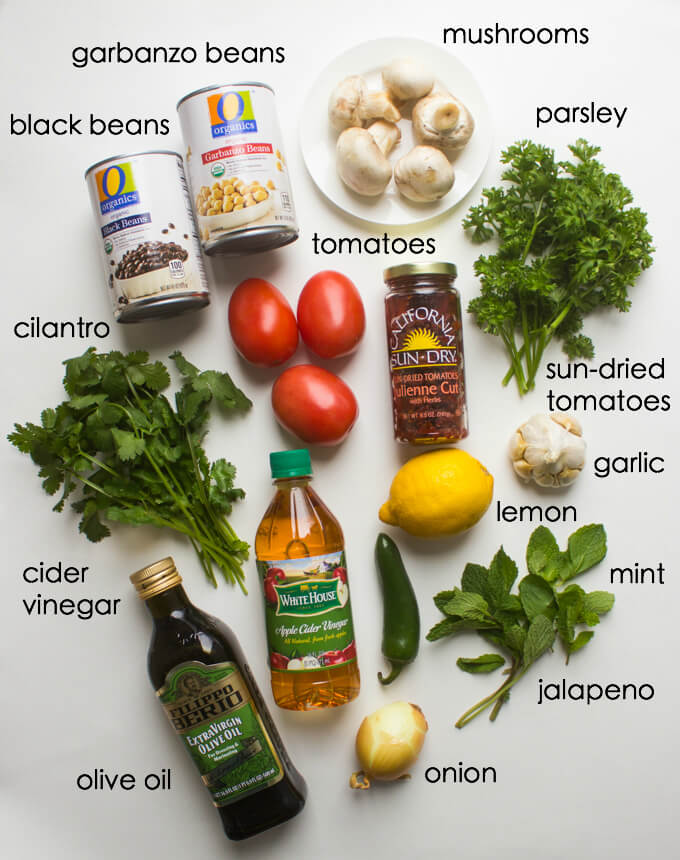 Fresh herbs like cilantro, parsley, and mint with flavorful garlic, jalapeno, and sun-dried tomatoes pureed into a smooth, I want to eat by a spoonful, type of mixture. Then tossed with beans, mushrooms, onions, and tomatoes. AND then….you wait. I know. Who likes to wait, right? But I promise with first bite you will be glad you waited. Because waiting is what makes this taste amazing.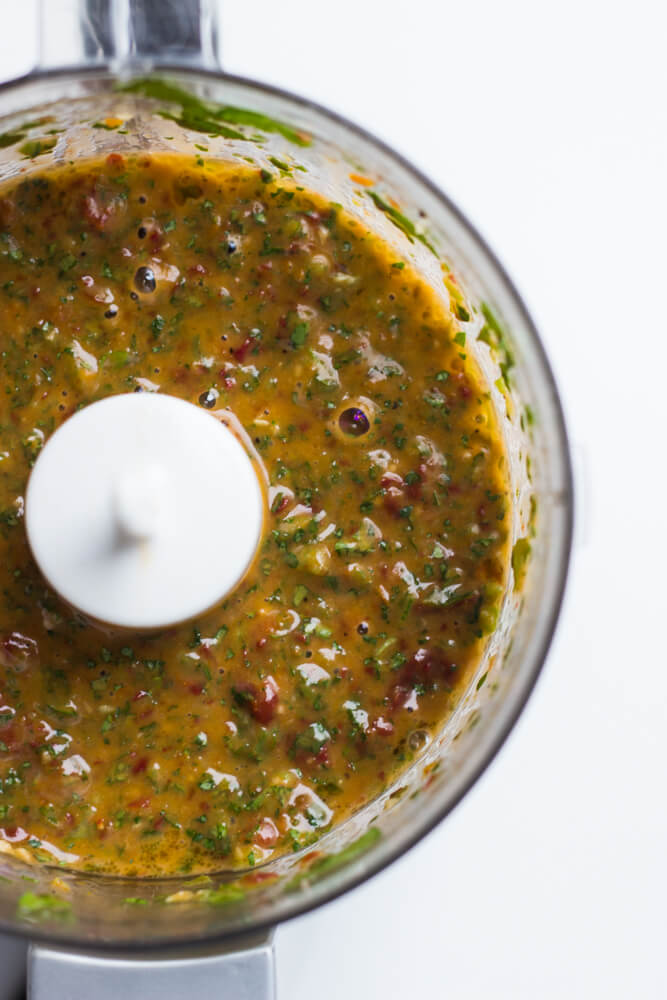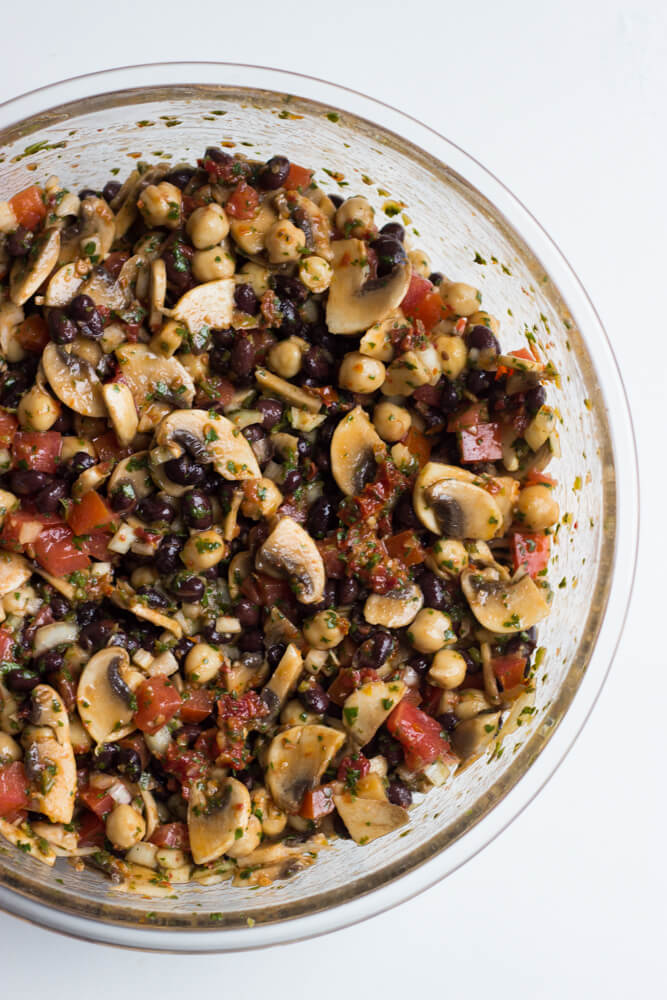 You got to let the salad "marinate" overnight before serving, in order for the veggies to soak up every bit of that dee-licious dressing. Then you serve it cold with warm pita bread as a meal on its own or alongside your favorite entrée. Chicken, lamb, beef, fish. I mean this salad does not discriminate. At all.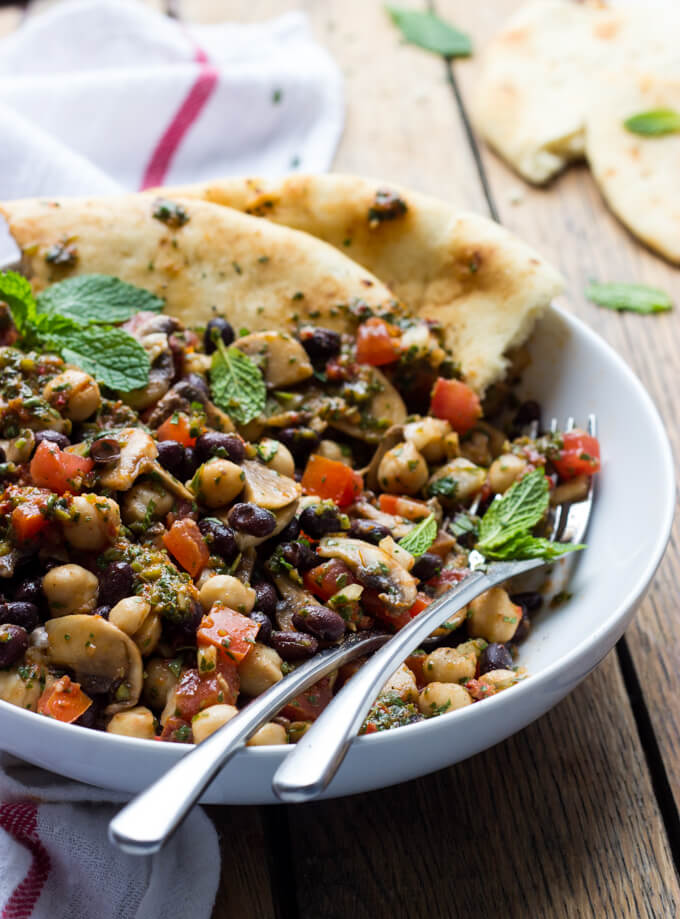 Make it. Snap it. Show it. Instagram @littlebrokenblog or snapchat → littlebrokenblg

Mediterranean Bean Salad with Mushrooms
Author:
Katya @ https://www.littlebroken.com
Ingredients
⅔ cup fresh parsley leaves, lightly packed
⅔ cup fresh cilantro leaves, lightly packed
5 large mint leaves
1 medium garlic clove
1 jalapeno, seeded + roughly chopped
¼ cup julienned sun-dried tomatoes in oil, drained of excess oil
½ cup extra-virgin olive oil
1½ tsp. apple cider vinegar
1 lemon, juiced
1 tsp. salt
½ tsp. fresh black pepper
1 (15 oz.) can black beans, drained + rinsed
1 (15 oz.) can garbanzo beans, drained + rinsed
6 oz. raw white mushrooms, sliced
⅓ cup diced sweet onion
3 roma tomatoes, seeded + chopped
Instructions
In a bowl of a food processor, combine parsley through black pepper and process until smooth.
In a large bowl, toss black beans, garbanzo beans, mushrooms, onion, and tomatoes with the processed mixture.
Cover and refrigerate overnight. In the morning give the salad couple good stirs before serving with pita bread or alongside your favorite entree.
Salad can be stored in the refrigerator up to 3 days. Stir before serving.
Notes
**what makes this salad so flavorful is not only all the ingredients but that it "marinates" overnight - so don't be tempted to skip it
**add additional time for the salad to sit overnight
© Little Broken. All images and content are copyright protected. Please do not use my images without prior permission or claim my work as your own. Feel free to Pin, Tweet, Facebook and share away with a link back to the recipe post. If you want to republish this recipe, please re-write the recipe in your own words and link back to this recipe.
Nutrition facts are based on 8 servings