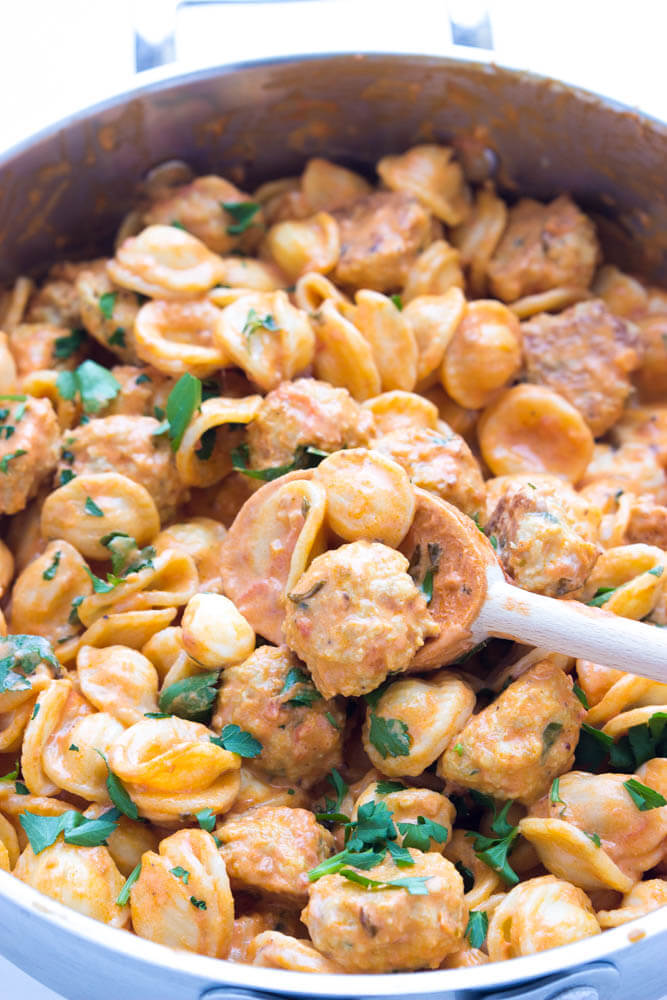 I had no intentions of posting a pasta dish today especially since we hardly have pasta at the house thanks to my zero control self and I'm not blaming the pregnancy this time around. I seriously lose a sense of portion control when it comes to pasta. So it's better that I not even go there. But I needed a quick and easy dinner meal last week to feed two little peeps (one of mine and one of my sisters), so I made this on a whim and it turned out surprising good. Why surprisingly? Just because when you have 30 seconds to prep a family dinner with half empty fridge, you never know which way it will go. So yes, surprisingly it turned out GOOD and nobody died. Always a bonus.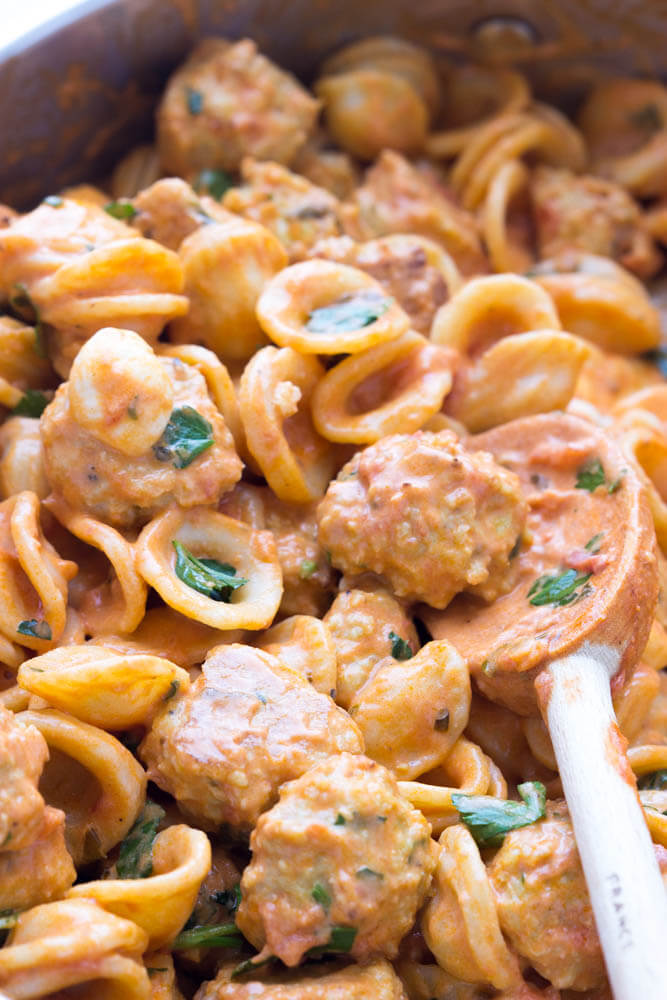 It's a perfect skillet pasta dinner for busy weeknights. It's quite easy and will probably take you less time to prep than what is noted below. You pretty much start off with making the meatballs but not just any meatballs. Baked chicken meatballs. Super, super moist and tender fall apart good. They are truly what makes this dish. And I'm not saying it just to say it. They are seriously that good.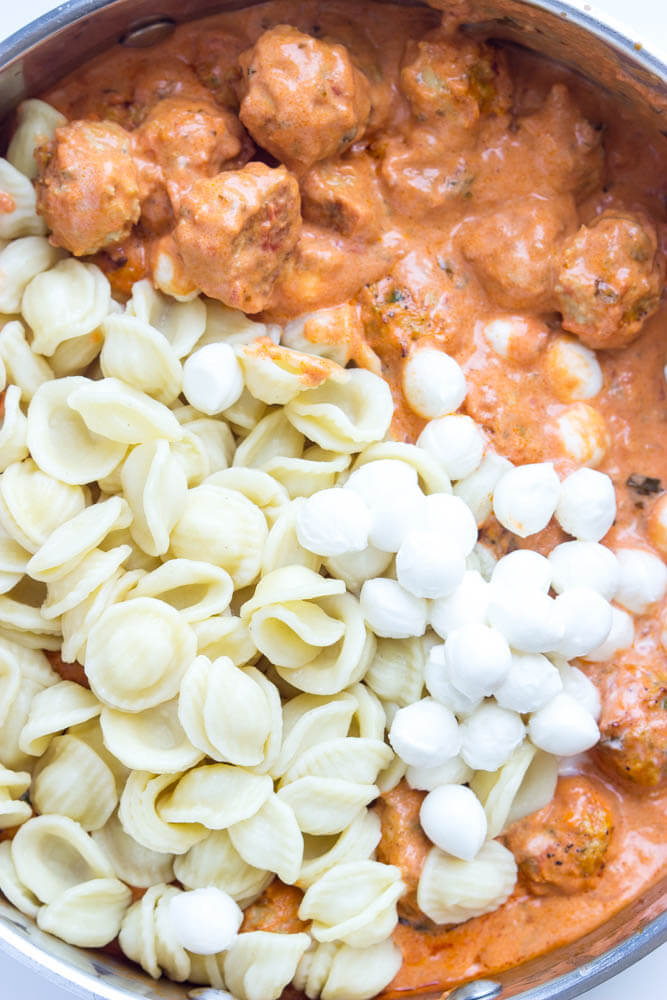 If you ever tried cooking ground chicken you know how hard it is to get the meat super tender and moist. My little secret and I'm not even sure whether it's a secret but I pack the ground chicken with shredded onion, Panko soaked in milk, and little bit of sour cream. You can probably substitute full fat greek yogurt or mayo for sour cream. But I wouldn't do anything skim as you want to fatty these babies up for some flavor. Broiled in the oven halfway then dumped into a skillet with Tomato Basil sauce and cream.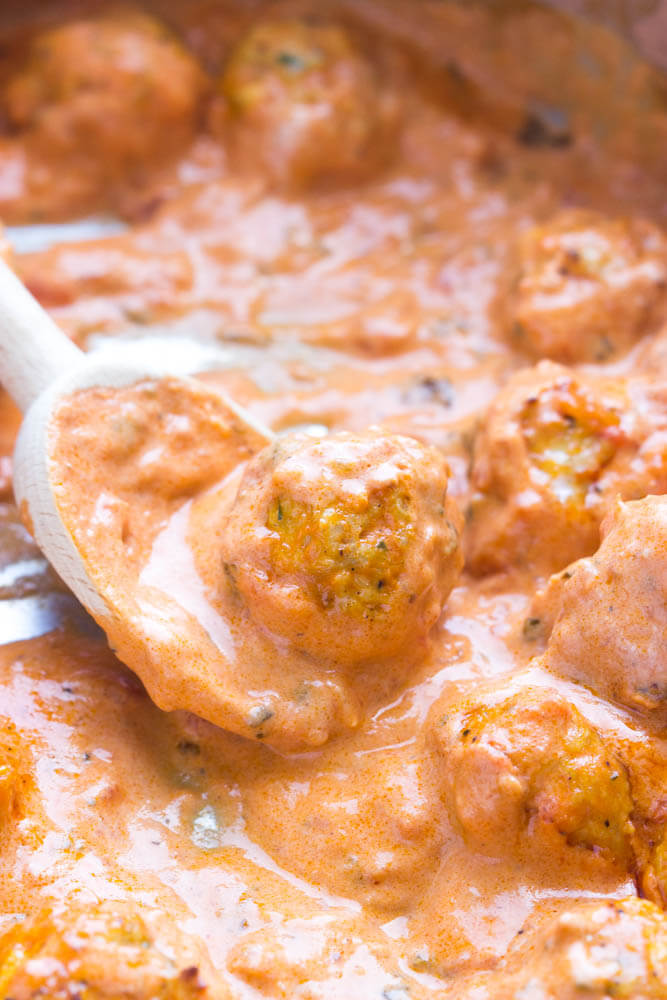 I'm a sucker for anything mini and cute so I went with little orecchiette pasta which are a perfect compliment to the mini meatballs. You can use any type of pasta on hand really. But mini and cute are always better. I finished off the dish with mini mozzarella balls AKA "pearls" and fresh chopped herbs.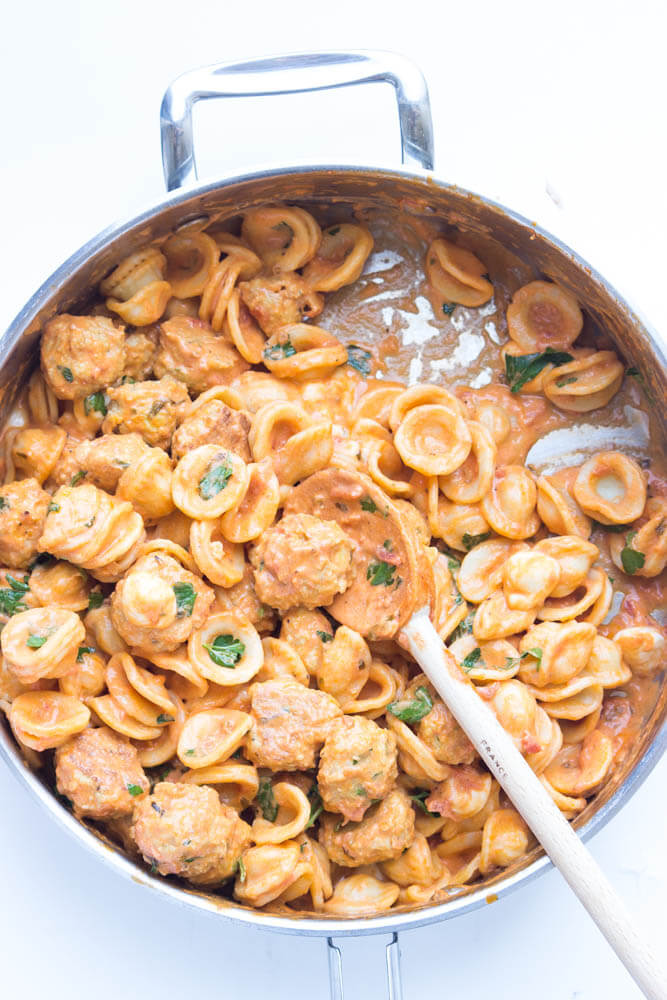 There's definitely a lot of mini and cute going on here but not on flavor! Tender chicken meatballs with hot pasta smothered in tomato cream sauce is the ultimate weeknight comfort meal for the whole family. Serve this with fresh crisp salad and you're set.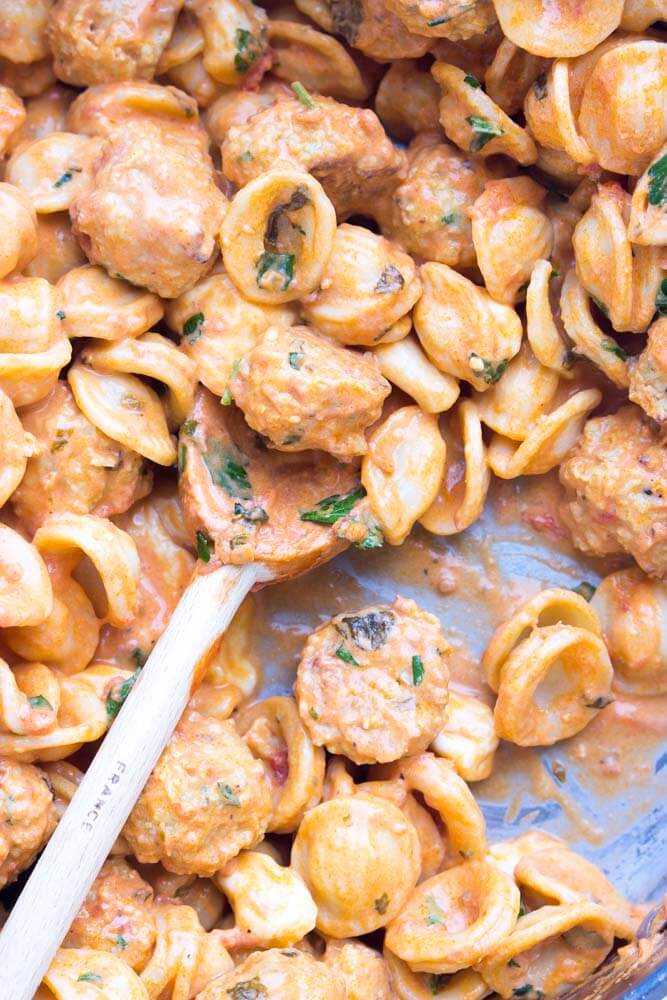 FOLLOW ME and use hashtag #littlebrokenblog or tag me @littlebrokenblog if you try my recipes! Facebook, Instagram, Google+, Pinterest.

Orecchiette with Baked Mini Chicken Meatballs in Tomato Cream Sauce
Author:
Katya @ https://www.littlebroken.com
Ingredients
Meatballs
½ cup Panko
¼ cup milk
½ lb. ground chicken
1 egg
2 Tbsp. grated or shredded (in food processor) onion
1 Tbsp. fresh minced parsley
1 Tbsp. sour cream
½ tsp. salt
¼ tsp. black pepper
Pasta + Sauce
2 cups uncooked orecchiette pasta
¼ - ⅓ cup reserved pasta water*
1 cup jarred Tomato Basil pasta sauce (I used this brand - it has clean ingredients)
½ cup heavy cream
½ cup mini mozzarella balls ("pearls"-found next to fresh mozzarella)
fresh chopped parsley or basil
Instructions
Meatballs
In a large mixing bowl, combine Panko with milk. Let stand for about 5 minutes or until milk is absorbed. To the Panko, add the chicken, egg, onion, parsley, sour cream, salt and pepper. The mixture should be quite wet.
Turn on your broiler on HIGH.
Shape the chicken mixture into 1¼-inch meatballs (I used 1 tsp. measuring spoon) and place in a single layer on a lightly coated with cooking spray or oil baking sheet.
Broil the meatballs on HIGH for 3-4 minutes (I had my oven rack set in the middle) or until lightly golden and almost fully cooked but still slightly pink on the inside. Keep an eye on them so they don't overcook! Remove and let stand at room temperature while preparing pasta+sauce.
Pasta + Sauce
Cook pasta al dente according to package directions. Reserve ¼ - ⅓ cups of pasta water and drain the rest.
In a large saute pan, heat pasta sauce over medium heat. Add cream and bring to a simmer. Add meatballs and simmer over low/med heat for about 5 minutes or until the sauce has thickened slightly and meatballs are cooked through. (Meatballs should be super moist, tender, and white on the inside).
Add cooked pasta to the sauce and the reserved pasta water.** Give it couple stirs with a spoon and then add the mozzarella balls.
Sprinkle with fresh herbs and serve immediately.
Notes
*adding starchy water to the sauce will produce creamy and silky sauce with least amount of oil on the surface, plus it will help sauce adhere to the pasta
**start off with ¼ cup of reserved pasta water and add more if sauce is still too thick
© Little Broken. All images and content are copyright protected. Please do not use my images without prior permission or claim my work as your own. Feel free to Pin, Tweet, Facebook and share away with a link back to the recipe post. If you want to republish this recipe, please re-write the recipe in your own words and link back to this recipe.