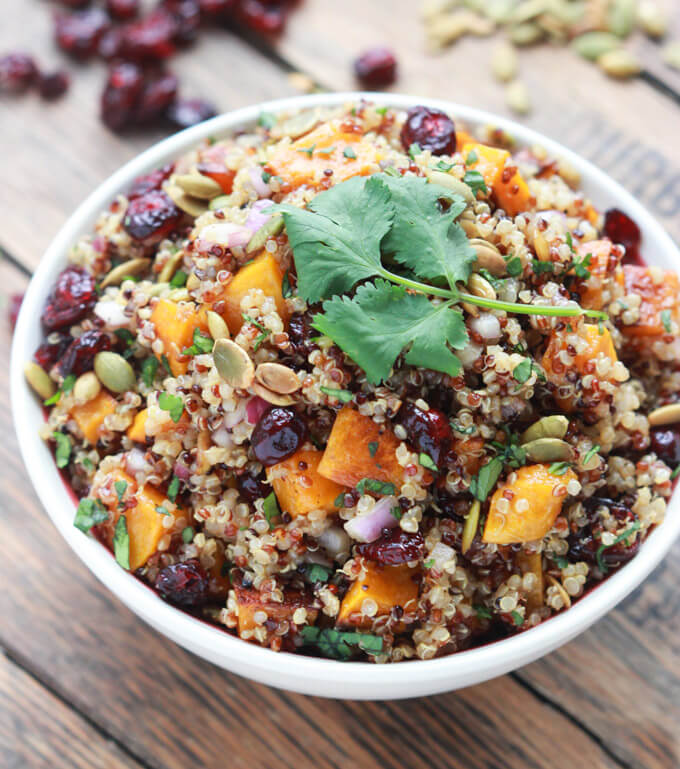 There's no doubt I've been on a quinoa kick lately. Pearl-shaped supergrain high in protein, gluten free, and with 8 essential amino acids that our bodies crave, making it a complete protein! Much healthier than rice or pasta and definitely lighter on your stomach.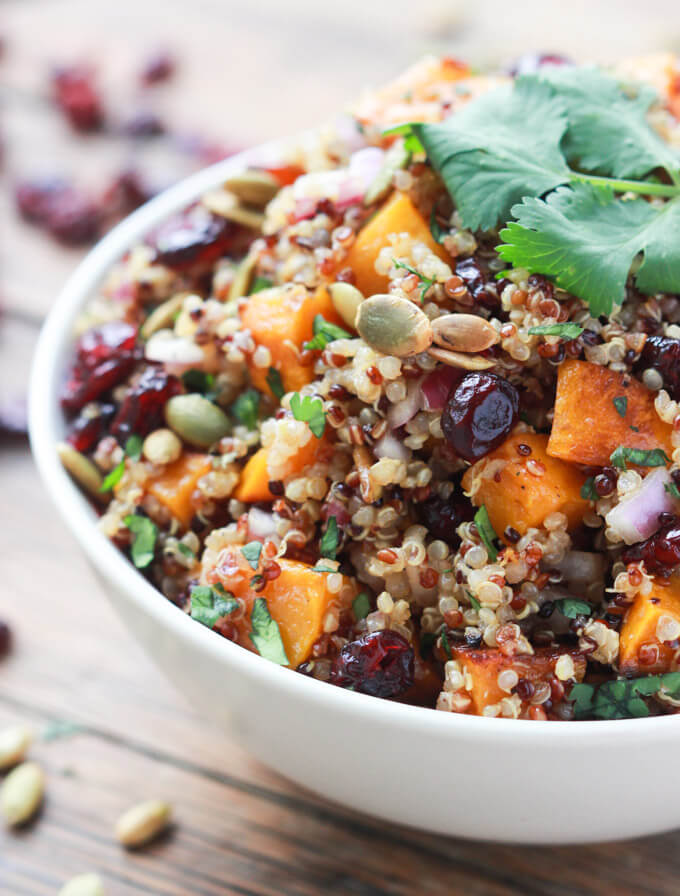 Quinoa is very bland when cooked and eaten as is but when you pack it with flavorful ingredients, it makes a delicious meal. Plus those little pearl-shaped grains are super fluffy and not too overbearing when added to any dish. I've been incorporating a lot of quinoa into my favorite dishes, like adding it to a green salad for added boost or using it instead of pasta in my favorite bakes.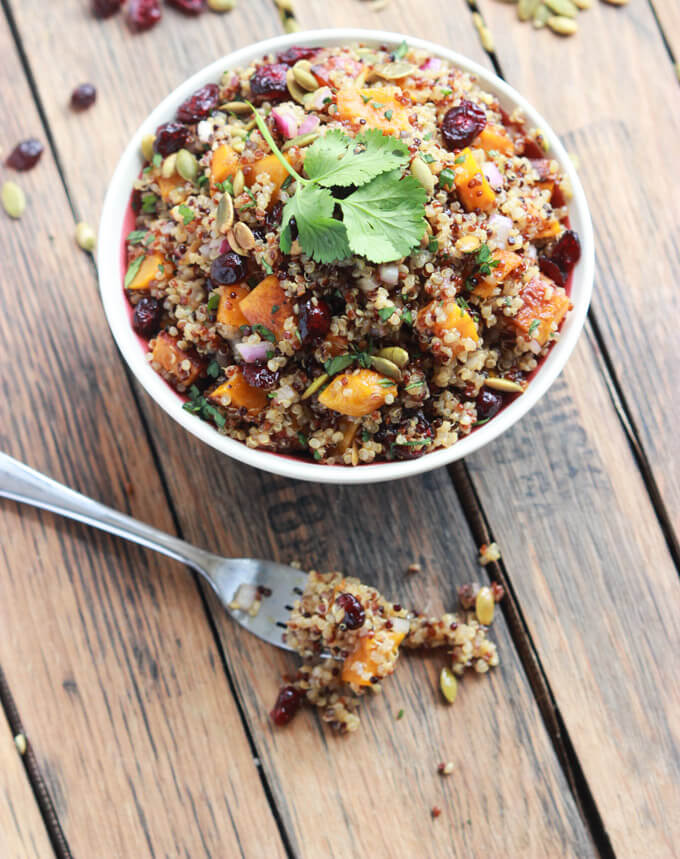 There are certainly many ways to add quinoa to a dish but my favorite is probably making a big bowl of delish salad out of it. Like this Butternut Squash and Cranberry Quinoa Salad. All the favorite fall flavors in one bowl! Roasted butternut squash, sweet cranberries, and salty toasted pumpkin seeds mixed with a sweet Balsamic Vinaigrette.  Serve it chilled as a side, take it as a lunch or serve it for dinner topped with sliced chicken. All are fine choices!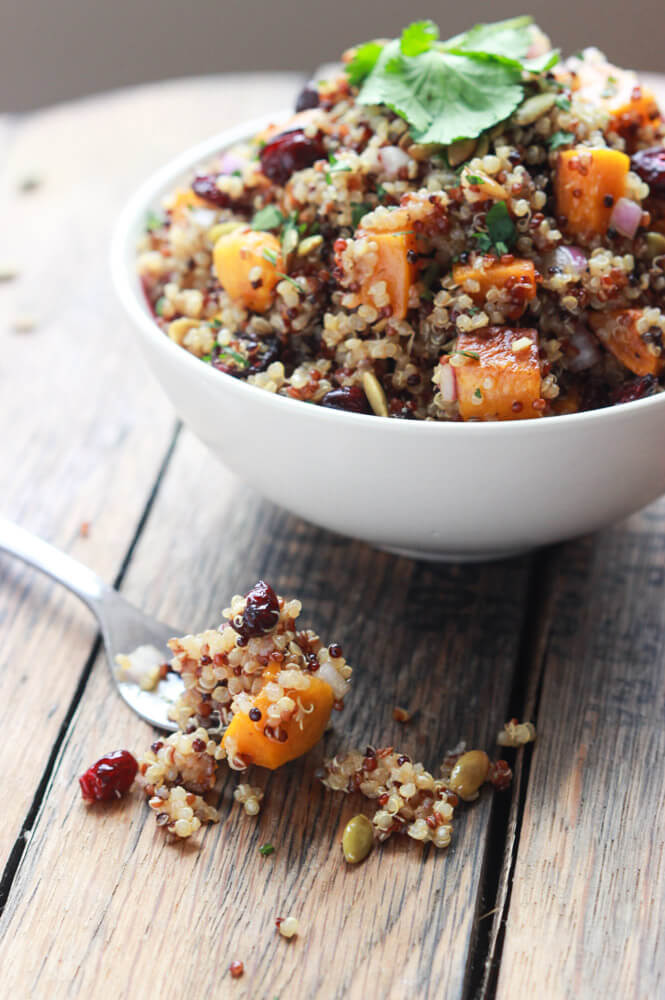 I used rainbow quinoa just because it's so purtty but use whatever quinoa you have on hand. Also if you don't like pumpkin seeds, use toasted walnuts, almonds, or pine nuts. Same with the cranberries…play around with the dried fruit and add whatever your little heart desires. Many ways to make this salad your own. Enjoy!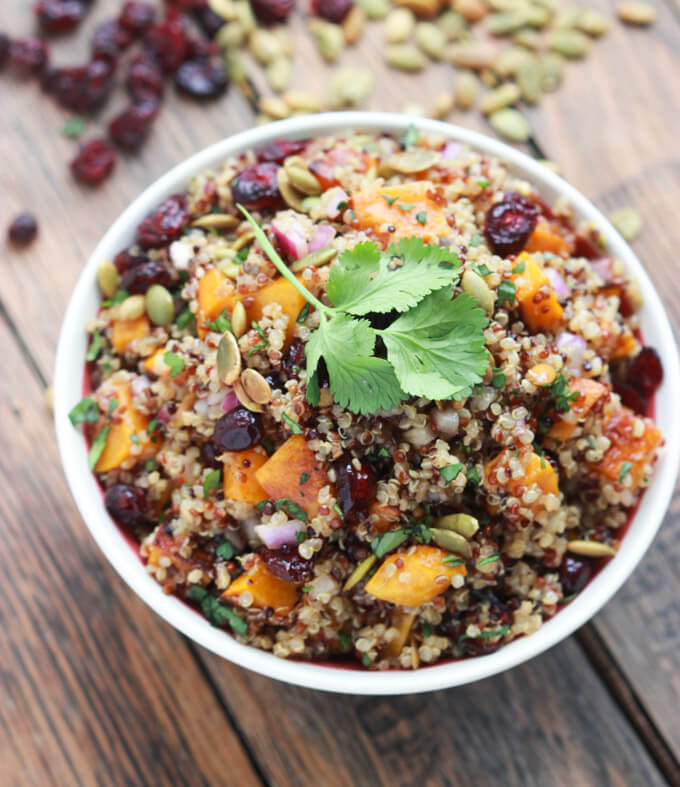 Butternut Squash and Cranberry Quinoa Salad
Author:
Katya @ https://www.littlebroken.com
Ingredients
3 cups butternut squash, chopped
1 Tbsp. olive oil
1 cup uncooked quinoa (I used rainbow quinoa but any type will do)
1½ cups water
⅓ cup dried cranberries
⅓ cup red onion, finely chopped
3 Tbsp. toasted pumpkin seeds
salt and black pepper
Balsamic Vinaigrette
½ cup olive oil
¼ cup balsamic vinegar
1 tsp. honey
1 tsp. Dijon mustard
1 garlic clove, minced
salt and black pepper
Instructions
Preheat the oven to 400F.
In a large bowl, toss the butternut squash with olive oil. Season with salt and pepper, to taste. Arrange coated squash on a baking sheet in a single layer. Roast for 20-25 minutes or until squash is tender and lightly browned.
While the squash is roasting, rinse quinoa under cold water until water runs clear. Place quinoa and water in a medium saucepan. Bring to a boil, reduce to a simmer, and cook partially covered until liquid is absorbed, about 20 minutes.
To assemble the salad, combine the cooked quinoa, roasted squash, cranberries, red onion, toasted pumpkin seeds in a large bowl. Add the vinaigrette and mix until combined. Season with salt and pepper, to taste. Chill in the refrigerator for couple hours and serve.
Balsamic Vinaigrette
Whisk all the ingredients in a small bowl until combined. Season with salt and pepper, to taste.
Notes
*at first it will look like there is too much dressing for the amount of quinoa, however, warm quinoa will soak up a lot of the dressing when the salad chills
**update (12/15/15) cilantro in the pictures is used as a garnish for photography ,there is no cilantro in the actual recipe
© Little Broken. All images and content are copyright protected. Please do not use my images without prior permission or claim my work as your own. Feel free to Pin, Tweet, Facebook and share away with a link back to the recipe post. If you want to republish this recipe, please re-write the recipe in your own words and link back to this recipe.