Pumpkin Bars with Cream Cheese Frosting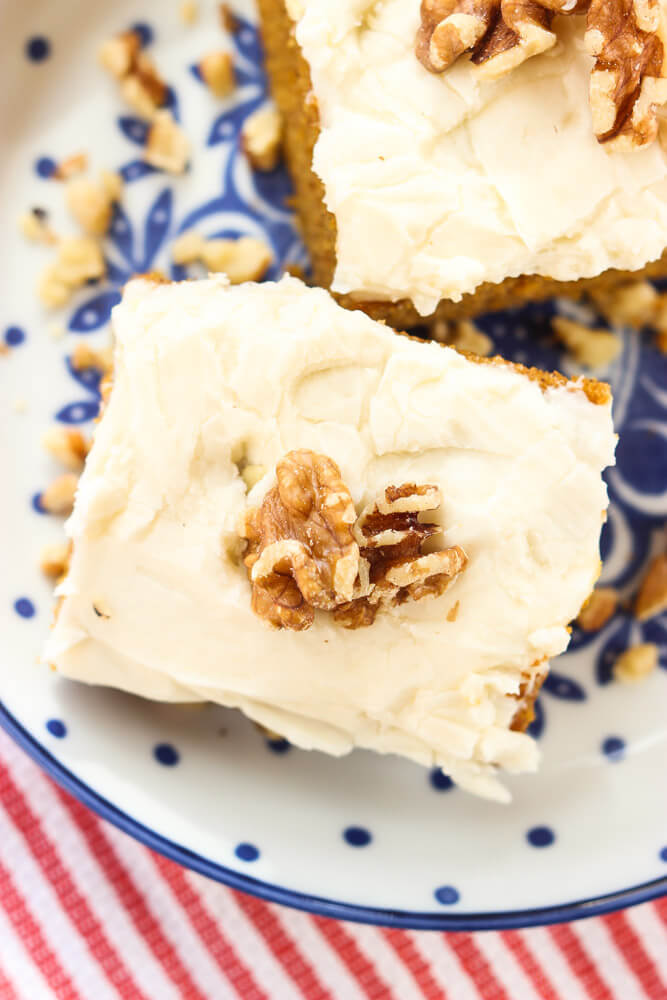 We're five days away from Thanksgiving! Woop. I don't know about you guys but this month flew by. I feel like I just started my Thanksgiving Countdown but in reality next week is turkey day and then it's officially Christmas season and with that comes the decorating, baking, shopping, eating and more eating. If it was up to me, I can personally skip Thanksgiving and go with Christmas for two straight months, so there would be no end to my holiday baking obsession.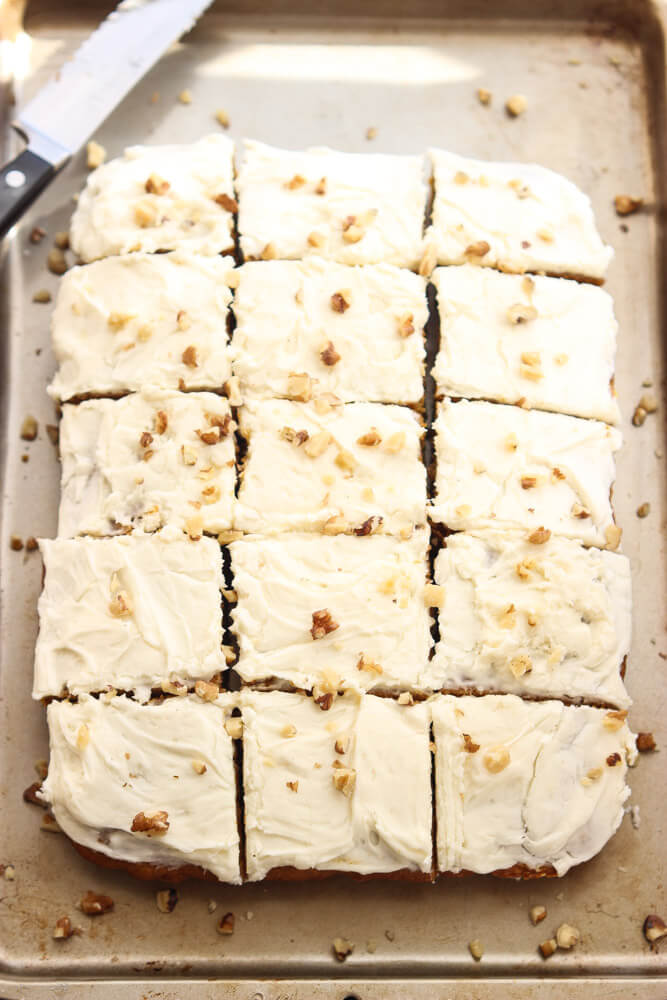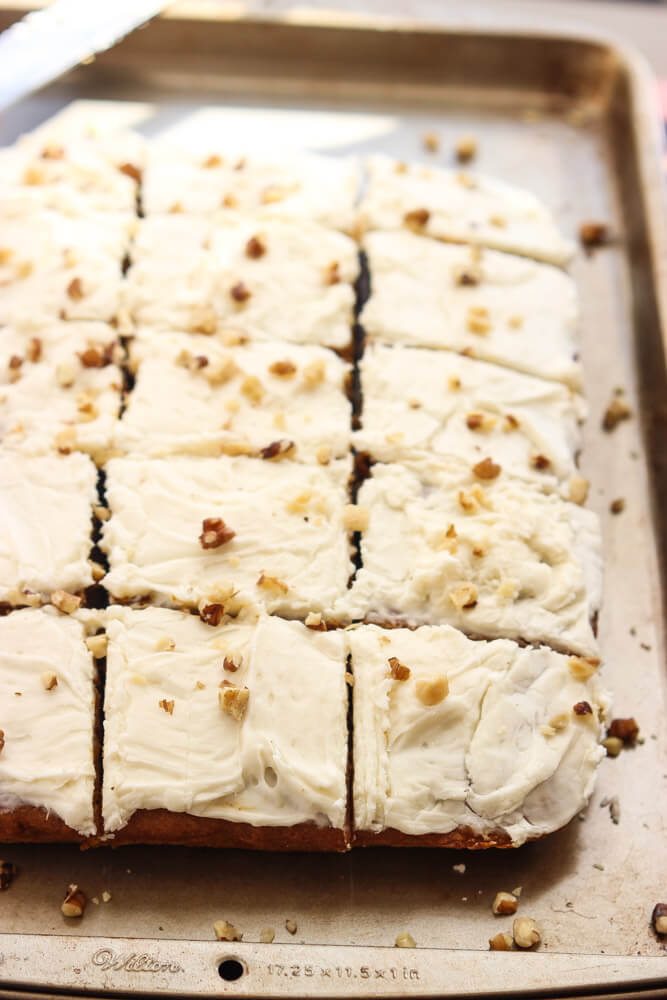 See, I've been enjoying my baking a little too much lately. My kitchen feels like a bakery, going on for a good month plus now. I literally re-arranged everything so I can easily access all my baking things. Spent a fortune at Costco on eggs, butter, flour and sugar. My family have been my taste testers and honestly I think they're getting tired of it. But I don't know if it's the blog, more time on my hands or just the smell of freshly baked cookies out of the oven but I'm excited to be baking as much as I am, considering I am NOT a baker. Plus I get to share some of the goodies with you guys, which makes me happy.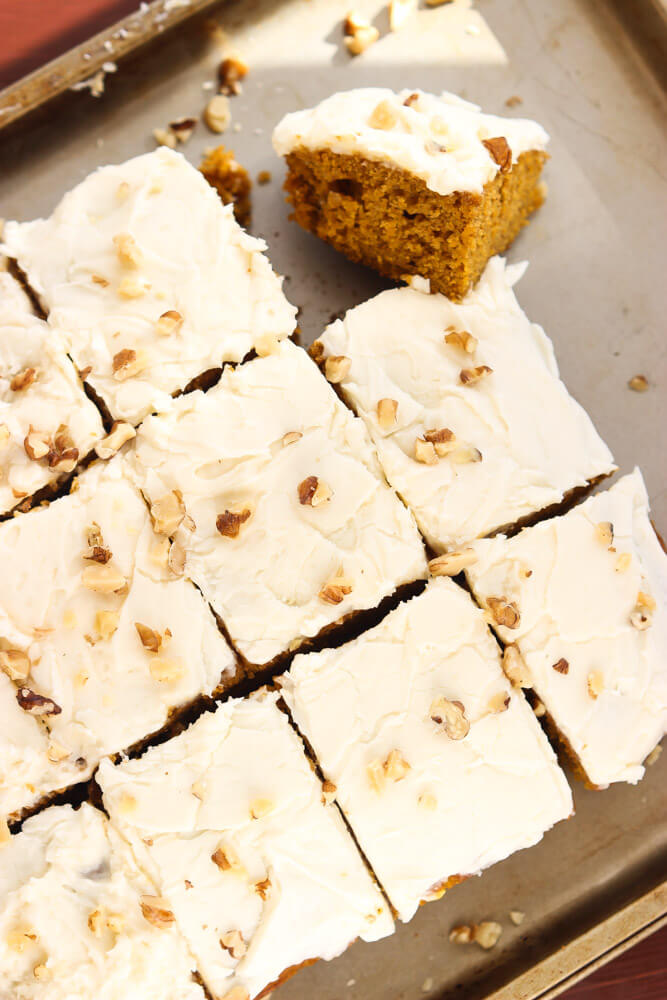 We'll be celebrating Thanksgiving at my sister's this year and I'm responsible for appetizers and desserts to feed about 20 people, which is half of my family (immediate that is). So easy and big come in handy when feeding a large crowd and these Pumpkin Bars with Cream Cheese Frosting can not be a more perfect dessert to add to a holiday table.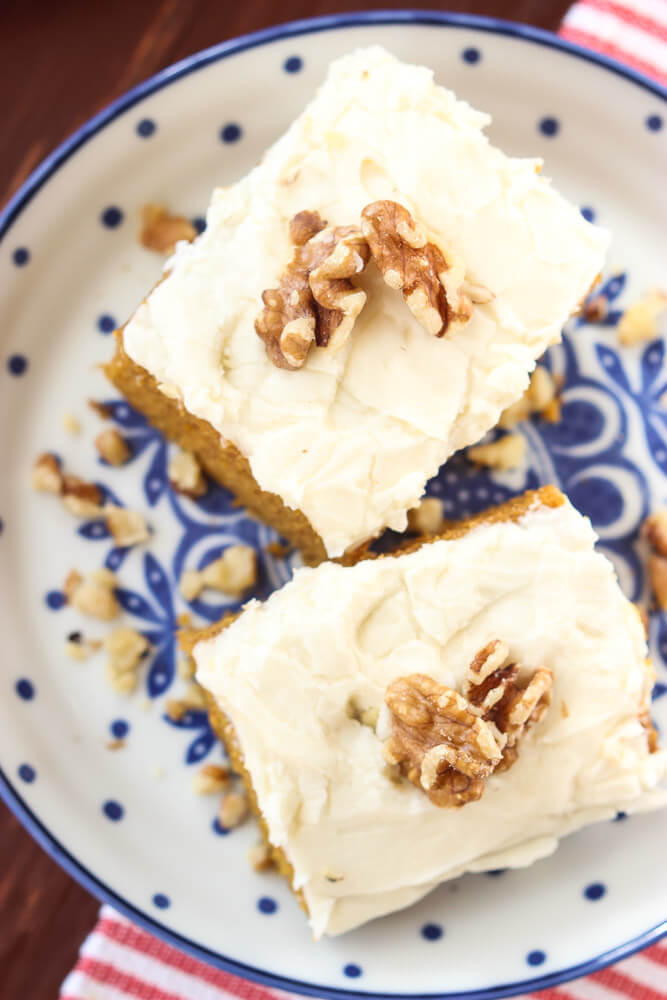 Super moist, fluffy and packed with pumpkin flavor. They are a great alternative to the pumpkin pie as you still taste the pumpkin but in a more subtle not a rich pumpkin-ey way. Topped with creamy cream cheese frosting and chopped nuts. You can omit the nuts if not a fan. They can be prepared in advance and kept covered in the refrigerator until serving time.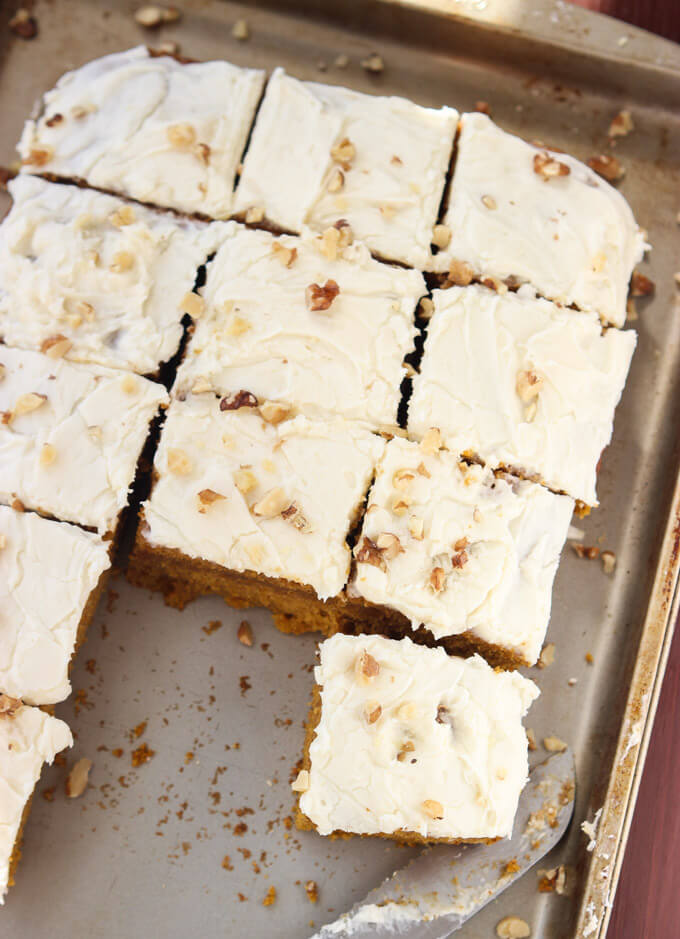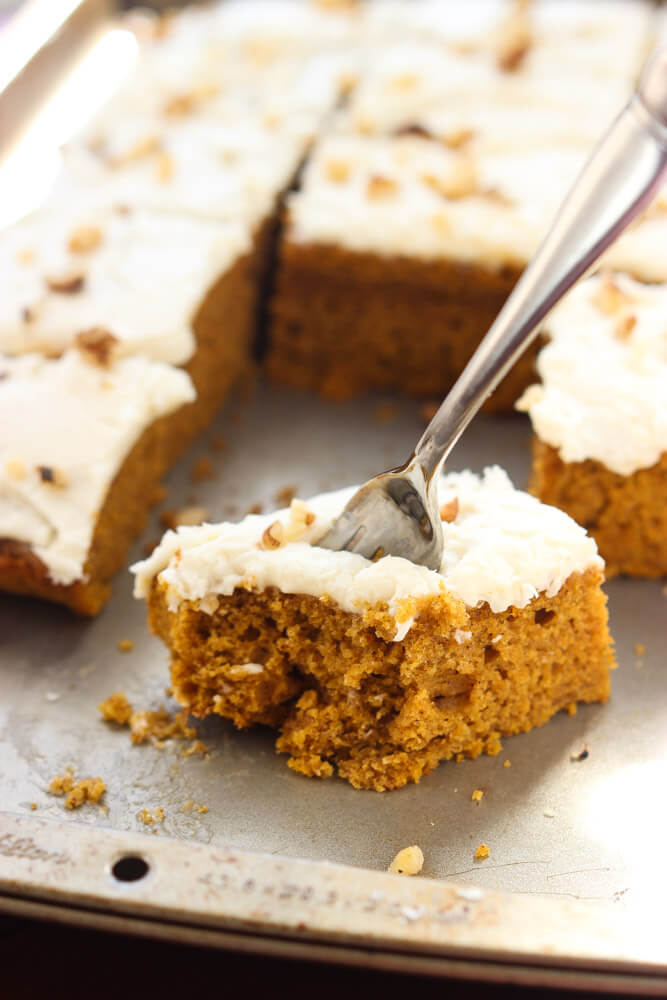 Print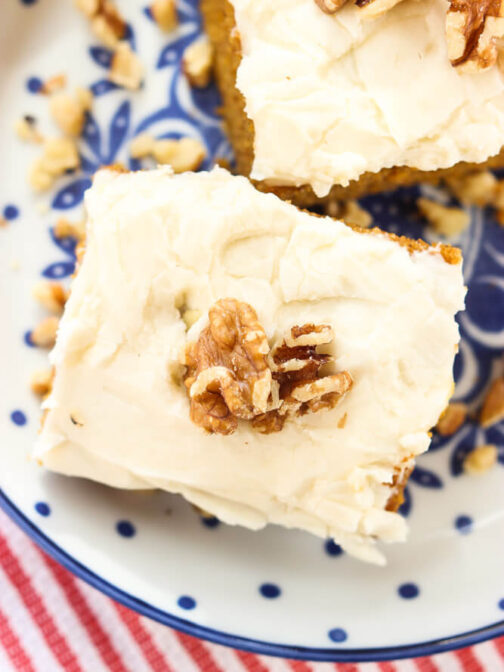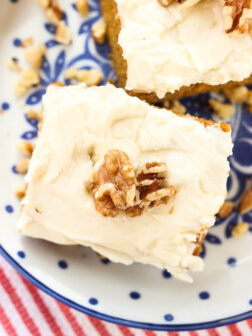 Pumpkin Bars with Cream Cheese Frosting
Prep Time: 30 mins
Cook Time: 30 mins
Total Time: 1 hour
Yield: 15 large bars or 30 small 1x
---
2 cups all-purpose flour
2 tsp. baking powder
2 tsp. ground cinnamon
1 tsp. baking soda
1/4 tsp. salt
4 eggs, lightly beaten
1 (15 oz.) can pumpkin puree
1 2/3 granulated sugar
1 cup vegetable oil
3/4 cup chopped walnuts
Cream Cheese Frosting
8 oz. cream cheese, at room temperature
1/2 cup unsalted butter, at room temperature
2 tsp. vanilla
4 cups powdered sugar
---
Instructions
Preheat the oven 350F.
Line a 9X13 baking pain with foil, extending the foil over the sides; lightly spray with non-stick cooking spray.
In a medium bowl, combine the flour, baking powder, cinnamon, baking soda, and salt; set aside.
In a large bowl, combine the eggs, pumpkin puree, sugar, and oil. Stir in flour mixture until combined. You can use a large whisk or hand held mixer for this step.
Pour the batter into the prepared pan, spreading evenly.
Bake for 30 minutes or until toothpick inserted in the center comes out clean. Cool in pan on a wire rack.
Using the edges of the foil, lift uncut bars out of the pan. Spread with Cream Cheese Frosting and sprinkle with walnuts. Cut into bars and serve.
Cream Cheese Frosting
In a mixing bowl, beat the cream cheese, butter, and vanilla with electric mixer on medium speed until light and fluffy. Add powdered sugar, gradually. Continue beating until lump free and smooth.
---
Notes
adapted with slight changes from Better Homes and Garden "100 Best Cookies" 2014