Give mashed potatoes a second chance by sautéing them into golden mashed potato cakes with spinach. All you need is few basic ingredients and you have yourself a tasty side to serve along your favorite entrée.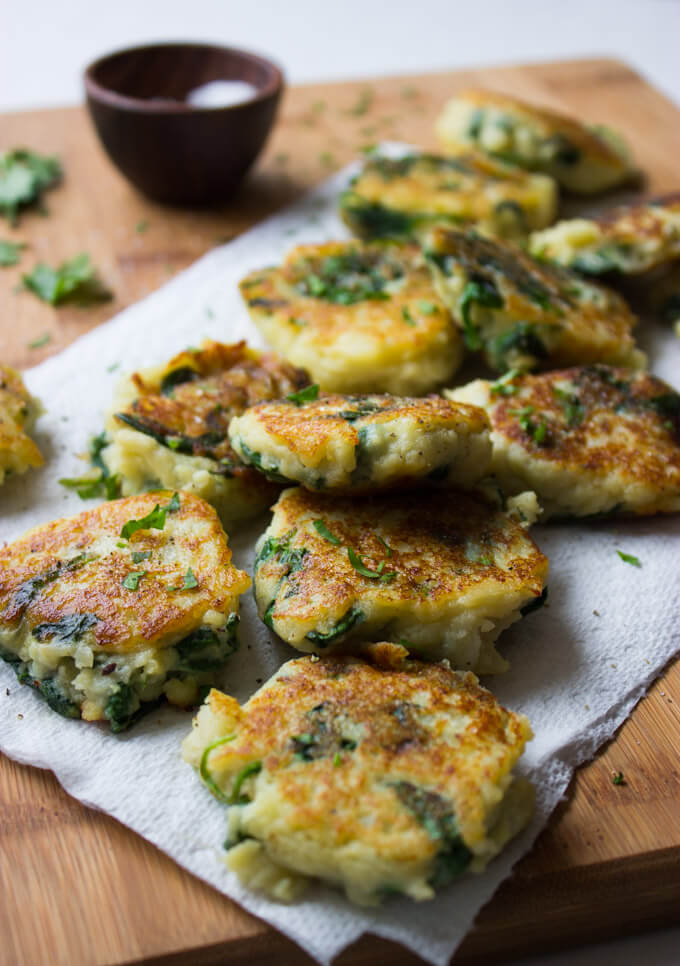 We are still eating our way through Thanksgiving leftovers and even though I'm a huge fan of leftovers, we have enough to last us for days (or weeks) and on like day three having another bite of turkey or mashed potatoes does not sound that appetizing. That's why these easy and quick mashed potato cakes are a delicious way to revamp your leftovers into an absolutely new dish!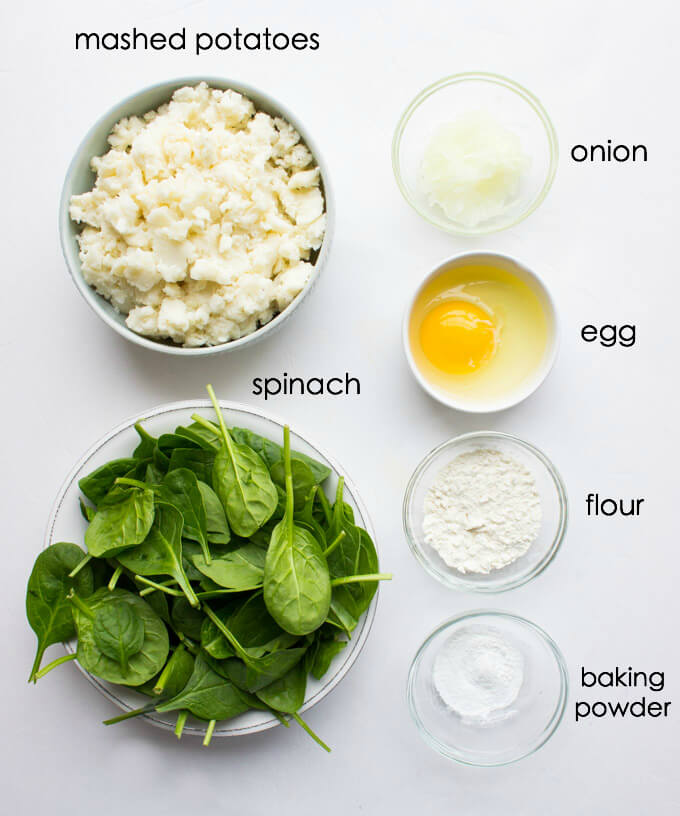 My mom always made some form of mashed potato cakes with her leftovers. Sometimes she would add sauteed veggies into them, sometimes, she would simply add an egg and flour to hold them together. Then sauté until crispy golden. Always a winner in our house. So I took the same idea and made my own mashed potato cakes with spinach.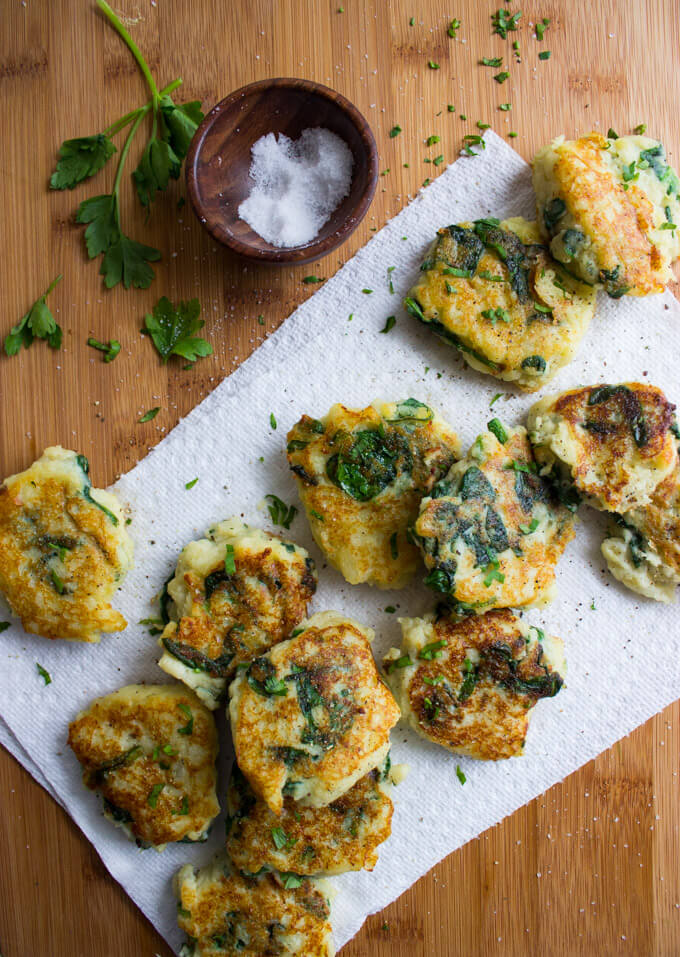 All you need is leftover mashed potatoes, baby spinach, grated onion, egg, flour, and baking powder. You warm up the mashed potatoes in a pan and stir in the spinach until wilted. Then stir in the remaining ingredients. Drop the mixture by a tablespoon into a hot pan and sauté until lightly golden. Just make sure to sauté the cakes in hot oil, otherwise they'll be greasy.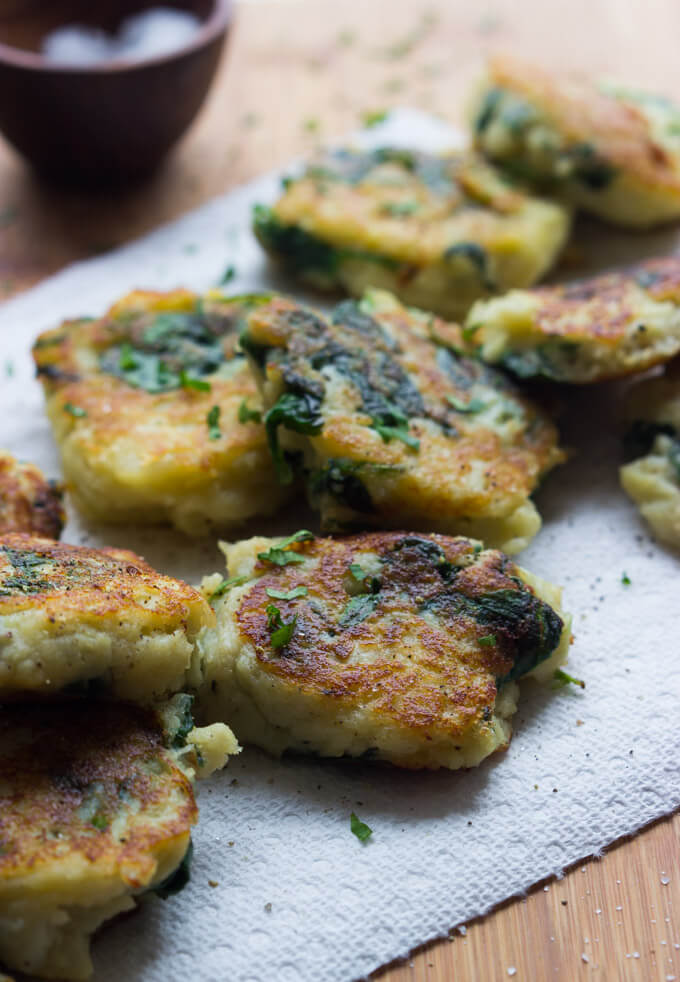 The whole process is pretty quick and easy. They come out soft on the inside with a nice golden outside. Serve them hot alongside your favorite entrée, like steak, chicken, or seafood. You can also top them with fresh sliced cucumber, tomato, avocado, and dollop of sour cream for a quick bite on the go.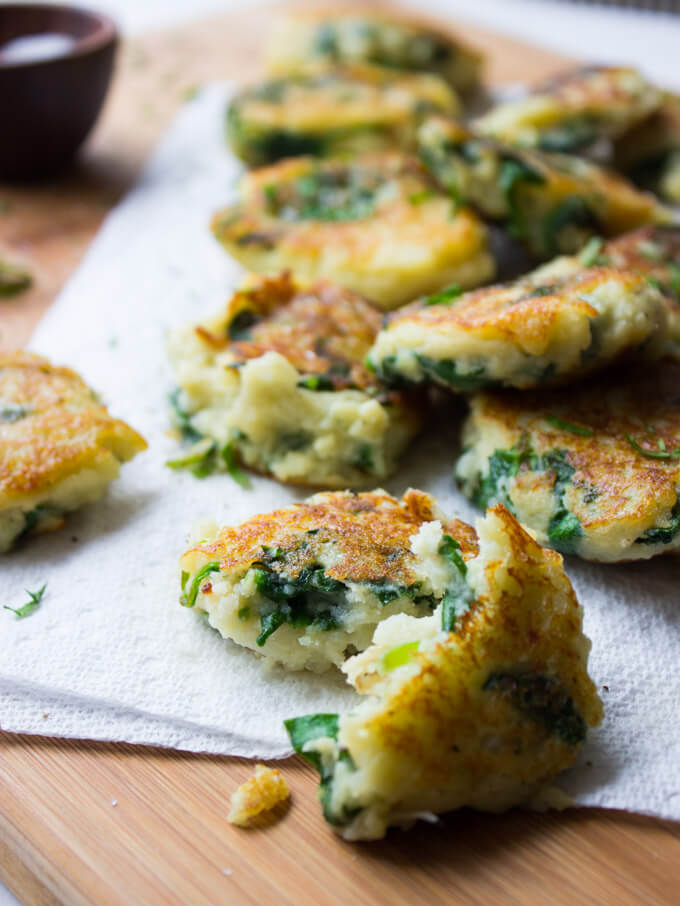 Leftover Mashed Potato Cakes with Spinach
Author:
Katya @ https://www.littlebroken.com
Ingredients
2¼ cups cold leftover mashed potatoes
2 cups packed baby spinach leaves
2 Tbsp. grated onion
1 egg, beaten
2 Tbsp. all-purpose flour
1 tsp. baking powder
5 Tbsp. olive oil, divided
salt and pepper
Instructions
In a large non-stick saute pan, heat 1 tablespoon of olive oil over medium-high heat. Add mashed potatoes and cook, stirring, just until they begin to soften. Add spinach leaves and stir just until wilted. Taste for salt and pepper. (I completely omitted additional salt/pepper as my mashed potatoes were seasoned really well).
Remove the saute pan from the heat, stir in onion, egg, flour, and baking powder. Transfer the mixture to a bowl.
Wipe clean (or wash) the saute pan, removing all the bits of the mashed potato mixture. Heat 2 tablespoons of olive oil over medium heat.
Drop potato mixture into pan by tablespoon (I used a regular kitchen spoon not measuring spoon) and saute for 2 minutes per side or until lightly golden. Transfer to a plate. Saute remaining potato mixture, adding olive oil by a tablespoon to the pan as needed.
Serve immediately warm alongside your favorite entree or you can top them with fresh cucumber, tomato and avocado slices + dollop of sour cream for a quick bite. Serves about 8 people (2 cakes each)
© Little Broken. All images and content are copyright protected. Please do not use my images without prior permission or claim my work as your own. Feel free to Pin, Tweet, Facebook and share away with a link back to the recipe post. If you want to republish this recipe, please re-write the recipe in your own words and link back to this recipe.