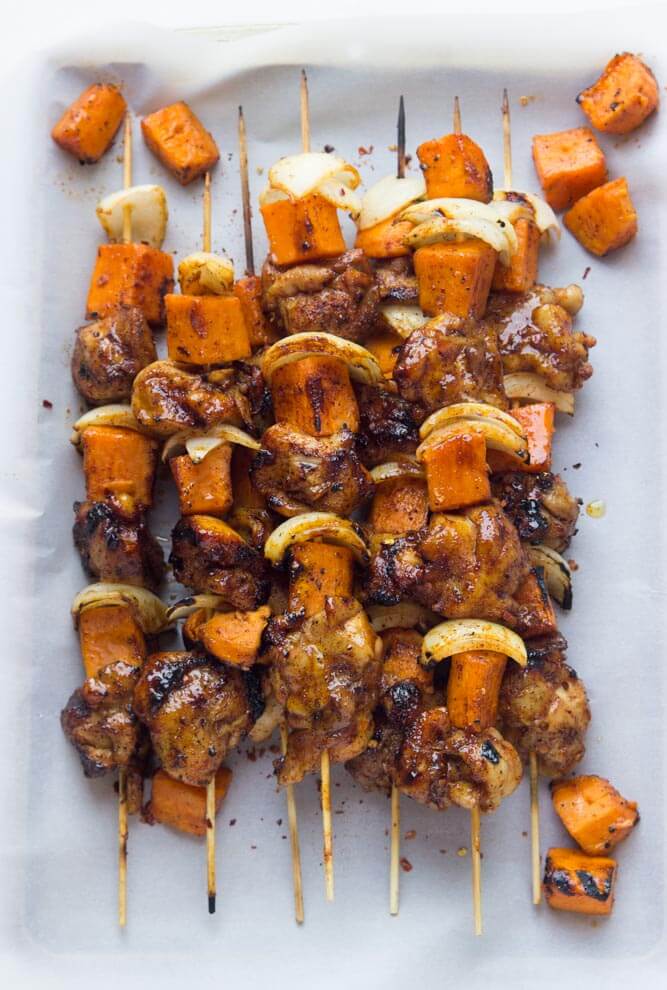 Happy August friends! We're in the final stretch of the summer and what's a better way to count down the days then with a sweet and spicy juicy chicken + sweet potato kebabs. This combo is a perfect combination of opposite flavors that comes together just so perfectly when grilled with a spicy rub and a sweet honey glaze. It's kind of a meal in one without any extra effort.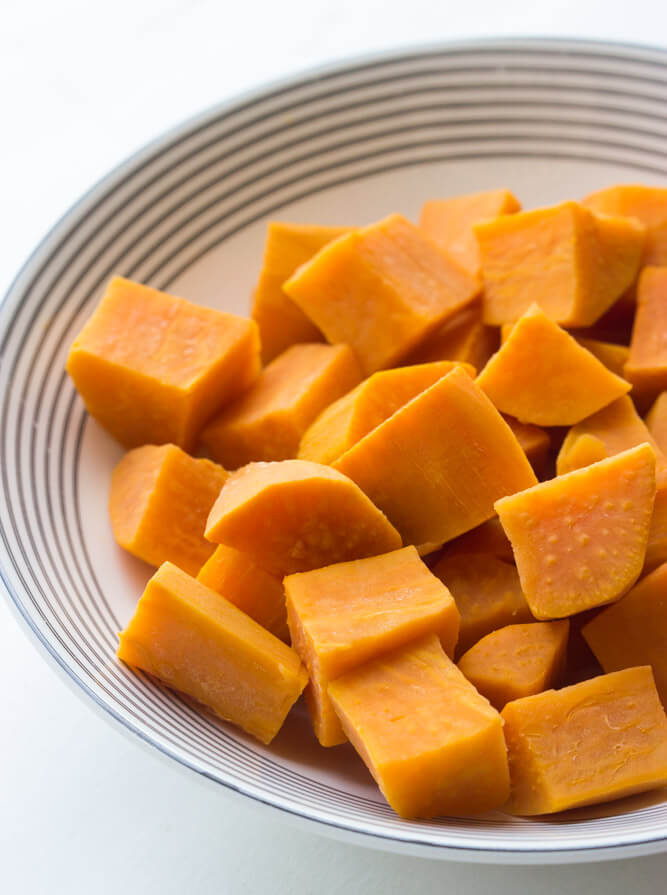 These babies are made all from scratch, including the rub mix + glaze in about 30 minutes! Yes half an hour and you will have a delicious, from scratch meal, on the table, for your whole family to enjoy. Perfect for on the go weeknights or weekend BBQs without the extra fuss.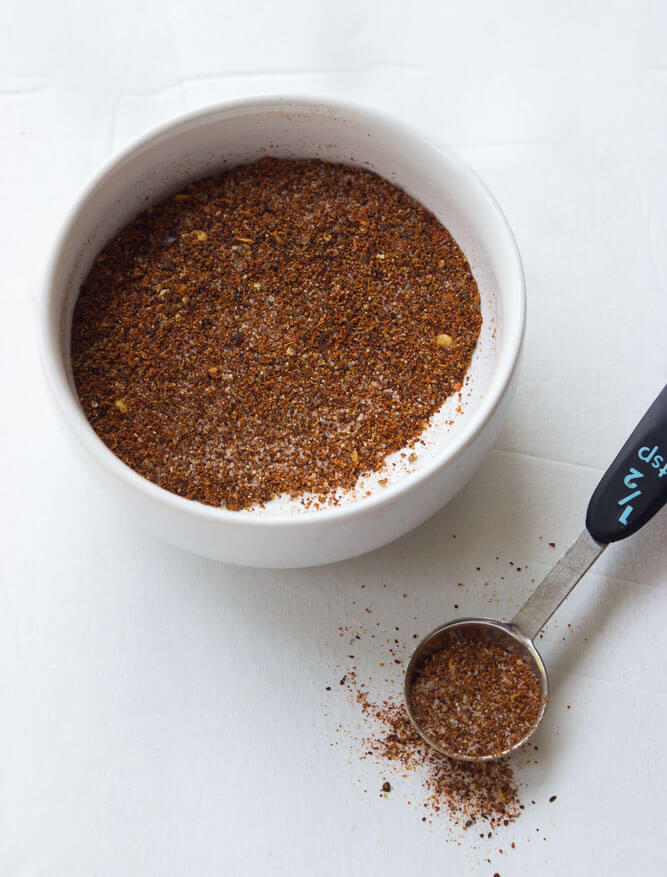 You start off with par-boiling the sweet potatoes first. It will save you ton of time on the grill and allow the potatoes to cook evenly with the chicken and sweet onions. While the potatoes are cooking, chop your chicken and onions. Make your rub mix, which consists of seven different spices that blend so nicely and compliment both the chicken and potatoes in the most perfect way. Then make the glaze, which is literally honey + cider vinegar whisked together.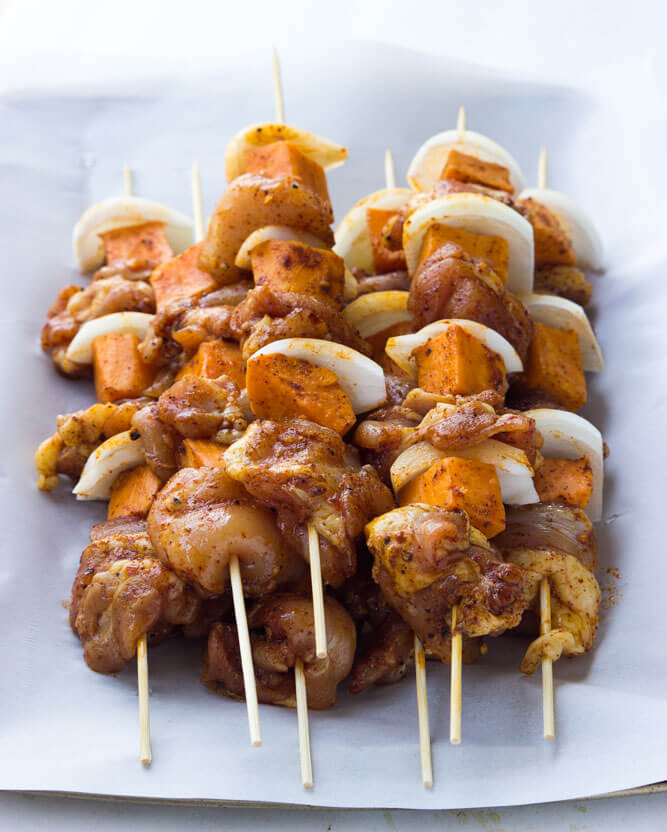 You toss the chicken, sweet potatoes, and onions in the spice mix before threading onto the skewers. I would recommend tossing everything in separate bowls to avoid mushing the potatoes and mixing veggies with raw meat. Then fire up the grill and cook the skewers for about 8 minutes while brushing on the glaze as they cook.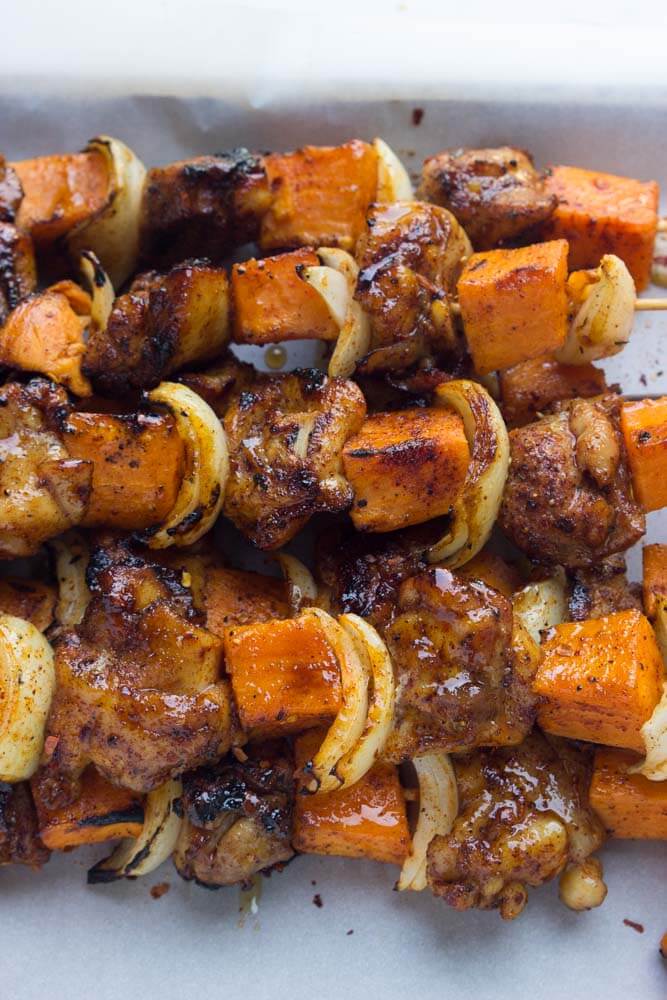 The result: super juicy, slightly spicy with a sweet kick kebabs. I call them dinner on a stick as you literally don't need anything else 🙂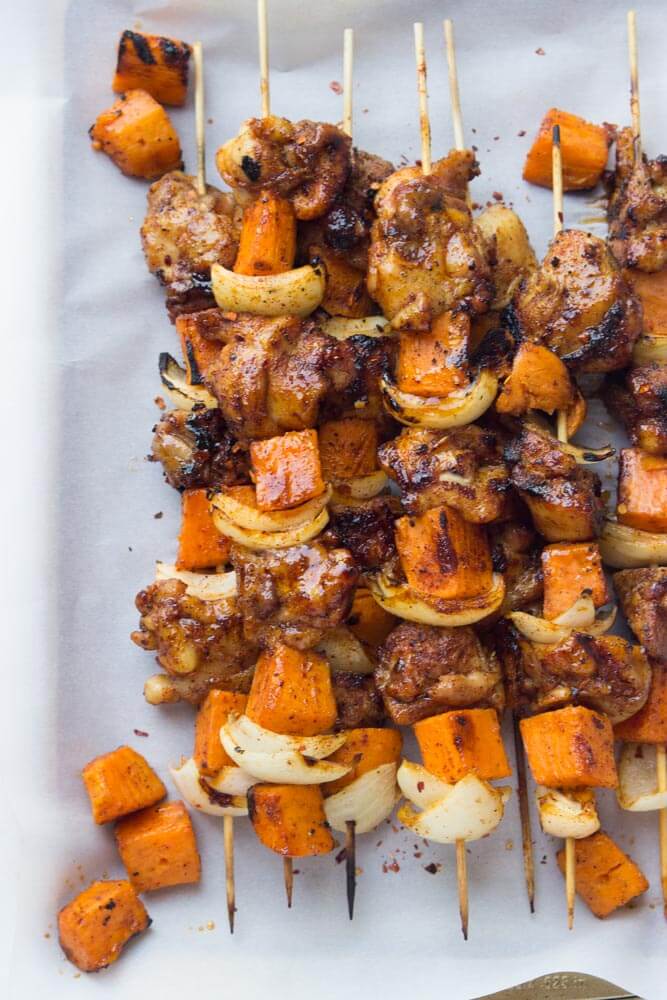 My hubby who is NOT a sweet potato lover at all could not stop talking about how delicious the sweet potatoes tasted and my 6 year old, who I hate to admit is not the bravest eater, wanted seconds. So even if you're not a big sweet potato lover, give these a try and I think you might be delightfully surprised.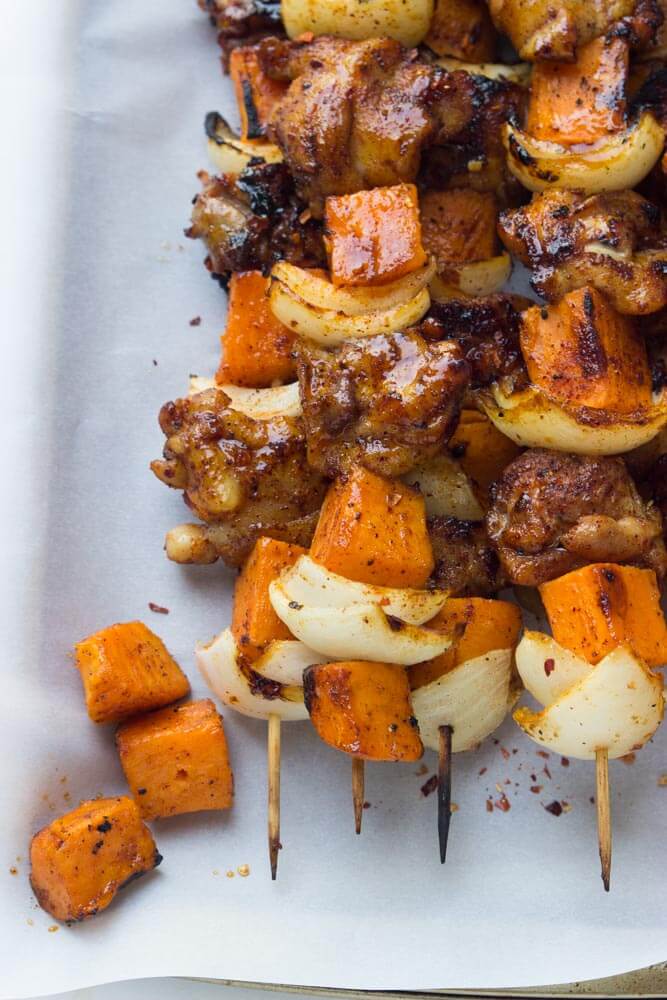 Tag me @littlebrokenblog and follow me showing me your food creations, whether from LittleBroken.com or your own: Facebook, Instagram, Pinterest.
Spicy-Honey Glazed Chicken and Sweet Potato Kebabs
Author:
Katya @ https://www.littlebroken.com
Ingredients
1 large (3/4 lb.) sweet potato, peeled and cut into 1-inch pieces
1½ lbs. boneless, skinless, chicken thighs, cut into 2-inch pieces
1 medium sweet onion, cut into 1½-inch chunks and layers separated
olive oil
7 (12-inch) bamboo skewers*
Spice Mix + Glaze
2 tsp. garlic salt
2 tsp. chili powder
½ tsp. salt
1 tsp. pepper
1 tsp. cumin
1 tsp. paprika
¼ tsp. crushed red pepper
6 Tbsp. honey
2 tsp. cider vinegar
Instructions
Place potato pieces into a small saucepan and add just enough water to cover the tops. Bring the water with potatoes to a boil over medium heat; cook for 5 minutes, partially covered, until potatoes are nearly cooked but still a bit firm. Remove from the heat; cool slightly.
While the potatoes are cooling, prepare the spice mix + glaze by mixing together the garlic salt, chili powder, salt, pepper, cumin, paprika and crushed red pepper. In a separate bowl, combine the honey and cider vinegar. Set aside.
Add chicken to a medium bowl; drizzle lightly with olive oil and toss with half of the spice rub. Do the same with cooled potato pieces and sweet onion chunks; drizzle with olive oil and toss with remaining spice rub.
Thread the chicken, sweet potato, and onion onto the soaked skewers.
Preheat the grill on medium/high; grill the chicken skewers for 8 minutes, turning frequently, or until chicken juices run clear while brushing the skewers with the prepared honey glaze.
Remove from the grill and serve immediately.
Notes
*soak the bamboo skewers in water for 30 minutes prior to use
© Little Broken. All images and content are copyright protected. Please do not use my images without prior permission or claim my work as your own. Feel free to Pin, Tweet, Facebook and share away with a link back to the recipe post. If you want to republish this recipe, please re-write the recipe in your own words and link back to this recipe.