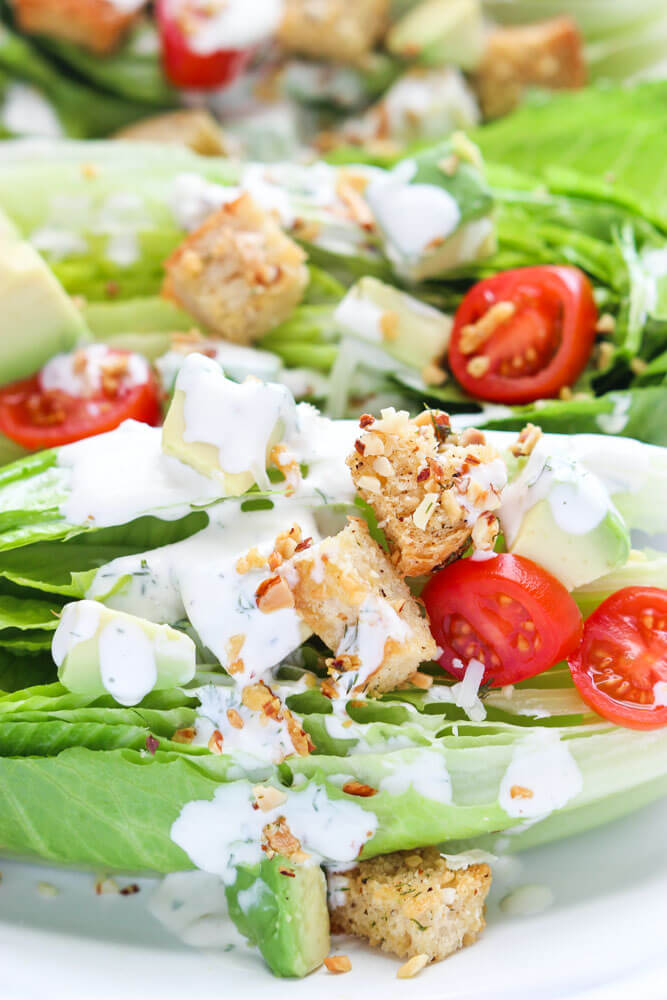 Nothing beats a wedge salad like this! Cold crispy wedges of romaine, topped with avocado chunks, tomatoes, and homemade almond-parmesan croutons with a drizzle of zesty Buttermilk Ranch Dressing. This is a great salad to have for a simple lunch or to serve alongside your favorite dinner dish. Fresh ingredients make this very elegant and the wedge presentation makes it a great before dinner starter.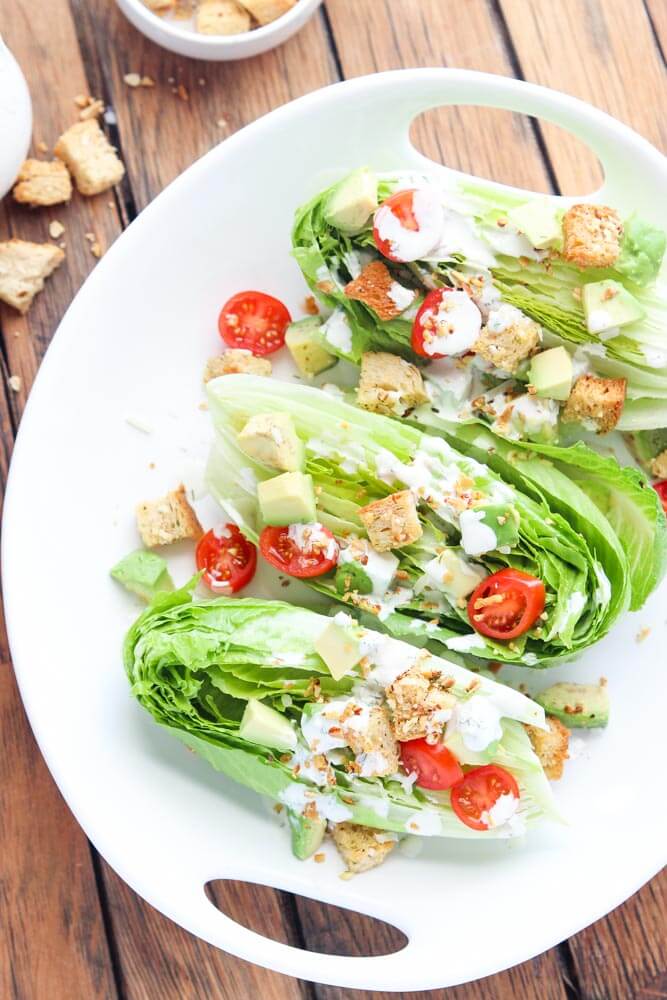 I love the crispiness and presentation of a wedge salad but this wedge salad is nothing like the traditional salad we all know, which is normally made with iceberg lettuce, bacon, tomatoes, blue cheese dressing, and blue cheese chunks. Personally, I'm not a lover of blue cheese at all and always go for buttermilk dressing instead. So I took the idea of a traditional wedge salad and mixed in some of my own deliciousness and paired it with the BEST, yes, the BEST and I'm probably being a little biased here but Homemade Buttermilk Ranch Dressing is the best! Even my picky 6 year old gave it a go despite the "green stuff" in it.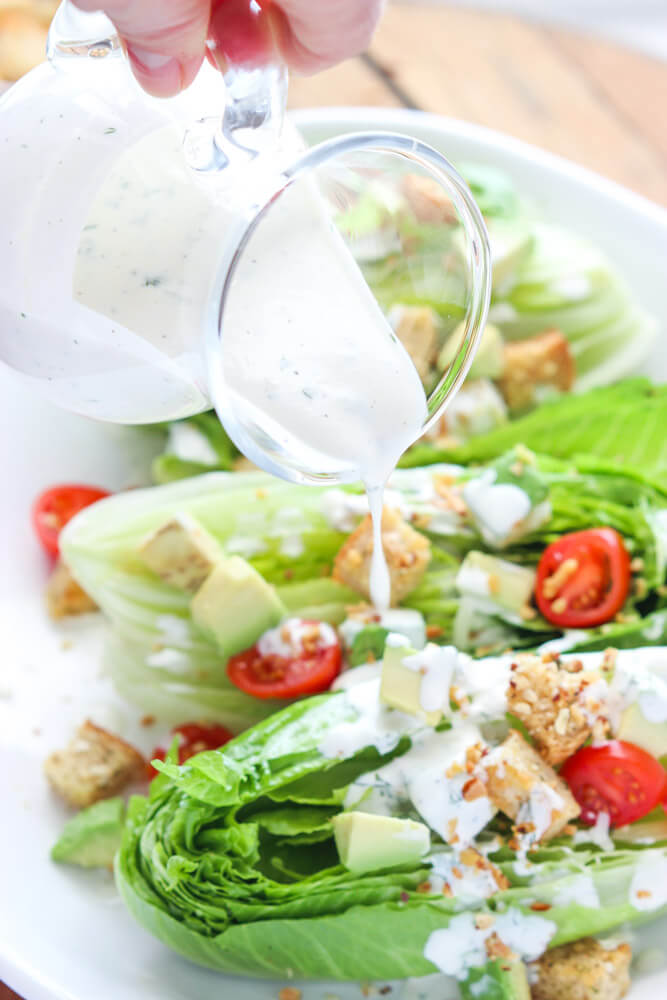 I took baby romaine hearts and cut them into two equal portions and piled on some good stuff, like avocado chunks and sweet grape tomatoes. Traditional wedge salad is normally sprinkled with some type of cheese, whether blue or gorgonzola but since I'm not a fan of stinky cheese and still wanted to add a little more texture to the salad, I went with almond-parmesan croutons. It's pretty much regular croutons topped with crushed almonds and parmesan then baked in the oven until golden crisp. Crunchy, crisp, paired with a drizzle of Homemade Buttermilk Ranch Dressing and OMG you're set with some good salad!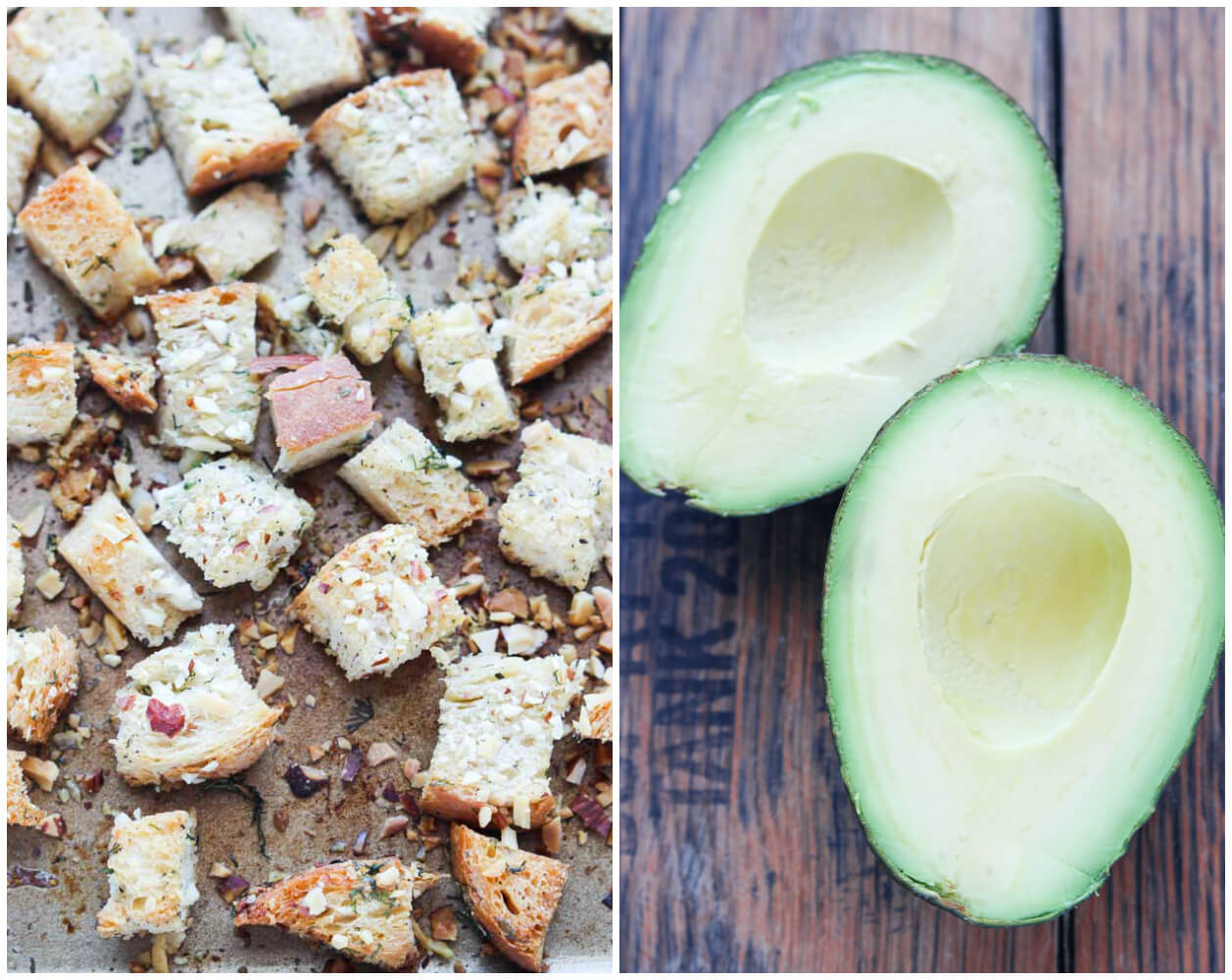 Serve this super cold for a meatless lunch or pair it with your favorite dinner dish.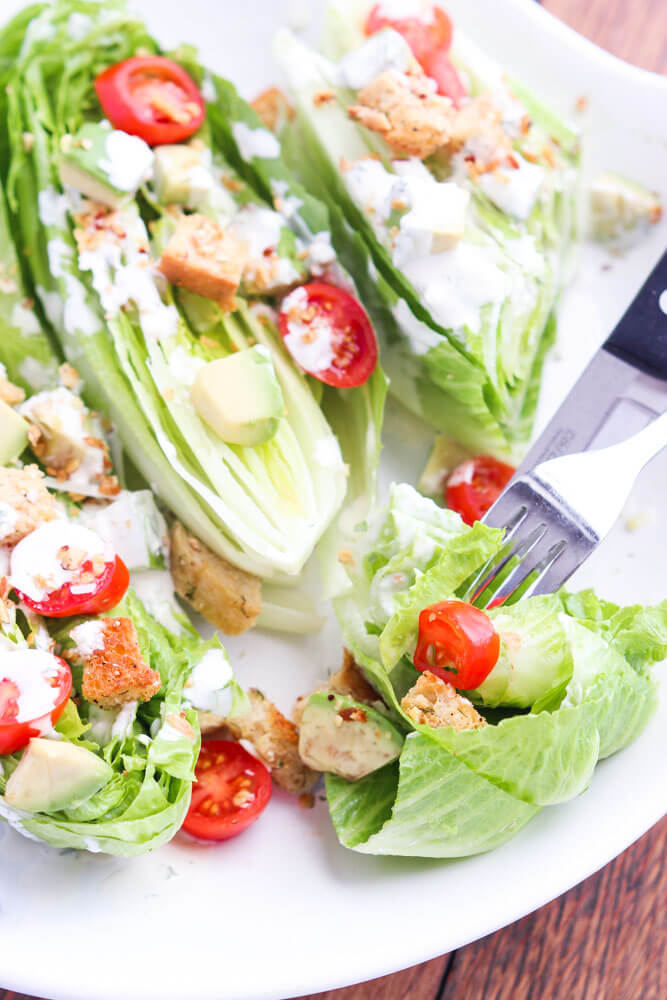 FOLLOW ME and use hashtag #littlebrokenblog or tag me @littlebrokenblog if you try my recipes! Facebook, Instagram, Google+, Pinterest.

Avocado Wedge Salad with Almond-Parmesan Croutons
Author:
Katya @ https://www.littlebroken.com
Ingredients
3 heads of baby romaine hearts, washed, trimmed and halved vertically
½ - ¾ cups grape tomatoes, halved
2 avocados, pitted and chopped
Almond-Parmesan Croutons
4 slices crusty bread, such as Pane Italian, sliced ½-inch thick and then cubed
1 Tbsp. olive oil
2 tsp. chopped dill or parsley
1 Tbsp. butter, melted
1 small garlic clove, pressed
1 Tbsp. sliced almonds, finely chopped or crushed (you want coarse crumbs)
2 tsp. shredded Parmesan cheese**
Instructions
Arrange the romaine halves on a serving platter. Top each romaine with tomatoes and avocado. Drizzle with Homemade Buttermilk Ranch Dressing and sprinkle with croutons.
Serve immediately.
Almond-Parmesan Croutons
Preheat the oven to 375F.
In a medium bowl, combine the cubed bread with olive oil. Sprinkle in the chopped dill and season lightly with salt and pepper. Toss to combine.
Add pressed garlic to the melted butter and pour over the croutons. Toss to combine.
Spread the croutons in a single layer on a baking sheet.
In a small bowl, mix together the almonds and Parmesan cheese. Sprinkle the mixture over the croutons.
Bake for 12-15 minutes or until golden brown and crisp.
Cool and store covered at room temperate until ready to serve.
Notes
*I used about ¼ cup of salad dressing, which is about 2-3 teaspoons of dressing per each romaine wedge
**I purchased pre-shredded Parmesan cheese that I finely chopped before adding with the almonds
© Little Broken. All images and content are copyright protected. Please do not use my images without prior permission or claim my work as your own. Feel free to Pin, Tweet, Facebook and share away with a link back to the recipe post. If you want to republish this recipe, please re-write the recipe in your own words and link back to this recipe.