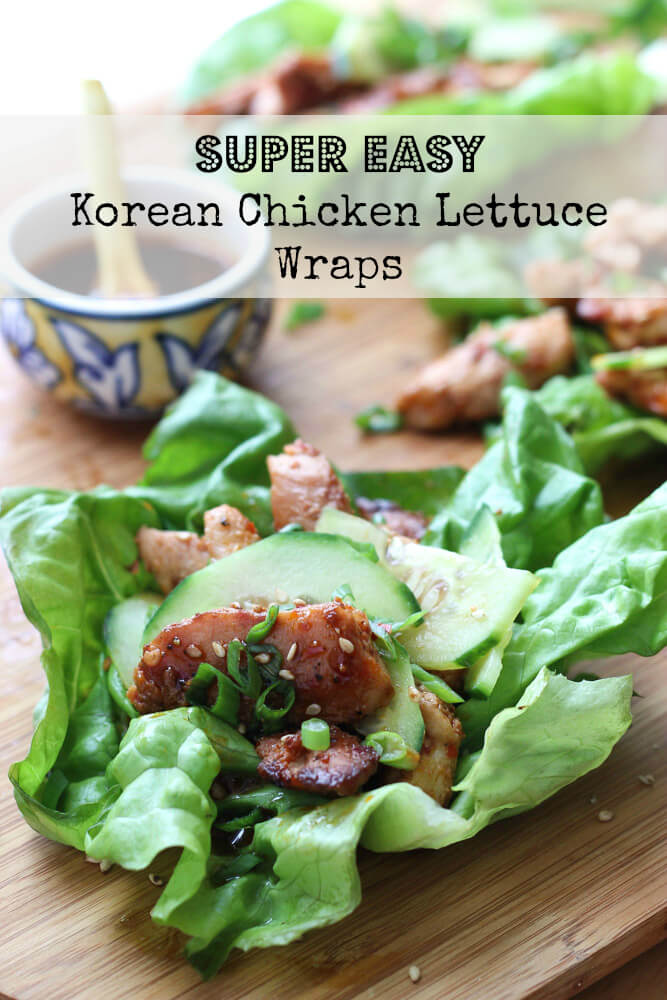 Today it's all about …..I seriously just want to bust out singing "'bout that bass, 'bout that bass…" This song is something! If you haven't heard it then be happy. I've had this song on replay in my head for the last two weeks after my hubby showed this video and now this crazy thing is stuck in my head. Cute family and funny prodigy but the real lyrics, well….let's just say are sex and rock and roll as I call it.  It's never the good stuff that gets stuck in my head.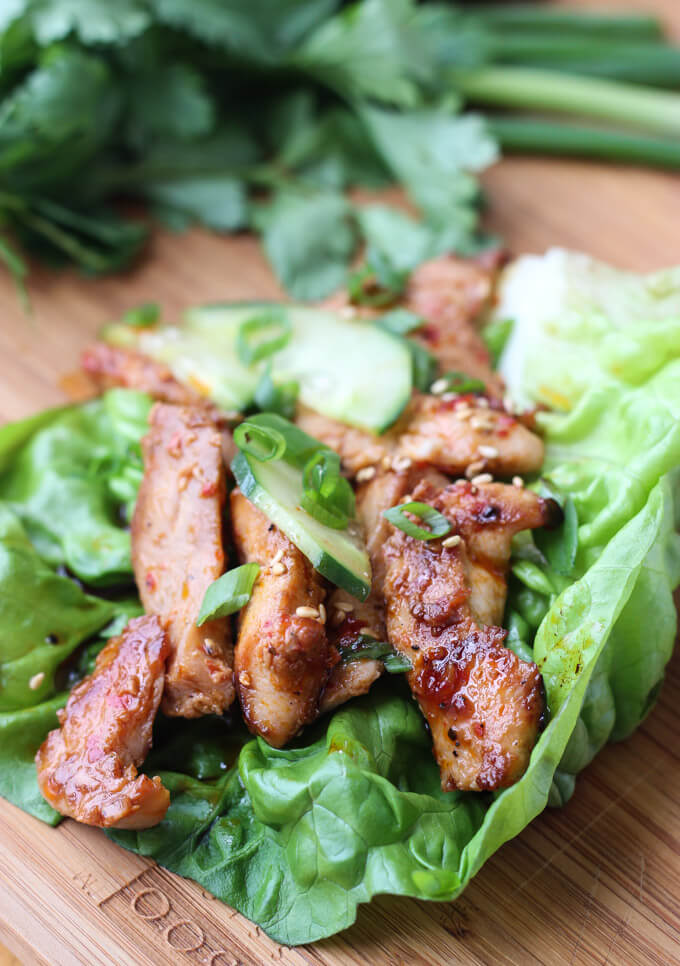 So no, it's not all 'bout that bass today but more 'bout Super Easy Korean Chicken Lettuce Wraps. Not just Easy but SUPER easy because well, they are super easy. I made these handful of times now and every single time I crave more. Not only are these chicken wraps super, super flavorful (sesame oil combined with garlicky peppery sweet taste) but take less than 30 minutes to make while leaving everyone satisfied, including yourself and whoever does the dirty work in your household, i.e., the dishes, as there is hardly any clean up attached to this dish. It's an ultimate weeknight meal!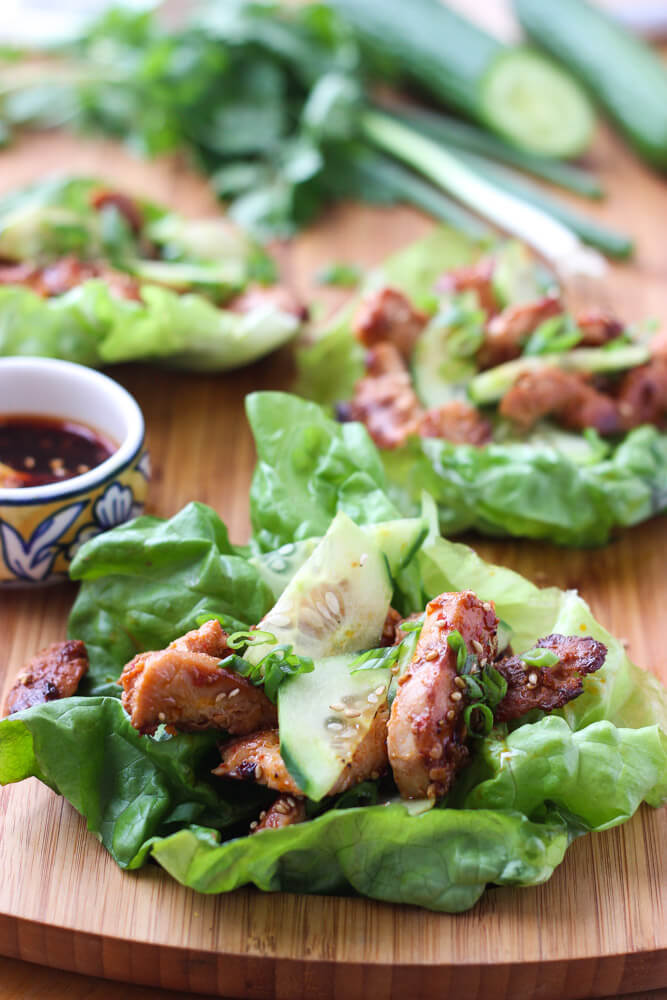 I made these twice last week and can honestly say I'll be happy to do it all over again. The marinade is the perfect combo of sweet and spicy and is only four ingredients. Recipe calls to marinate the chicken for 1 hour, however, I like to do it overnight to cut down prep time the next day.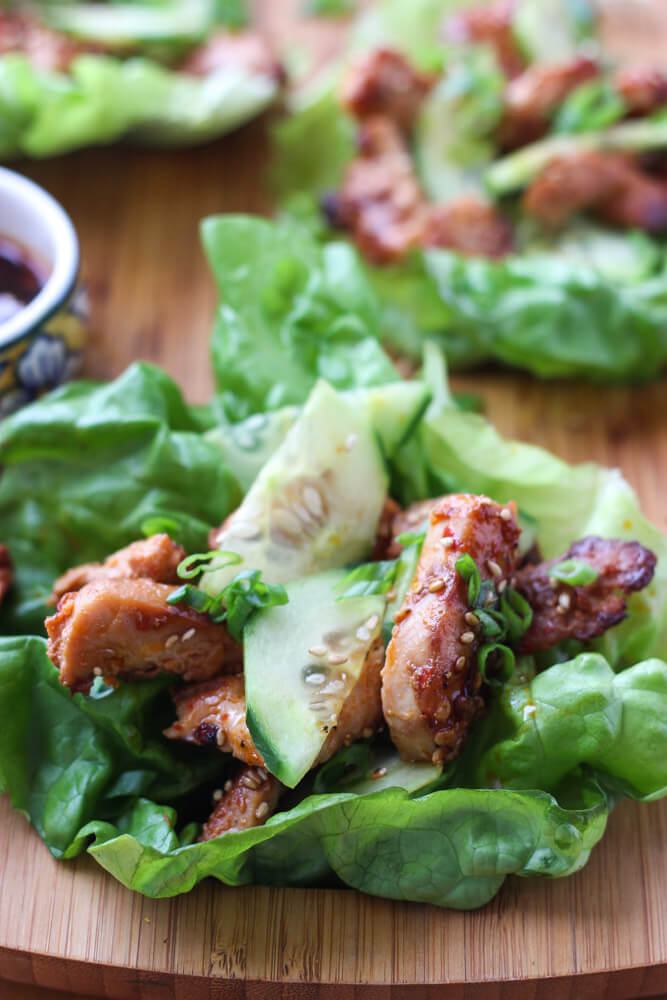 I went with one of my favorite vegetable combos as a topping: cucumbers, green onions, and fresh cilantro leaves. You can add any additional veggies and/or nuts, noodles, or rice. I personally like the simplicity and lightness of these wraps. Protein + veggies and you have a satisfying light dinner without the added calories. These also double up as an appetizer!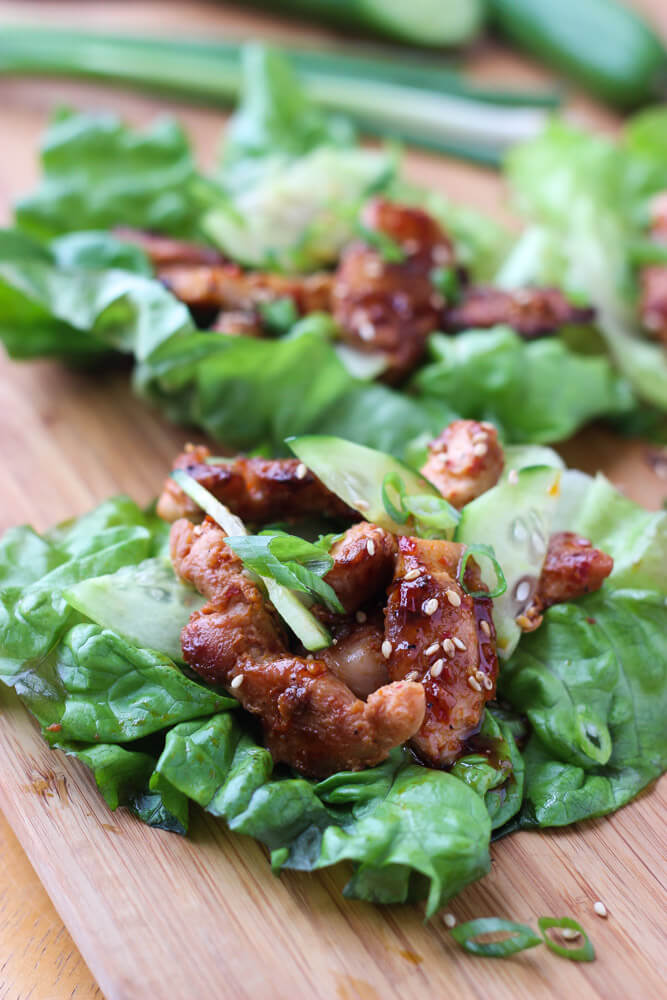 Super Easy Korean Chicken Lettuce Wraps
Author:
Katya @ https://www.littlebroken.com
Ingredients
2½ Tbsp. low sodium soy sauce
2 Tbsp. brown sugar
1½ Tbsp. sesame oil
1 Tbsp. chili garlic sauce (can be found in Asian food isle)
1-1½ lb. skinless, boneless chicken breast, sliced
2 tsp. olive oil
2 tsp. toasted sesame seeds
1-2 heads of Boston lettuce, leaves separated, washed and dried
½ hothouse cucumber, thinly sliced on diagonal
4 green onions, sliced on diagonal
fresh cilantro leaves
sea salt and fresh ground black pepper
Instructions
In a medium bowl, combine the soy sauce, brown sugar, sesame oil, and chili garlic sauce. Season with salt and pepper. (I went light on S&P but added more after chicken was cooked). Reserve 2 tablespoons of the marinade. Add chicken slices to the remaining marinade; cover and refrigerate 1 hour up to overnight.
Heat a large non-stick skillet over medium-hight heat (I had the heat on about an 8). Add olive oil to the pan and swirl to coat. Add chicken and cook about 3-5 minutes on each side or until cooked through and golden brown. Remove the chicken onto a serving plate and sprinkle with sesame seeds.
To assemble chicken wraps: Top each lettuce leaf with couple pieces of chicken, cucumber, green onions, and cilantro leaves. Drizzle with reserved soy sauce marinade and enjoy!
Notes
To cut down prep time, marinate the chicken overnight and cook the next day.
**Prep time does not take into consideration the time it takes to marinate the chicken**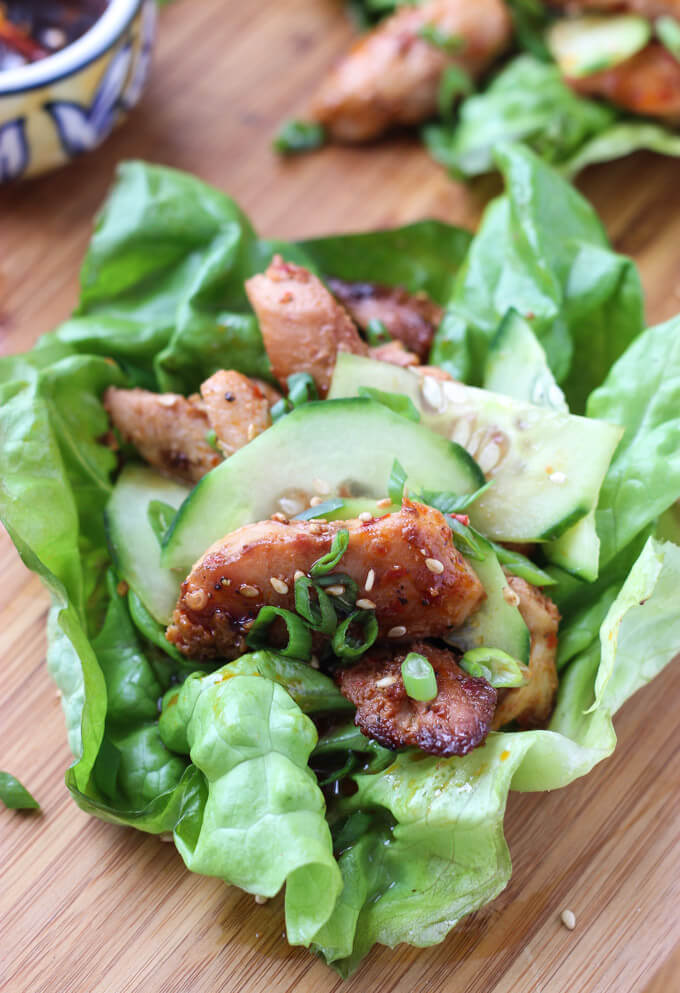 lightly adapted from Cooking Light Jan/Feb 2015 issue
© Little Broken. All images and content are copyright protected. Please do not use my images without prior permission or claim my work as your own. Feel free to Pin, Tweet, Facebook and share away with a link back to the recipe post. If you want to republish this recipe, please re-write the recipe in your own words and link back to this recipe.