Simple, healthy, and lightly sweetened with honey, this granola is loaded with wholesome nuts and bright berries!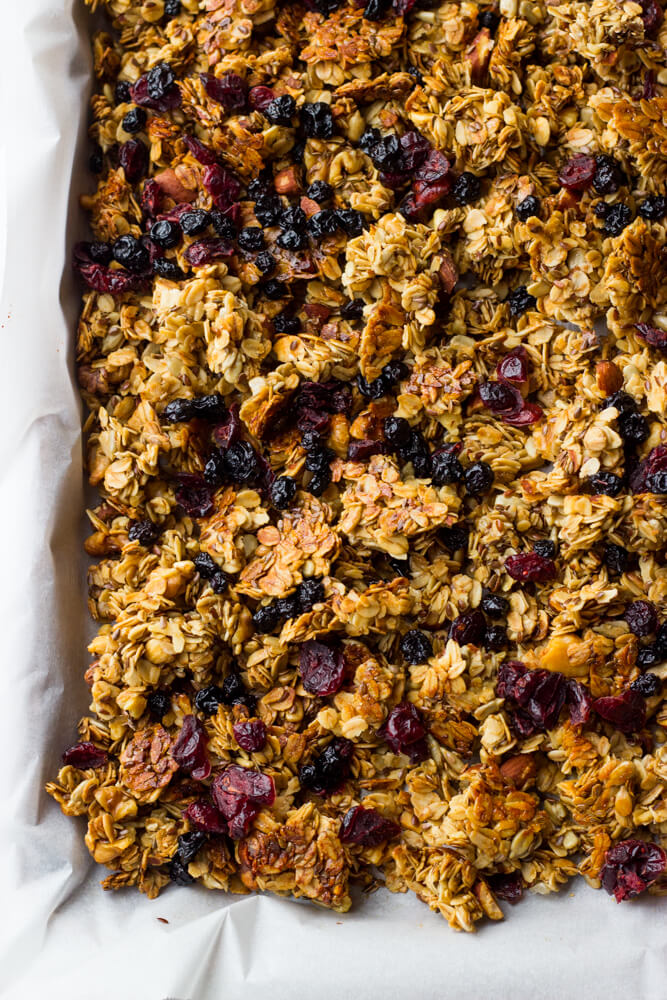 I never realized how much I love granola until I made my own. Granola is one of those things that you can enjoy for breakfast or snack. So the possibilities are always endless with the add-ins and the way you serve it. My kids love to snack on it as is. I personally love it with a creamy Greek yogurt and drizzle of honey. Also milk and granola is the best homemade "cereal" you'll ever have! I mean you really can't go wrong.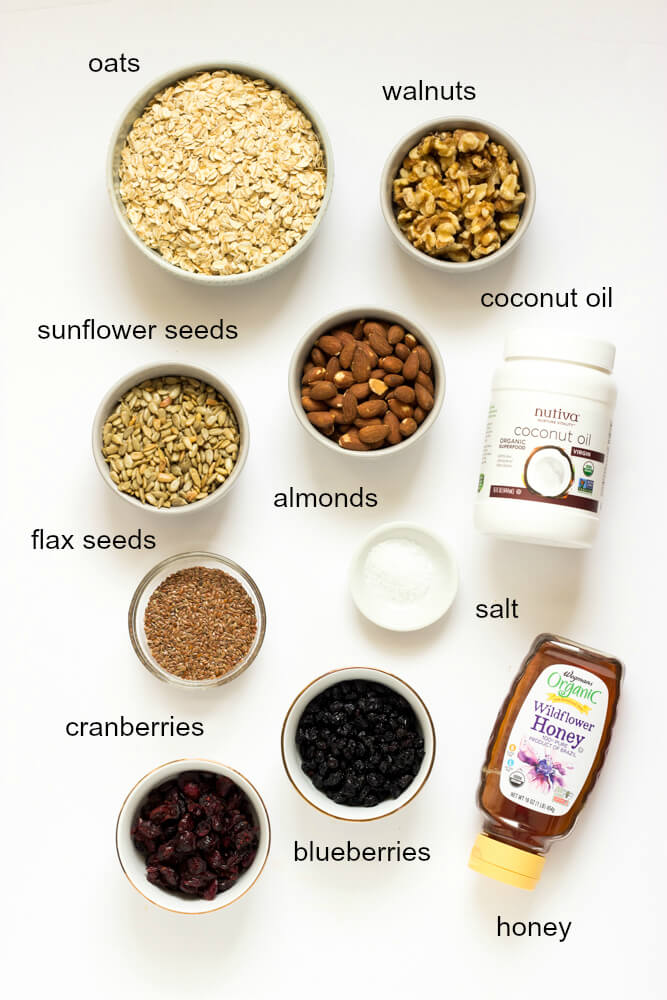 This berry crunch granola is all about the berries and the delicious crunch! It's your basic granola recipe but what makes it so special is all the add-ins: sunflower seeds, almonds, walnuts, flax seeds, cranberries, and blueberries. The granola itself is not overly sweet. The dried berries add just the perfect amount of sweetness. Also flax in granola has become my go to. It's loaded with protein, fiber, and I love adding it into food whenever I can.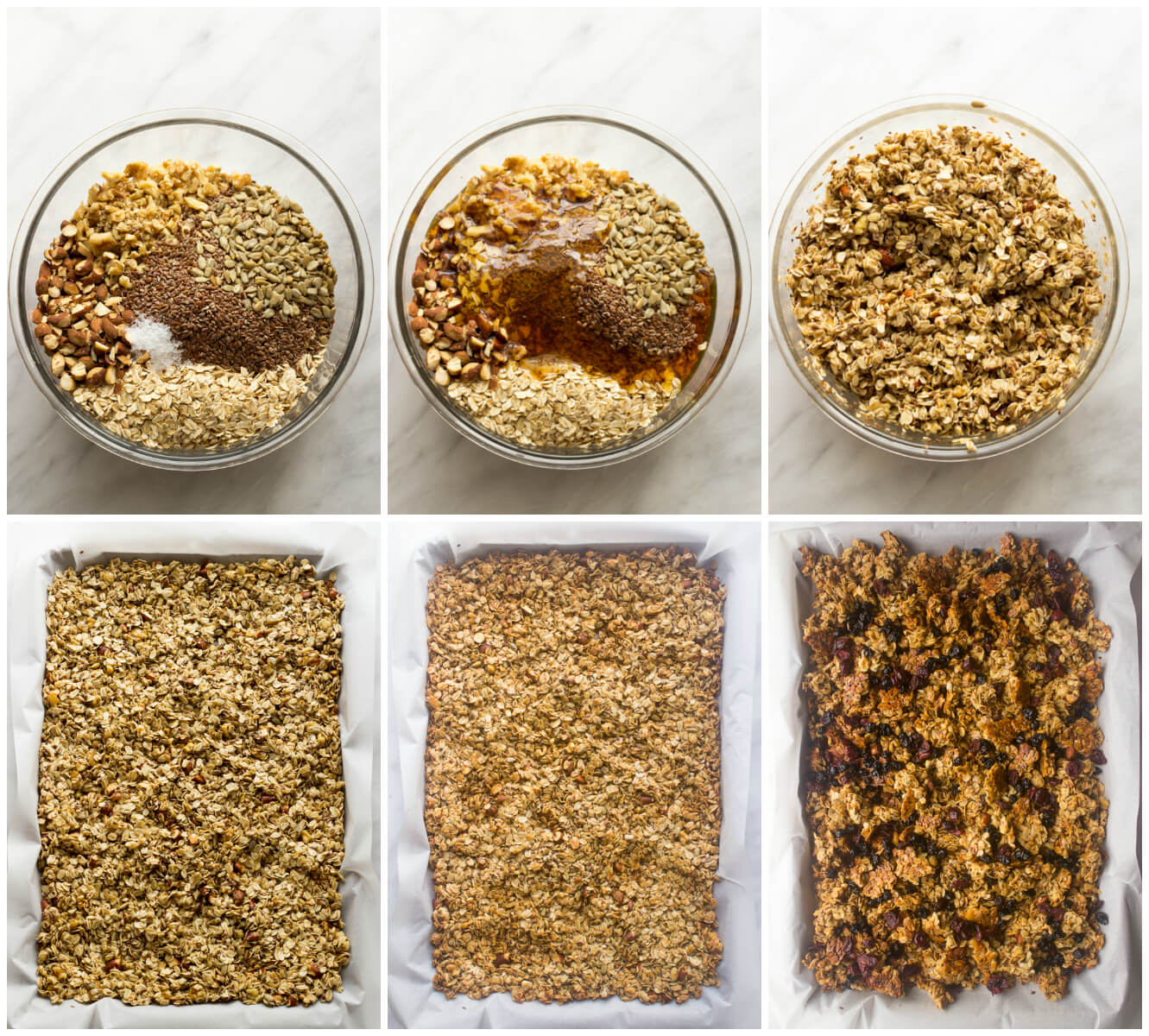 So to make the granola, you basically want to combine your dry ingredients together, minus the dried berries. Then add the coconut oil and honey. Stir, stir, and stir. Seriously, make sure to stir really well so that way every oat and nut is coated. Then spread the mixture onto a large baking sheet and bake for about 21-23 minutes in a 350 degree F oven. The granola will be slightly toasted and soft. When it cools it will crisp up.  Once it has cooled, stir in the dried berries and eat way.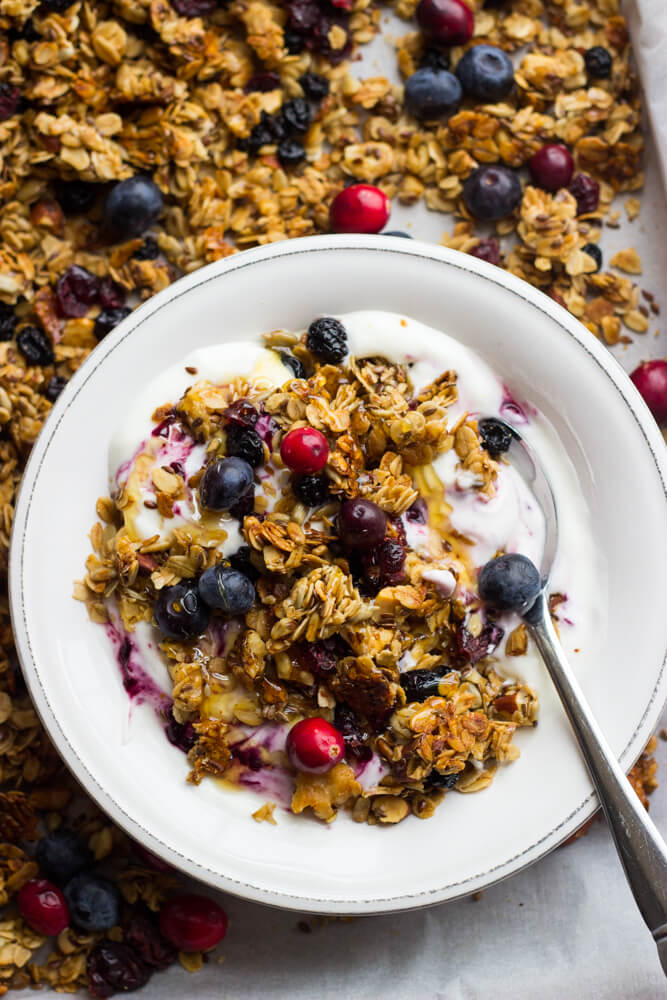 If you like to do a little meal prep over the weekends then add this breakfast/snack item to your menu. It stores up to 2 weeks in an airtight container. So you can make it and enjoy it over the week!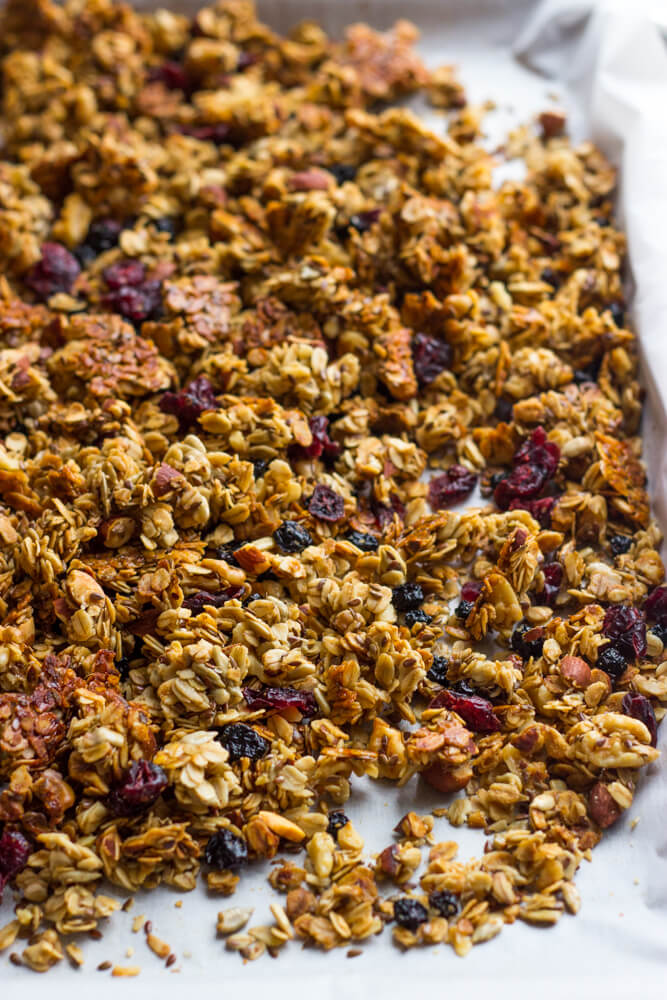 Make it. Snap it. Show it. Instagram @littlebrokenblog or snapchat → littlebrokenblg
Berry Crunch Granola
Author:
Katya @ https://www.littlebroken.com
Ingredients
4 cups old-fashioned rolled oats
½ cup unsalted, shelled, sunflower seeds
½ cup unsalted whole almonds, roughly chopped
½ cup walnuts, roughly chopped
½ cup flax seeds
½ tsp. kosher salt
½ cup coconut oil, in liquid form
½ cup honey
½ cup dried cranberries
½ cup dried blueberries
Instructions
Preheat the oven to 350F and line a large, rimmed baking sheet with parchment paper.
Toss the oats, sunflower seeds, almonds, walnuts, flax seeds, and salt together in a large bowl. Add the coconut oil and honey. Stir really well with a wooden spoon, making sure every oat and nut is coated.
Spread the granola mixture evenly onto the prepared baking sheet and bake for 21-23 minutes or until lightly golden brown, stirring halfway. The granola will further crisp up as it cools.
Remove the granola from the oven and allow to cool completely in the baking sheet, undisturbed, then break into pieces and stir in the cranberries and blueberries.
Store the granola in an airtight container at room temperature for 1-2 weeks. Makes about 7 cups.
© Little Broken. All images and content are copyright protected. Please do not use my images without prior permission or claim my work as your own. Feel free to Pin, Tweet, Facebook and share away with a link back to the recipe post. If you want to republish this recipe, please re-write the recipe in your own words and link back to this recipe.