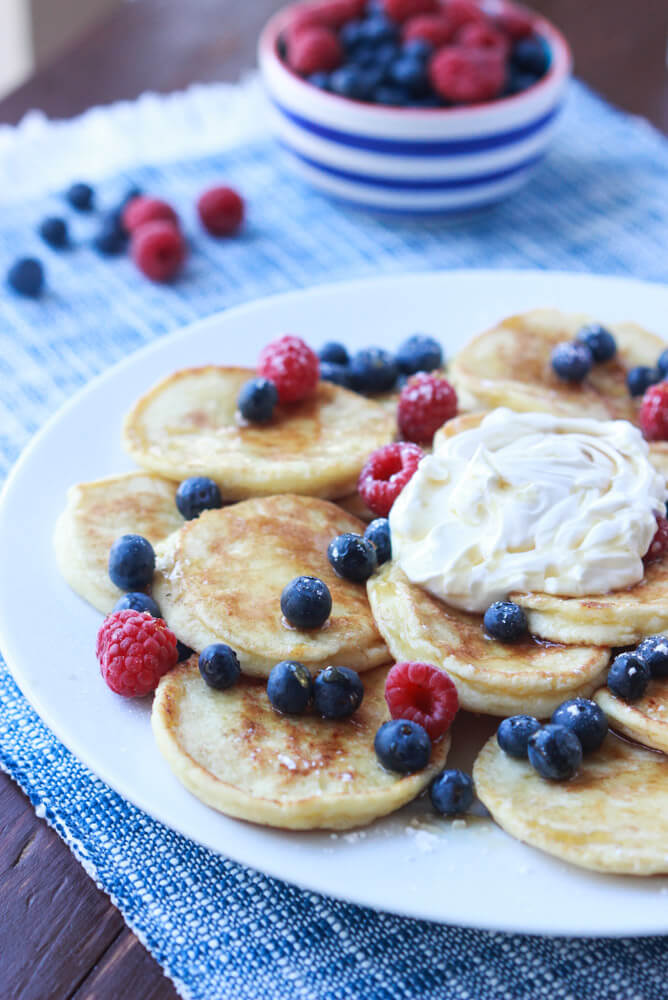 Nothing says weekend to me like breakfast with the family with big pot of coffee watching Food Network in pj's. That's a typical Saturday in my house and probably my favorite part of the whole weekend! And since it's only Tuesday today, we're going to start the countdown to the weekend today because….well, why not!? Everything is better on a weekend.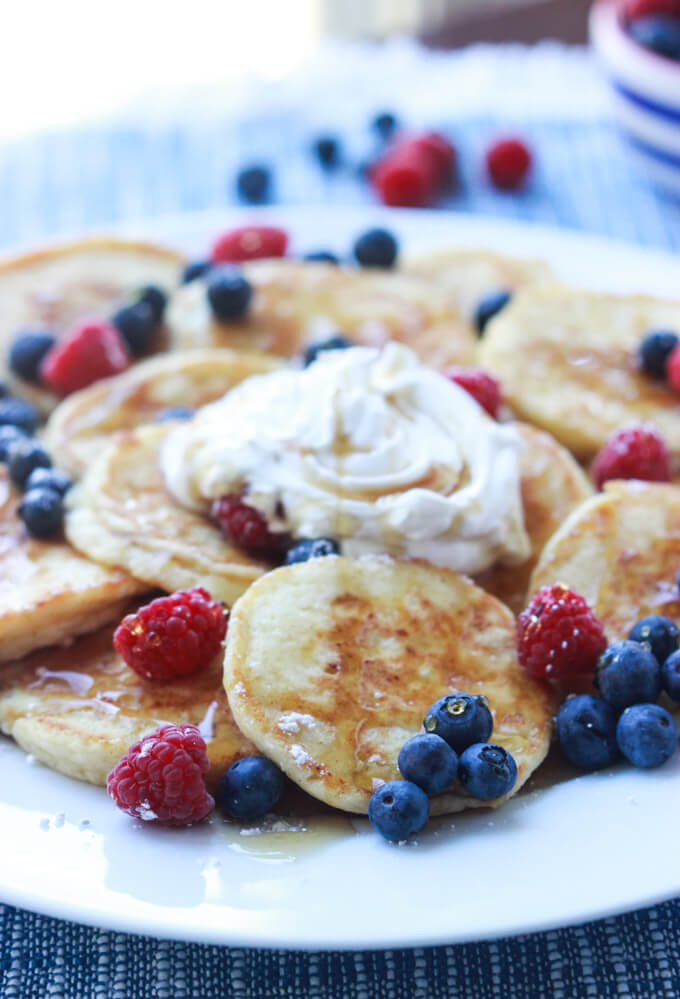 Sleeping in, staying up, and breakfast food! Most mornings, I am an egg whites with spinach and avocado/tomato type of girl. That's my go to and honestly never gets old. I love the simplicity and healthy perks of it. On weekends though, when I get a chance to make something homey and comforting, I often choose pancakes, crepes, or waffles. Pretty much anything in a liquid batter form.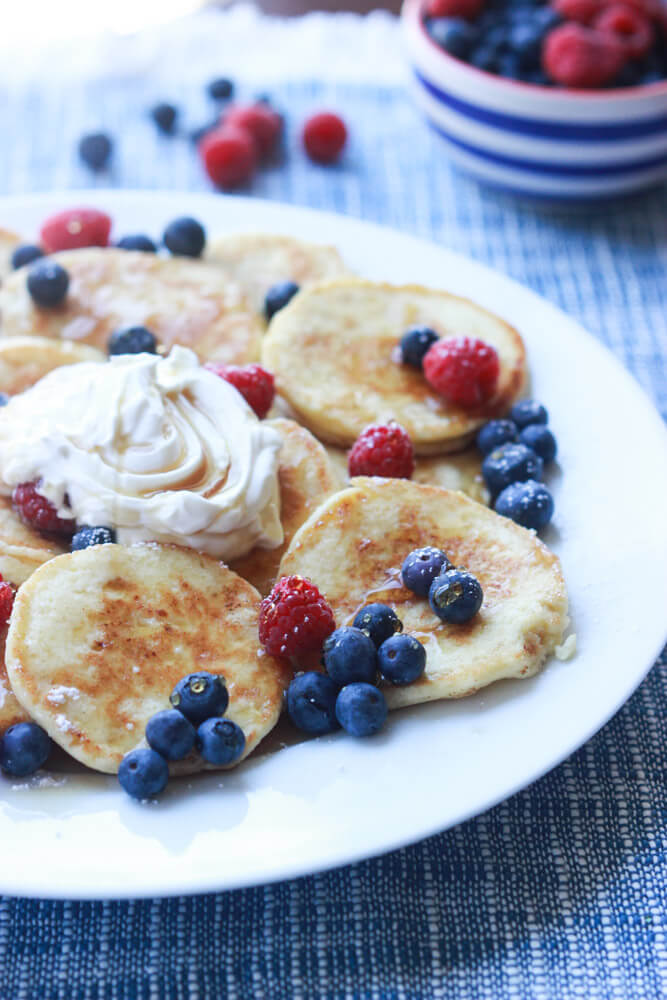 And these Ricotta Hotcakes are a favorite weekend breakfast! They remind me of something my mom made for us growing up but instead of ricotta, they were filled with farmer's cheese (usually homemade). Since I'm not a farmer and don't know a thing about making cheese, ricotta is my next option and a great one too! Adding ricotta to the batter makes the hotcakes incredibly moist and light….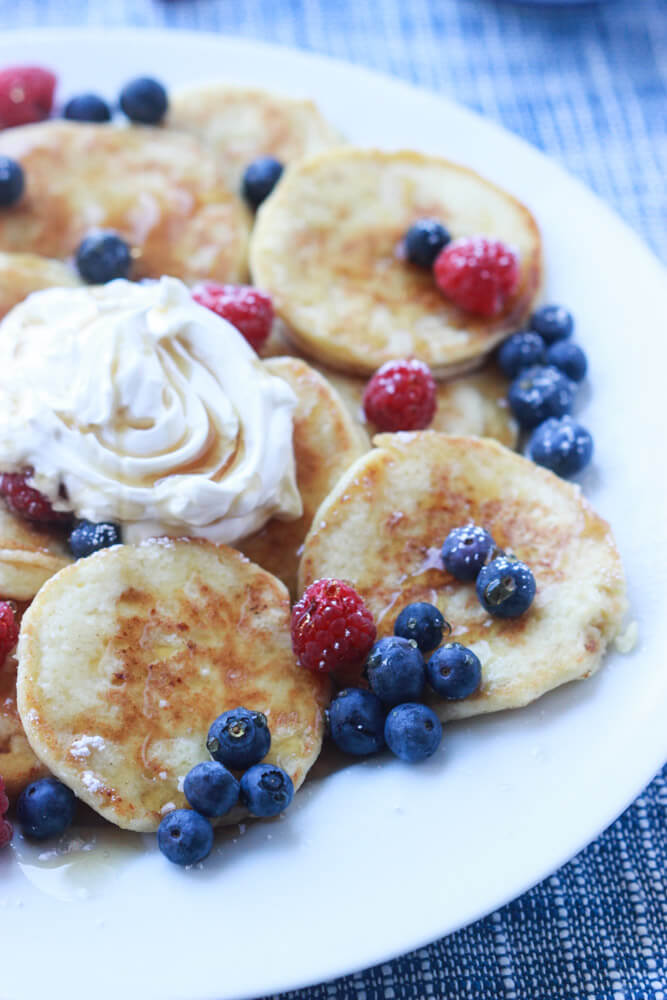 …also super fluffy and tender not only from the ricotta but egg whites, which are beaten until stiff peaks form then folded into the batter gradually. Pics don't do these babies justice but when you take them off the skillet, drizzle some maple syrup and take that first bite you taste airy, fluffy and super tender little hotcakes. (When I was making them, hubby asked if they had yeast because they were so fluffy.)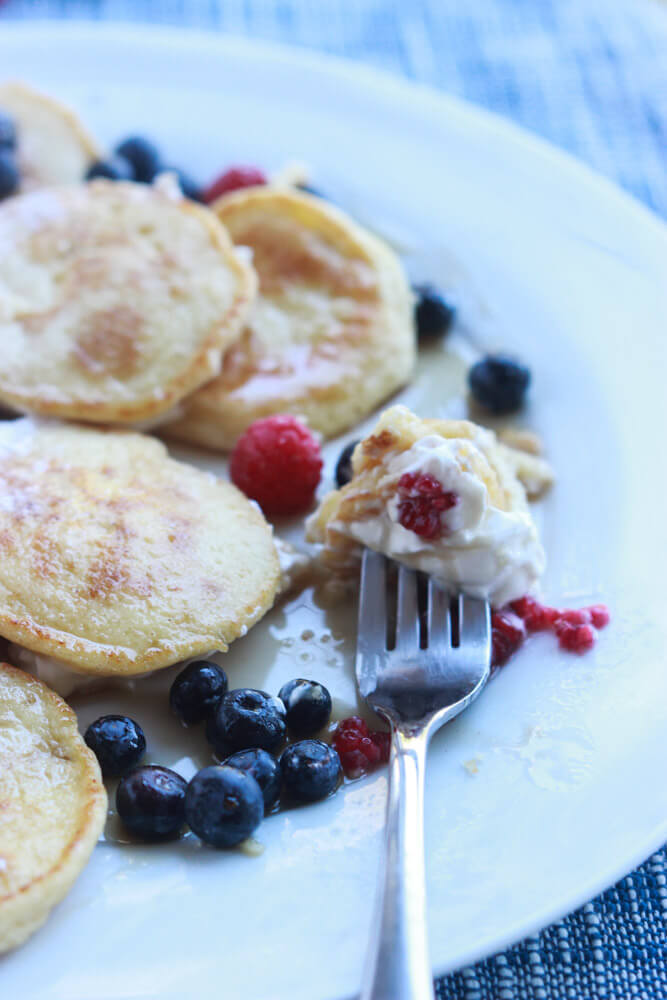 You seriously wont be able to resist them! Very kid friendly and perfect for a Saturday morning for the whole family to enjoy. I topped mine with fresh berries, maple syrup and sour cream. I completely omitted the sugar in the recipe since toppings usually involve sugar but if you like them sweet, add sugar (I wouldn't go more than 1 tablespoon though). Enjoy!

Ricotta Hotcakes
Author:
Katya @ https://www.littlebroken.com
Ingredients
1⅓ cup ricotta cheese
¾ cup milk
4 eggs, whites and yolks separated
1 cup all-purpose flour
1 tsp. baking powder
pinch of salt
unsalted butter or cooking spray
Instructions
In a large bowl, mix the ricotta, milk, and egg yolks until combined.
Sift the flour, baking powder, and salt into the ricotta mixture, mixing to combine.
Place egg whites in a separate bowl and beat until stiff peaks form. ** This step is what makes the hotcakes super fluffy and tender, so take your time to get the egg whites to the right consistency.**
Fold in the egg whites into the batter in two batches, using a large wooden spoon. Batter will be super airy and light. **You want to be gentle and not to overmix.**
Grease a large non-stick pan with either butter or cooking spray and drop about 2 tablespoons of batter per hotcake into the pan. Cook over low-medium heat for 2-3 minutes on each side or until hotcakes are golden.
Serve immediately with maple syrup, fresh berries or cream.
© Little Broken. All images and content are copyright protected. Please do not use my images without prior permission or claim my work as your own. Feel free to Pin, Tweet, Facebook and share away with a link back to the recipe post. If you want to republish this recipe, please re-write the recipe in your own words and link back to this recipe.