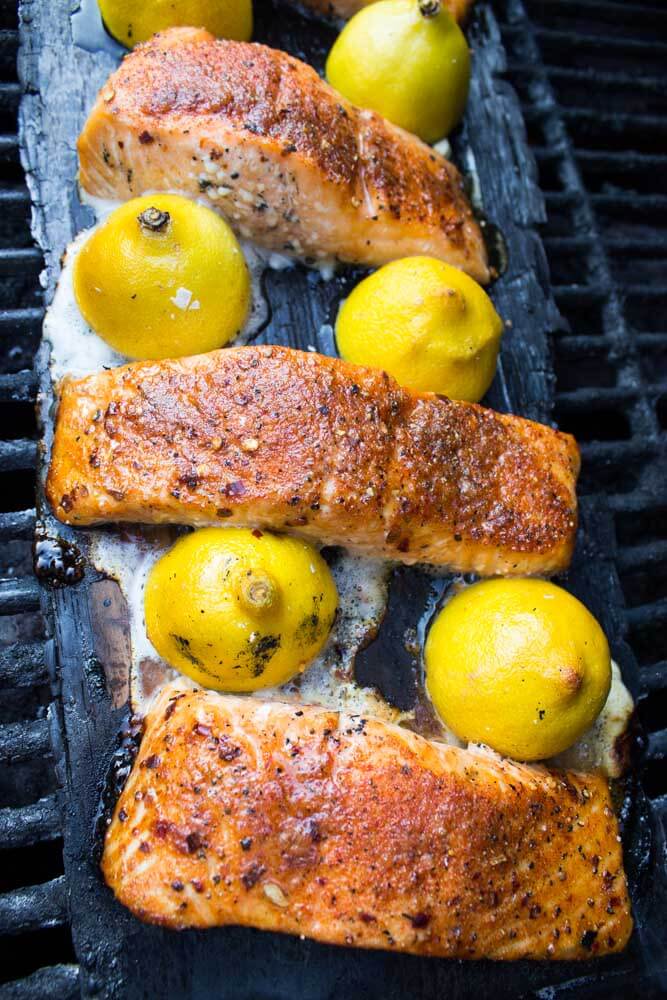 Happy Sunday friends! Hope you guys are having a great weekend and staying cool. We are in 100% summer mode around here. It's hot, kids are off school, and everyone seems to be a in a brighter mood. I swear sunshine is like happy medicine. It brings out the good in everyone. One of my favorite things in the summer time is of course all the food and grilling. We pretty much grill everything and anything. Recently we discovered plank smoked salmon. OMG! If you're not familiar, it's pretty much fresh salmon rubbed with spices and grilled on a cedar plank. It's the best salmon you'll ever have! I promise. It is absolutely delicious.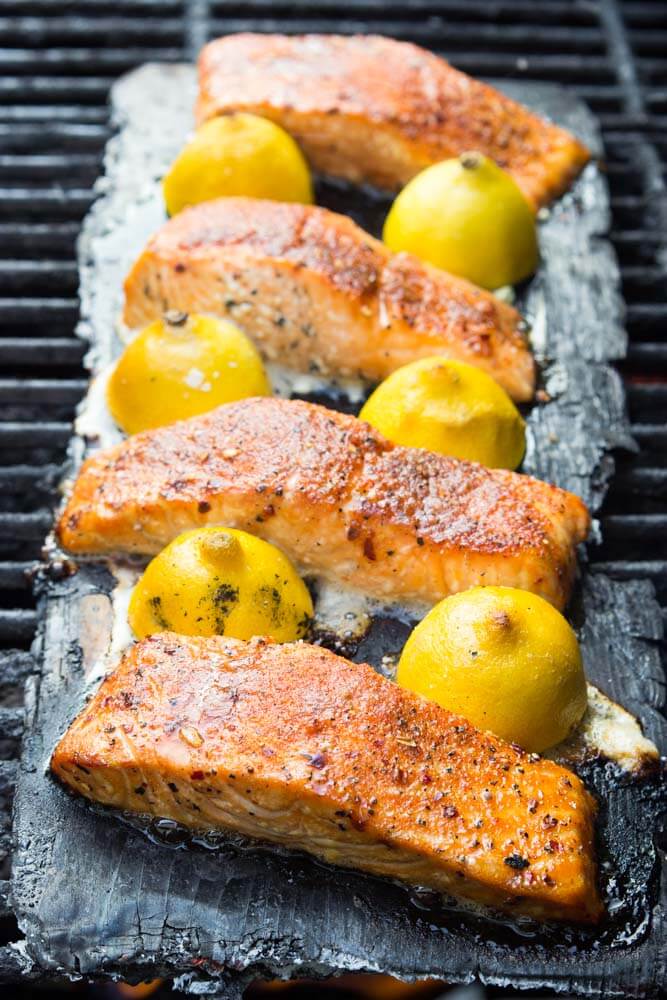 Grilled salmon on a cedar plank is simple and tasty technique for cooking salmon. You can find the planks at any grocery store in the grilling section. I have these exact ones that I purchased at Costco that are also available through Amazon. You pretty much soak the plank in water prior to grilling. This will cause the plank to smolder and create smoke, plus it will help keep it from catching on fire. The fish goes on top of the plank and steams gently in the heat of the grill, while picking up smoky flavors from the grill and woodsy flavors from the cedar.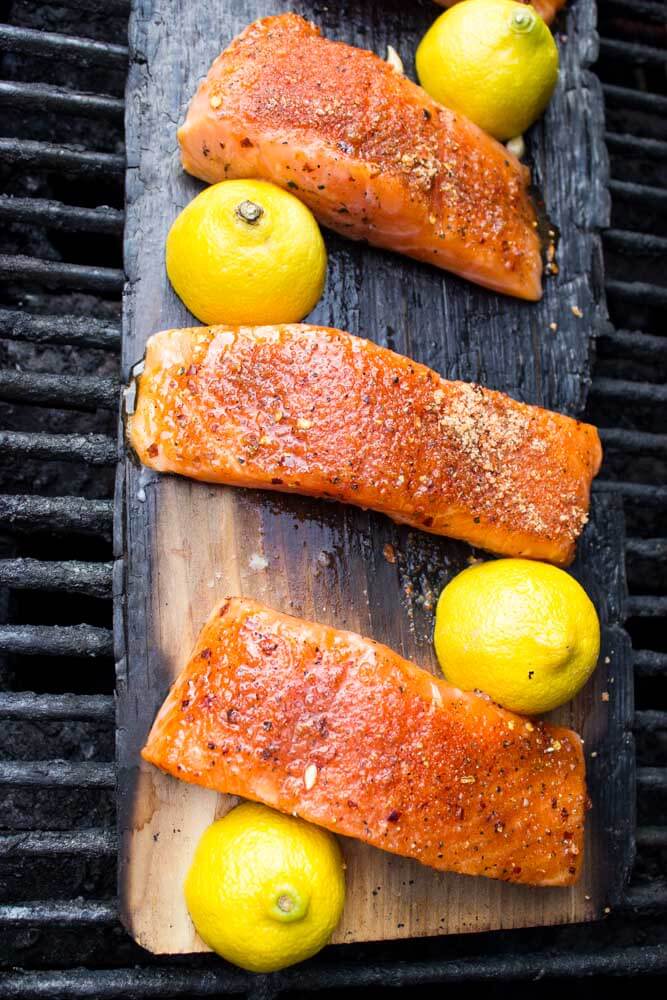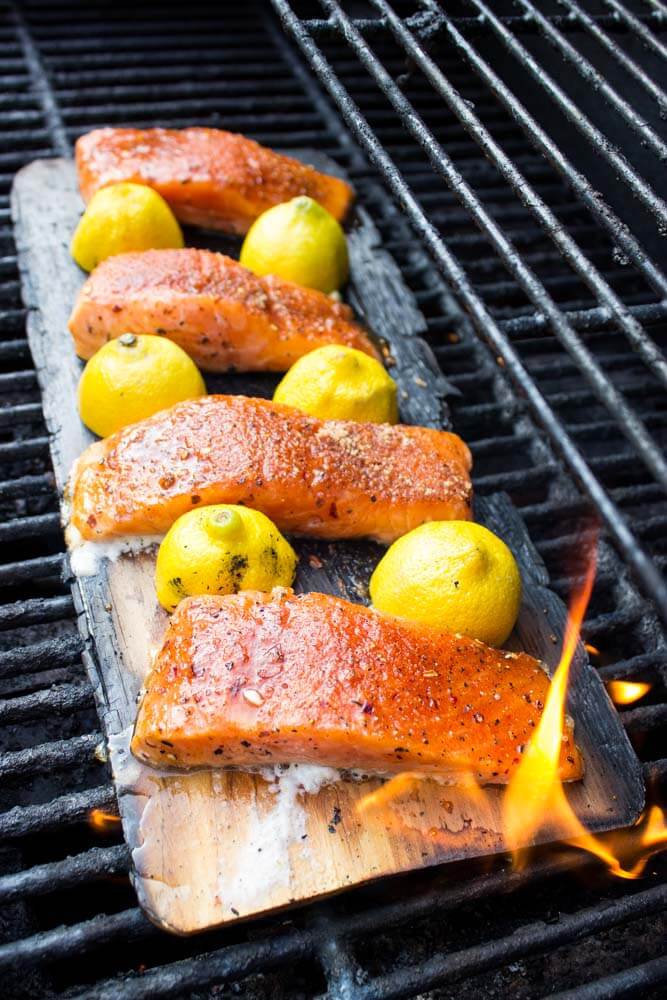 For this recipe, I used a simple rub of brown sugar, garlic salt, onion powder, paprika, and red pepper flakes. I also added fresh lemons around the salmon for that fresh seafood taste. The salmon only takes about 10 minutes to cook and comes out absolutely tender and moist. Plus, I don't know about you but I hate grilling fish on direct grill grates as it always falls apart on me. With the plank, you don't have to worry about that. The fish comes out in perfect one piece!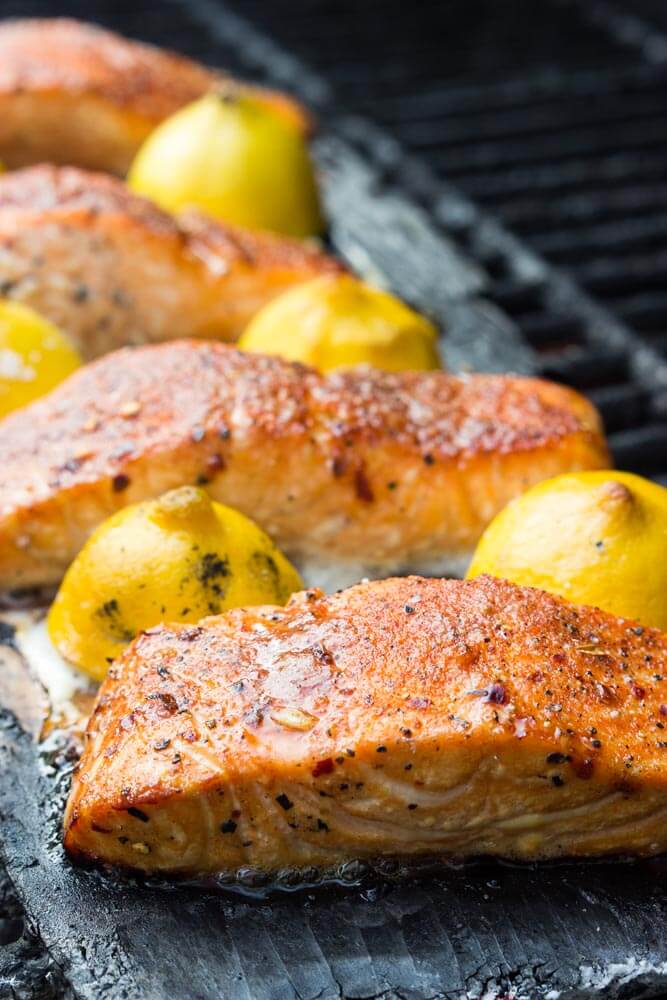 This is a great and simple recipe to start off with if you're new to plank grilling. Easy technique with ton of flavor! If you guys do try it, please let know how you like it.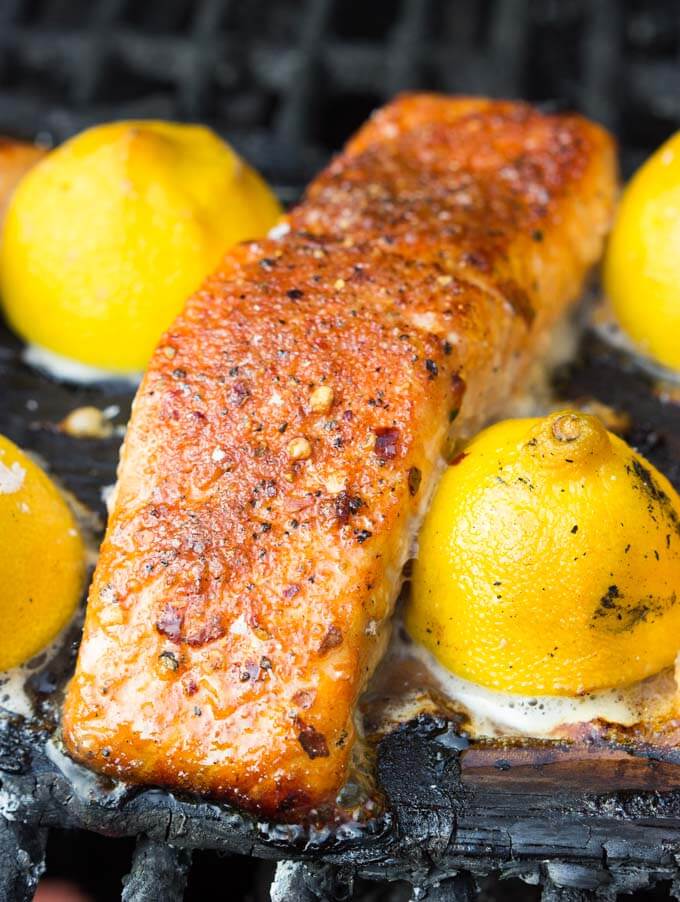 Tag me @littlebrokenblog and follow me showing me your food creations, whether from LittleBroken.com or your own: Facebook, Instagram, Pinterest.

Lemon Plank-Smoked Salmon
Author:
Katya @ https://www.littlebroken.com
Ingredients
1 cedar plank (16 X 7) (these are the planks I used)
4 (6 oz.) salmon fillets
2 Tbsp. brown sugar
½ tsp. garlic salt
½ tsp. onion powder
1 tsp. paprika
½ tsp. red pepper flakes
1 tsp. sea salt
1 tsp. fresh ground black pepper
3 lemons, halved
Instructions
Prepare the cedar plank by soaking in water for at least 1 hour. I usually fill my kitchen sink with enough water to cover the plank and use full water bottles or canned goods as weights to keep the plank underwater.
While the plank is soaking, combine the brown sugar, garlic salt, onion powder, paprika, red pepper flakes, sea salt, and black pepper. Rub over one side of the salmon fillets.
Preheat the grill on high heat. Place the soaked plank on the grill until it begins to smolder and crackle, about 3 minutes. The plank will turn black. Flip the plank over and arrange the salmon fillets (rub side up) on the plank along with the lemon halves, cut side down.
Cook, covered, until salmon flakes easily (the lemons will also become really soft), 8-10 minutes. If plank catches on fire, spritz it lightly with water until the flame is gone.
Squeeze lemons over salmon and serve immediately.
Notes
add additional 1 hour for the plank to soak in water
© Little Broken. All images and content are copyright protected. Please do not use my images without prior permission or claim my work as your own. Feel free to Pin, Tweet, Facebook and share away with a link back to the recipe post. If you want to republish this recipe, please re-write the recipe in your own words and link back to this recipe.