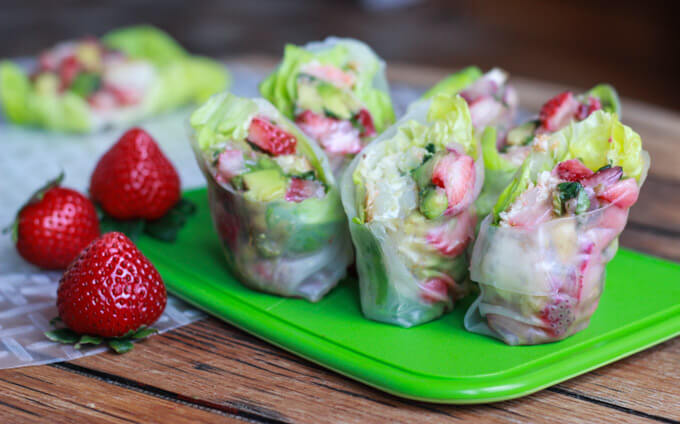 I took a home mac class in 9th grade so I could cook. I also really, really wanted to learn to sew after seeing Halle Berry in a magazine wearing a purple silky gown at one of the award shows. I had pictures of it on my wall as I wanted to replicate it. Well that never happened, as I never learned to sew. Still regret it. But I did manage to make eggrolls in my home mac class for the first time ever that I still make to this day.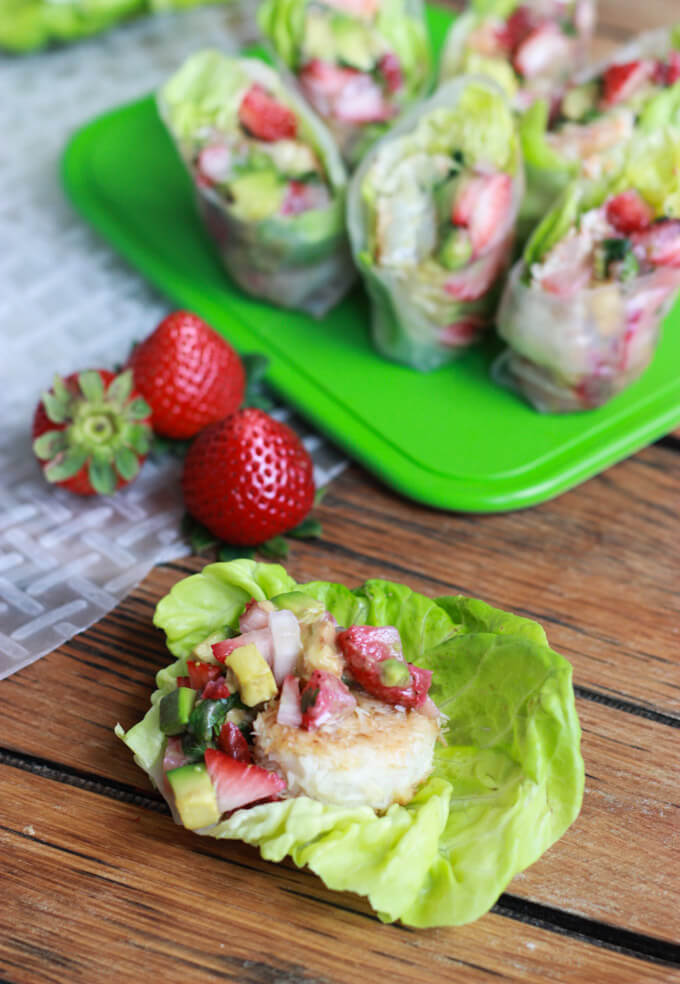 It was a basic recipe: chicken, lettuce, celery, onion, carrots and soy sauce. Through out the years, my basic eggroll recipe turned into 10+ other variations of this recipe and now I'm at a spring roll stage. Spring rolls are awesome and are a lighter version of the eggrolls.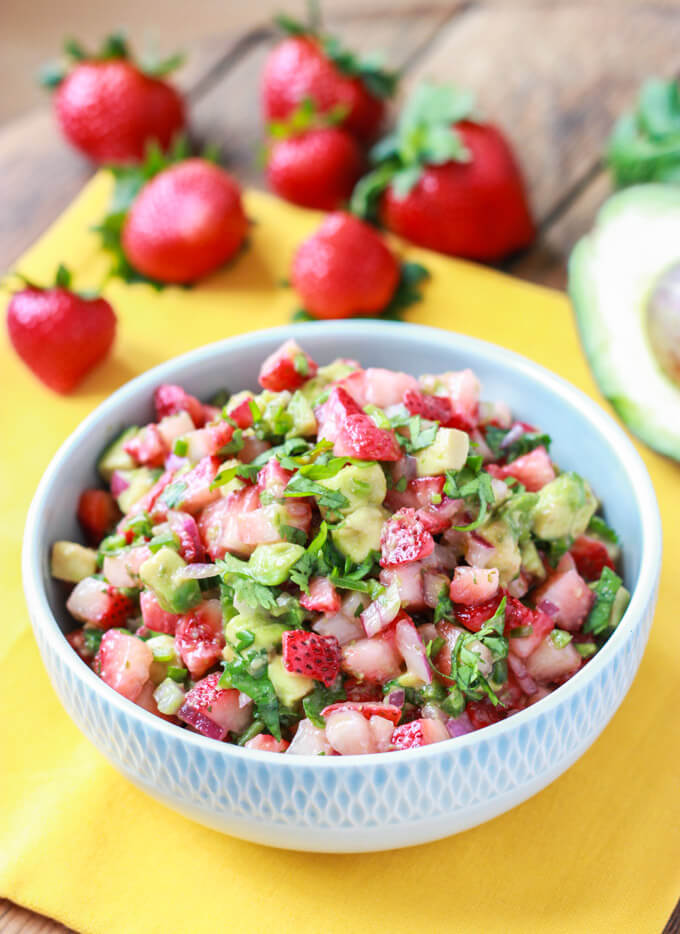 Perfect as a light appetizer for hot summer days. The best part is you can't really go wrong with spring rolls. They are very versatile. You can use cooked ingredients or raw ingredients. One of my favorites are Vietnamese Shrimp Summer Rolls at Cheesecake Factory. It's on my to do list to replicate these babies one day.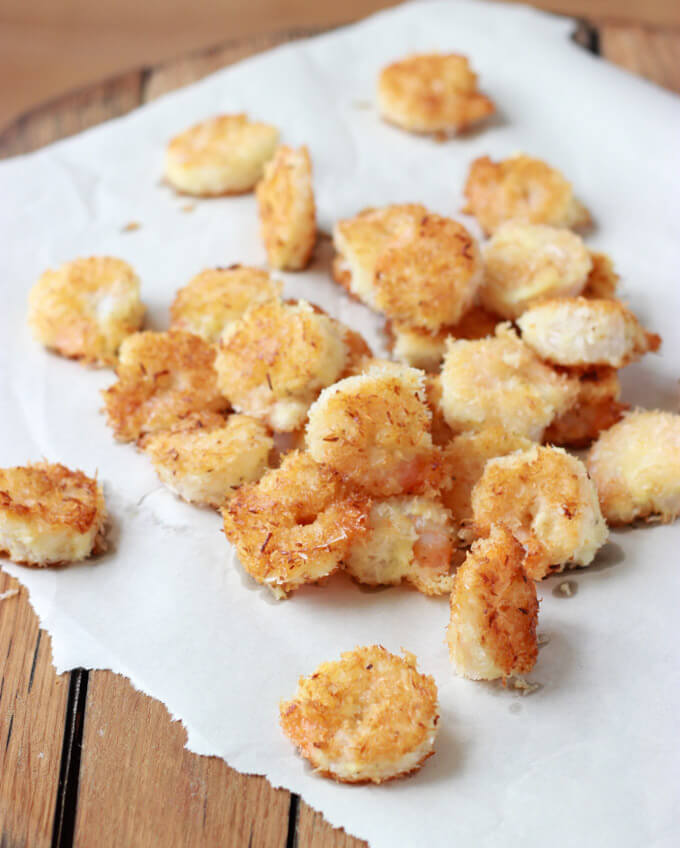 Let's talk about coconut. Coconut everything is my new friend. I've been iced coffee deprived for the last week+ and the other day thought there has to be a way to my desperation and iced coffee with coconut milk might be my solution. Genius!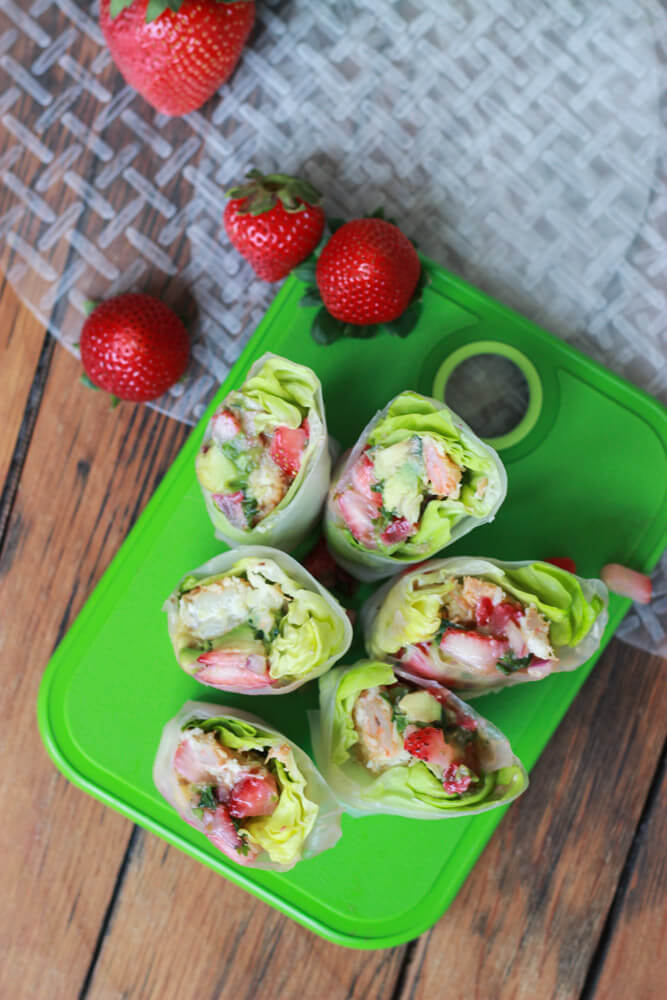 So, it was just appropriate that I make coconut shrimp for these rolls. I used a similar mayo combination as in Sesame Chicken Bites with slight variation, then dunked the shrimp in shredded coconut and pan sauteed until golden. Saucy on the inside and crispy sweet on the outside. They are perfect on their own. I found myself popping them nonstop before the spring rolls were even in the making. They also make a great topping for a salad.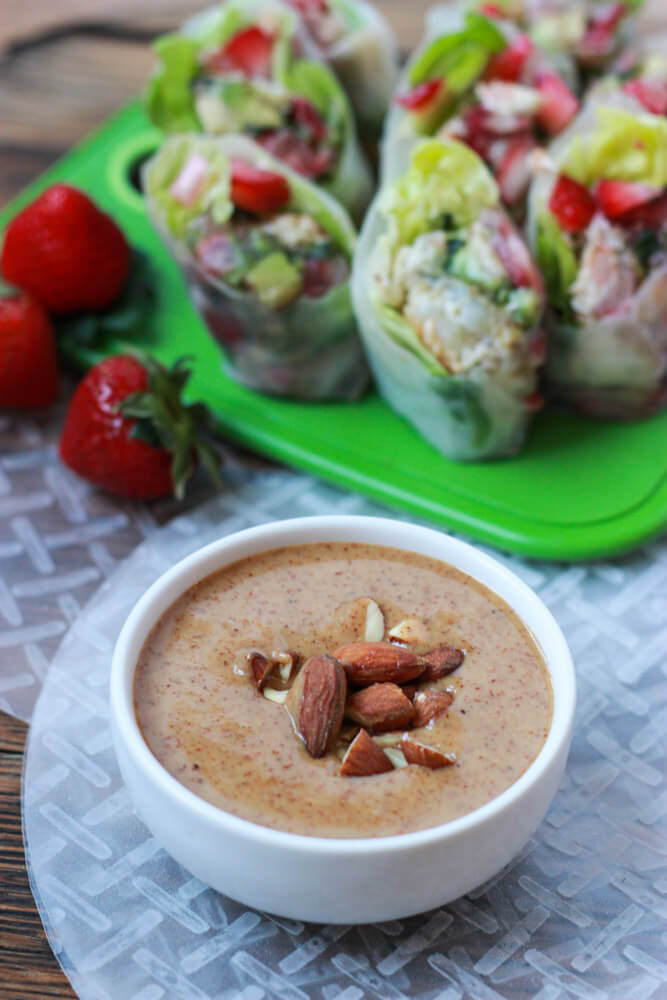 Strawberry avocado salsa is the perfect fit to these crispy, sweet shrimp. Fresh strawberries, avocado, red onion, jalapeno, and cilantro all chopped up and tossed in freshly squeezed lime juice and olive oil. The rest is layering and rolling, layering and rolling.
I paired the spring rolls with a simple dipping sauce using almond butter. A little variation from peanut butter but still great nutty taste. Enjoy!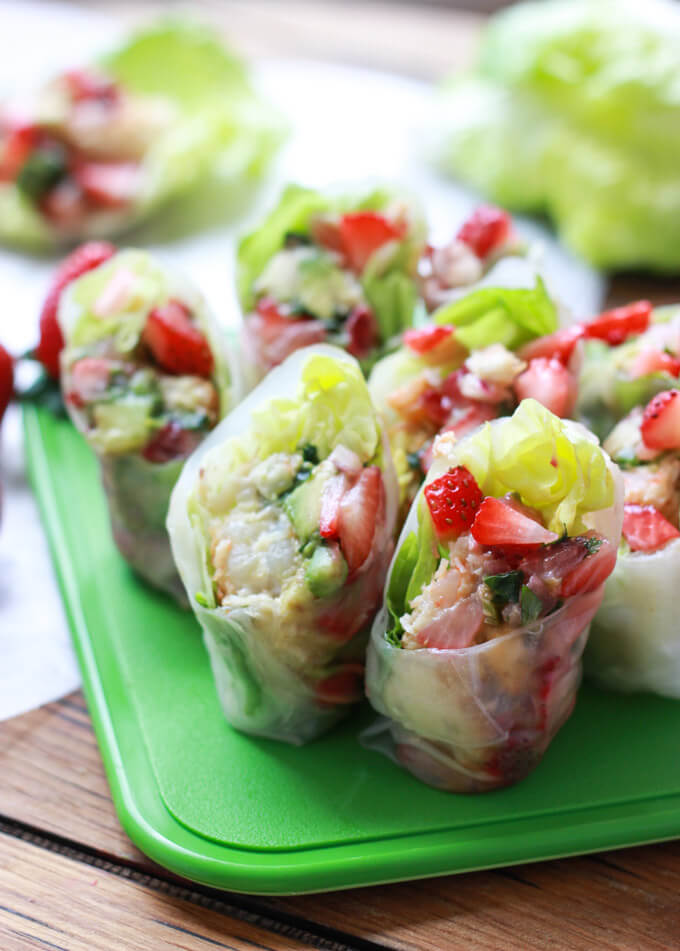 Coconut Shrimp Spring Rolls with Strawberry-Avocado Salsa and Creamy Almond Butter Dipping Sauce
Author:
Katya @ www.littlebroken.com
Ingredients
Strawberry-Avocado Salsa
2 cups chopped fresh strawberry
1 cup chopped avocado
¼ cup red onion, chopped
½ small jalapeno, chopped
1 cup chopped fresh cilantro
1 Tbsp. extra-virgin olive oil
zest 1 lime
juice 1 lime
Coconut Shrimp
1 lb. 31-40 raw shrimp, peeled with tail off and deveined
½ cup olive oil mayo
1 tsp. onion powder
1 tsp. ground mustard
¼ tsp. ground pepper
1 cup fine shredded unsweetened coconut (I used this brand and found it at Whole Foods)
20 small butter lettuce leaves
20 spring roll wrappers
coconut oil for frying
Almond Butter Dipping Sauce
5 Tbsp. almond butter (peanut butter is an alternative for non-paleo)
4 Tbsp. hot water
1 Tbsp. raw coconut aminos (soy sauce is an alternative for non-paleo)
1 Tbsp. rice vinegar
chopped raw almonds, optional
Instructions
Strawberry-Avocado Salsa
Combine all ingredients in a medium bowl; toss gently.
Coconut Shrimp
In a medium bowl, combine mayo, onion powder, ground mustard and pepper. Coat shrimp in mayo mixture; add coconut to a separate bowl and coat shrimp few pieces at a time in the coconut.
In a large skillet over medium heat, fry the shrimp until lightly golden, 2 minutes per each side; set aside.
Prepare rice wrappers according to package directions. In the middle of the wrapper, layer butter lettuce leaf, two pieces of shrimp, and 1 Tbsp. of strawberry-avocado salsa. Fold over the bottom and sides and roll wrapper upwards to form a roll shape. Continue rolling with the rest of the lettuce, shrimp, and salsa. Makes approximately 20 eggrolls but maybe a little less or more depending on your shrimp count.
Almond Butter Dipping Sauce
Combine all ingredients, except raw almonds until throughly mixed. Sprinkle raw almonds on top.
Serve immediately.
Notes
To make this Whole30, load up butter lettuce leaves with shrimp, salsa, and drizzle with almond butter dipping sauce and you have a shrimp lettuce wrap instead of a spring roll!
© Little Broken. All images and content are copyright protected. Please do not use my images without prior permission or claim my work as your own. Feel free to Pin, Tweet, Facebook and share away with a link back to the recipe post. If you want to republish this recipe, please re-write the recipe in your own words and link back to this recipe.