Elegant appetizer made with toasted baguette slices that are topped with flavorful herb cheese, cucumbers, radishes, smoked salmon, and fresh herbs.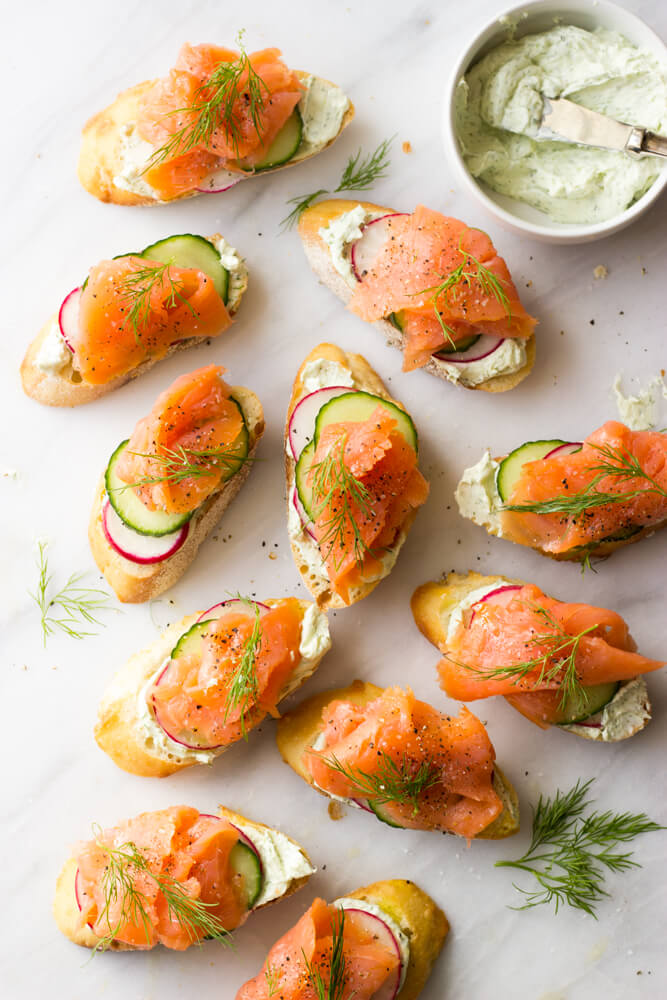 Happy almost Christmas friends! We are one week away from the most wonderful time of the year and today I wanted to share a really yummy and easy appetizer that is perfect for Christmas or New Years Eve.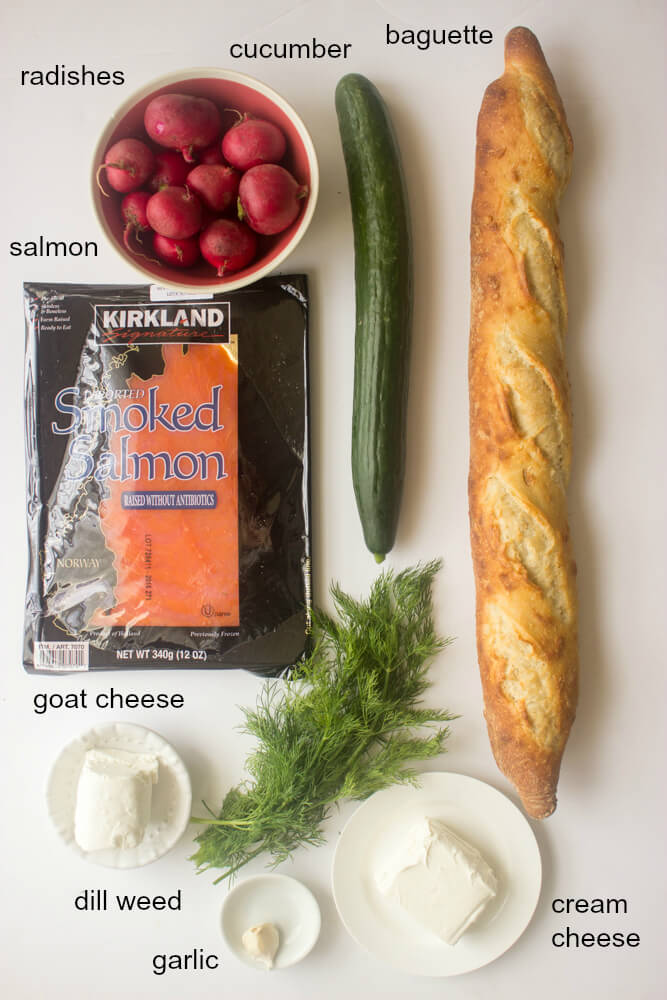 Crostini in my opinion is the easiest way to start a party.  Simply start with making the herb cheese spread. It's a delicious combo of cream cheese + goat cheese, garlic, and fresh dill weed. You'll want to eat it by a spoonful! And if you're not a goat cheese lover, don't worry. The goat cheese is very subtle and compliments the rest of the ingredients in the most perfect way.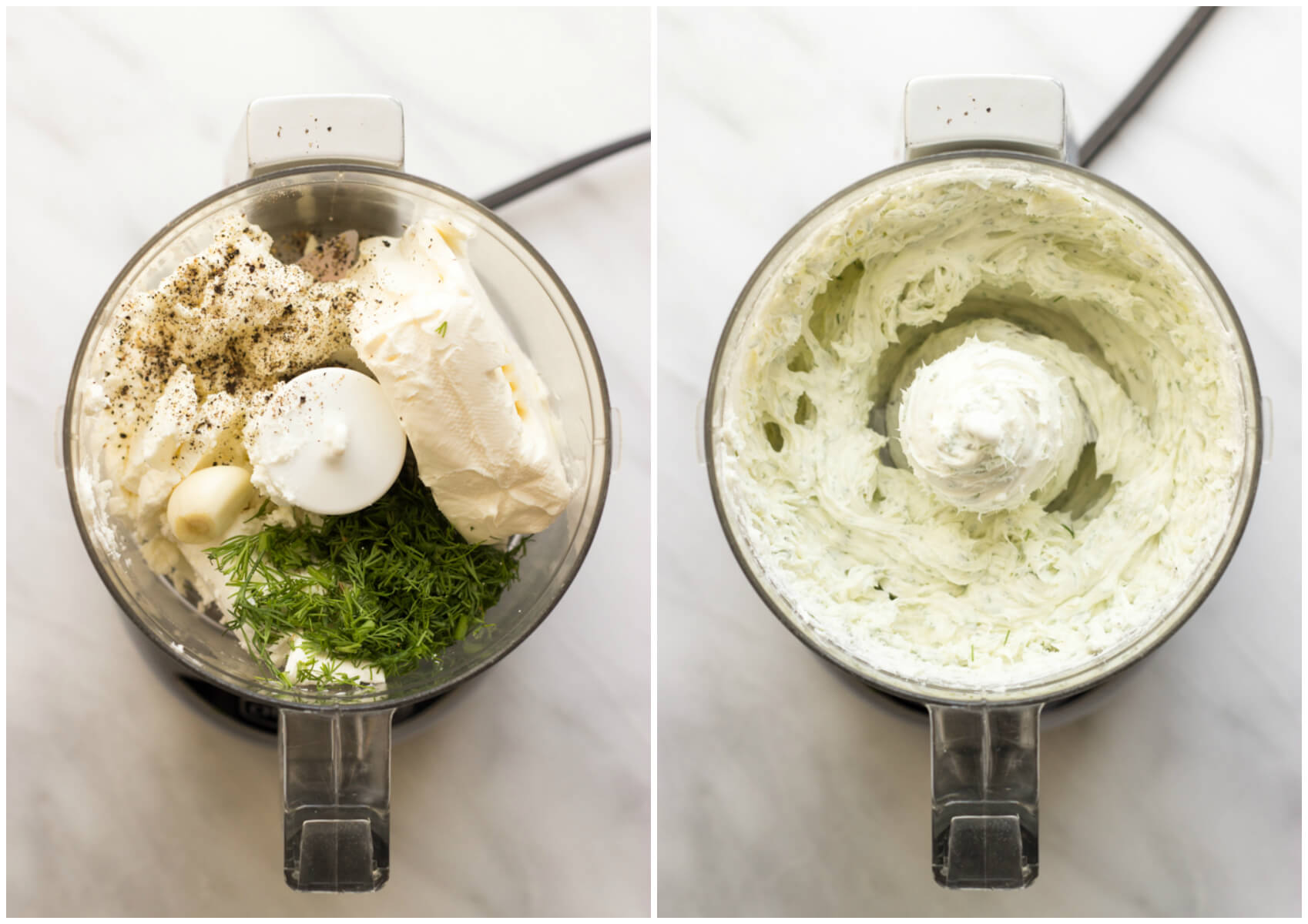 Then you'll want to toast the baguette slices. I used a regular white baguette (from Costco) that I sliced into 22 (1/2-inch thick) slices. Then toasted in the oven for about 10-12 minutes. As it cools, it will crisp up even further.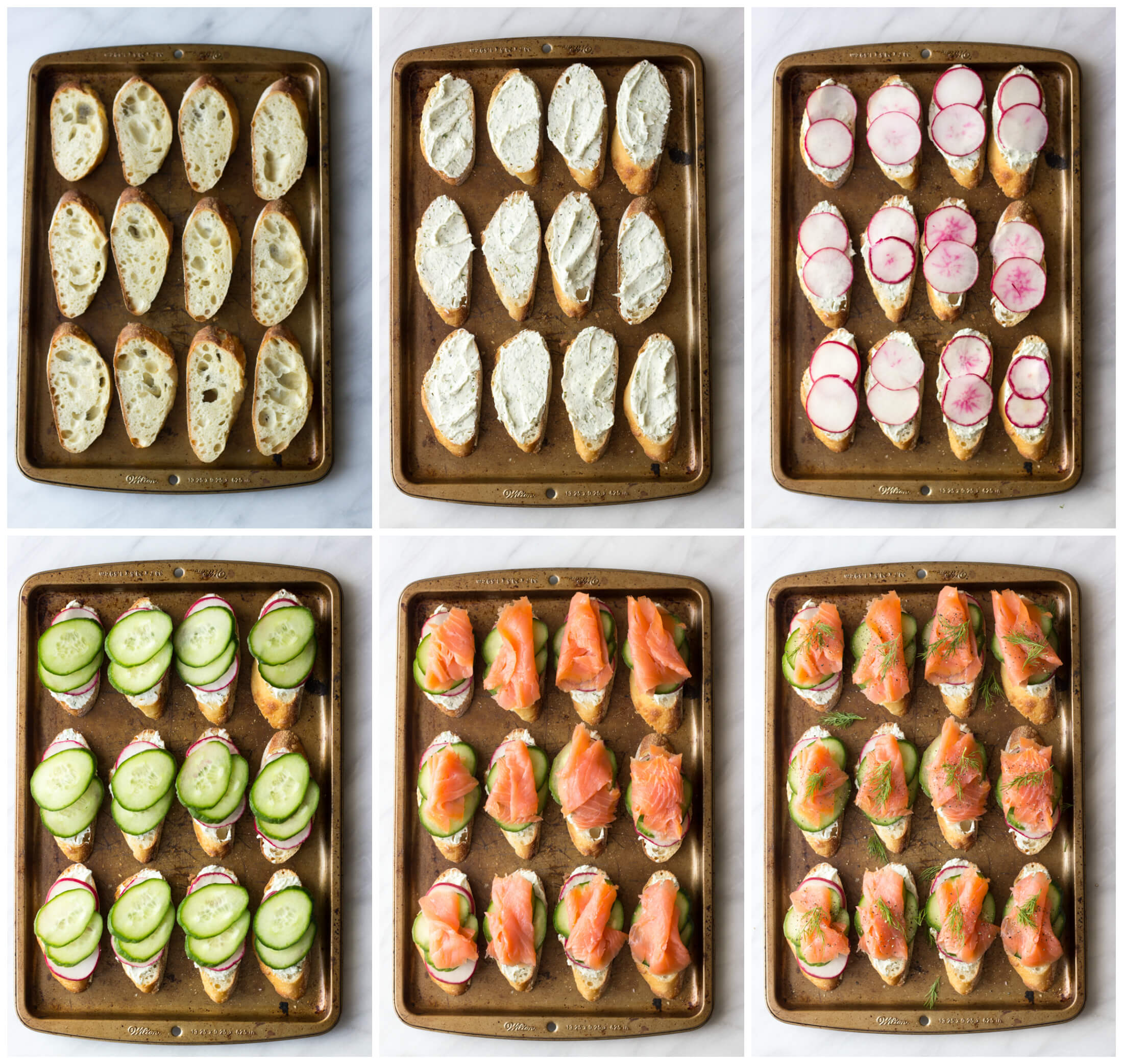 To assemble, you'll need thinly sliced radishes, cucumbers, and smoked salmon. Also fresh dill sprigs and don't forget the black pepper. It adds texture and delicious taste to the crostini. Then just pile on all your toppings onto the toasted baguette slices and let your friends and family go to town!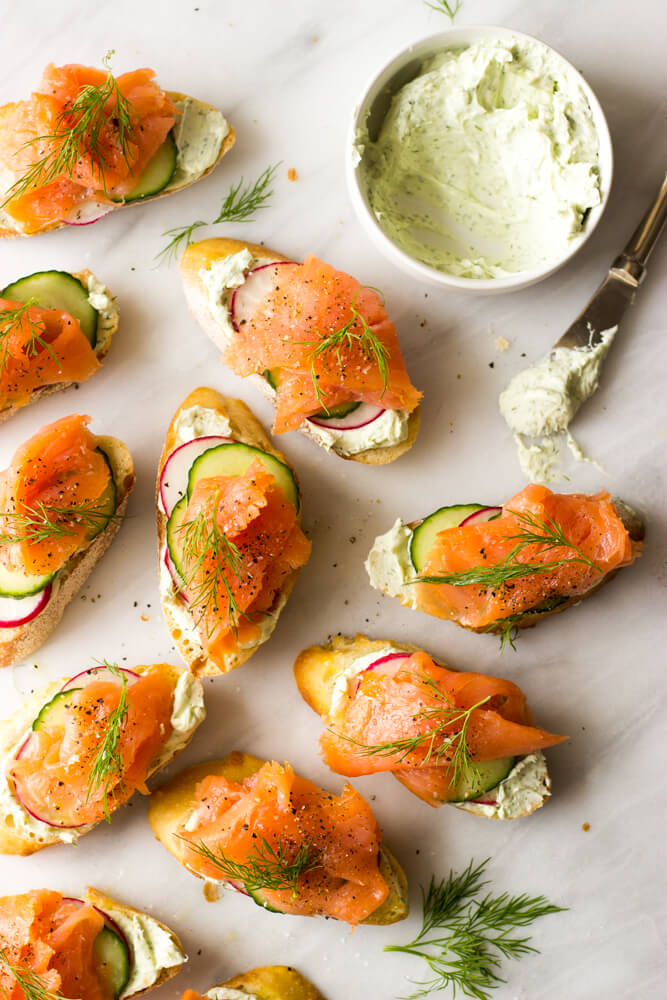 I went a little heavy on the fresh veggies just because smoked salmon has a very distinct smoky flavor and you'll want to balance that out with fresh veggies. But the end result is mouthwatering good! You'll want to add this one to all your holiday parties.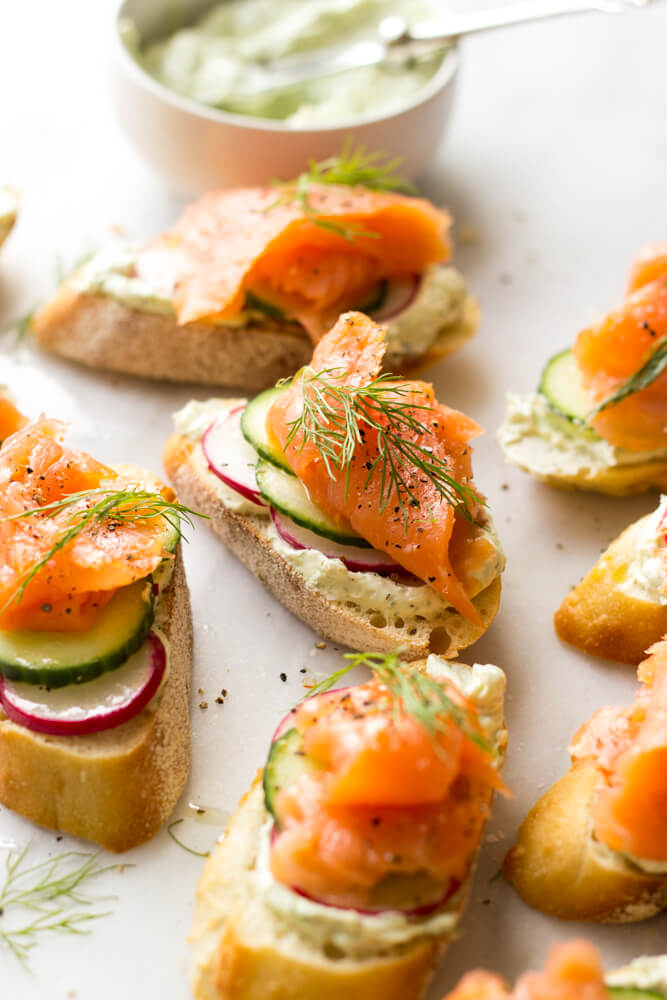 Make it. Snap it. Show it. Instagram @littlebrokenblog or snapchat → littlebrokenblg
Smoked Salmon and Herb Cheese Crostini
Author:
Katya @ https://www.littlebroken.com
Ingredients
1 white baguette, sliced into ½-inch thick slices*
1 bunch radishes, thinly sliced
1 english cucumber, thinly sliced
12 oz. smoked salmon, flaked and/or thinly sliced
fresh dill weed
freshly ground black pepper
Herb Cheese
4 oz. cream cheese, softened
3 oz. goat cheese
1 small garlic clove
2 Tbsp. fresh dill weed, chopped
freshly ground black pepper
Instructions
Preheat the oven to 375 degrees F.
Arrange the baguette slices on a large baking sheet. Bake until toasted, 10-12 minutes, flipping halfway. Remove and let cool completely.
For the herb cheese, combine the cream cheese, goat cheese, garlic, and dill weed in a food processor. Season with black pepper, to taste. Process until smooth.
To assemble: spread the cheese mixture on the cooled baguette slices, top with several slices of radishes and cucumber, and then slice of smoked salmon. Garnish with dill sprigs and freshly ground black pepper.
Serve immediately.
Notes
*I was able to get about 22 slices from a standard size white baguette
© Little Broken. All images and content are copyright protected. Please do not use my images without prior permission or claim my work as your own. Feel free to Pin, Tweet, Facebook and share away with a link back to the recipe post. If you want to republish this recipe, please re-write the recipe in your own words and link back to this recipe.