Healthy baked sweet potato slices topped with spicy bacon guacamole. So easy to make, so full of flavor and a hit at any game day party!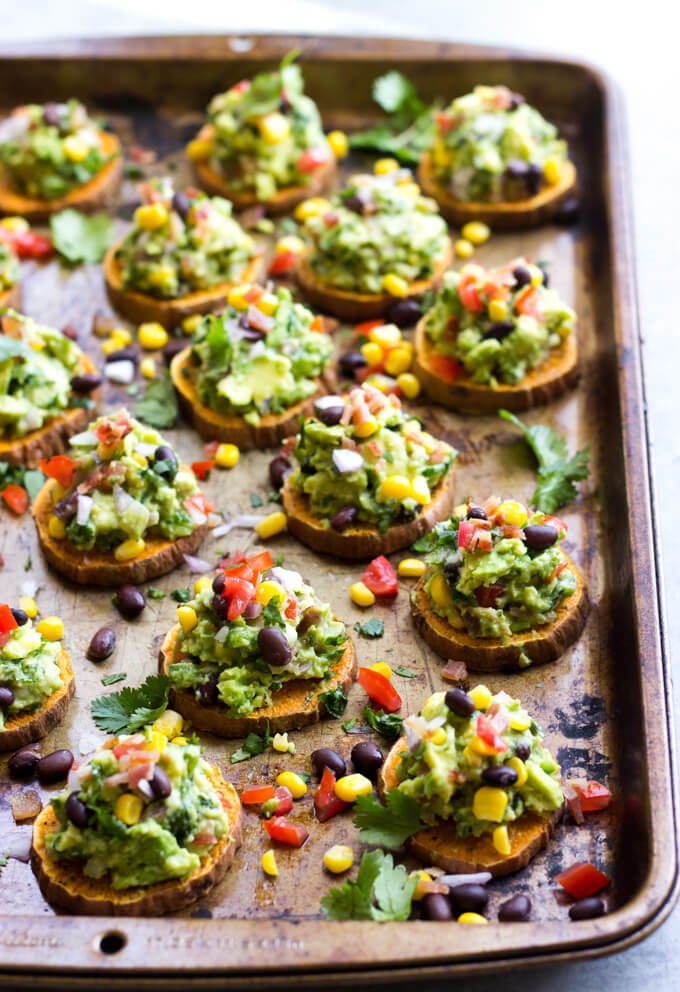 We're healthifying game day appetizers today with these baked sweet potato bites topped with spicy southwestern guacamole. These little bites are so easy to make and will leave your taste buds very happy. Plus sweet potatoes and guacamole is a match made in heaven! Sweet, smoky, spicy. Not to mention colorful, nutritious, and EASY to make! Now that's a type of appetizer I want to be eating when football is on.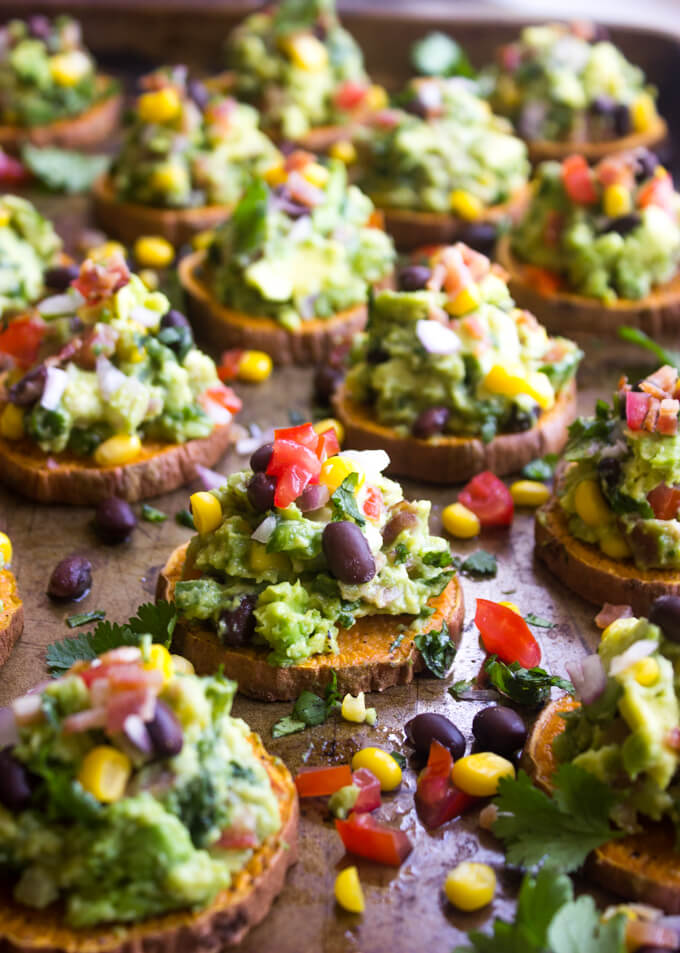 You basically start off with roasting the sweet potatoes. Try to pick even size potatoes. I know it's hard considering sweet potatoes range in size and shape. But you want to try to stick to even size slices as they will roast more evenly. Also, keep the skin on and slice them about 1/4-inch thick. You don't want to go any less as they will not hold up. Then lightly brush with oil, sprinkle with salt + pepper, and roast for 15-18 minutes. They should be soft, wrinkly, and somewhat golden brown on the bottom. ALSO – you want to roast these in the lower third of the oven. That's where you get the most heat. Then cool the potatoes slightly before topping with guacamole. They taste great completely cold or slightly warm.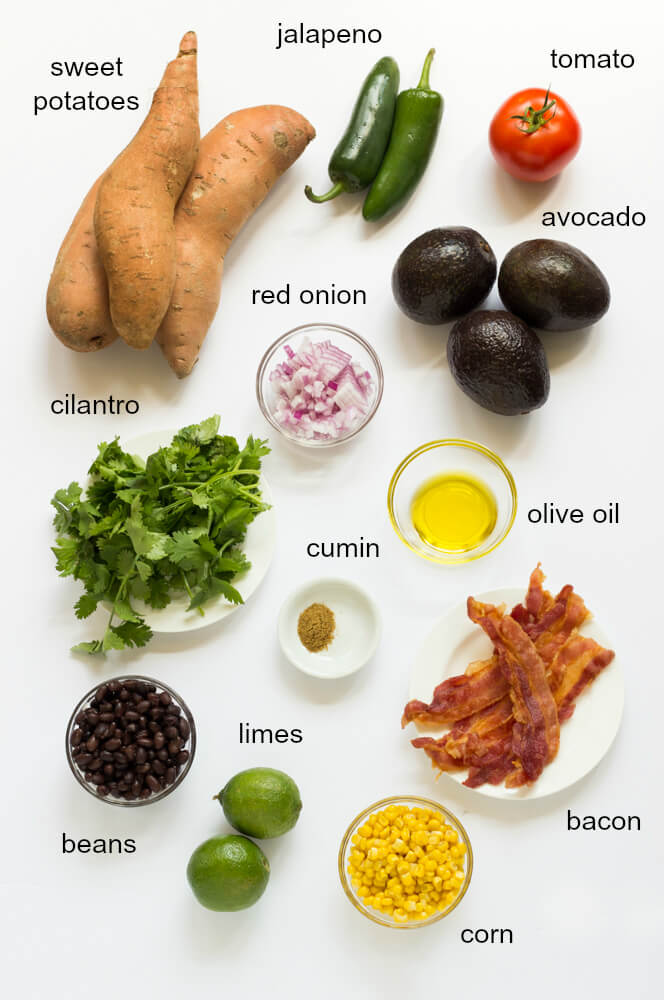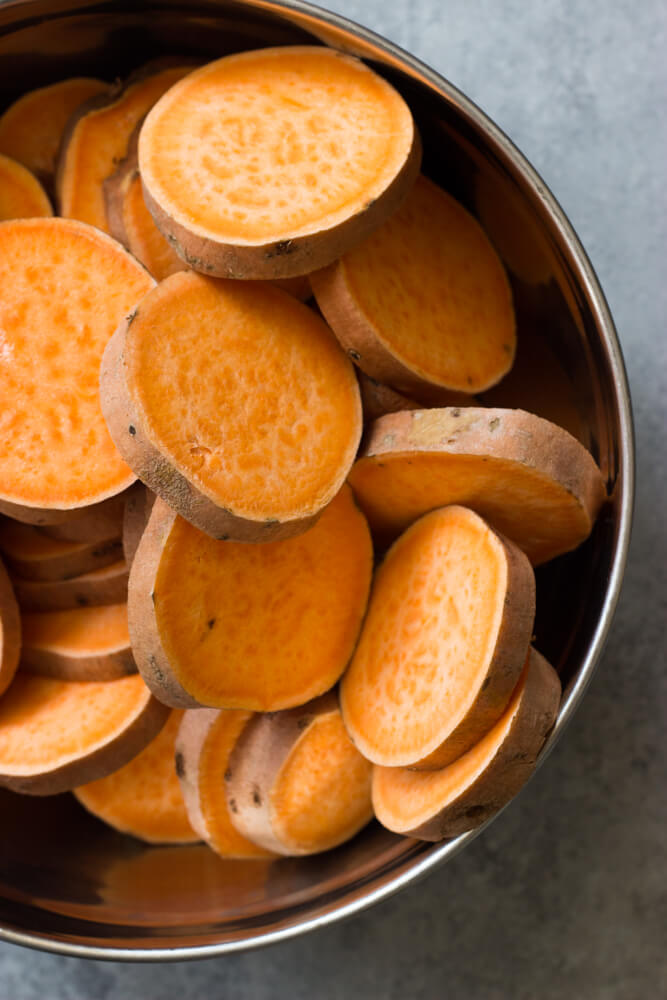 Then prep the guacamole. This guacamole is loaded with all kinds of good stuff. Corn, beans, red onion, tomatoes, jalapeno, cilantro, cumin, lime juice, and BACON! Bacon adds the perfect amount of smokiness to the recipe and jalapenos balance out the sweetness of the potatoes. The all together combo will leave your mouth very happy ♥♥♥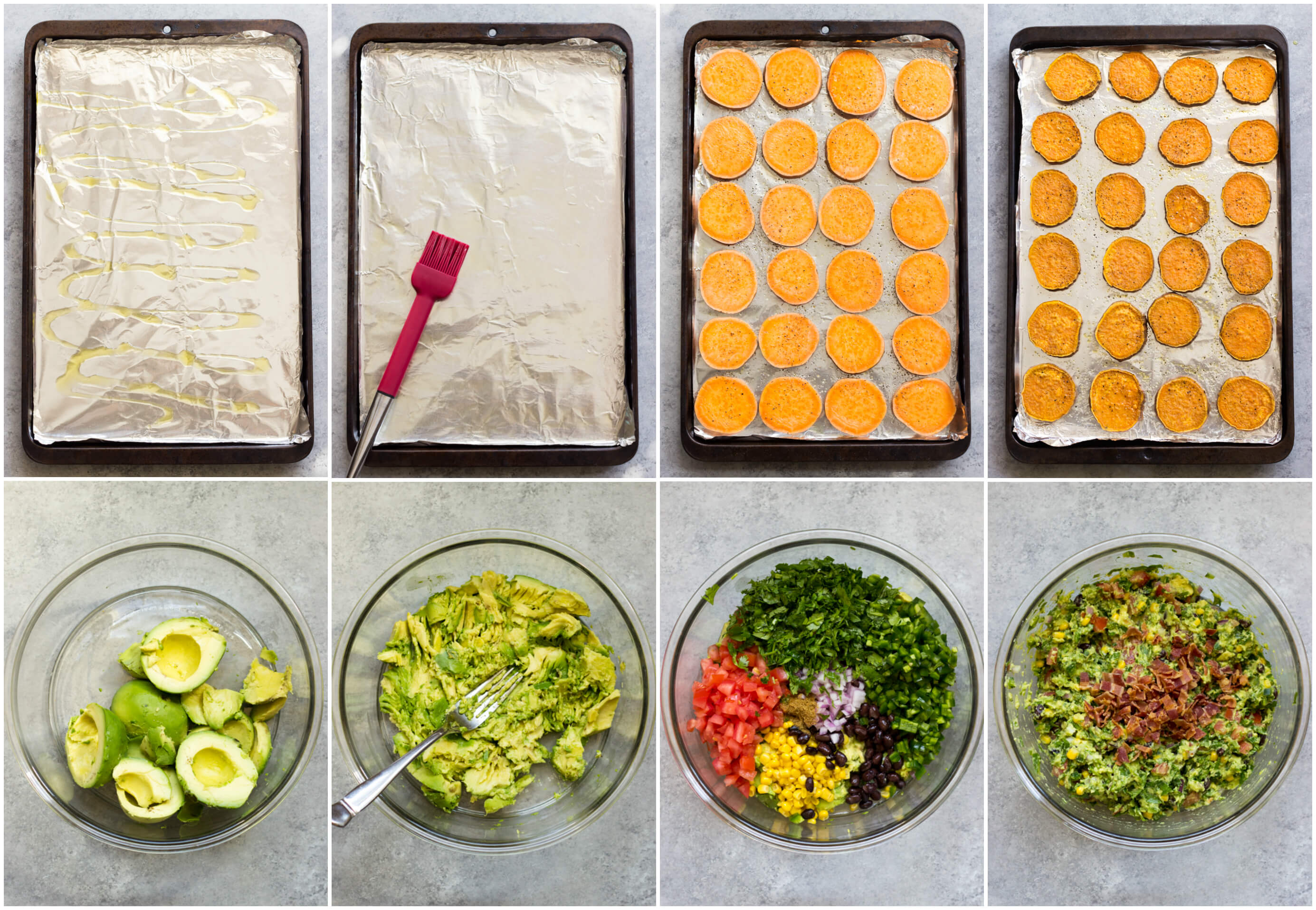 Make it. Snap it. Show it. Instagram @littlebrokenblog or snapchat → littlebrokenblg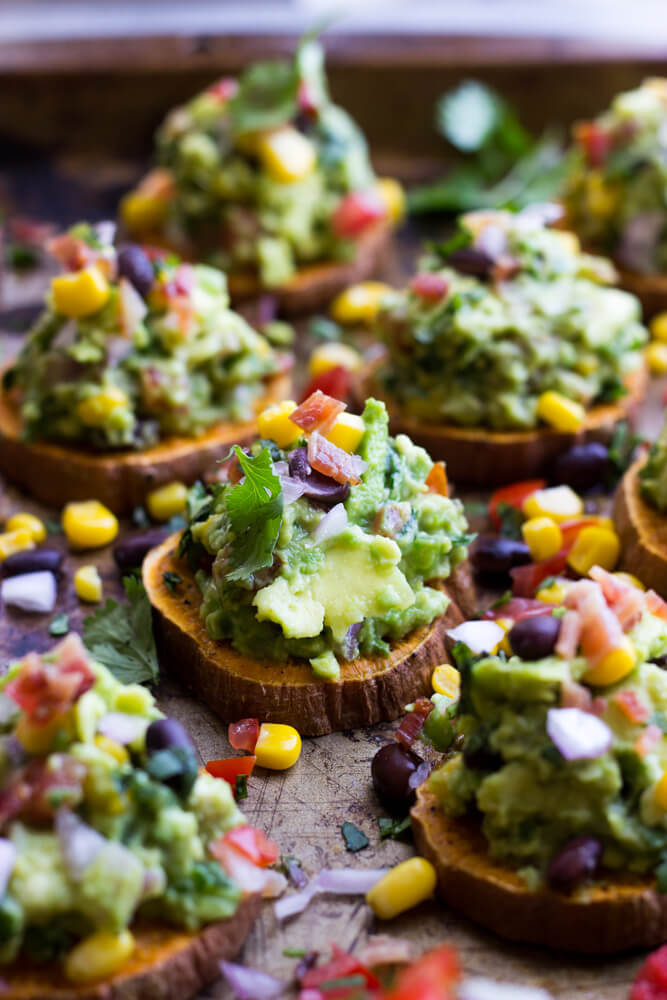 Sweet Potato Bites with Spicy Guacamole
Author:
Katya @ https://www.littlebroken.com
Ingredients
Potatoes
2 - 2½ pounds sweet potatoes, scrubbed clean but NOT peeled, sliced ¼" thick
1 - 2 Tbsp. olive oil, plus extra for greasing pans
½ tsp. sea salt
fresh ground black pepper
Guacamole
3 medium avocados
¼ cup cooked sweet corn
¼ cup canned black beans, rinsed and drained
¼ cup red onion, finely chopped
1 medium tomato, seeded and chopped
2 large jalapeno peppers, seeded and finely chopped
½ bunch fresh cilantro, chopped
½ tsp. ground cumin
3 Tbsp. fresh lime juice
4 bacon strips, cooked, cooled, and crumbled or finely chopped
salt and fresh ground black pepper
Instructions
Potatoes
Place the oven rack in the lower third of the oven and preheat oven to 450 degrees F.
Line two rimmed baking sheets with aluminum foil, drizzle lightly with olive oil, and distribute evenly using a pastry brush.
Arrange the potato slices in a single layer on the oiled baking sheets, then brush tops with 1-2 Tablespoons of olive oil. Sprinkle with salt and fresh ground black pepper, to taste.
Bake 15 -18 minutes. Potatoes will be soft, wrinkly, and golden brown on the bottom. Remove from the oven and allow to cool just slightly.
Guacamole
Cut each avocado in half lengthwise. Remove the pit from the avocado and discard. Remove the avocado from the skin, and place the avocado flesh in a bowl. Mash with a fork, leaving some chunks.
Add corn, beans, red onion, tomato, jalapeno, cilantro, cumin, and lime juice to the bowl. Fold in the bacon. Season with salt and fresh ground black pepper, to taste.
Top each potato slice with dollop of guacamole and serve immediately.
Approx serving size: 4 bites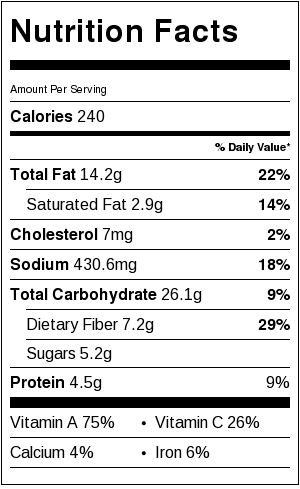 © Little Broken. All images and content are copyright protected. Please do not use my images without prior permission or claim my work as your own. Feel free to Pin, Tweet, Facebook and share away with a link back to the recipe post. If you want to republish this recipe, please re-write the recipe in your own words and link back to this recipe.