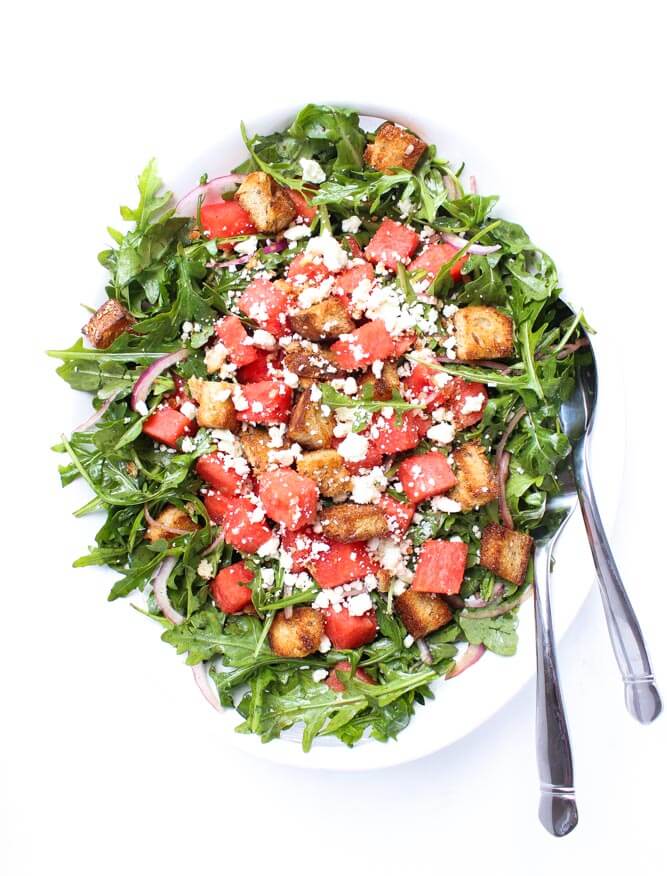 Watermelon + bread to some is probably a weird combo to me it's nostalgia food. Not sure if it's a Russian thing or what but growing up we always ate watermelon with bread. Sounds weird, I know but try it. It's good. So of course, when you put watermelon, bread, and bunch of other tasty stuff together it's going to taste amazing. Exactly what I did and don't be surprised but it's another salad.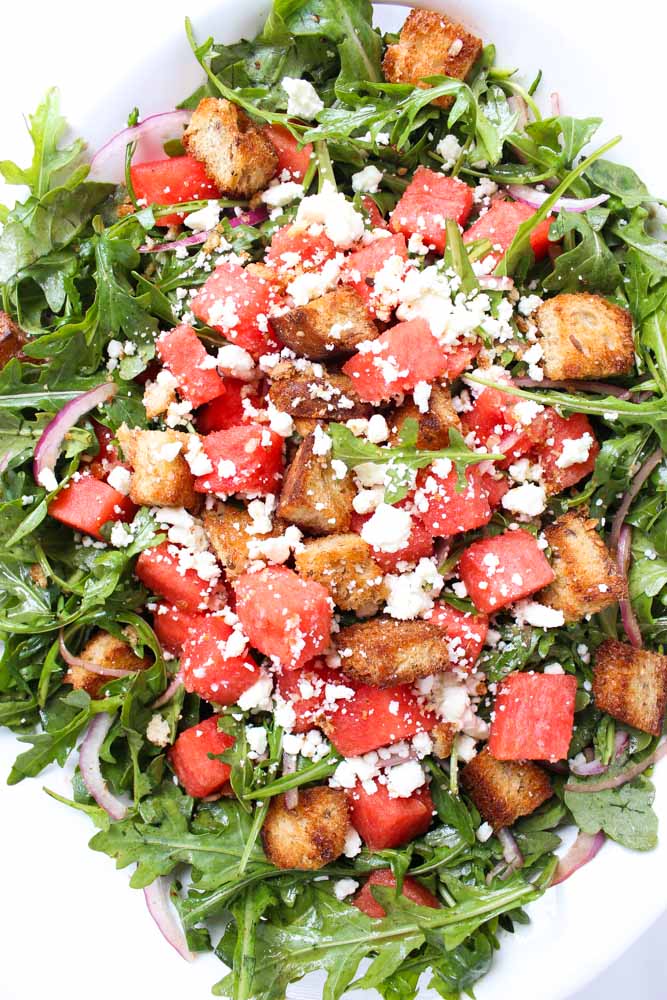 Panzanella is a delicious bread and tomato salad that is so popular in the summer time. Chunks of bread, tomatoes, onion, basil, dressed in olive oil + vinegar. I made my own version with quinoa + heirloom tomatoes that I shared last year and today I'm doing it again but with watermelon instead.
First off, I made this salad with arugula. Do you guys eat much of arugula? Because I don't. Probably because I don't see it that often at my grocery store. Arugula is actually a lovely green leafy vegetable that is very mild in taste when compared to other leafy greens and it fits just so perfectly here.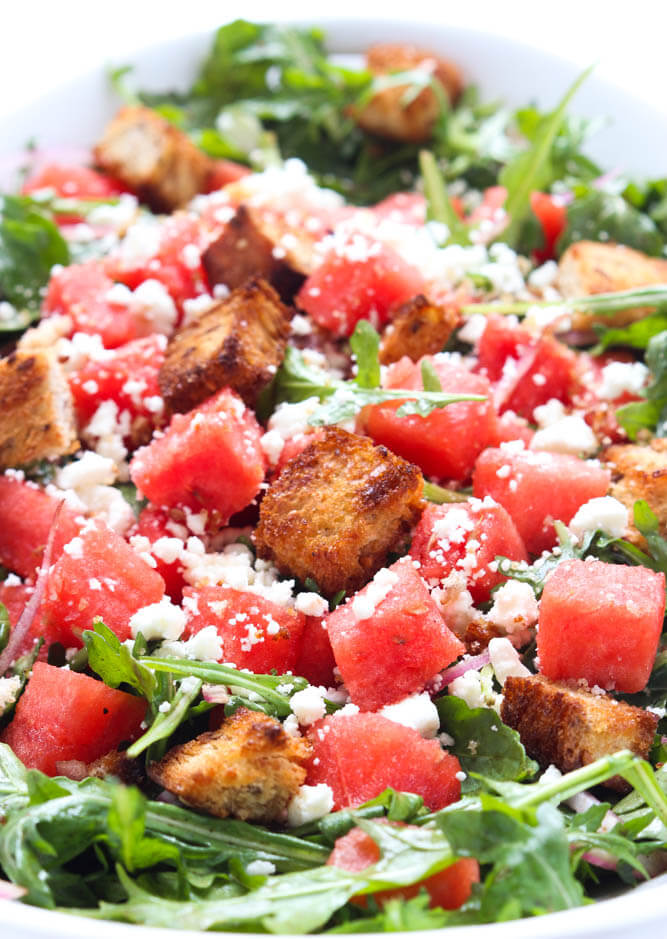 I combined arugula with crusty croutons, sweet juicy watermelon, little bit of red onion, and salty feta. I dressed the salad in a simple vinegar + olive oil vinaigrette. I used red wine and balsamic vinegar for a little variety in taste. I also made my own croutons which honestly guys is so easy. You can so get by using store bought here but nothing beats chunks of home baked croutons (stale bread works the best!).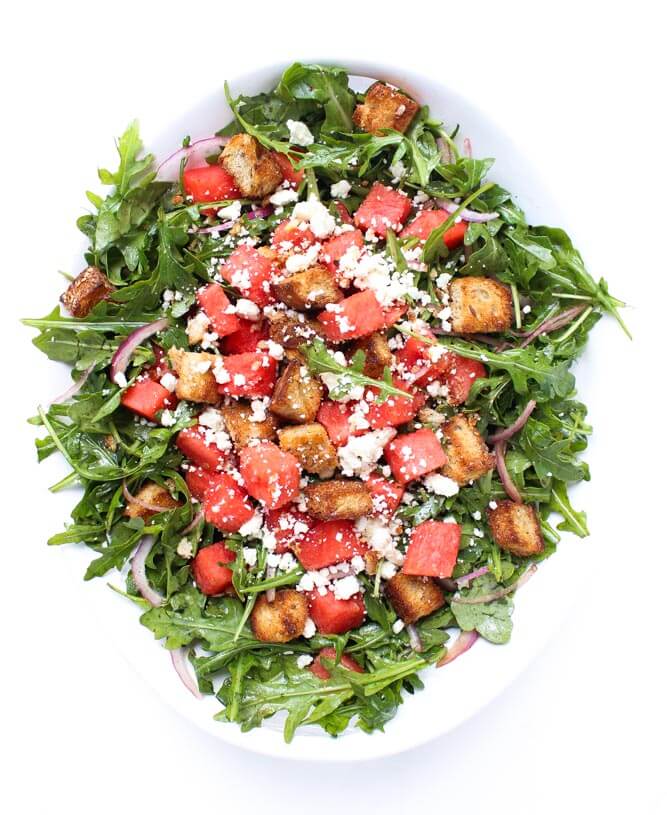 This salad here is seriously the perfect summer salad. Juicy burst of cold watermelon with crunchy bread and tangy feta on a bed of peppery arugula. So refreshing and light!
If you guys try it, tag me @littlebrokenblog and follow me showing me your food creations, whether from LittleBroken.com or your own: Facebook, Instagram, Pinterest.

Watermelon Panzanella
Author:
Katya @ https://www.littlebroken.com
Ingredients
2 slices crusty bakery style bread (such as multigrain), cut into 1-inch cubes
5 oz. bag of baby arugula
⅓ cup thinly sliced red onion
2 cups cubed fresh watermelon
3 Tbsp. crumbled feta
olive oil
Vinaigrette
1 Tbsp. balsamic vinegar
1 Tbsp. red wine vinegar
2 Tbsp. extra-virgin olive oil
salt + pepper
Instructions
Preheat the oven to 425F.
Lightly drizzle the bread cubes with olive oil. Toss to combine. Spread onto a baking sheet and bake for 8 minutes or until browned, flipping halfway through. Remove and cool completely.
While the croutons are cooling off, prepare the salad vinaigrette by whisking together the vinegars with olive oil. Season with salt and pepper to taste.
To serve, toss the arugula with red onion in a large bowl. Top with fresh watermelon cubes, croutons, and crumbled feta. Drizzle with vinaigrette and serve immediately.
© Little Broken. All images and content are copyright protected. Please do not use my images without prior permission or claim my work as your own. Feel free to Pin, Tweet, Facebook and share away with a link back to the recipe post. If you want to republish this recipe, please re-write the recipe in your own words and link back to this recipe.