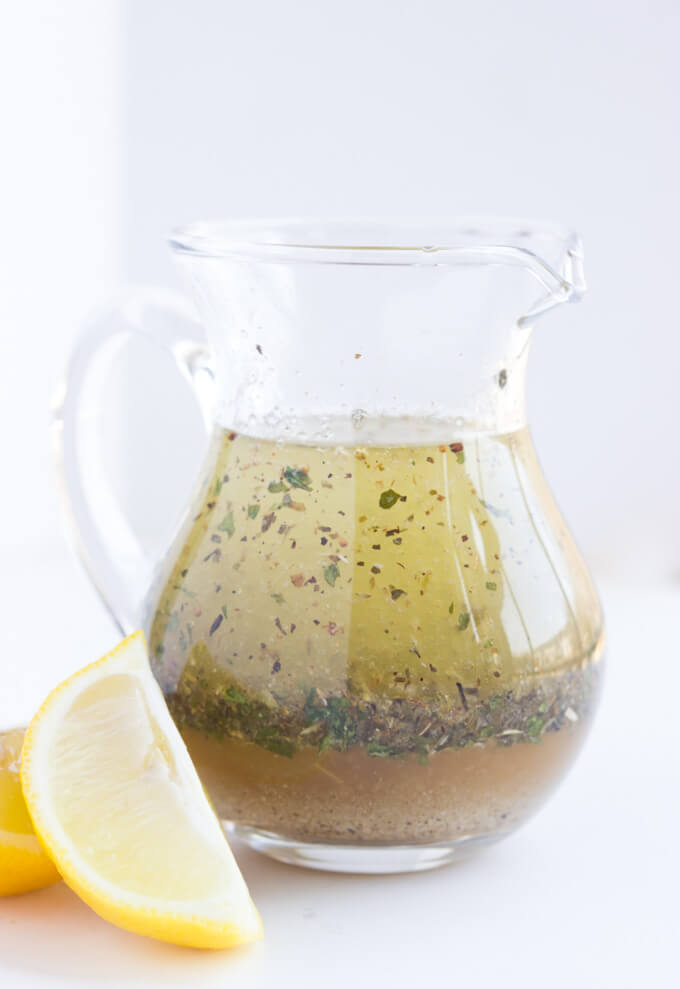 I have another tasty homemade dressing mix coming at you today!  My goal is to add at least one new recipe to the Dressing Recipe Index but no promises :). You would think that homemade salad dressings are easy and some are definitely yes! Salad dressing is very important element to any good salad, especially the seasoning. It can either make or break the salad. So I want to make sure mine work and are foolproof before I share them with you guys. That's why my weekends lately have consisted of this..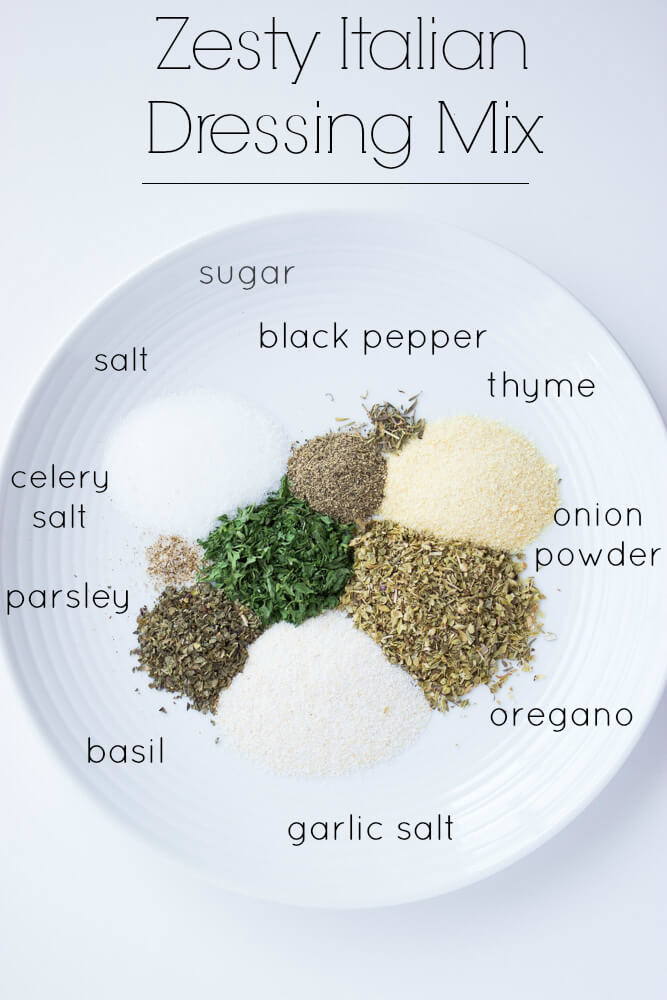 Multiple labeled little containers with dressings in them and loads of salad testing with the hubs. And notes that consist of little less of this and little more of that. I can't really complain though because this weather is perfect for salad testing and lunch dates with my one and only.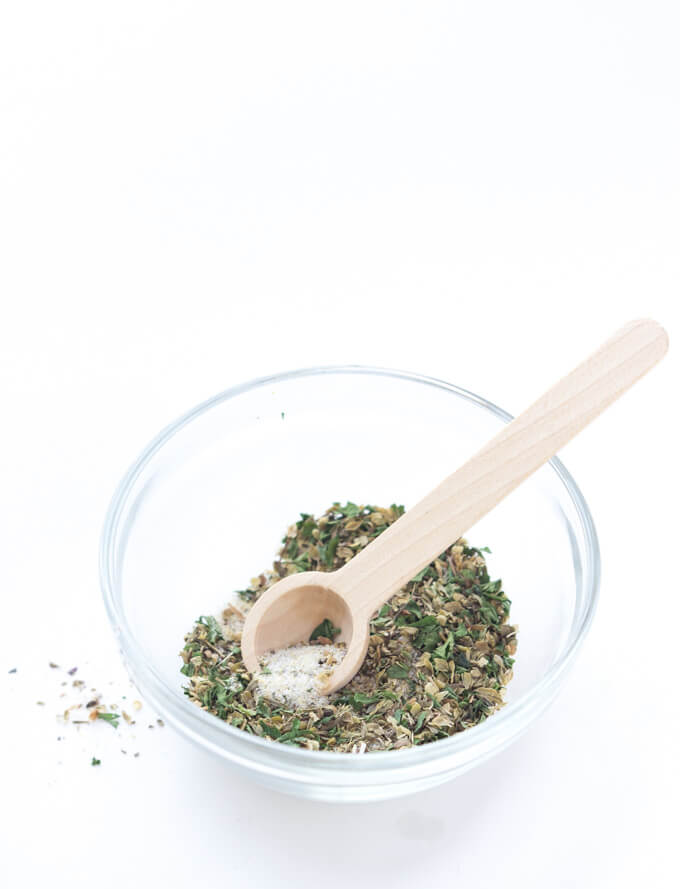 So today, I have a Homemade Zesty Italian Dressing Mix for you. If you love those Zesty Italian Dressings from the store this one is pretty close. It's definitely zesty and has ton of flavor. Making it not only delicious on a crisp fresh salad but as a marinade for chicken or seasoning for veggies (especially roasted potatoes). Super good and flavorful!
The dry dressing mix has 10 different spices that you can prepare and store in a tightly closed container. You can even double up on the recipe if you don't want to mess with measuring and spooning all the spices every single time but the BEST part is that this dressing mix yields 3 tablespoons, enough to make the dressing three times!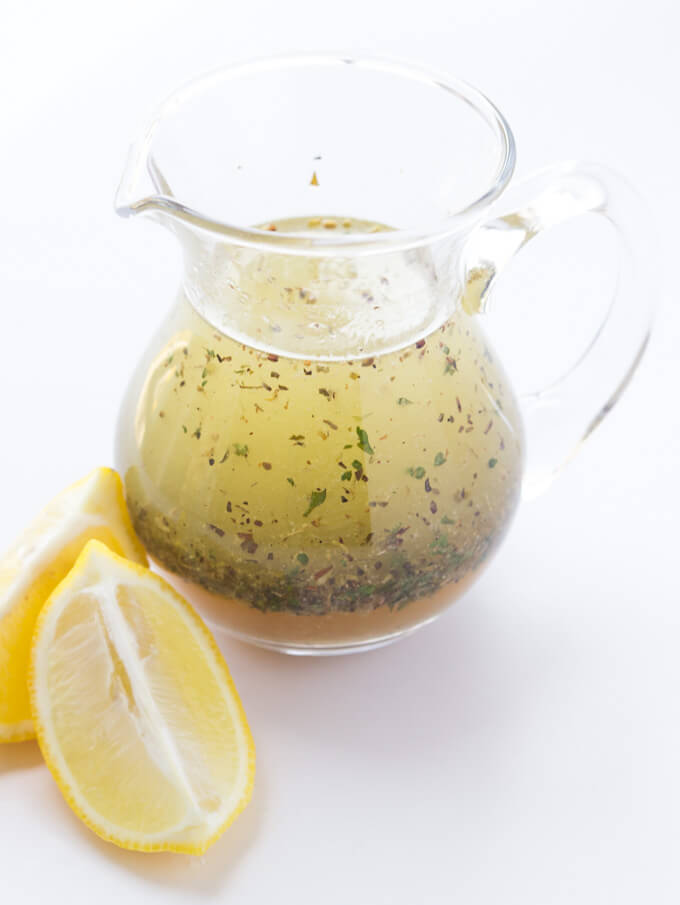 For the actual dressing, all you need are some basic pantry items: canola oil and white vinegar, plus water. I tested the recipe with extra-virgin olive oil and found that canola works the best. It has a neutral taste and light texture, so it does not overpower the taste of all the spices in this dressing. Whereas the olive oil tasted a bit too heavy.
So enjoy friends! Eat more salad and stay healthy. And don't forget to tag me @littlebrokenblog on Facebook or Instagram, showing me your salad creations. I want to see!!!

Homemade Zesty Italian Dressing Mix
Author:
Katya @ https://www.littlebroken.com
Ingredients
Dry Dressing Mix - yields 3 Tablespoons
1½ tsp. garlic salt
1½ tsp. onion powder
1½ tsp. granulated sugar
1 Tbsp. dried oregano
½ tsp. black pepper
⅛ tsp. dried thyme
½ tsp. dried basil
1½ tsp. dried parsley
⅛ tsp. celery salt
½ tsp. salt
To Prepare the Dressing - yields ⅔ cup dressing
½ cup canola oil
2 Tbsp. white vinegar
1 Tbsp. water
1 Tbsp. Dry Dressing Mix
Instructions
Dry Dressing Mix
Combine the spice ingredients in a small bowl and store in a tightly closed container.
To Prepare the Dressing
Whisk all the ingredients until combined. Serve immediately or store covered in the refrigerator up to 1 week.
Notes
**the dry dressing mix is light on salt so you may have to add additional salt to your salad or whatever else you're serving this on
© Little Broken. All images and content are copyright protected. Please do not use my images without prior permission or claim my work as your own. Feel free to Pin, Tweet, Facebook and share away with a link back to the recipe post. If you want to republish this recipe, please re-write the recipe in your own words and link back to this recipe.
adapted with changes from allrecipes.com