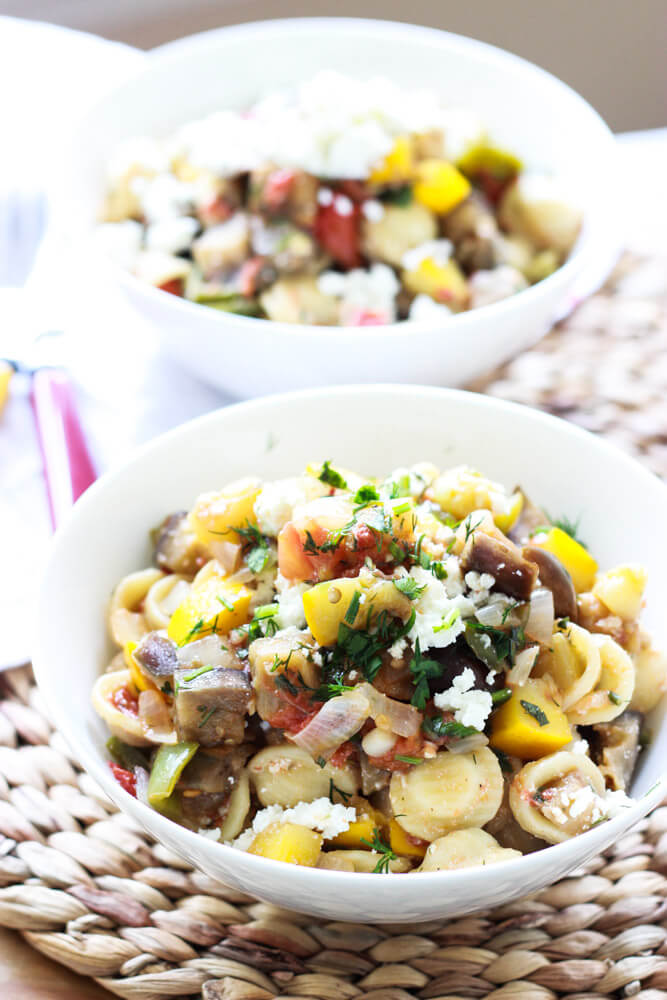 Eggplants. Not sure what but I sure LOVE them! Probably because I grew up eating a lot of them and it's another food that brings back memories. I also realized that every time I sit down to write a new blog post, how food always ties into my childhood. So many awesome memories.  That's why I cook.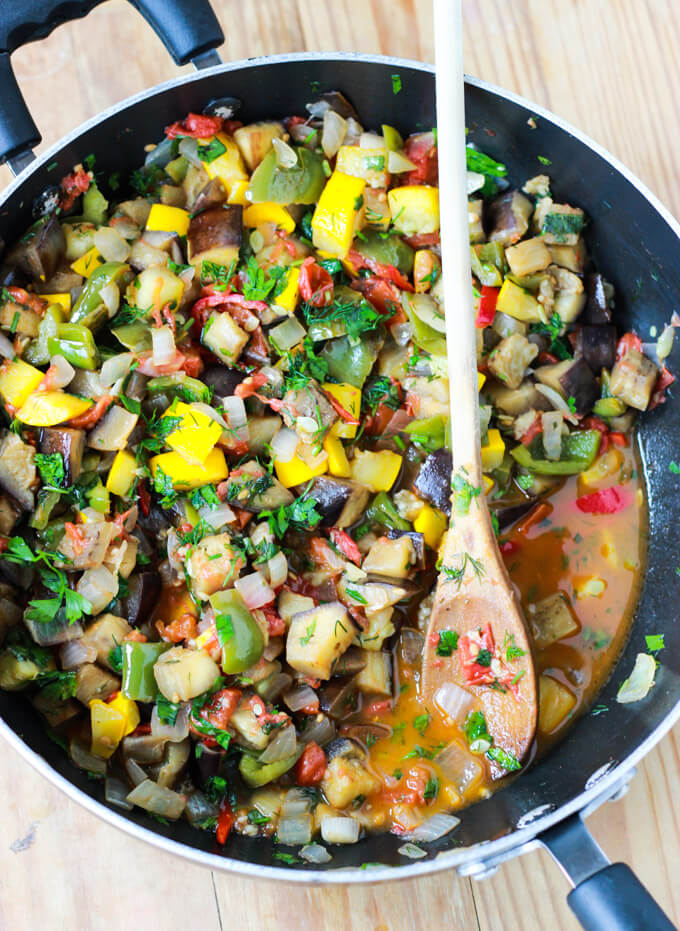 We visited our in-laws last weekend and my mother-in-law made ikra. Russian style eggplant spread that can be eaten as an appetizer or side dish. There are many variations of ikra but all have eggplant as the main ingredient. My first instinct was to make my own ikra and serve it over pasta but then I didn't want to have pasta with mushy vegetables as they are too pretty and colorful right now. Instead, I made my own version of "ikra" by chopping the vegetables into larger pieces and cooking them separately. Different textures, colors and just so oh good.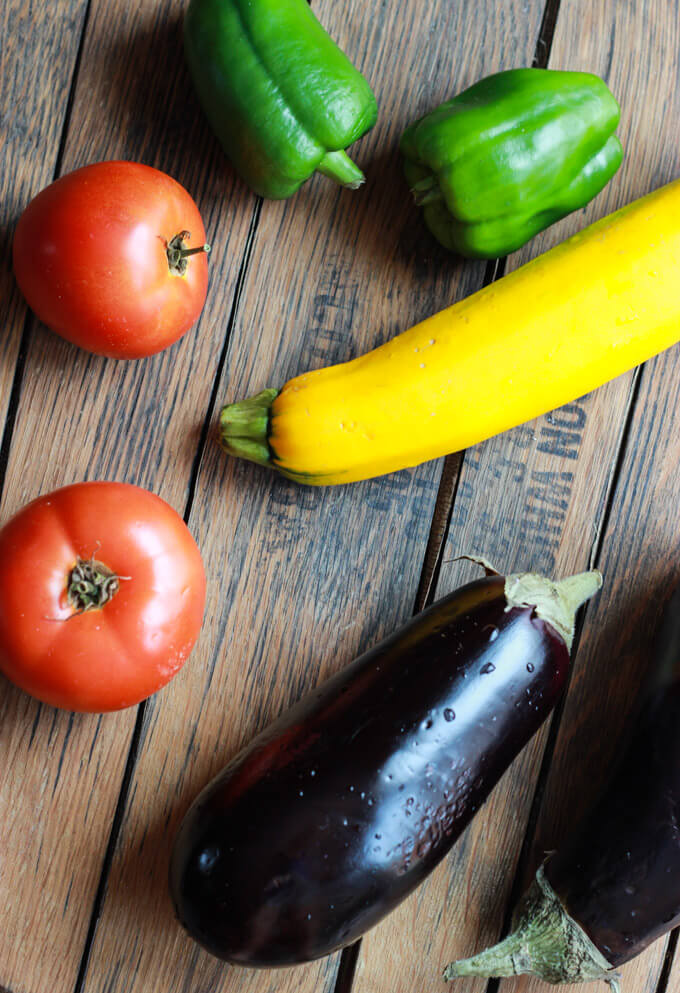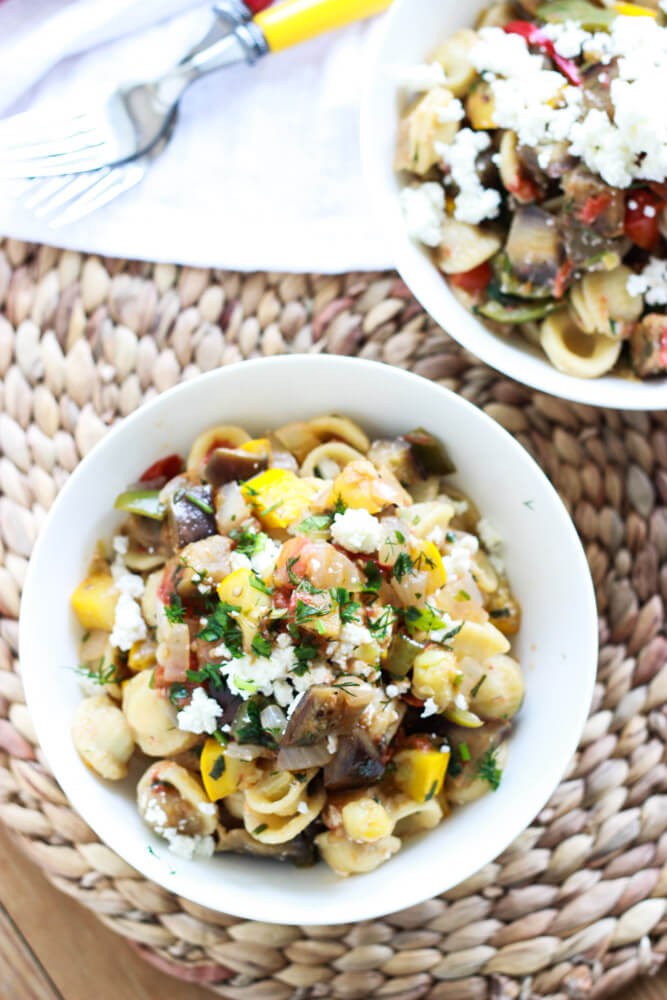 I sauteed the eggplant, zucchini, bell peppers, tomatoes, and onion one by one separately in one pan and layered the cooked vegetables into a second pan, which I later brought to a simmer and added the rest of the ingredients. That way all the flavors and juices of the cooked vegetables are not lost between transferring to different bowls. I served it over hot orecchiette or as my sons likes to call it "little hats pasta" and sprinkled crumbles of fresh farmer's market ricotta atop. Too good to pass.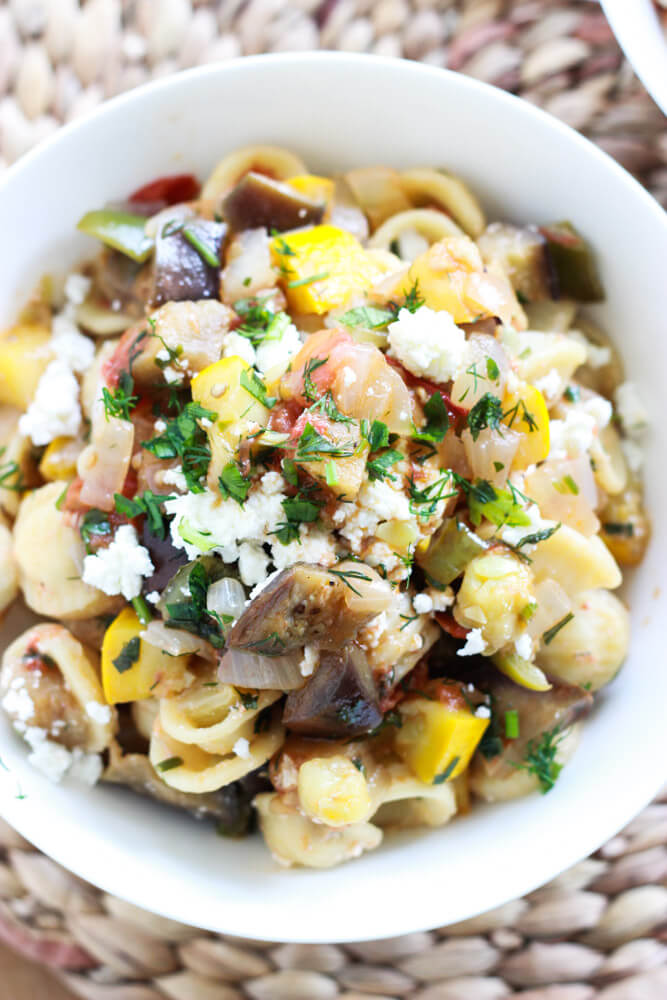 It's a winner. I promise. Even hubby took a couple bites and he hates pasta. I know. How in the world is that possible?!
.
Farmer's Market Orecchiette with Fresh Ricotta
Ingredients
2 large tomatoes, chopped 1/2-inch
1 large onion, chopped 1/2-inch
3 small bell peppers or 2 medium, chopped 1/2-inch
1 large yellow squash, chopped 1/2-inch
2 medium eggplants, chopped 1/2-inch
1/2 red chile, thinly sliced
3 large garlic cloves, pressed
1 dry bay leaf
1/2-3/4 cup fresh herbs (cilantro/dill/parsley), chopped (I like a lot of herbs but you can go with less)
1 lb. orecchiette pasta
10 oz. fresh ricotta cheese
canola oil
sea salt and fresh ground pepper
Instructions
In a large saute pan heat canola oil over medium heat. Add tomatoes and saute for 10 minutes or until the tomatoes cook down. Transfer the cooked tomatoes to a large clean saute pan and set aside.
To the first saute pan, add the onions and cook until transparent, about 5 minutes. Transfer to the tomatoes.
Next, saute the bell peppers for 5 minutes or until softened and blistering. Transfer to the tomato mixture.
Saute the squash for 10 minutes or until lightly browned and softened. Transfer to the tomato mixture.
Lastly, saute the eggplants for approximately 10-12 minutes or until lightly browned. Transfer to the tomato mixture.
Turn up the heat to medium-high and bring the tomato mixture pan with all the vegetables to a simmer. Lower the heat to medium and add the red chile, garlic, and bay leaf. Season with salt and pepper. Simmer for 2-3 minutes. Add the fresh herbs. Remove the pan from heat and mix gently.
In a pasta pot, cook orecchiette according to package directions, approximately 9-11 minutes or until tender. Drain and add little bit of butter to prevent from sticking if not serving right now
To serve, spoon the cooked pasta to a serving bowl, add vegetables and ricotta crumbled over the top. You can also mix the pasta and vegetables together with ricotta and serve it that way. Either way is fine and delicious!
Notes
You will need to add additional canola oil to the sauteing pan as you go.
https://www.littlebroken.com/2014/08/10/farmers-market-orecchiette-with-fresh-ricotta/
Katya @ https://www.littlebroken.com