Postpartum food diary documenting what I eat in a day. Simple, quick, and healthy!
This post may contain affiliate links. Please read our disclosure policy.
I attempted to food prep again this week and the more I do it the more I realize how much better I eat. It's definitely nothing new to me but I guess in the past I never made the effort or set aside the time to do it. For me, it's always hard to find the time to eat lunch. I'm known to snack my way through lunch. So meal prepping my lunch has been insanely convenient. Last week I made roasted veggie quinoa bowls and this week it's all about a loaded chopped chicken salad with the most delicious honey-mustard dressing. You guys this dressing is SO GOOD! And I'm not even a huge lover of honey-mustard but I wanted to try something new and this one is a definite keeper.
BREAKFAST
So I tried the Ezekiel bread for the first time and I'm not so sure if I like it as much as the Rudi's bread that I mentioned in last weeks post. Ezekiel bread is very bland and more dense than Rudi's. On a positive, it does have a little better ingredients though. I guess if you're not eating it straight up it's not too bad. I had it in a toast form with mashed avocado as the base, smoked salmon, and fried egg. With ALL the coffee of course. Every time I make a trip to Whole Foods, I pick up Califia coconut cream + almond milk creamer. It's my all time favorite non-dairy creamer from the store.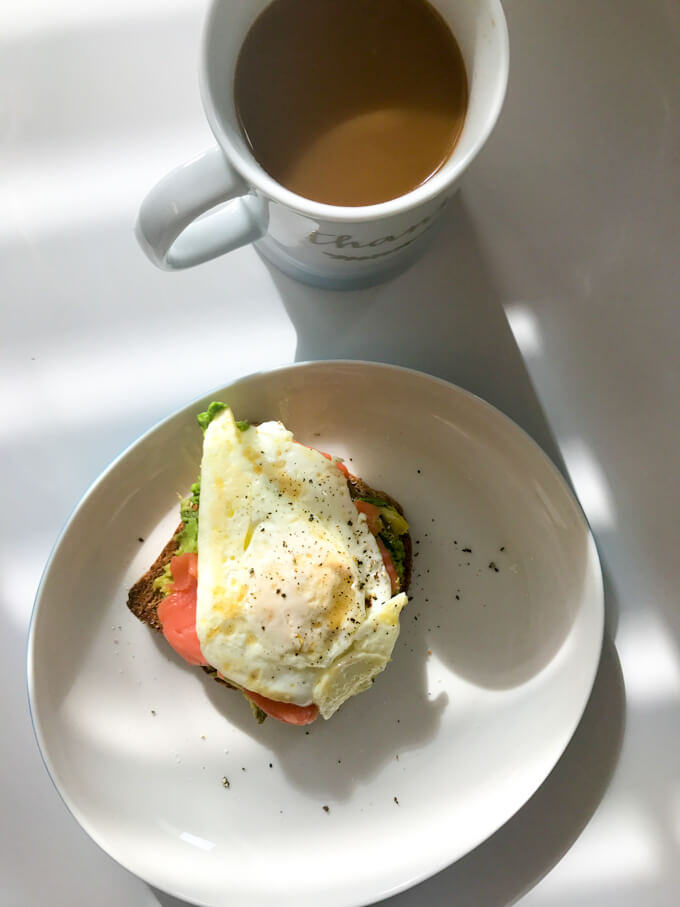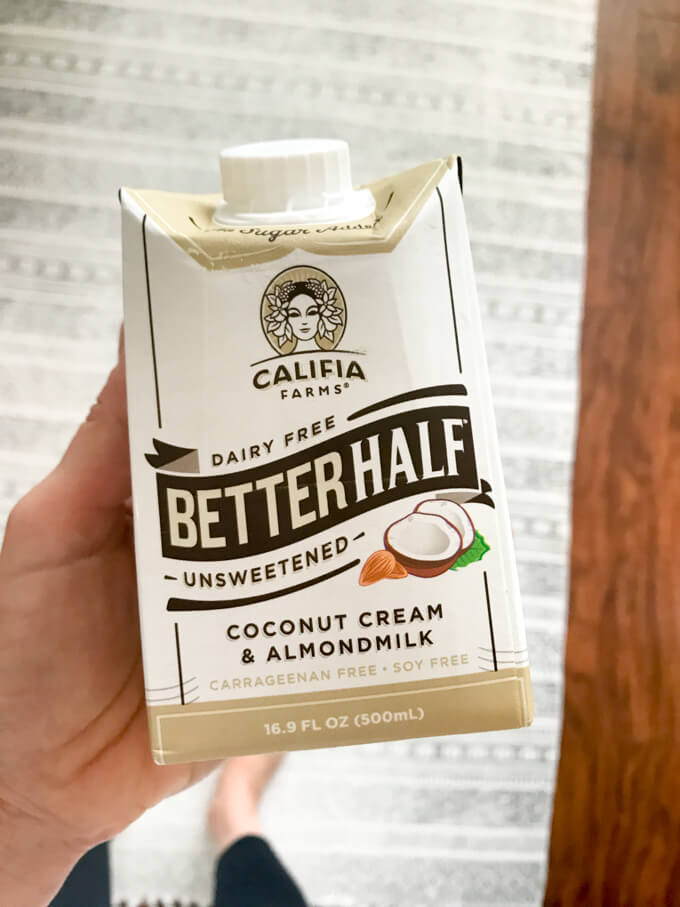 A.M. SNACK
I got my order of RxBars this week and it had two free bars of Pumpkin Spice flavor. I had really high hopes for this one but it just didn't do it for me. So far chocolate sea salt has been my absolute favorite! It tastes like legit dessert.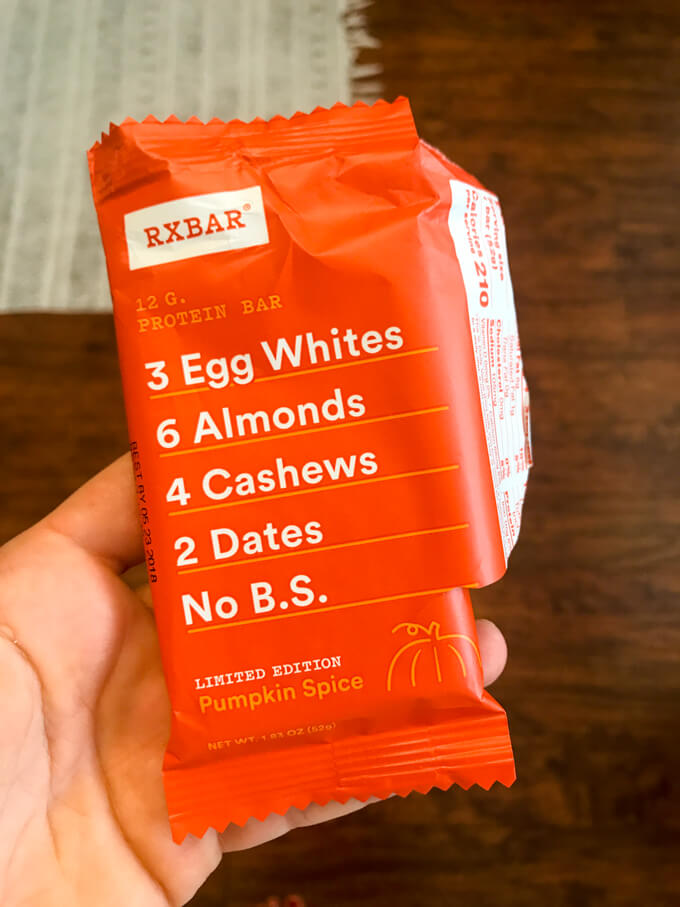 LUNCH?
PB toast with LaCroix. What was supposed to be pre-lunch snack ended up being my lunch. Ha ha. Because honestly guys some days are just a struggle to even make legit lunch.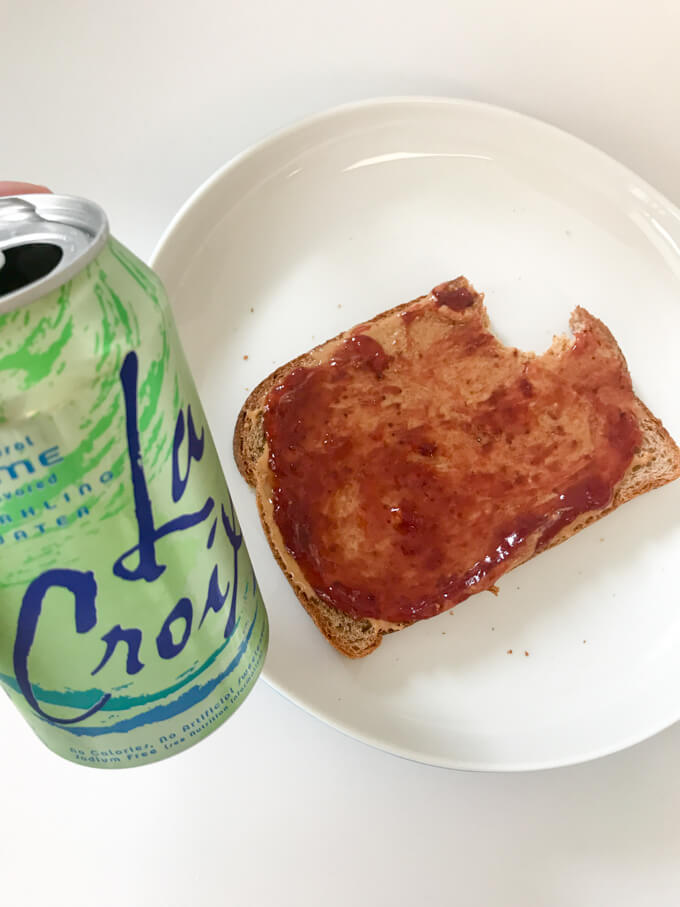 DINNER
Dinner was this insanely delicious loaded chicken salad that I meal prepped earlier in the day. It was meant to be lunch but I ran out of time. It turned out so flavorful! It's all in the chicken and honey-mustard dressing.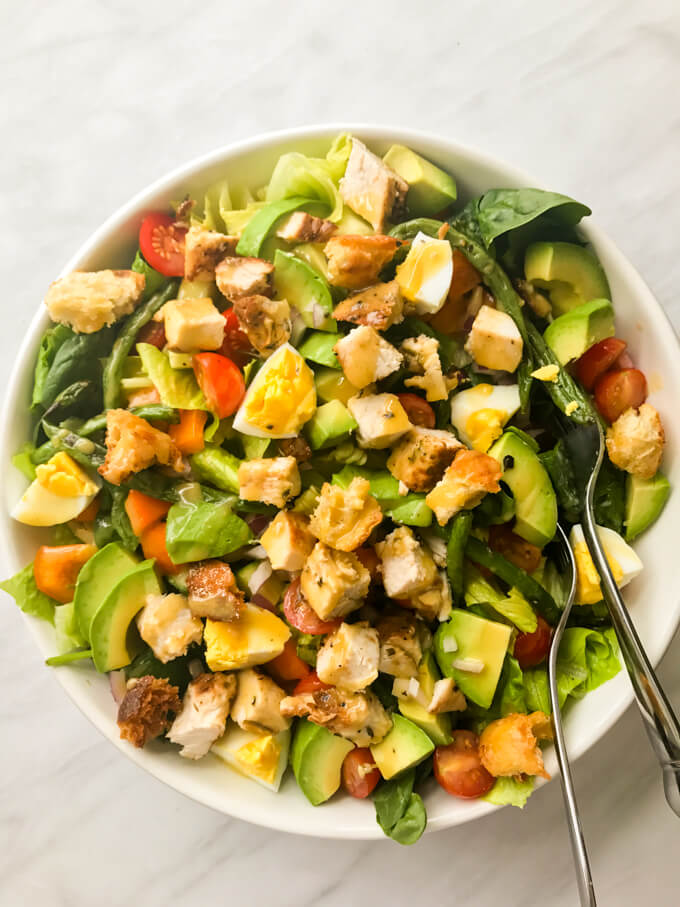 For the chicken marinade: combine 2 Tbsp. olive oil, 2 Tbsp. fresh minced rosemary, 1 Tbsp. fresh lemon juice, 1 Tbsp. minced garlic, salt + pepper, to taste. Add 3 chicken breasts (about 1 1/2 lbs. total). Cover and let marinate 30 minutes in the fridge.
To cook the chicken: heat a large oven safe pan (I used cast-iron) with little oil, add chicken and sauté for about 2-3 minuter per side or until lightly browned. Transfer the pan to 400 degree F oven and finish cooking. Mine took about 20 minutes.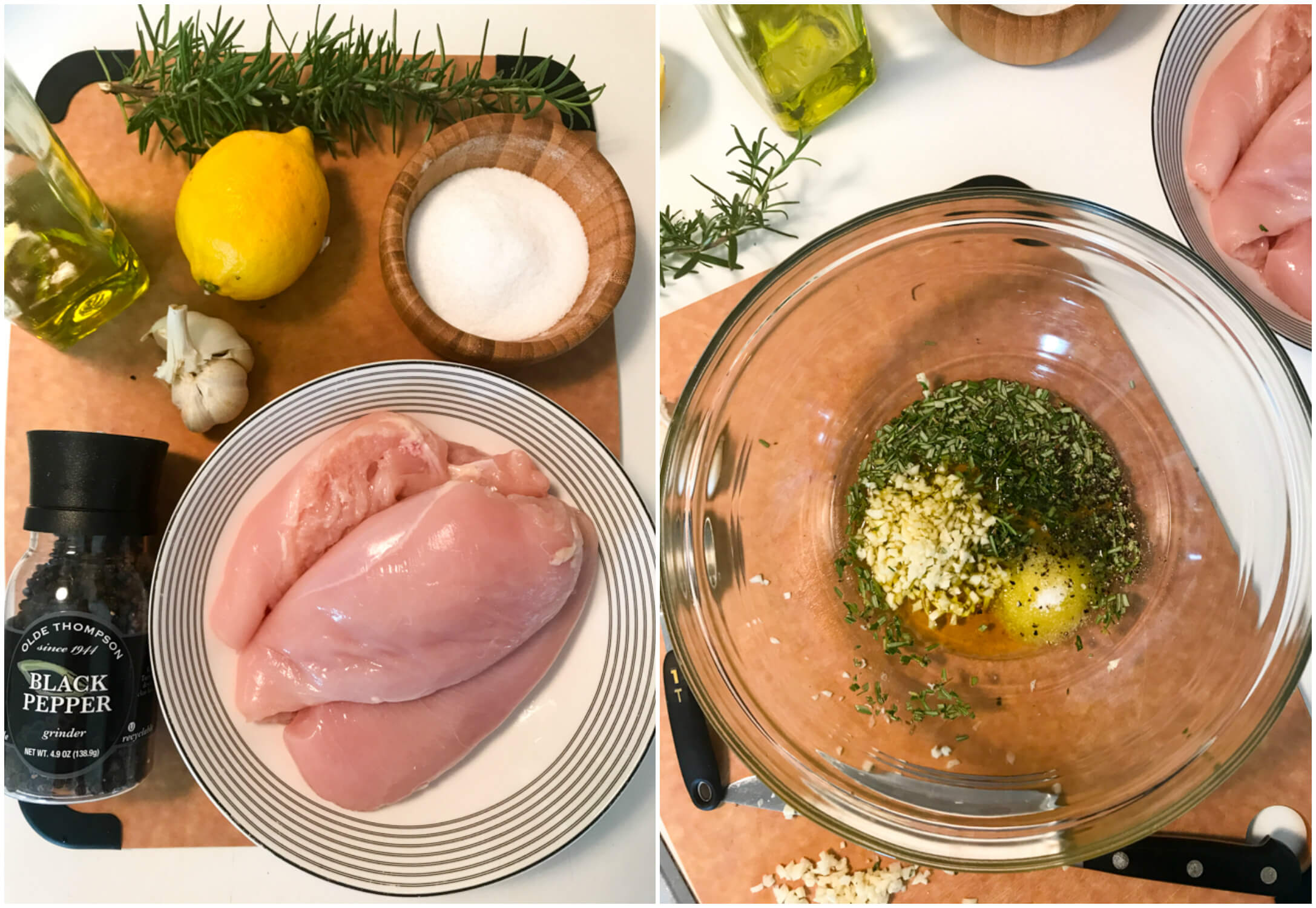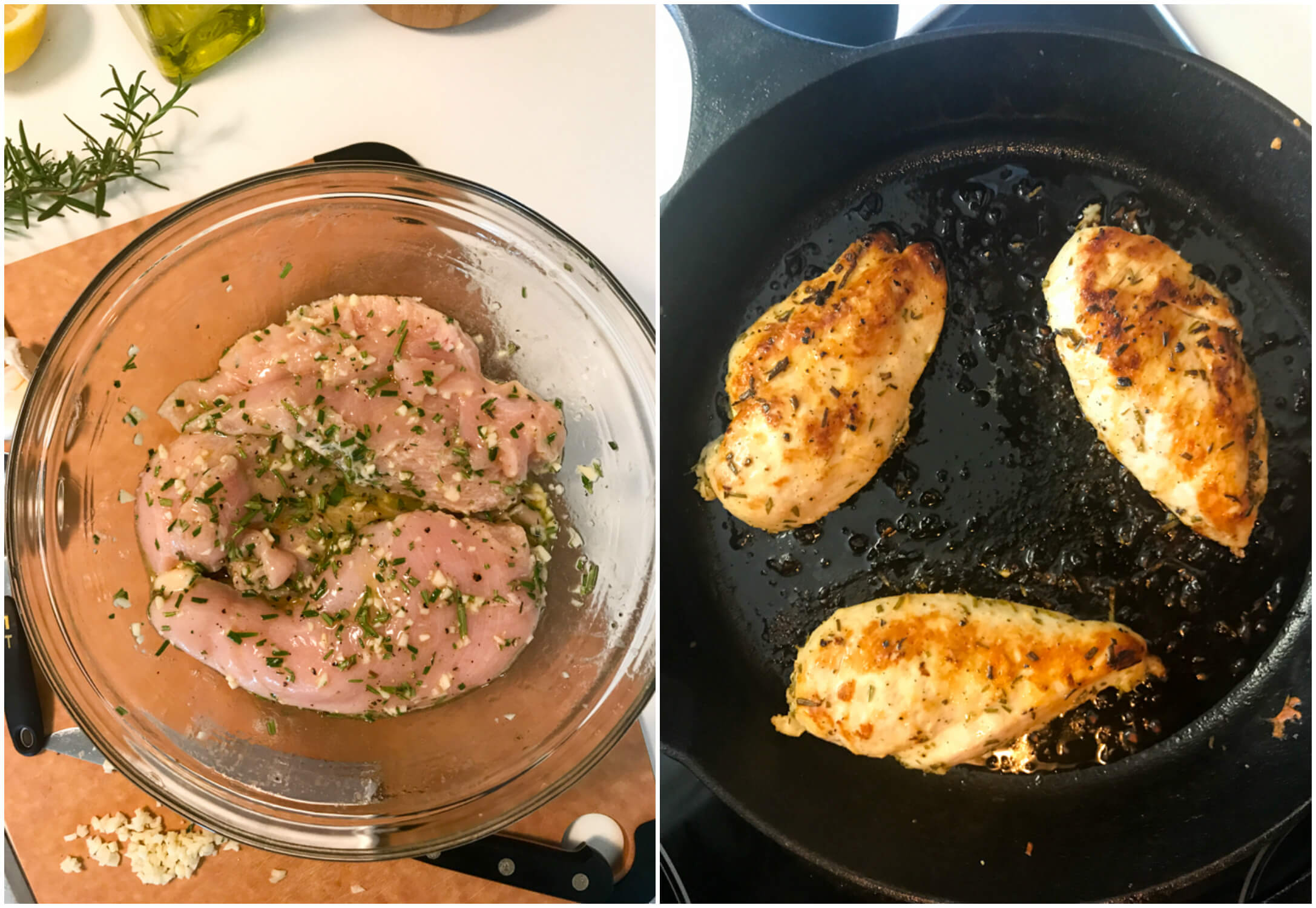 I chopped up variety of different veggies to store in tupperware: romaine + spinach, cherry tomatoes, avocado, red onion, hard-boiled eggs, roasted green beans, bell pepper, avocado, and croutons. For the croutons, I had couple day old stale bread that I tore into chunks with little olive oil and toasted in the oven (400F) until crunchy.
Okay so the salad dressing turned out way better than I expected. Perfect blend of sweet and tart. I was looking for honey-mustard recipe online that didn't use any mayo and came across this recipe. I tweaked it just so slightly: 1/4 cup + 1 Tbsp. Dijon mustard, 1/4 cup honey, 1/4 cup apple cider vinegar, 1/4 cup olive oil, salt + pepper, to taste. Whisk everything together except the olive oil, then gradually whisk in the olive oil.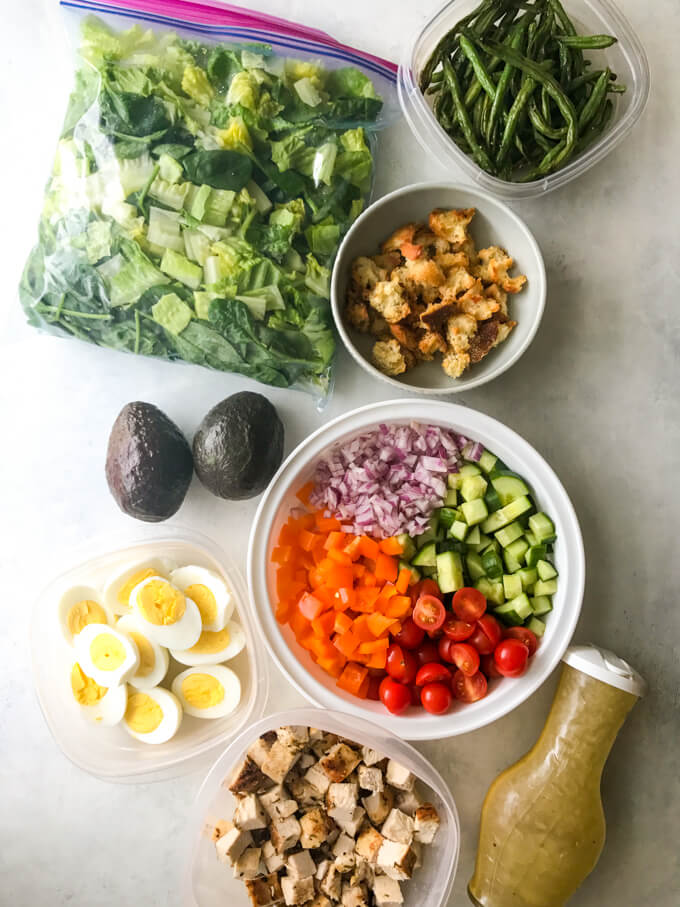 EVENING SNACK
or should I say more like my attempt to stay awake 🙂 Coffee + coconut dates. I've been reheating leftover morning coffee to have later in the day or sometimes I'll make iced coffee out of it. I stocked up on coconut dates at Whole Foods and they are so yummy with tea or coffee.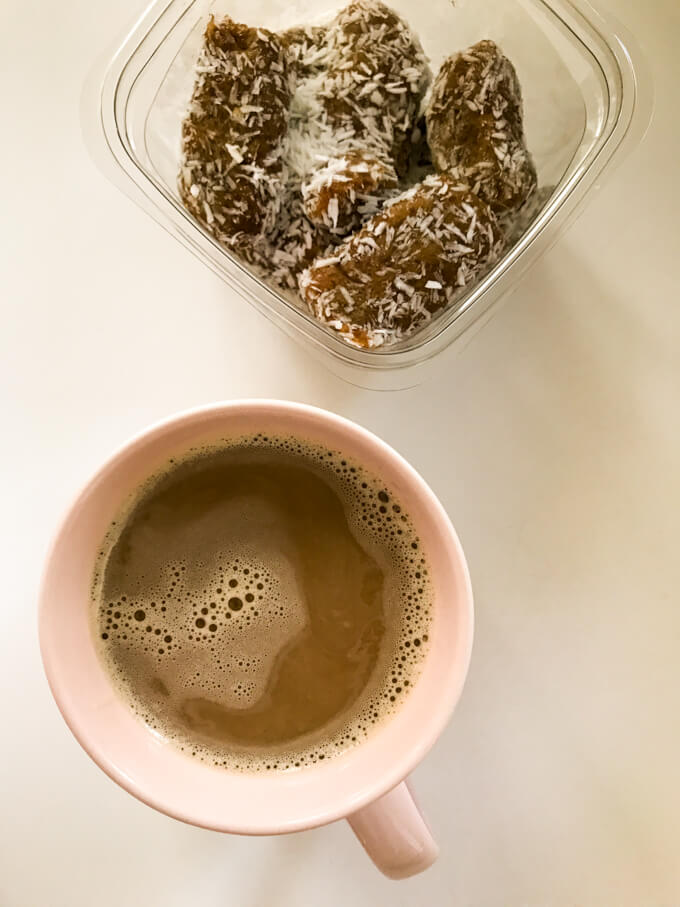 Last weeks What I Ate Wednesday #6