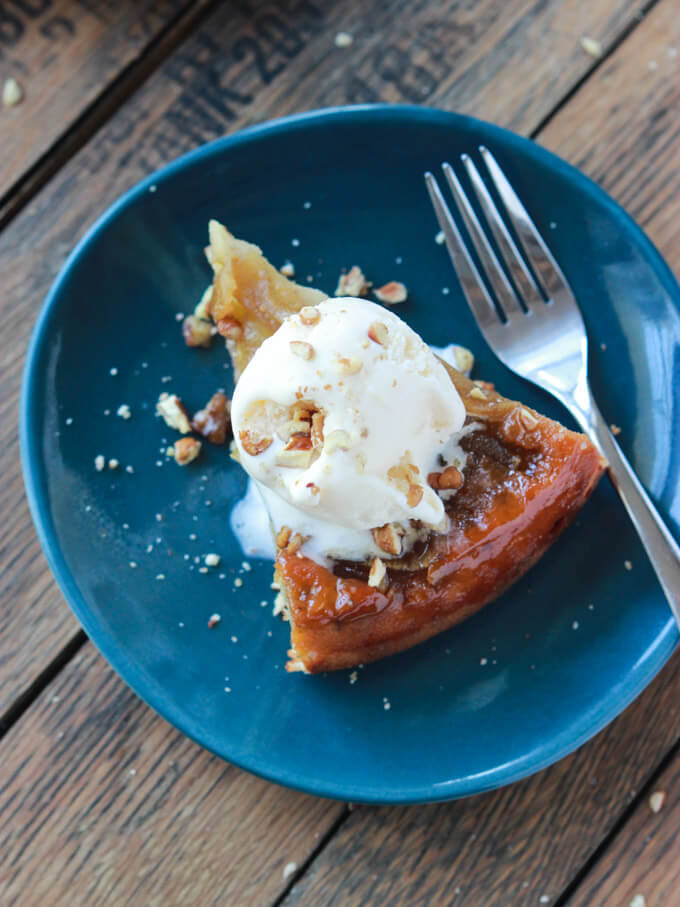 This post may contain affiliate links. Please read our disclosure policy.
We spent last Sunday at an apple orchard about an hour away from us. Absolutely beautiful orchard on never ending acres of open land in the middle of nowhere. Weather was amazing and overall day was just perfect. We got some beautiful apples, picked up some fresh farm produce and ate some delicious BBQ. I love everything about fall!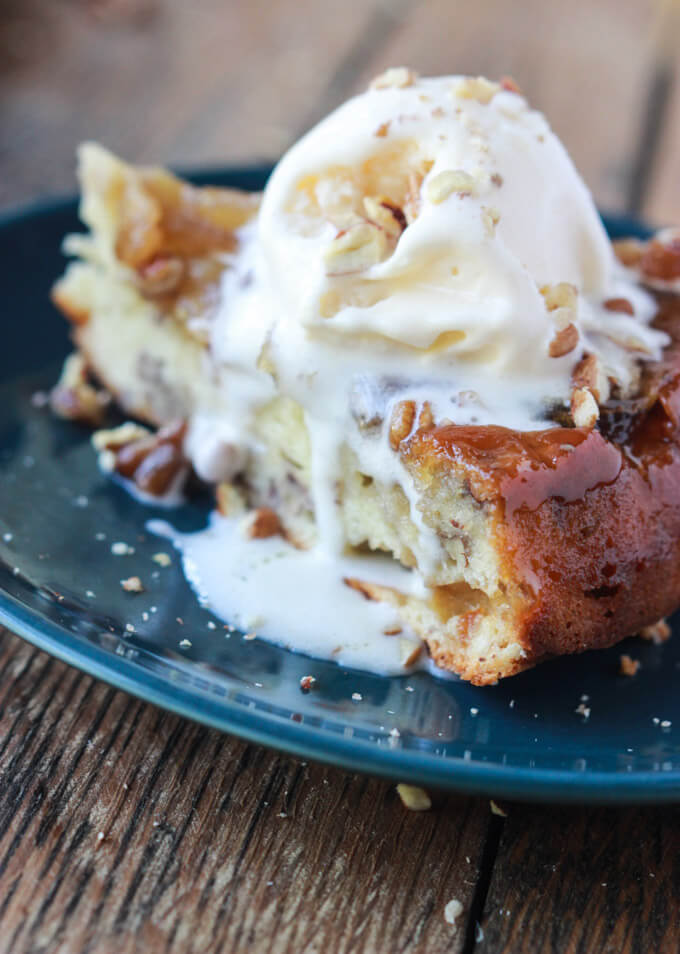 It was my first time picking apples and of course I overdid it a little. We brought home close to 25 pounds of red delicious, green delicious and yellow delicious apples. So this week I've been in an apple mode. Trying to make the most out of them before they go bad. One of my favorite things to make is homemade applesauce.
I started making my own last year after coming across a simple Homemade Applesauce recipe from The Pioneer Woman, with only 5 ingredients and all in one pot. It seriously does not get easier than that. Another way I love using apples is in chili. White Chicken Chili with Apples has become our family favorite. It's kind of a fall ritual that I make during colder days. Super quick and everyone loves it, which is a plus!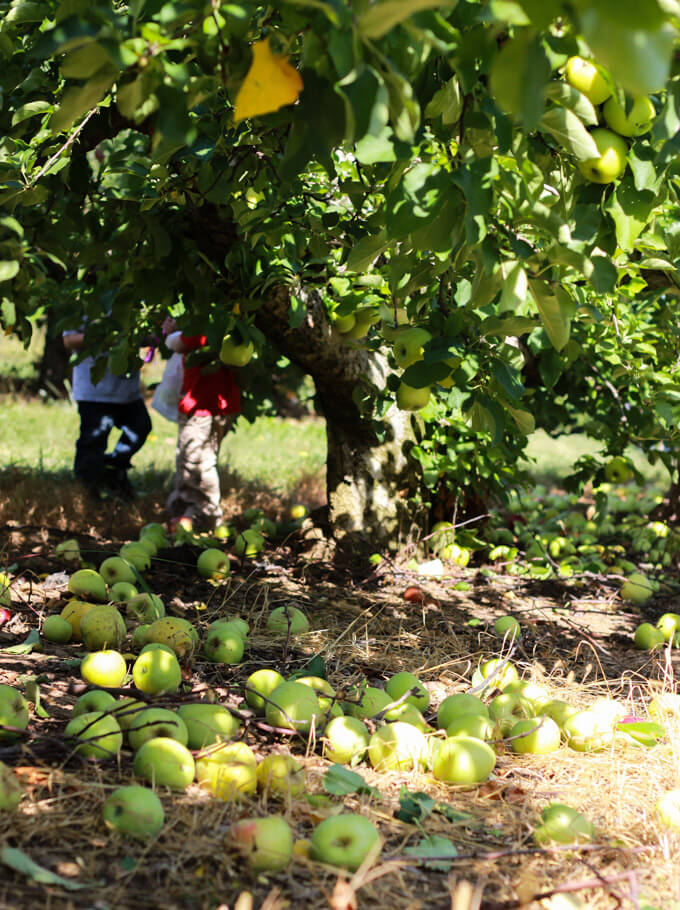 Apple Upside-Down Cake is another great way to take advantage of all the apples right now. It's a quick and easy recipe (perfect for beginners) or for those last minute get togethers. You can use any apples really. I used Golden Delicious but Granny Smith, Honeycrisp, Gala or any apple in season will do. You want to be gentle with the batter and not to overmix when folding in the flour and yogurt to avoid having a dense cake. So handle with care 🙂
As far as serving, well as you can see I went with the obvious route. Vanilla ice cream atop of anything hot, sweet, gooey, and caramelized is just impossible to resist. But you can simply serve it naked with cup of tea, coffee or glass of cold milk.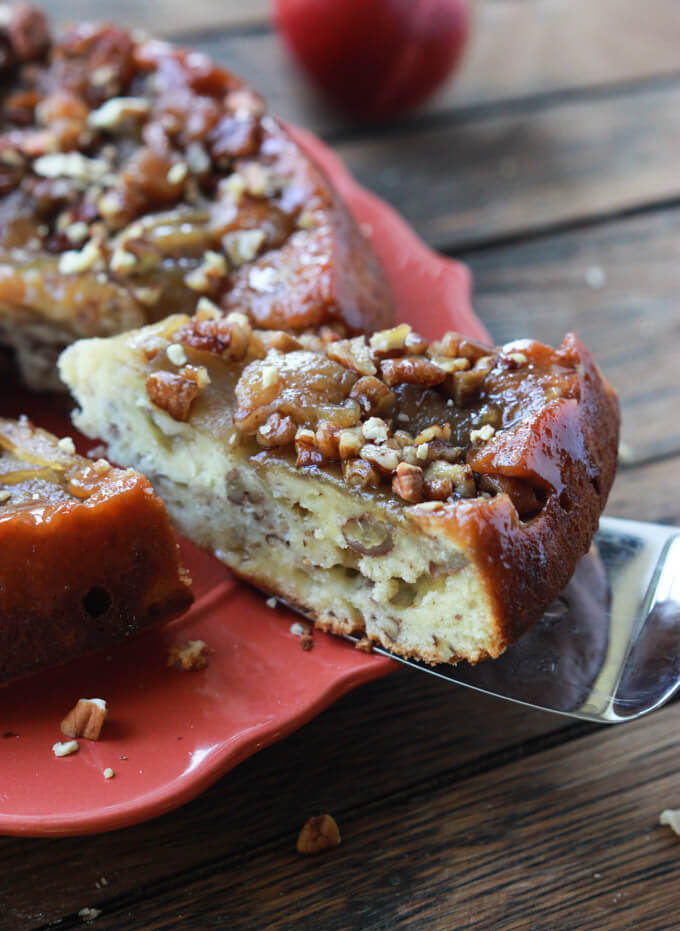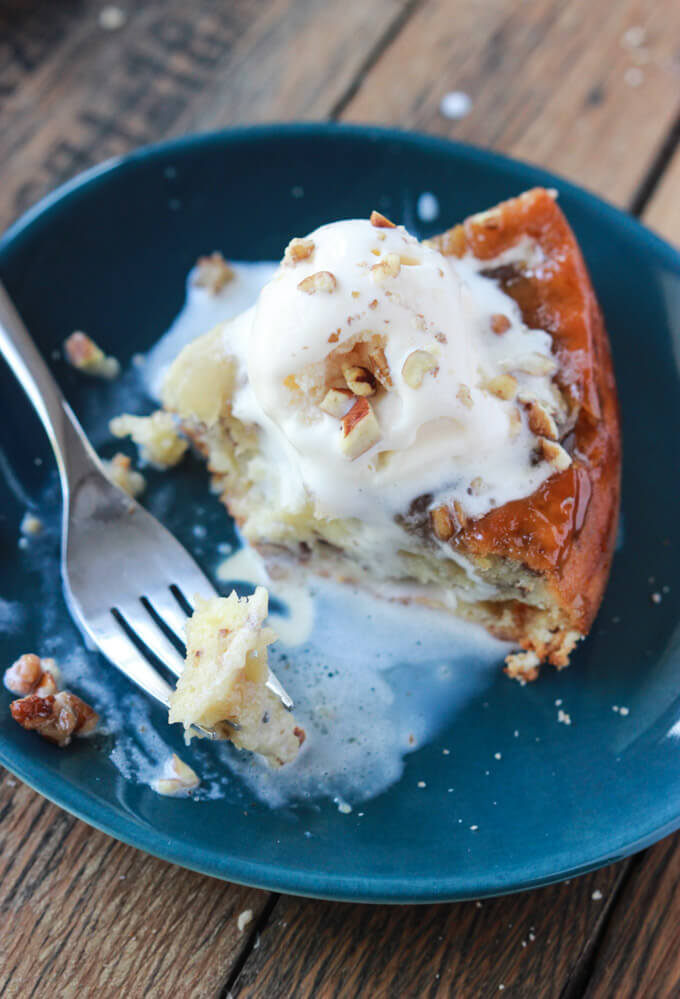 Print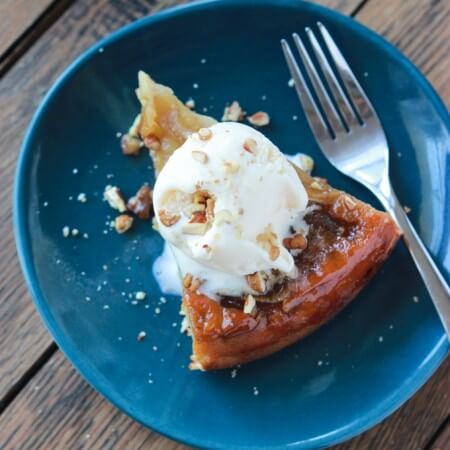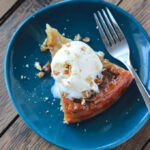 Apple Upside-Down Cake
Prep Time:

40 mins

Cook Time:

1 hour

Total Time:

1 hour 40 mins

Yield:

8
---
3/4 cup

chopped pecans, toasted

1/2 cup

packed light brown sugar

1/4 cup

melted unsalted butter

2

Golden Delicious or Granny Smith apples, peeled, cored, cut into thin slices

1 1/2 cup

all-purpose flour

1/4 tsp

. salt

1/2 tsp

. baking powder

3

large eggs

1 cup

granulated white sugar

1 tsp

. vanilla extract

3/4 cup

plain greek yogurt (I used FAGE 2%)
vanilla ice cream (optional but so so recommended)
---
Instructions
Preheat the oven to 350F.
Butter a 9-inch round cake pan. Sprinkle brown sugar over the bottom spreading evenly. Pour melted butter over the sugar and sprinkle with 1/4 cup toasted pecans. Arrange apple slices in circular pattern (overlapping a little) until the bottom is covered.
Sift flour, salt and baking powder together; set aside.
In a large bowl, combine the eggs and granulated sugar using a mixer on high, until thick and light. Fold in vanilla and yogurt then flour mixture, gently with a large spoon or spatula until batter is smooth and all lumps are gone. Add remaining pecans, mixing to combine. Note – you really want to be gentle when mixing the batter to avoid having a dense cake.
Spoon the batter over apples, spreading evenly with a spatula. Place the cake pan on a baking sheet and bake 60 minutes on the middle rack or until knife inserted in the middle comes out clean.
Let rest 5 minutes. Flip the pan and remove the cake onto a serving platter. Cut into slices and serve with scoop of vanilla ice cream (da best!)
---