Tender fluffy jasmine rice with carrots, corn, peas, and little bit of cayenne pepper. It's my mom's recipe that goes with just about any main dish. It's so simple, yet so good!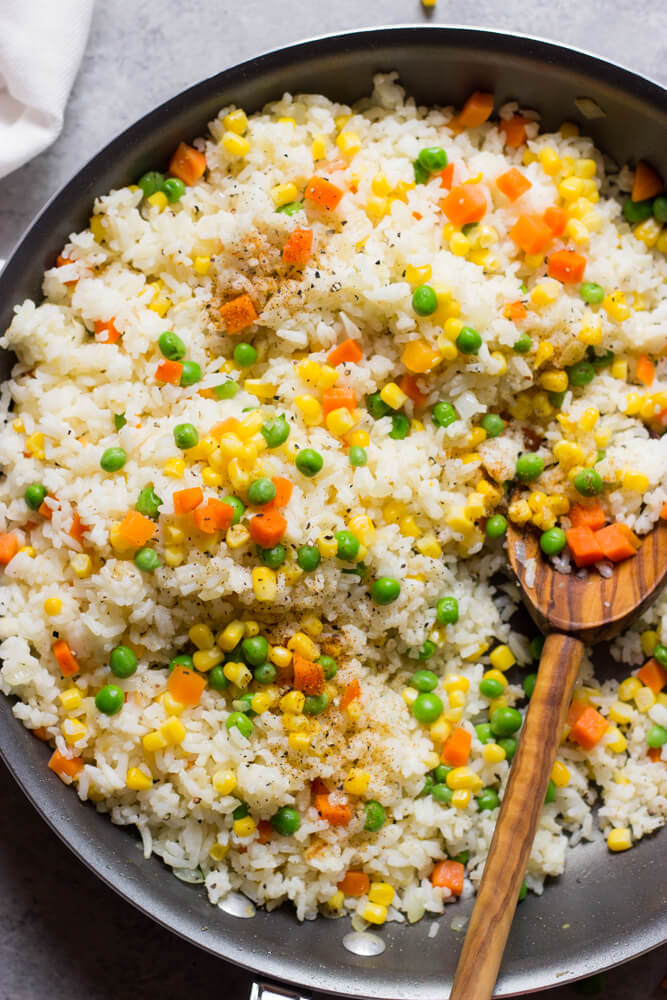 Finally sharing my mommas recipe. This Mexican rice with veggies was one of my favorite sides she would make. It goes with chicken, beef, shrimp, fish, etc. My favorite part is the hint of spiciness at the end of every bite. Key to this recipe is perfectly tender fluffy rice and the way I like to achieve this is by rinsing the rice first under cold water and then cooking undisturbed with salt and little bit of oil. Then after it is done cooking, I like to let the rice rest before adding to the veggies mixture. The end result is fluffy piecey rice with tender veggies mixed in and of course little bit of heat!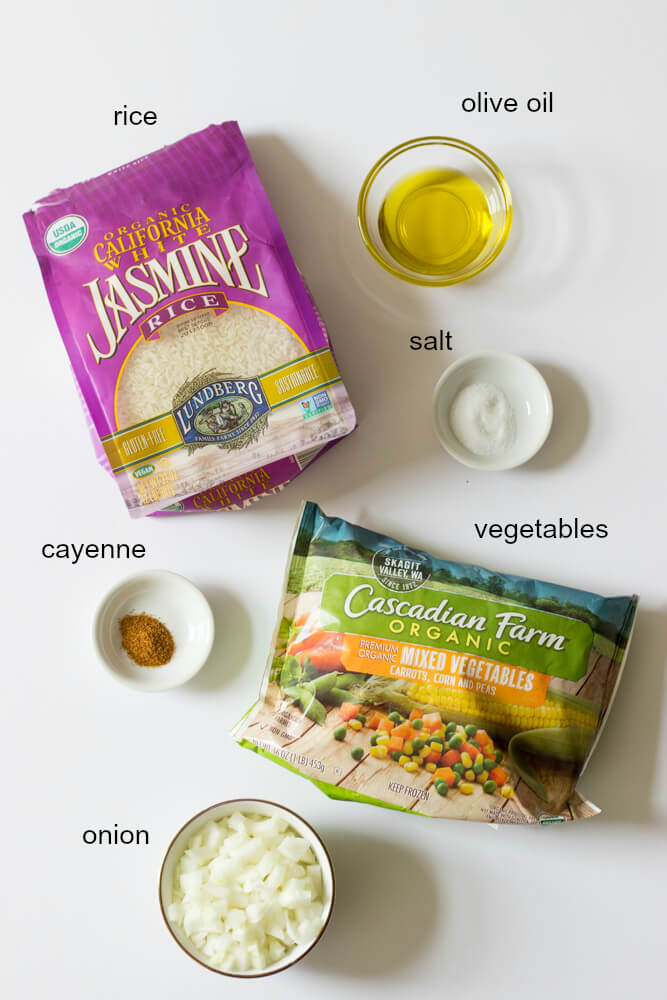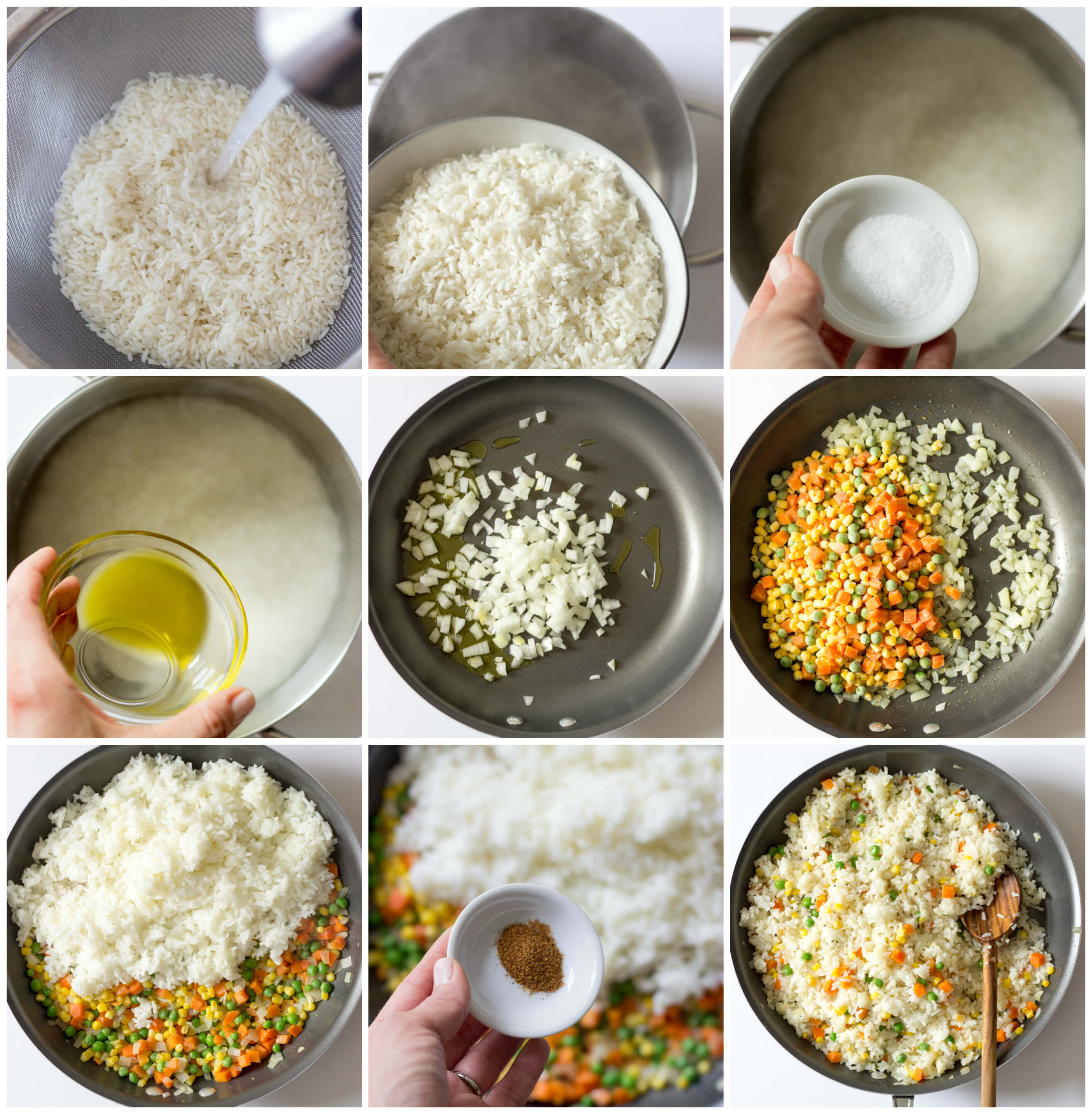 p.s. Happy Mother's Day to all my momma readers!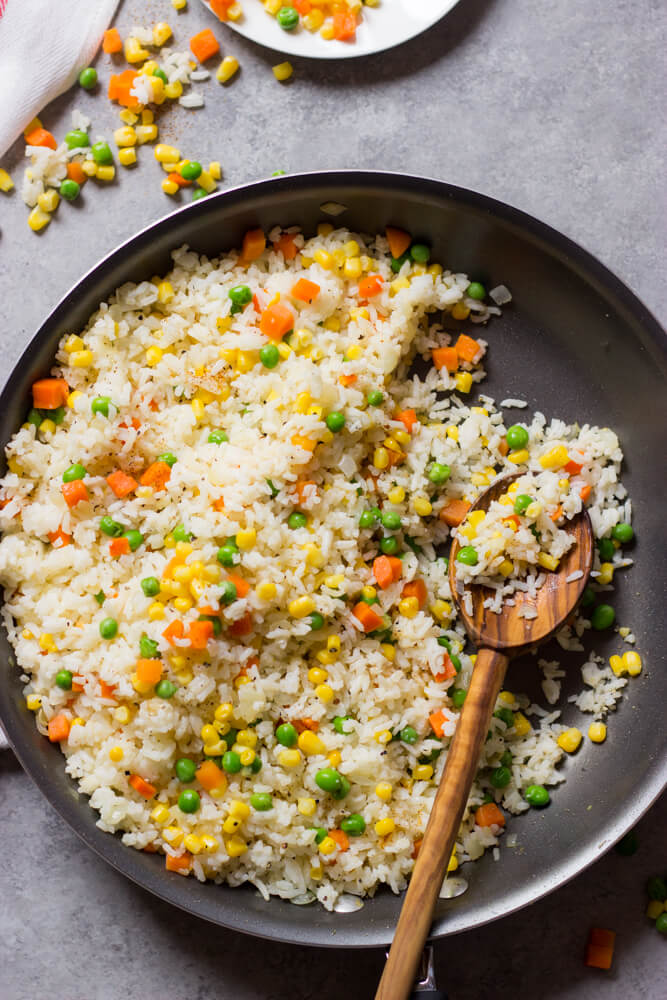 Mom's Mexican Rice
Author:
Katya @ https://www.littlebroken.com
Ingredients
1½ cups uncooked jasmine rice
2¾ cups water
¾ tsp. kosher salt, plus extra to taste
3 Tbsp. extra-virgin olive oil, divided
1 cup chopped white onion
2 cups frozen vegetable mix (carrots, corn and peas)
¼ tsp. cayenne pepper
fresh ground black pepper
Instructions
Place the rice into a fine mesh strainer and rinse under cold water until the water runs clear.
Add water to 2-quart sauce pan and bring to a boil. When the water has come to a boil, stir in rice, salt, 1 Tablespoon of oil, and bring it back to a gentle simmer. Give the rice one quick stir, cover with a tight fitting lid, and reduce the heat to low. Simmer for 15-18 minutes undisturbed or until all of the water is absorbed and the rice is tender.
Remove from heat with lid on and let rest for 10 minutes.
While the rice is resting start on the veggies. Heat the remaining 2 Tablespoons of oil in a large non-stick pan over medium heat. Add onion and cook, stirring occasionally, until translucent, about 3-4 minutes. Stir in frozen veggies, and cook, stirring occasionally, until vegetables are tender, about 3-4 minutes.
Remove the skillet from the heat and stir in cooked rice and cayenne pepper. Taste for salt and pepper, and adjust as needed.
Notes
Key to this dish is not overcooking the rice. You want tender fluffy rice. At around 15 minutes start checking. When done, the rice will be firm but tender, and no longer crunchy. Also make sure to rinse the rice really well before cooking. Rinsing removes the surface starch.
© Little Broken. All images and content are copyright protected. Please do not use my images without prior permission or claim my work as your own. Feel free to Pin, Tweet, Facebook and share away with a link back to the recipe post. If you want to republish this recipe, please re-write the recipe in your own words and link back to this recipe.