Making homemade vegetable broth has never been easier! Now you can make your own vegetable broth using kitchen scraps. There's little waste and you always have fresh broth on hand.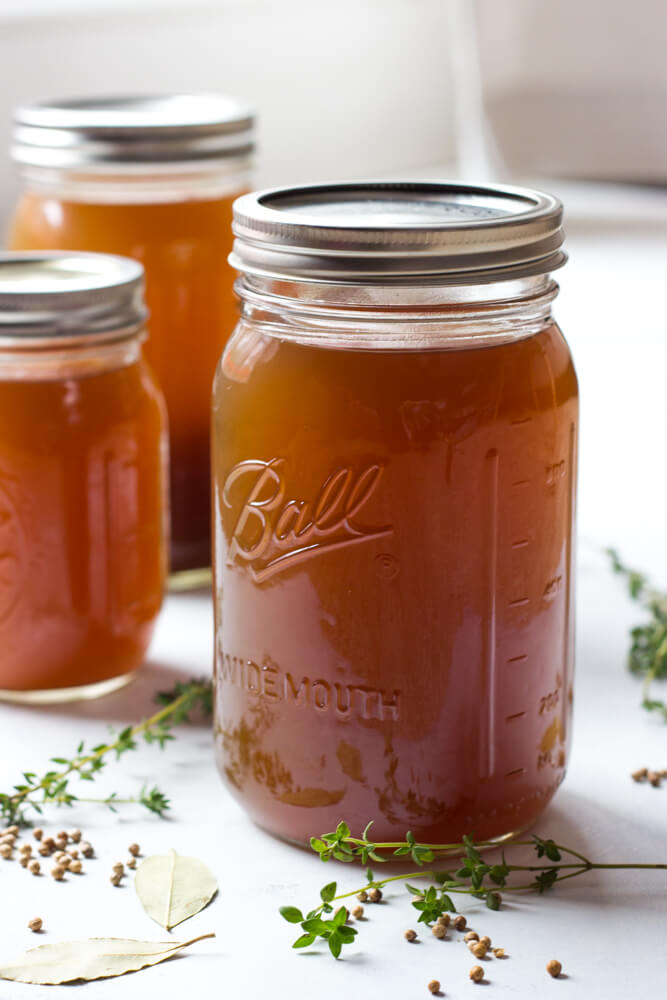 Making homemade vegetable broth just got so much easier! I started making my own vegetable broth beginning of this year using kitchen scraps. It was actually my hubbies idea and it totally took off in our house. Now I don't throw away my kitchen scraps but instead I save them for the broth. I love that I always have homemade broth in my freezer for soups and I also love the fact that very little goes to waste.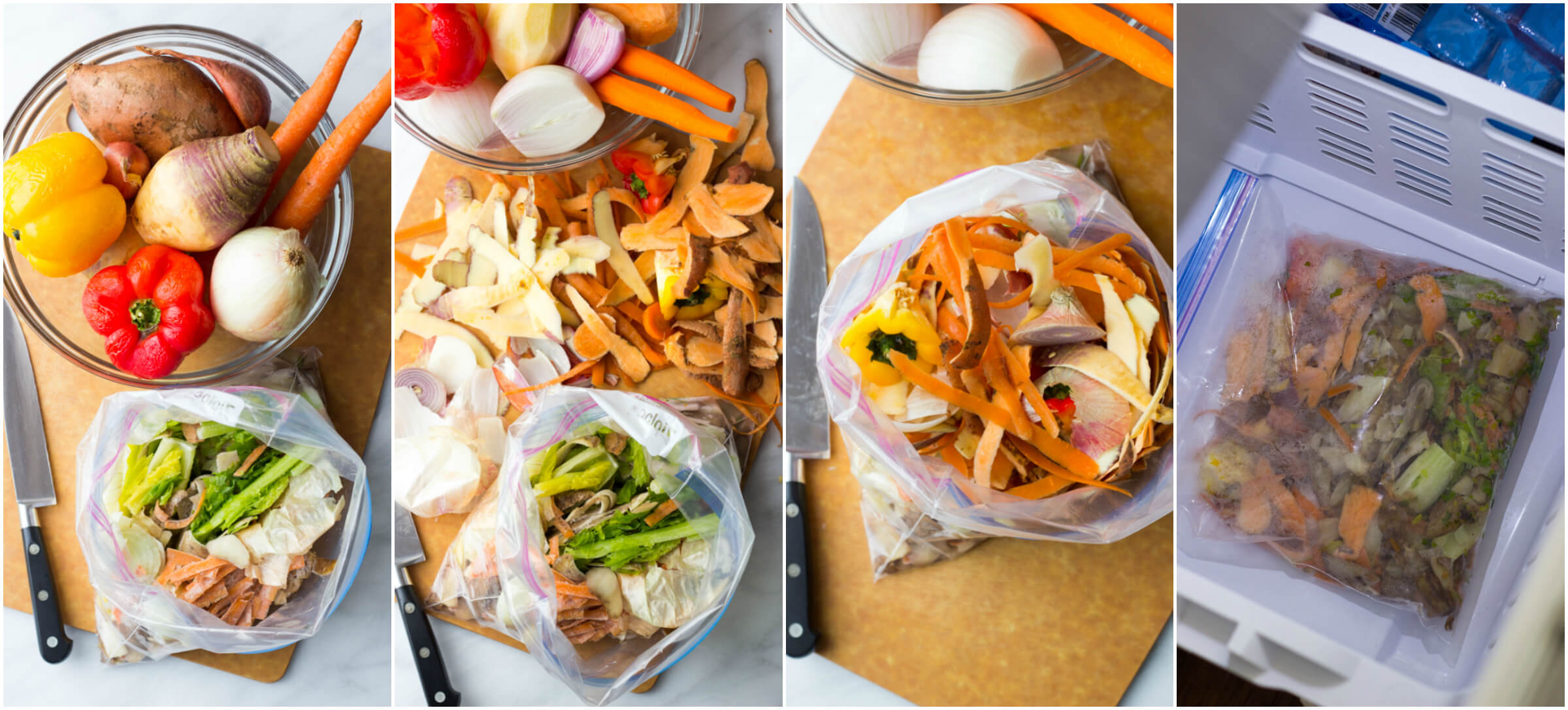 Before you make the vegetable broth you want to collect a bagful of kitchen scraps. Wash all the vegetables before you peel, slice, chop, etc. You can save the peelings, stalks, and leaves. Onions, carrots, celery, and garlic are key ingredients. But there's so many other vegetables that can add flavor such as: potatoes, bell pepper, sweet potatoes, leeks, green onions, mushrooms, etc. I mean the list goes on. Beets will give your broth a red color. I sometimes use them and sometimes I don't. You can also save all your greens: parsley, cilantro, chives, etc. Any vegetables on the verge of going bad are good additions (just no moldy veggies). There's no perfect combo. You just have to try it out and see what tastes and smells good. I do avoid certain veggies such as cabbage, brussels sprouts, broccoli, and cauliflower. Just because they tend to give the broth a bitter taste. Store your scraps in a gallon size zip-loc bag in the freezer.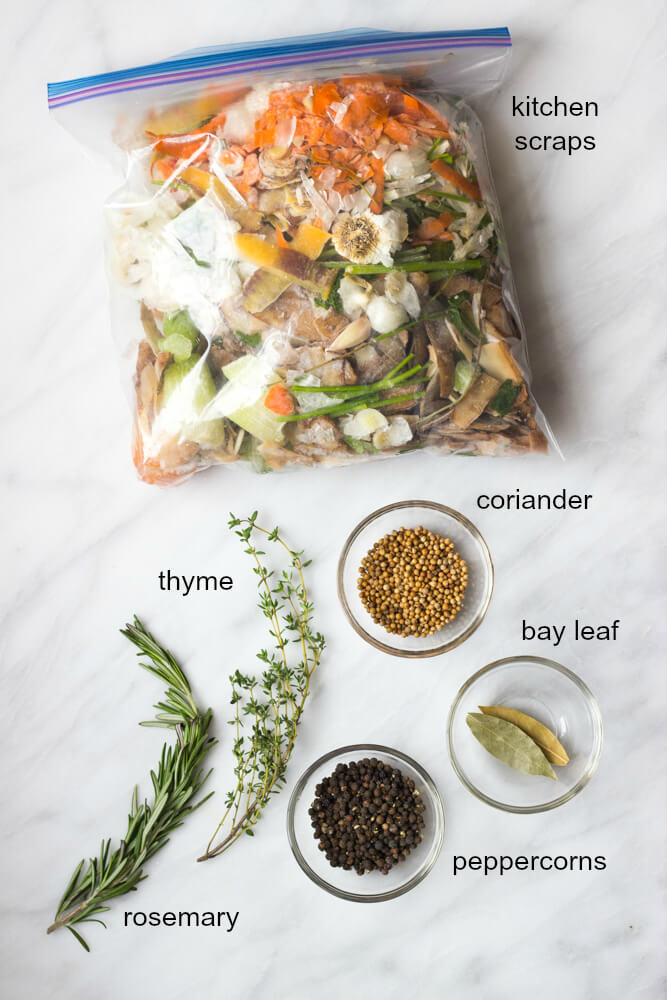 When ready to make your broth, you will need: gallon size bagful of frozen veggie scraps. I pack mine up pretty good. Coriander seeds, whole peppercorns, bay leafs, rosemary, and thyme. That's usually the base I use. Depending on the veggie scraps I already have, I might add garlic, onion, parsley, and any other aromatics. Maybe if I don't have celery and carrot scraps, I sometimes add fresh ones.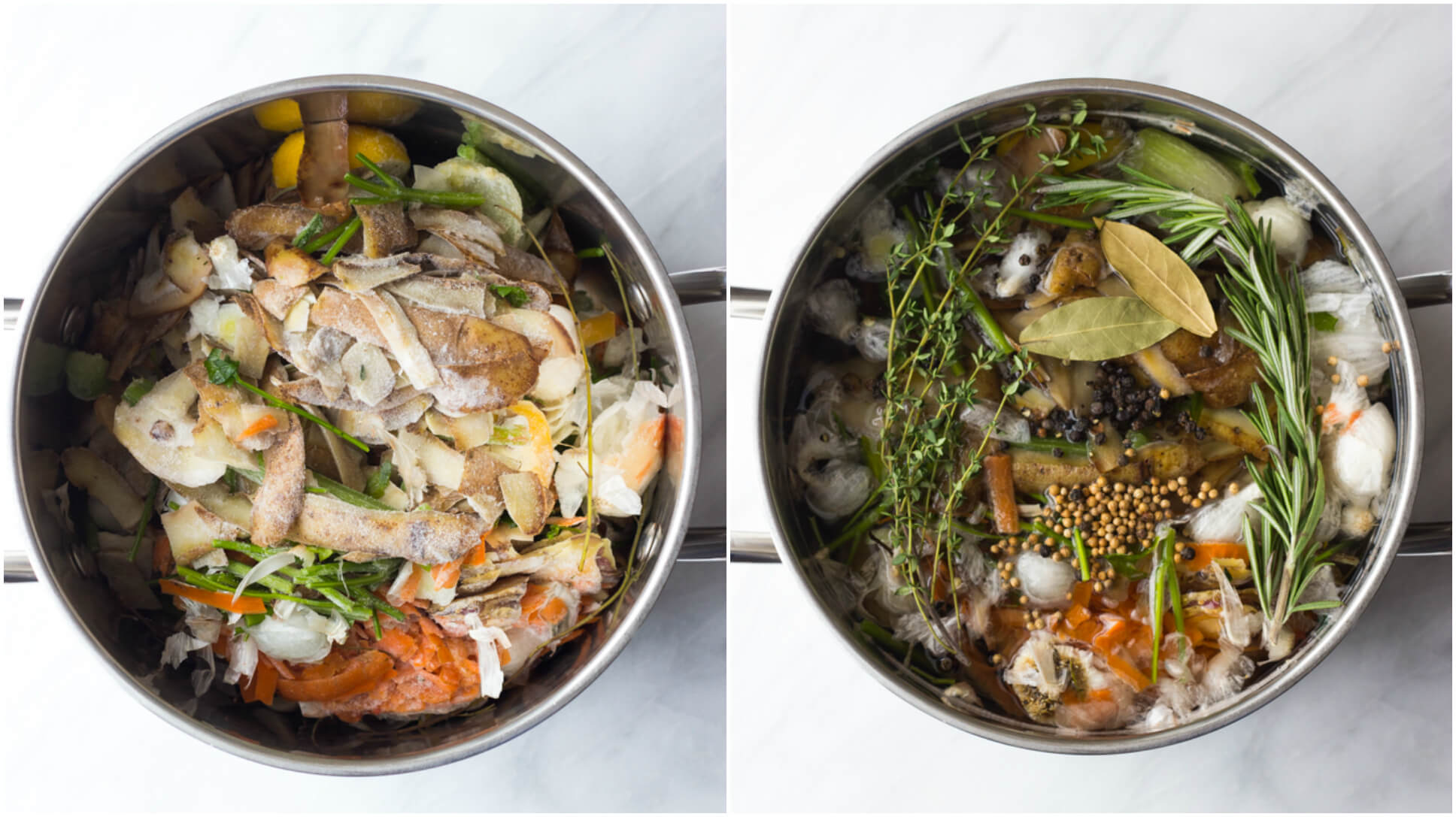 Put your frozen scraps into a stock pot. You want to use at least a 6-quart pot. Add water and the rest of the ingredients. You want enough water in the pot where you can easily stir the vegetables. Bring to a boil, reduce heat to bare simmer, and cook for 1 hour.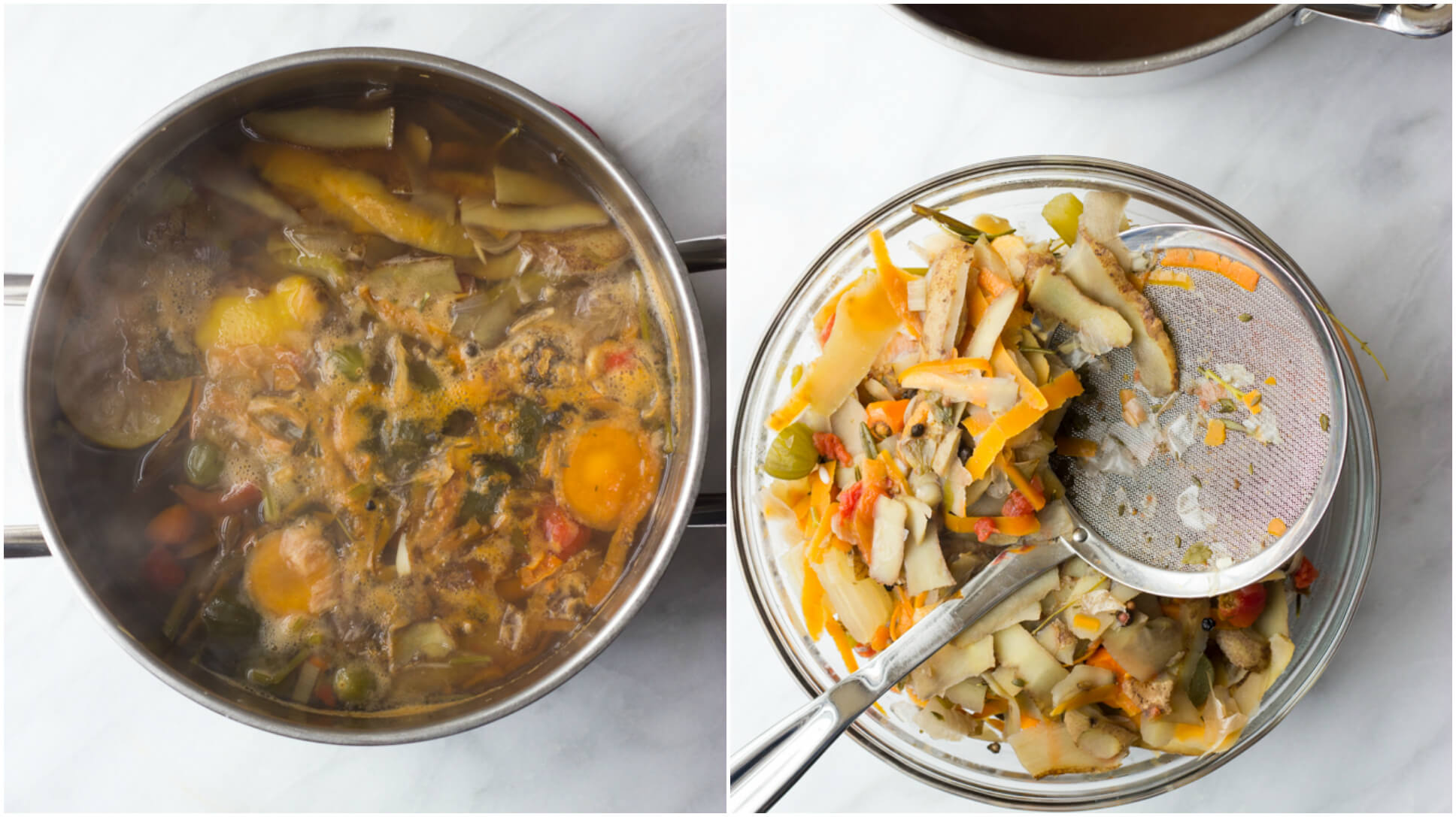 After one hour, remove the pot from the stove and using a skimmer or a slotted spoon, remove all the vegetables.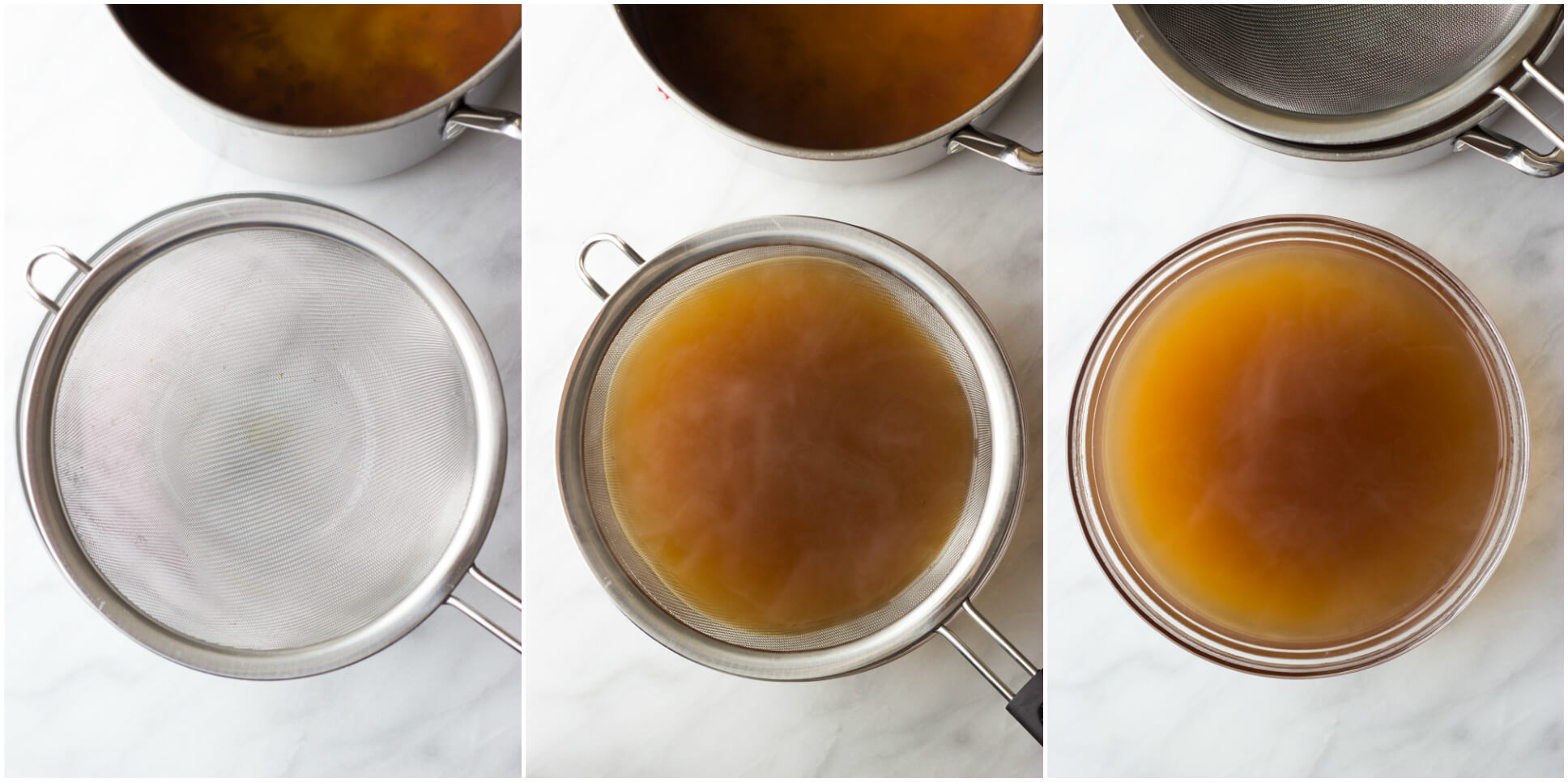 Then set your strainer over a large bowl and pour the vegetable stock through. You should be left with nothing but clear and clean stock.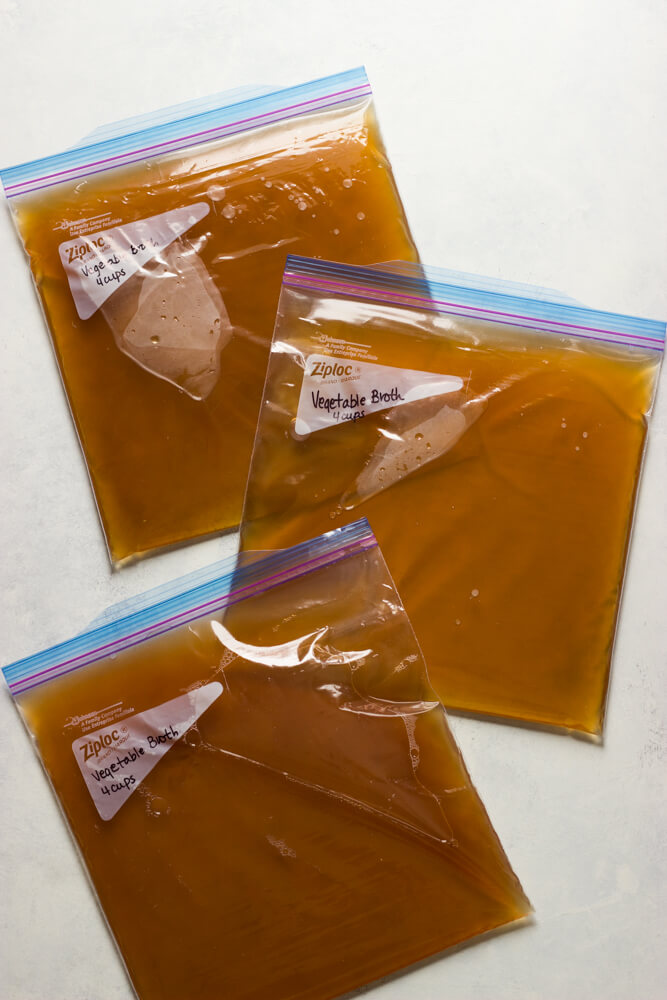 You want to let the stock cool completely before dividing into containers or zip-loc bags. I found that zip-loc bags work best for freezing. I normally measure out 4 cups of broth for each bag and lay flat in the freezer. It thaws out much faster than if using a container. Refrigerate for up to 1 week or freeze for up to 3 months.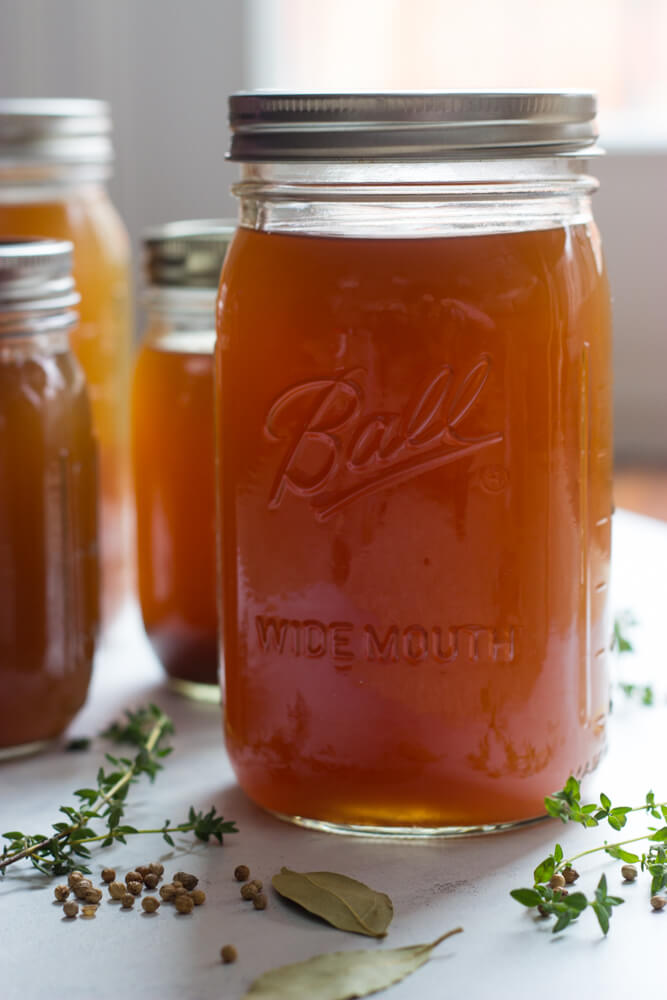 How to Make Vegetable Broth with Kitchen Scraps
Author:
Katya @ https://www.littlebroken.com
Ingredients
1 gallon size zip-loc bag frozen kitchen scraps, completely full
13-15 cups water
1 tsp. coriander seeds
1 tsp. whole peppercorns
2 bay leafs
1-2 sprigs each: fresh thyme, rosemary
optional extras: garlic, onion, parsley
Equipment
Instructions
Add frozen vegetable scraps to a 6-quart or bigger stock pot. Add water and the remainder of the ingredients. You should have enough water in the pot where you can easily stir the vegetables.
Cover and bring to a boil. Reduce heat to a bare simmer, and cook, uncovered, for 1 hour, stirring occasionally.
Take the pot off the stove and remove all the vegetables with a slotted spoon or skimmer.
Set your strainer over a large bowl and pour the broth through. Broth should be clean and clear without any impurities.
Cool completely at room temperature and then divide into storage containers or gallon size ziploc bags. Store in refrigerator for up to one week or freeze for up to 3 months.
© Little Broken. All images and content are copyright protected. Please do not use my images without prior permission or claim my work as your own. Feel free to Pin, Tweet, Facebook and share away with a link back to the recipe post. If you want to republish this recipe, please re-write the recipe in your own words and link back to this recipe.
*Disclaimer: this post contains affiliate links, which means I receive a small commission if you make a purchase using this link at no cost to you.