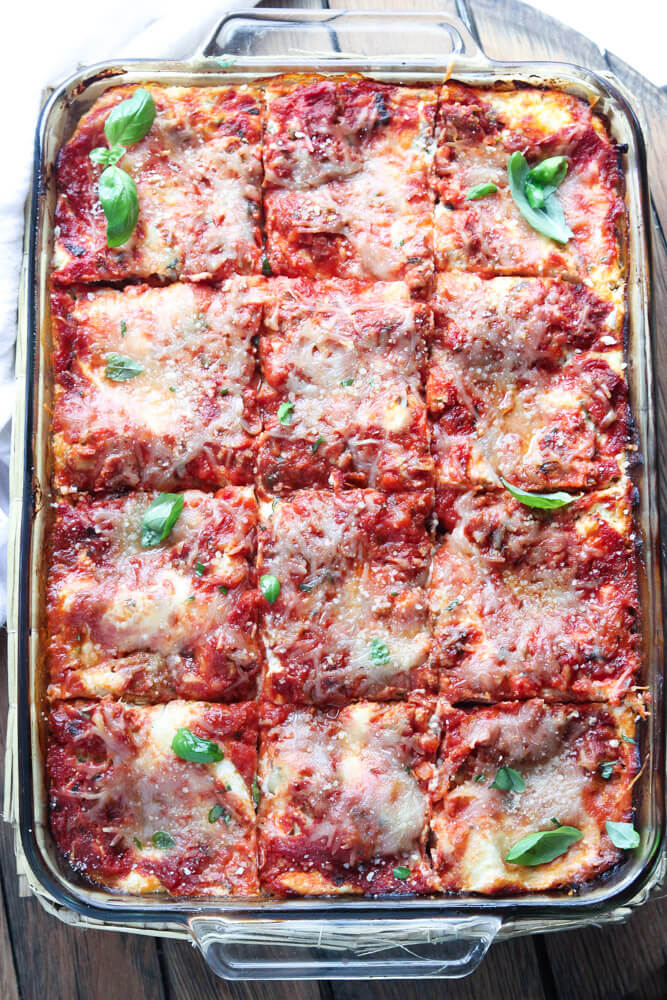 Today I'm putting my "clean eating" recipes aside and sharing something a little hearty for the soul: Lasagna. But not just any lasagna…Ina Garten's Turkey Lasagna. I'm a huge fan of Ina Garten anything. I love her from scratch technique approach to cooking and the fact that every recipe I've ever tried is foolproof. I've been making Ina's Turkey Lasagna for years now. It is one and only lasagna I make at home.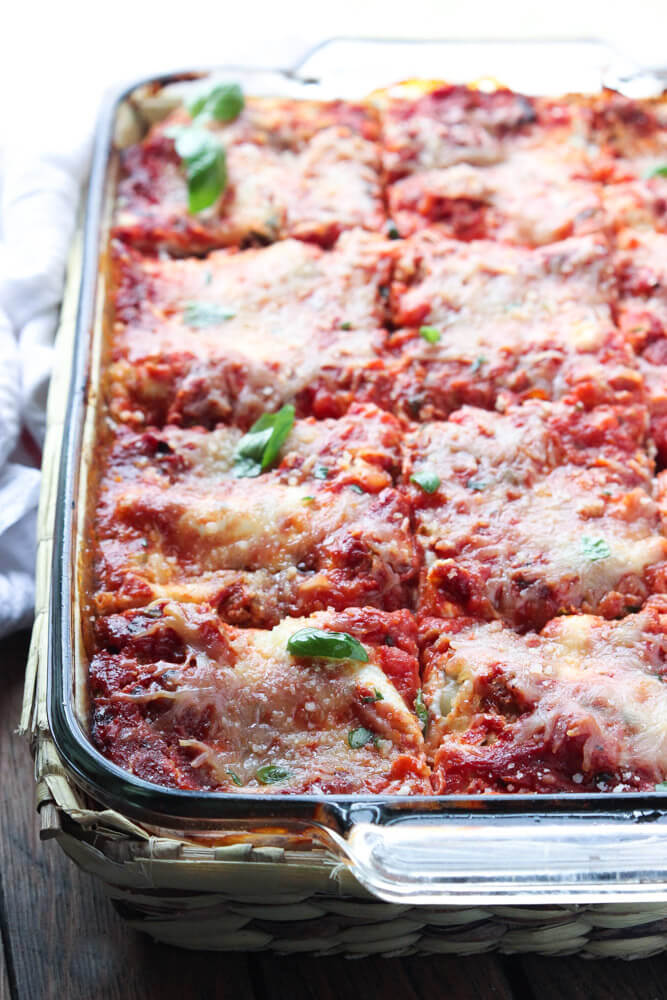 It is truly the best in my opinion and very different from what I've ever had before.  I came across the recipe in Barefoot Contessa Family Style cookbook and I'm not even a huge pasta nor lasagna fan but what caught my attention was the fact that this recipe called for Italian sausage and four different cheeses! And who can ever say no to cheese?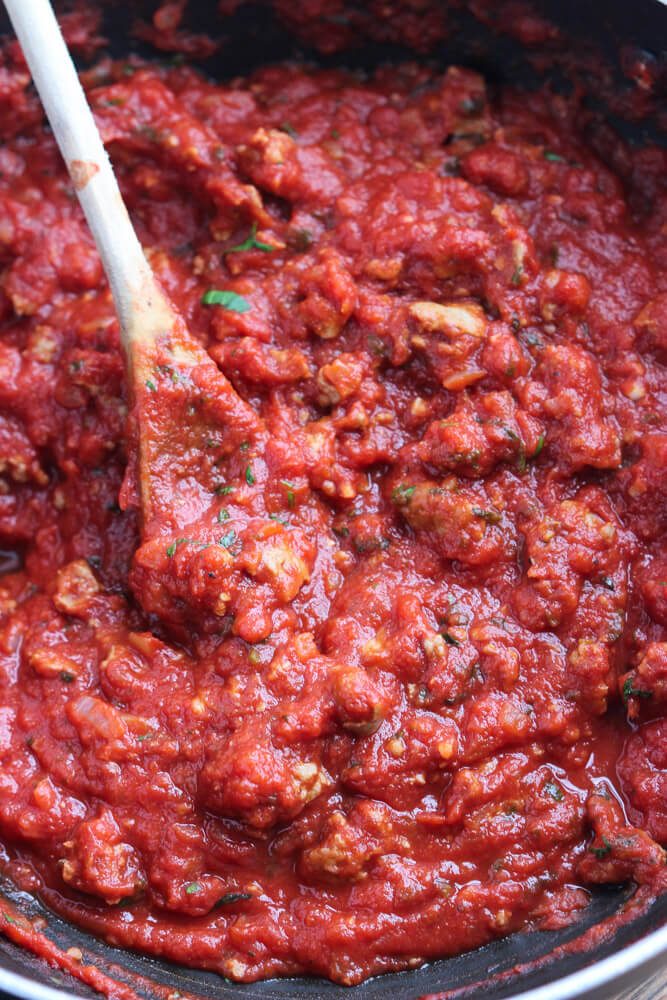 You have sweet ricotta, creamy goat cheese, grated Parmesan, and gooey mozzarella. Personally, any other time I would probably pass up on a dish loaded with so much cheese but honestly, this is worth the calorie splurge. I also love the fact that this is made with Italian turkey sausage only. So all the guess work of seasoning the meat sauce is done for you.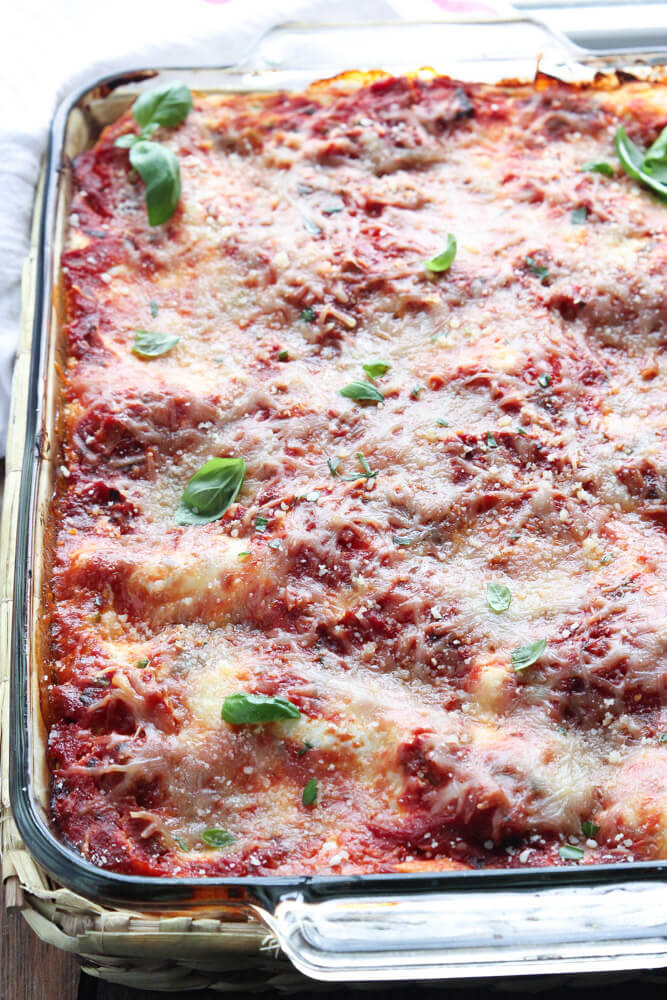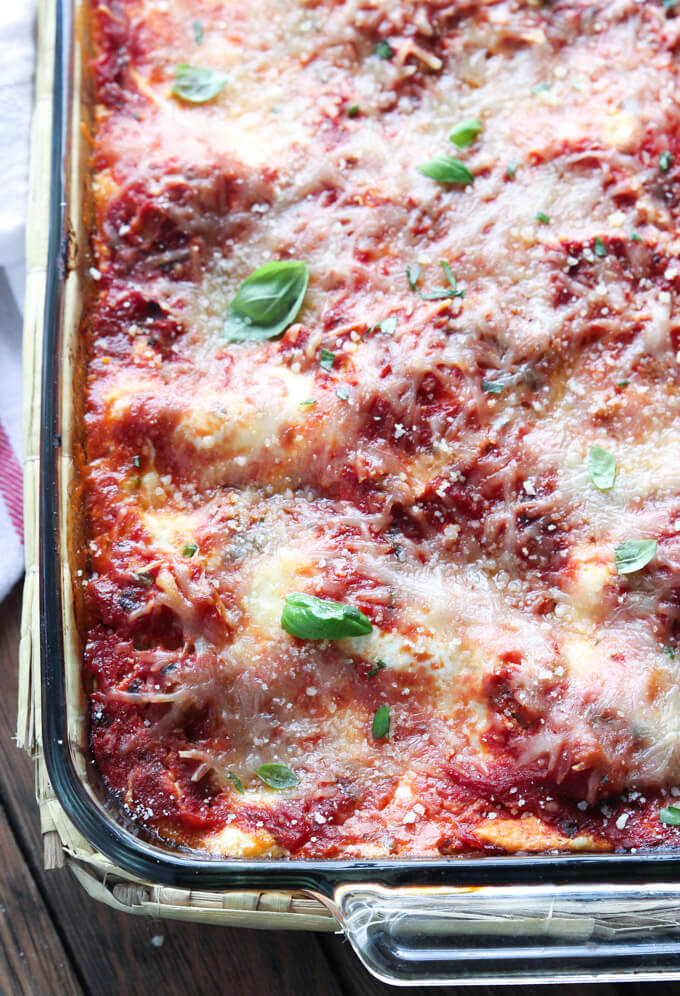 Even if you're not a big fan of gooey pasta dishes smothered in meat and cheese, give this one a try, because you might just change your mind. It's a rich flavored Italian classic that the whole family will love.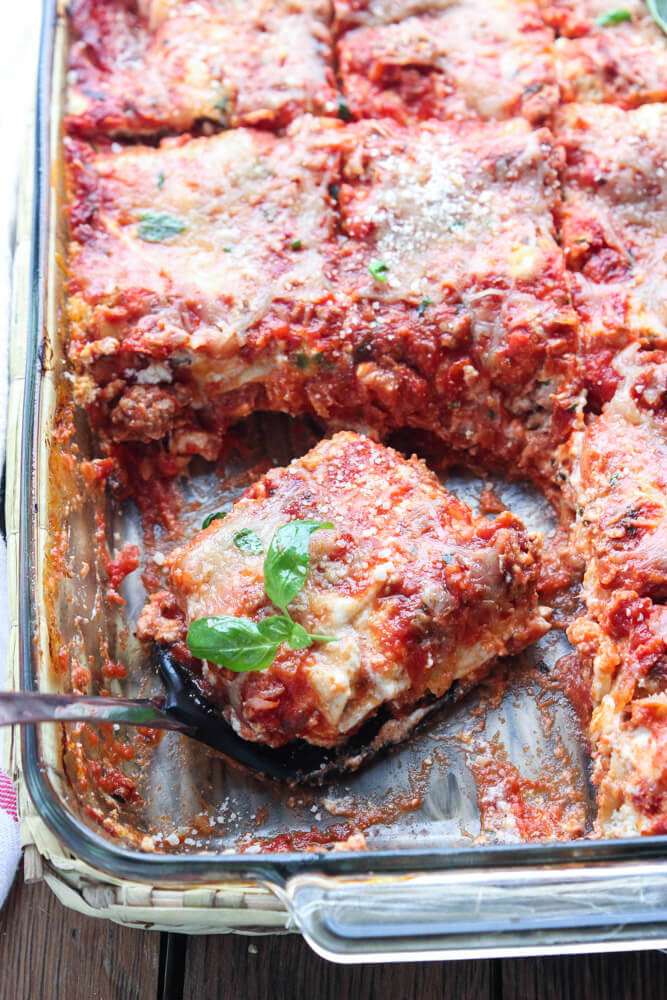 I only lead to good food! FOLLOW ME and use hashtag #littlebrokenblog if you try my recipes! Facebook, Instagram, Google+, Pinterest.

Ina Garten's Turkey Lasagna
Author:
Katya @ https://www.littlebroken.com
Ingredients
2 Tbsp. olive oil
1 cup chopped onion
2 garlic cloves, minced
1½ lbs. mild Italian turkey sausage, casings removed
1 (28 oz.) can crushed tomatoes
1 (6 oz.) can tomato paste
¼ cup chopped fresh parsley, divided
½ cup chopped fresh basil
2 tsp. sea salt
¾ tsp. black pepper
½ lb. (about 10 sheets) lasagne noodles
15 oz. ricotta cheese
4 oz. crumbled goat cheese
1 cup grated Parmesan cheese, plus ¼ cup for sprinkling
1 egg, lightly beaten
1 lb. fresh mozzarella, thinly sliced
Instructions
Heat olive oil in a large non-stick skillet. Add the onion and cook for 5 minutes over medium heat or until translucent. Add the garlic and cook for 1 more minute. Add the sausage, breaking it up with a wooden spoon; cook for 10 minutes or until no longer pink.
Add the tomatoes, tomato paste, 2 tablespoons of the parsley, basil, 1½ teaspoons of salt, and ½ teaspoon pepper. Simmer, uncovered, over medium-low heat for 15-20 minutes until thickened.
Fill a large rectangular dish with hottest tap water. Add the lasagne noodles and soak in water for 20 minutes. Drain.
In a medium bowl, combine the ricotta cheese, goat cheese, 1 cup of Parmesan cheese, egg, remaining 2 tablespoons of parsley, remaining ½ teaspoon salt, and ¼ teaspoon pepper; set aside.
Preheat the oven to 400F.
Spoon ⅓ of the sauce into a 9X13-inch rectangular baking dish, spreading the sauce over the bottom of the dish. Next layer half the pasta, half the mozzarella, half the ricotta, and ⅓ of the sauce. Add the rest of the pasta, mozzarella, ricotta, and remaining sauce. Sprinkle with ¼ cup of Parmesan.
Bake, uncovered for 30 minutes, until the sauce is bubbling.
Notes
the only change I made to the recipe is I used mild Italian sausage instead of sweet sausage
© Little Broken. All images and content are copyright protected. Please do not use my images without prior permission or claim my work as your own. Feel free to Pin, Tweet, Facebook and share away with a link back to the recipe post. If you want to republish this recipe, please re-write the recipe in your own words and link back to this recipe.