Creamy cauliflower mash flavored with roasted garlic and ricotta cheese. It's an easy side dish that goes with absolutely everything and not to mention it is low carb!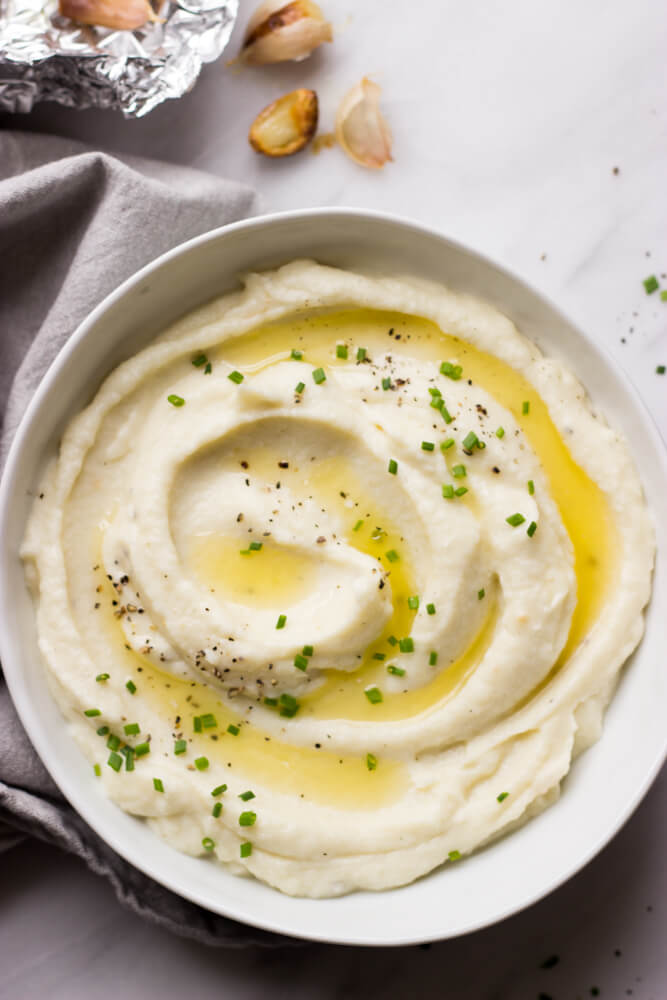 Okay friends…we are continuing our Thanksgiving sides with this cauliflower mash. In case you're wondering what in a heck is cauliflower mash, well it's basically steamed cauliflower mashed up. It tastes very similar to mashed potatoes but with fewer carbs. I mean there's really nothing that can replace creamy Thanksgiving mashed potatoes but if you want to try something different or if you're watching your carb intake then these are for you! They are super delicious and you can serve them not only for Thanksgiving but think meatballs, gravy, tomato sauce, steak, chicken, etc. We had them the other night with sautéed mushrooms, grilled steak and it was superb!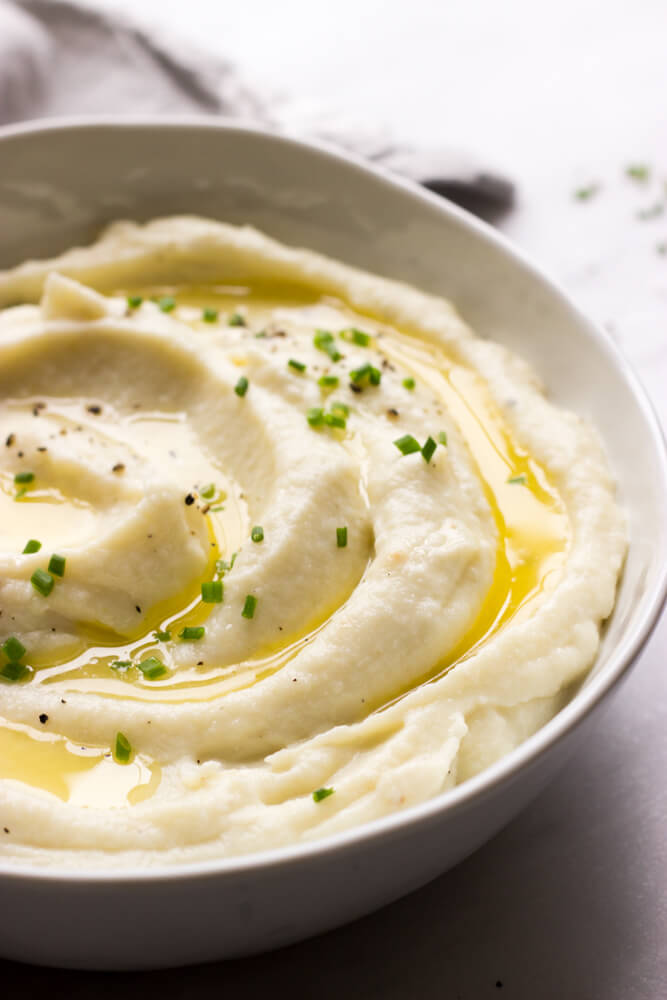 It's very easy to make. First you start off by roasting garlic. You only need two cloves, little bit of olive oil, and aluminum foil. Roast in the oven for about 10-12 minutes until soft. While the garlic is roasting you want to start on the cauliflower.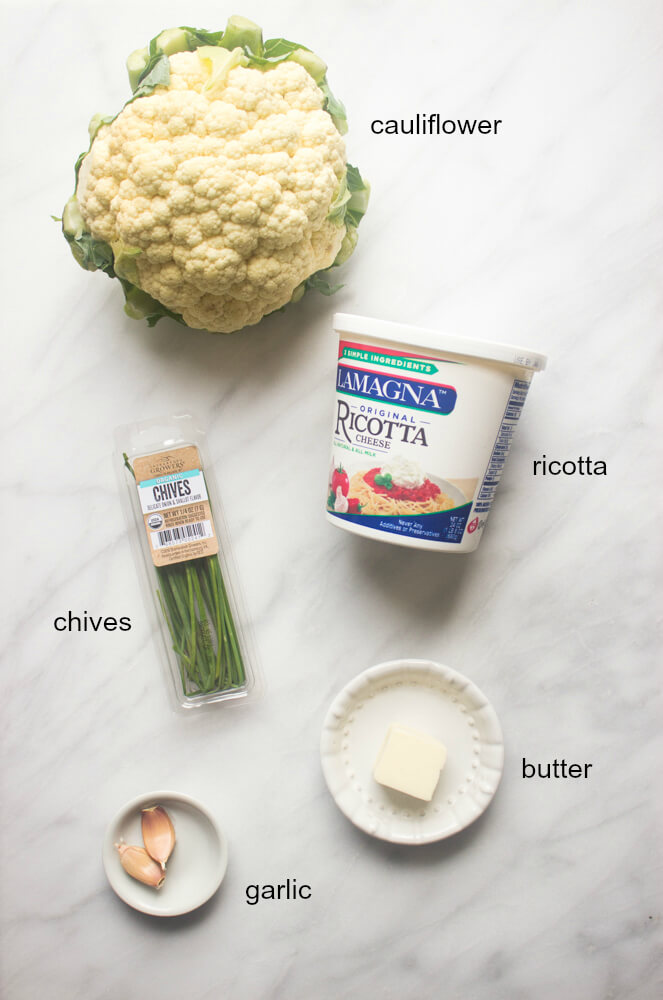 All you need is a big head of cauliflower. Cut it up into florets. Then cook the florets in salted water until fork tender. Mine took right around 10 minutes or so. Drain and spread onto a paper lined baking sheet. You want them to soak up as much moisture as possible so that way the mash is creamy and not so much "watered down". Then purée in a food processor with ricotta, butter, and roasted garlic.
To serve, garnish with chopped chives and you're set! The roasted garlic adds so much flavor and the ricotta just the perfect touch of creaminess. It reheats really well and I promise you will love it!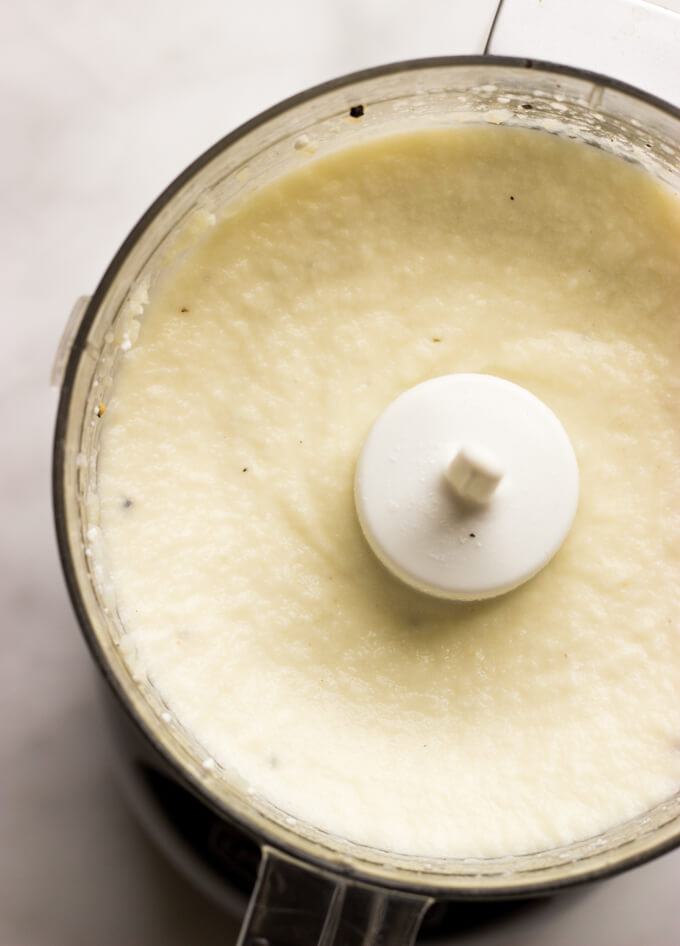 Make it. Snap it. Show it. Instagram @littlebrokenblog or snapchat → littlebrokenblg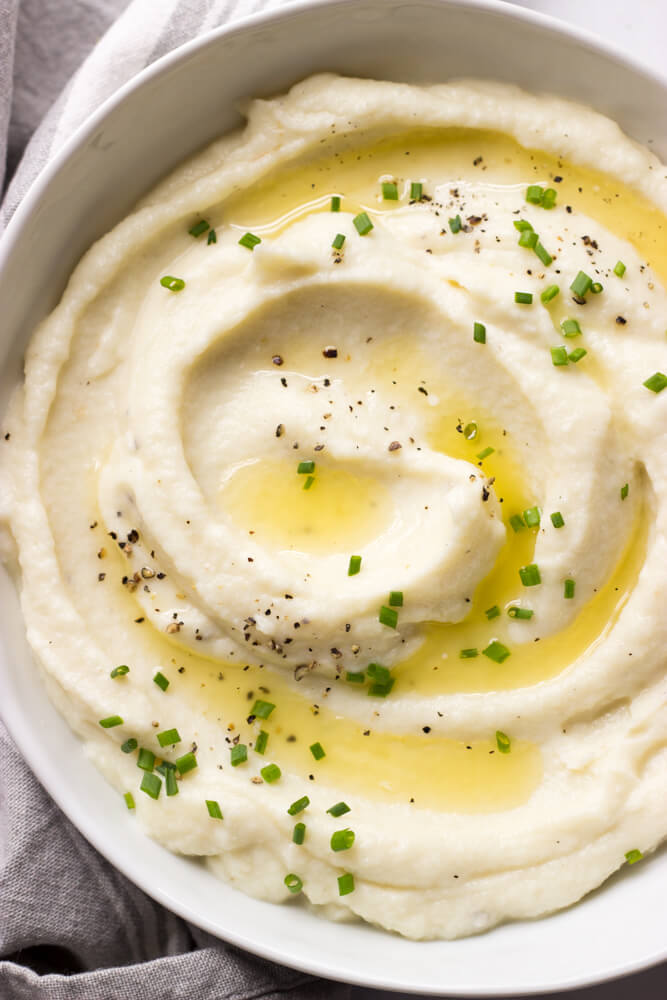 Cauliflower Mash with Ricotta and Roasted Garlic
Author:
Katya @ https://www.littlebroken.com
Ingredients
2 large garlic cloves
3 lb. head of cauliflower, cut into florets
2 Tbsp. butter
¼ cup ricotta cheese (full fat)
Chopped chives, for garnish
Olive oil
Kosher salt and black pepper
Instructions
Preheat the oven to 400 degrees F.
Cut off the tip of each garlic clove (just enough to expose it). Place in a piece of foil and drizzle with olive oil. Wrap the foil tightly and place on a baking sheet.
Roast the garlic for 10-12 minutes or until soft when pressed. Remove and let cool before peeling. The garlic should easily pop out of their skins when pressed.
Cook the cauliflower florets in salted water for 8-12 minutes or until fork tender. Drain and then lay flat on a large baking sheet lined with several layers of paper towel. Tap the baking sheet couple times on the countertop/table to get as much water as possible out of the cauliflower.
Then working quickly, place the cauliflower in a food processor with roasted garlic, butter and ricotta. You can do this in batches like I did or all together if your food processor is big enough. Season with salt and pepper, to taste. Purée until smooth and creamy. Taste for salt and pepper.
Garnish with chopped chives and serve warm.
Notes
I would not recommend adding any additional butter and/or ricotta to the mash as it will thin out too much.
© Little Broken. All images and content are copyright protected. Please do not use my images without prior permission or claim my work as your own. Feel free to Pin, Tweet, Facebook and share away with a link back to the recipe post. If you want to republish this recipe, please re-write the recipe in your own words and link back to this recipe.