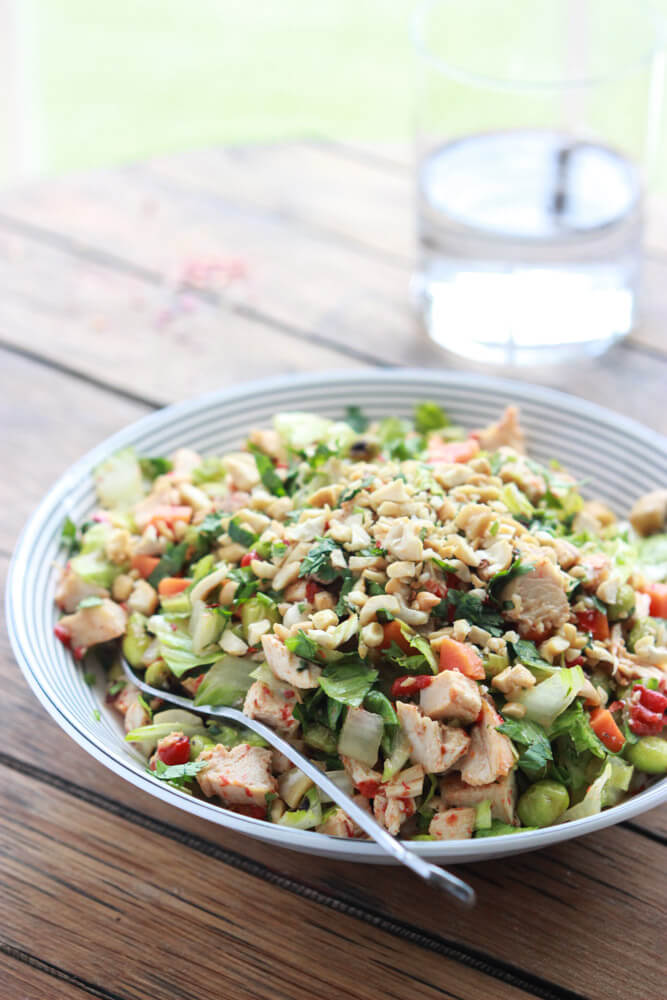 I love a good salad. For as long as I can remember, salad has always been my go to for lunch and sometimes even dinner. You can't go wrong with a bowl full of crispy lettuce, crunchy fresh vegetables and homemade vinaigrette. You can make a salad pretty much out of anything. I remember during high school days, I loved Wendy's chili salad (I think that's the name?)…pretty much a bed of lettuce topped with chili. It was a perfect balance of crispy and hearty. I haven't been to Wendy's in years so no clue if it even still exists but it was my go to at that time.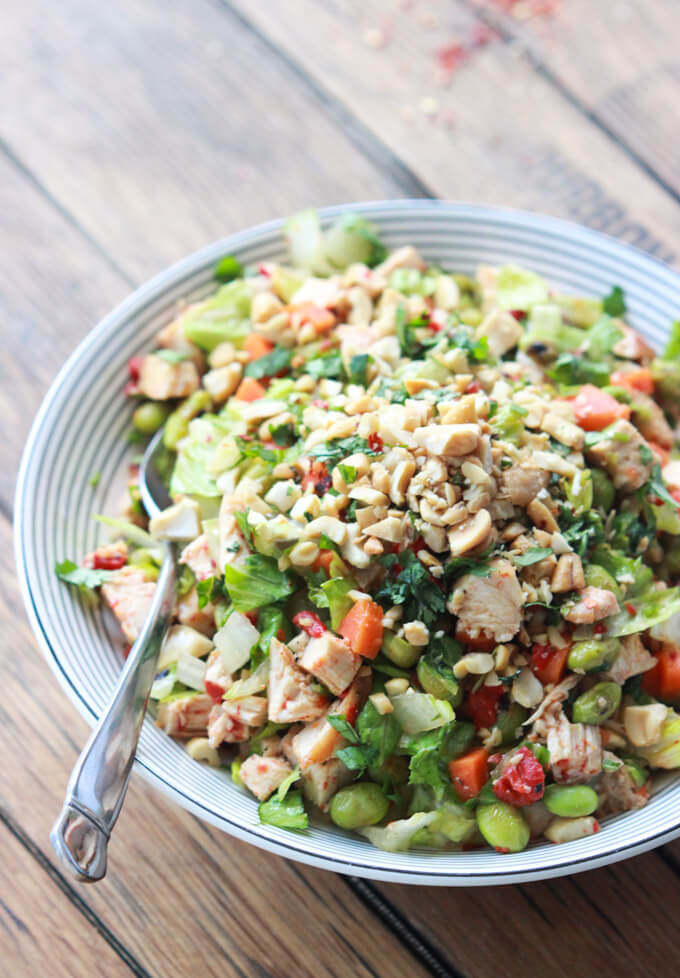 Today when I'm at the office and actually take a lunch, I go for Panera's Thai Chicken Salad with Thai Chili Vinaigrette, drizzled with Spicy Peanut Sauce. It's my all time favorite Thai Salad! It's spicy, crunchy and just delicious all around. Best part is the spiciness of it as it kind of sneaks up on you.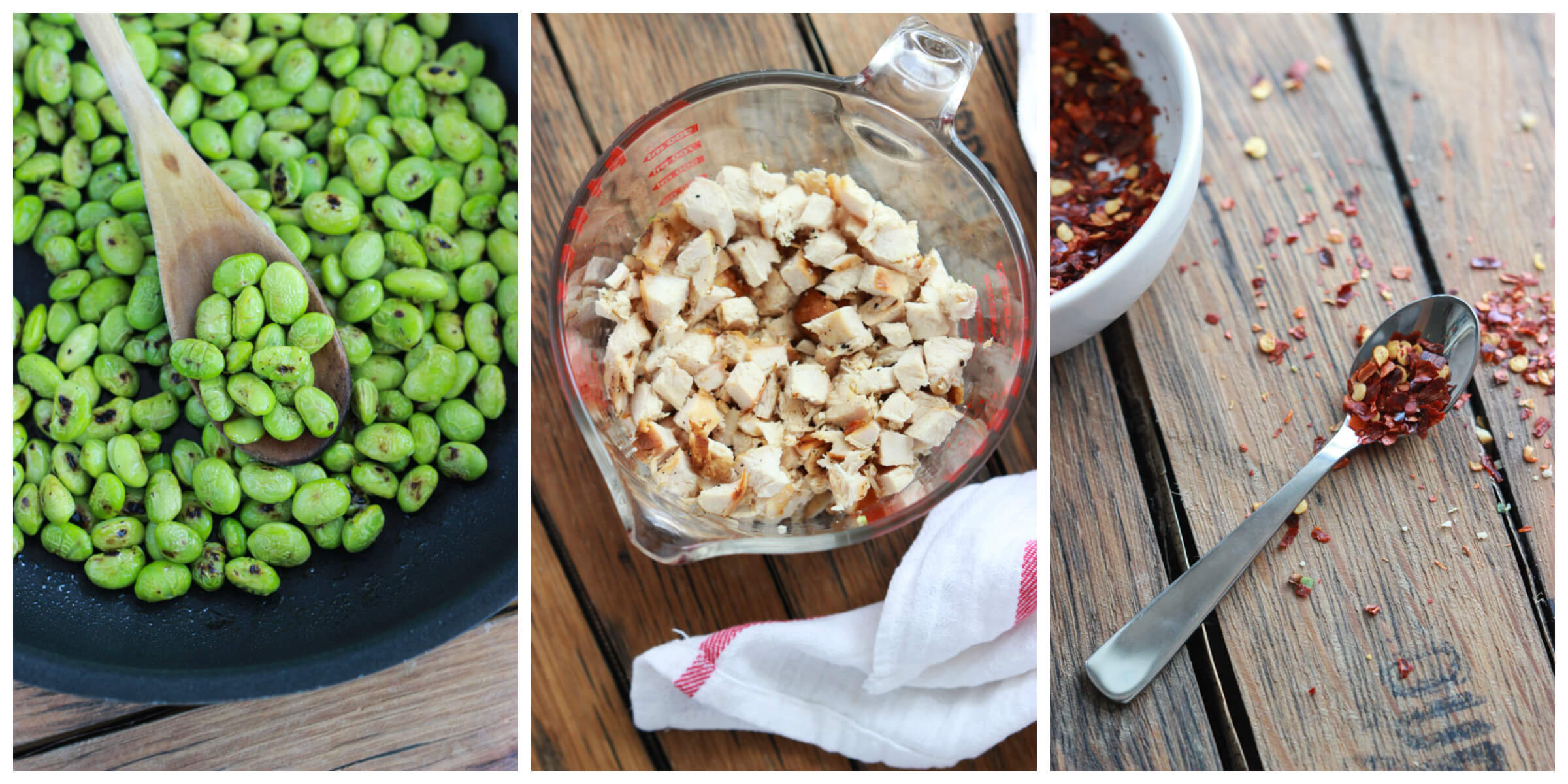 I made my own version. Very similar flavors. Chopped romaine, fire-roasted edamame, roasted red peppers, carrots, fresh cilantro, roasted cashews and cooked chicken. I grilled two chicken breasts and chopped them up but rotisserie, pan-fried, leftovers would work as well. I combined both flavors of Panera's Thai Chili Vinaigrette and Spicy Peanut Sauce to make one Peanut-Chili Vinaigrette. Peanut butter, fresh ginger, garlic, soy sauce, rice vinegar, sesame oil and fresh lime juice. And of course, crushed red pepper flakes. I like mine spicy so I went with a heaping 1/2 teaspoon but go less if you're not so much on spicy or more if you're feeling brave.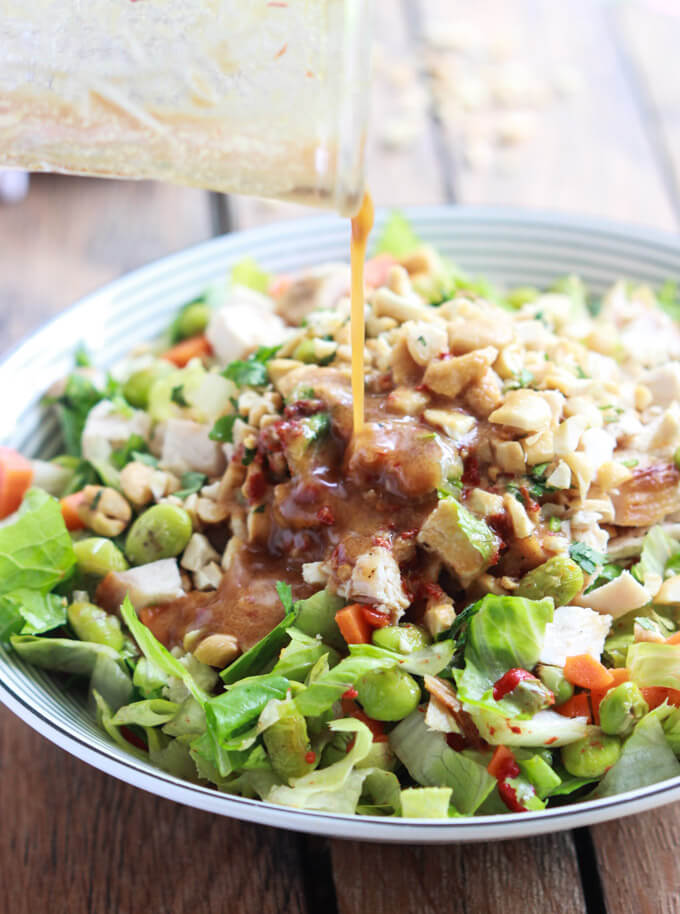 What I love about this salad is it holds up really well in the fridge for couple days. I chopped all the salad ingredients and stored it in the fridge and right before serving drizzled with vinaigrette. Serve it as is for lunch or dinner. Instead of chicken top it with grilled shrimp or salmon or omit the protein all together and make it vegetarian.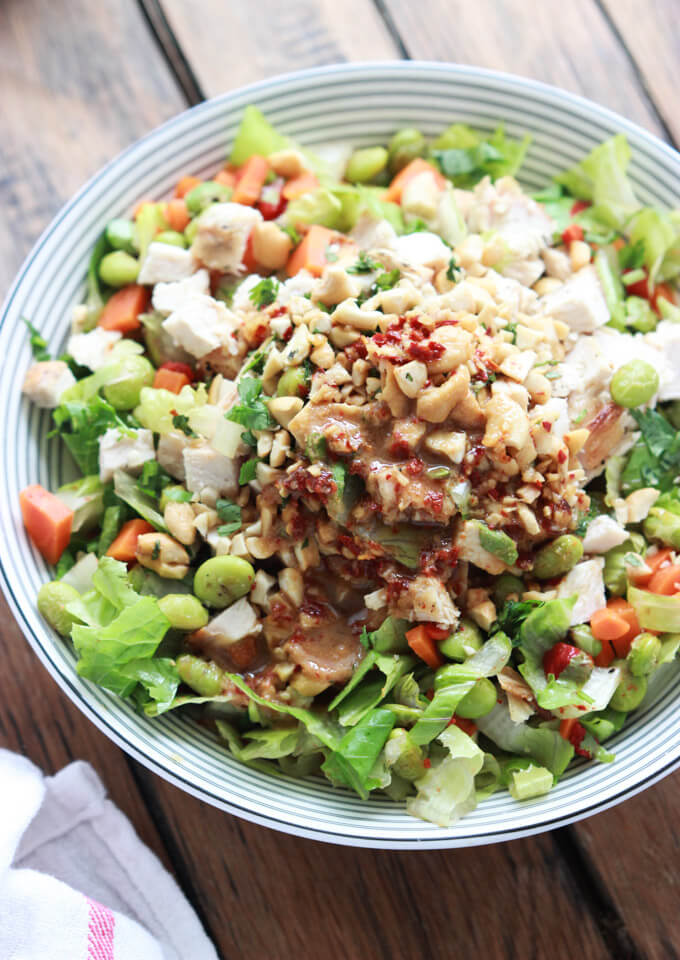 Chopped Thai Salad with Peanut-Chili Vinaigrette
Author:
Katya @ https://www.littlebroken.com
Ingredients
Salad
1½ cup cooked chicken, diced
4 cups romaine lettuce, chopped
2 medium carrots, halved crosswise
1 cup edamame, cooked
½ cup jarred roasted bell-peppers, chopped
½ cup fresh cilantro, chopped
⅓ cup roasted cashews, chopped
Peanut-Chili Vinaigrette
2 tsp. peanut butter (creamy)
½ tsp. red pepper flakes (use less or more per taste)
1 Tbsp. honey
2 Tbsp. soy sauce
2 Tbsp. water
2 tsp. rice vinegar
¼ tsp. sesame oil
½ tsp. lime juice
1 tsp. ginger, minced
1 medium garlic clove, pressed
sea salt and fresh ground pepper
Instructions
Peanut-Chili Vinaigrette
Whisk all ingredients until combined. Season with salt and pepper to taste.
Salad
Bring a small pot of water to a boil, add carrots and cook for 7-12 minutes or until just fork tender. You want them just enough tender to pierce a fork/knife through but not mushy. Drain and set aside to cool. Once cool to handle, peel and chop the carrots.
Lightly spray a medium skillet with cooking spray, add cooked edamame and roast for 3 minutes or until charred over high heat, mixing constantly. Cool completely.
In a large bowl, combine all the salad ingredients. Drizzle with vinaigrette and mix thoroughly. Adjust seasoning to taste. Enjoy!
Notes
Salad tastes the best when cold. Chop all the vegetables and cool in the fridge before adding the vinaigrette.