Beet, Cucumber, and Radish Salad with Basil Pesto Vinaigrette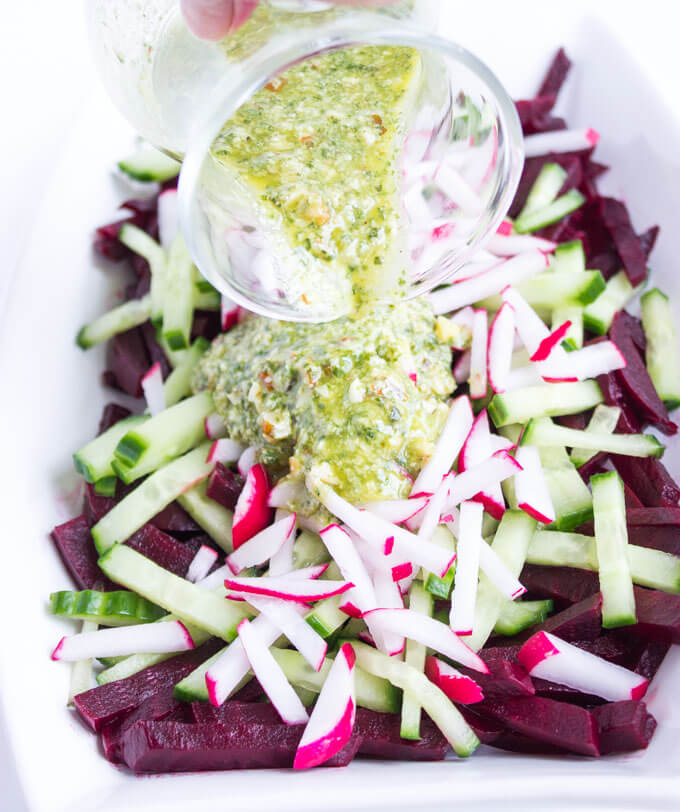 Cheers to the weekend friends!! How was your week? It rained pretty much all week for us and I didn't get to do much shooting in the kitchen but on a brighter note, I bought a new fruit basket at Pier 1 + more white plates for props, finished packing my hospital bag, painted a door, cleaned out our winter closet, washed baby clothes, made chicken 4 different ways in one night, ordered more baby clothes, and washed every piece of dirty and what may be possibly dirty in the future piece of clothing in the house. So this nesting thing is really true I guess. Because chicken 4 different ways in one night?! Who has energy for that?! But apparently a woman who is 38 weeks pregnant does.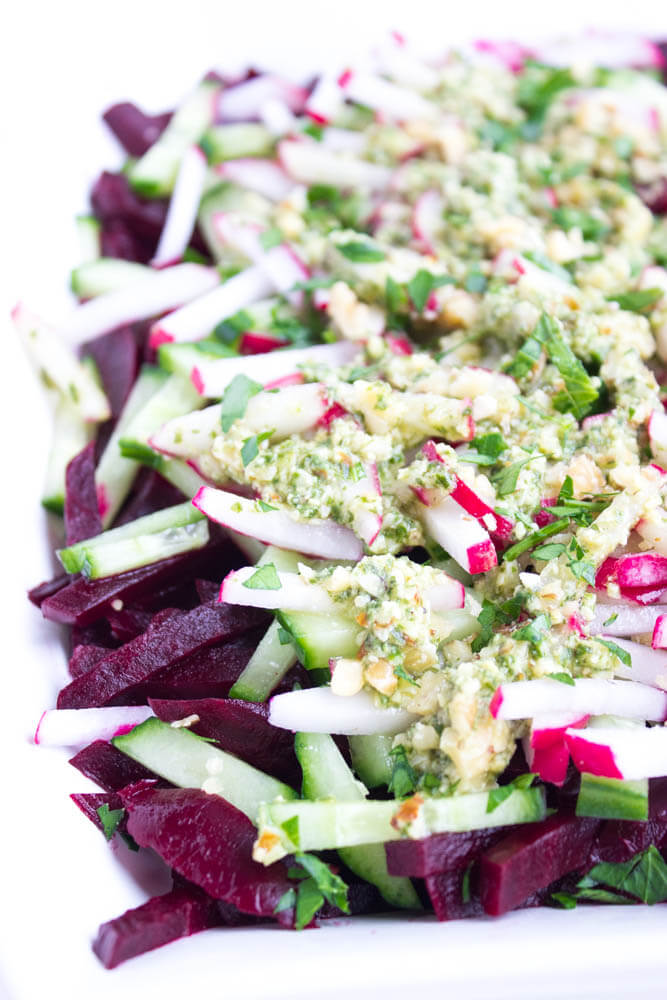 I can't complain though. Constant desire to do things is getting overwhelming but I am so grateful that I'm healthy, feeling great, and can move around. But also relieved that in couple more weeks I can finally see my toes from above and sleep on my stomach….and of course meet this little babe of mine. Now just bring on this baby!
So, let's talk about this salad now.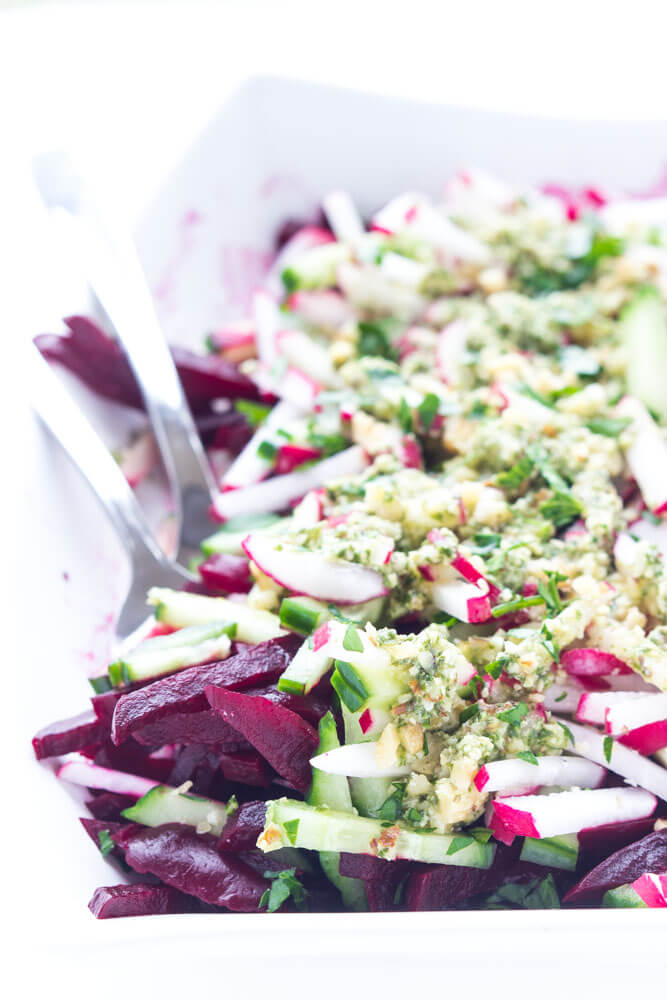 Our farmers market opened up last weekend and I shared why I love eating seasonally, plus my favorite spring produce + recipes with you guys. So don't be surprised that a Beet, Cucumber, and Radish combo salad is up today. I've been on a radish+beet kick lately. Beets are one of those veggies that's kind of a staple in my fridge and I've been mostly making salads with them and this salad can not be any easier or tastier. It's only three ingredients + the basil pesto vinaigrette. It's a perfect side to any entree.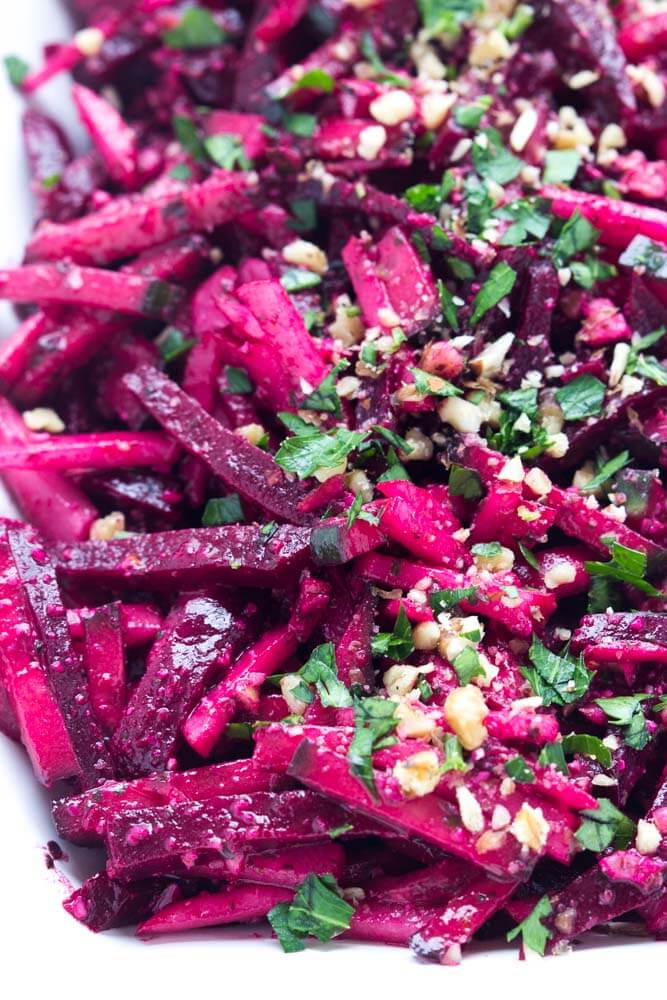 I used fresh beets, just because you can't go wrong with fresh beets. They taste and look so much better. Plus cooking your own beets is easy stuff and can be done the night before. Just store them covered in the fridge until ready to chop.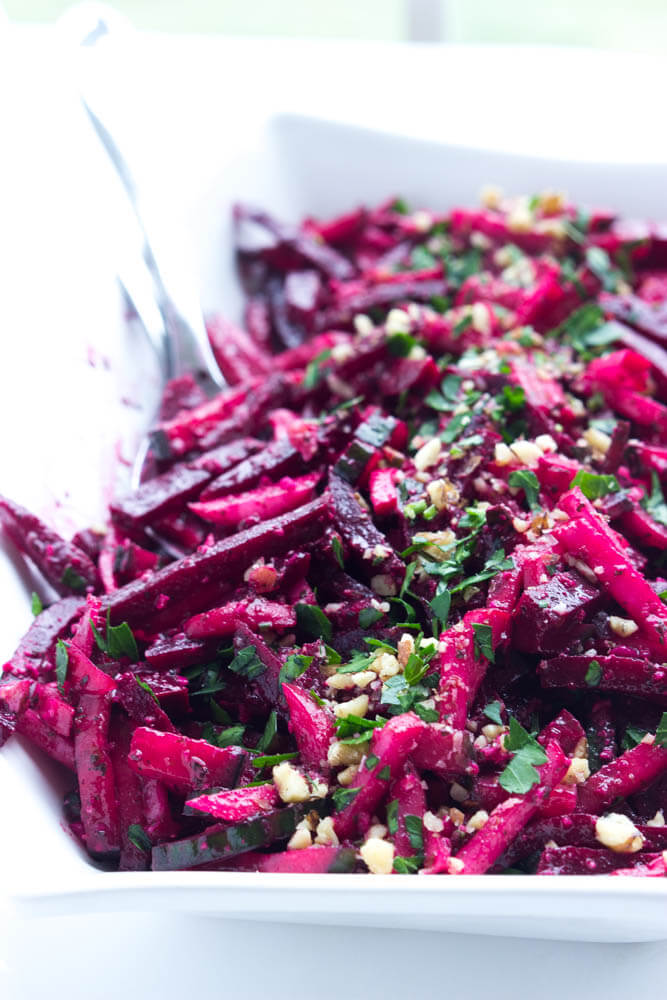 I julienned the beets as well as cucumbers and radishes then tossed it all in a simple basil pesto vinaigrette that I packed with crunchy chopped nuts, fresh lemon juice, and little bit of olive oil. If you haven't tried making your own pesto yet – you should as you will never go back to store stuff! It has so much more fresh flavor and less salt. I tested this salad with store pesto and the acidity and saltiness is so overwhelming with the store version that it completely changed the taste of the salad. So I highly recommend making your own pesto. Plus the leftover pesto can be tossed in pasta, salads, veggies, used as a spread, and the list goes on. It's a versatile little fridge staple to keep around.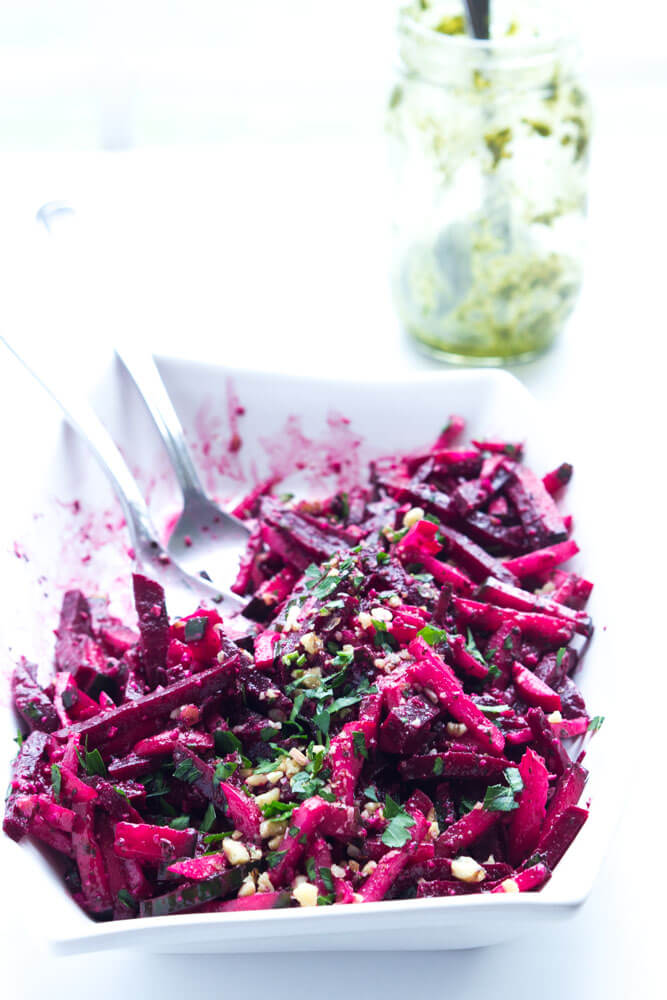 What I love about this salad is the crunchy fresh veggies combined with creamy, herby basil vinaigrette. It's best when served immediately and makes a beautiful presentation. I mean look at all that color!
Enjoy friends and don't forget to FOLLOW ME and use hashtag #littlebrokenblog or tag me @littlebrokenblog if you try my recipes! Facebook, Instagram, Google+, Pinterest.
And if you have a minute or two I would sooooo appreciate you telling me what you love about this salad below and also rating the recipe. Love you all!!!
Print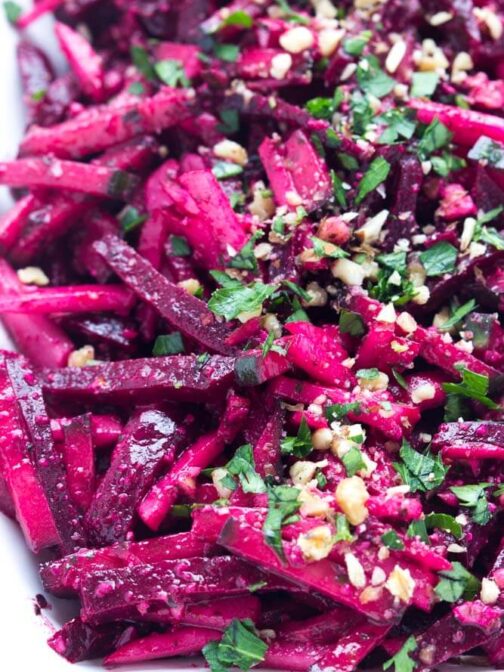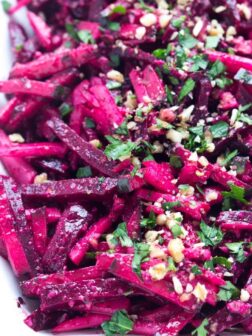 Beet, Cucumber, and Radish Salad with Basil Pesto Vinaigrette
Author: Katya
Prep Time: 15 mins
Cook Time: 25 mins
Total Time: 40 mins
Yield: 4–6 as a side 1x
Category: Salad
Method: No-Cook
Cuisine: American
---
Description
Beet salad with cucumbers and delicious basil pesto.
---
1 lb. fresh beets, trimmed (do not peel), about 3-4 medium
8-10 medium/large radishes, julienned, about 1 1/2 cups
1/2 seedless cucumber, julienned, about 1 cup
salt and pepper
Basil Pesto Vinaigrette
1/4 cup Easy Homemade Basil Pesto, at room temperature (see note below about using store pesto)*
1 Tbsp. finely chopped walnuts
1 Tbsp. finely chopped almonds
1 Tbsp. fresh lemon juice
1 Tbsp. extra-virgin olive oil
---
Instructions
Place trimmed beets in a medium saucepan; cover with water and cook over medium/low heat until knife tender, about 20-25 minutes. Cool completely. Peel the beets and cut into matchsticks.
Toss the beets, radishes, and cucumber with the basil vinaigrette. Season with salt and pepper, to taste. Serve immediately (see note below).**
Basil Pesto Vinaigrette
Whisk all ingredients together. Serve immediately.
---
Notes
*I tested this recipe with store pesto and it completely changed the taste! Store pesto is much saltier and has more acidity than the homemade version so the salad taste completely changed. I highly recommend making your own pesto.
**This salad is best when served immediately while the veggies are crisp and crunchy. If you want the salad super chilled, I recommend chilling the veggies separately before mixing with the vinaigrette.
Nutrition
Serving Size:
Calories: 189
Sugar: 6.7 g
Sodium: 160.8 mg
Fat: 9.1 g
Carbohydrates: 23.8 g
Protein: 3.9 g
Cholesterol: 0 mg
Keywords: beets, salad, summer