Trader Joe's Favorites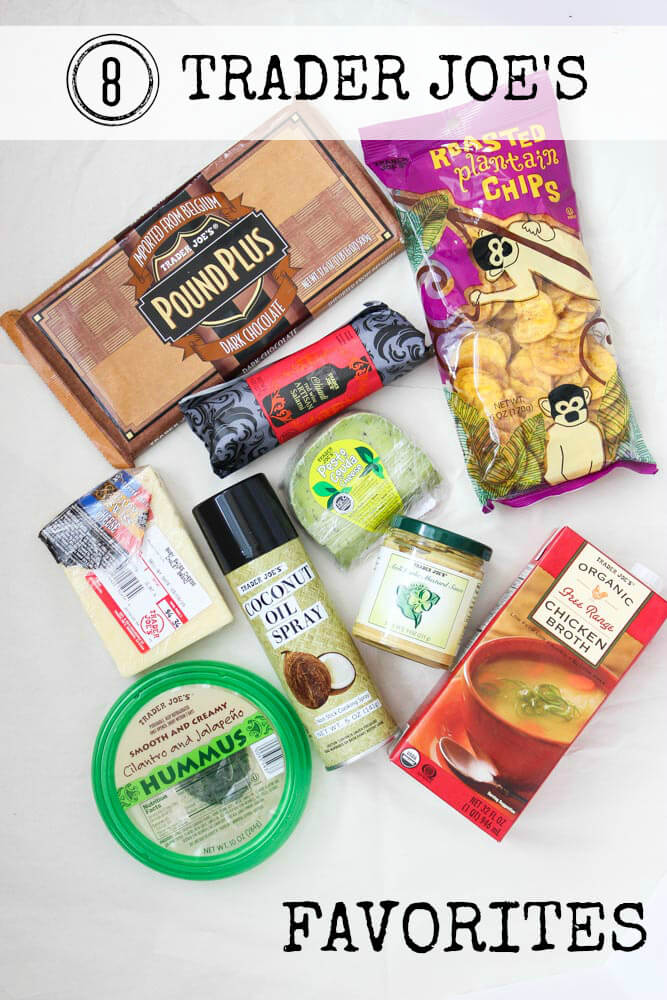 Today, I'm sharing my favorite Trader Joe's products that I've been loving on lately that have become my must haves. I'm somewhat of a newbie to Trader Joe's. The store has always been around where I live but I didn't really start shopping there until recently. I've always had this misconception that it's a pricey grocery store and for me personally, Trader Joe's is somewhat out of my way so it didn't make sense to go out of my way to purchase items that I could pick up at a fraction of a cost at a grocery store closer to home. You know what I mean?
However, I've slowly discovered some amazing budget friendly basics that are definitely worth the trip! Most of my favorites are pantry staples that I reach for over and over again and some are just tasty treats that I can only find at Trader Joe's. Plus I can't resist their adorable grocery totes that I get sucked into purchasing every single time 🙂
So here it goes…
1. Aioli Garlic Mustard Sauce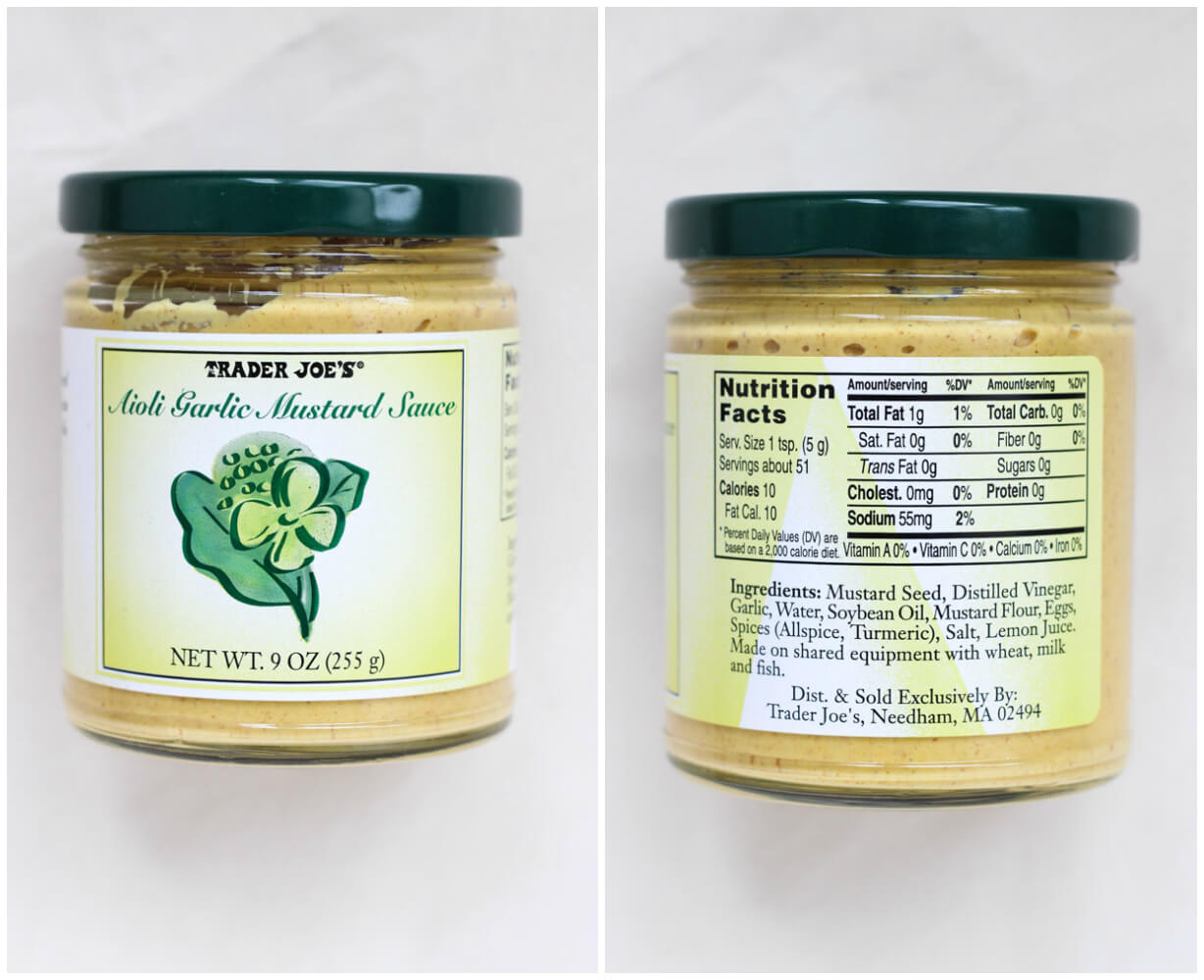 Cost: $2.49
This is one of my favorites from this list! Not too pungent mustard with mixture of garlic for a smooth, mellow, garlicky creaminess. It's also a little spicy but not super pungent like Grey Poupon Dijon. It's just the perfect blend that makes sandwiches taste AMAZING and apparently you can use it as a dipping sauce for fries, veggies, whisk it into a dressing, mix into tuna/chicken salads, and with only 10 calories per serving you really can't go wrong with this condiment.
2. Cilantro & Jalapeno Hummus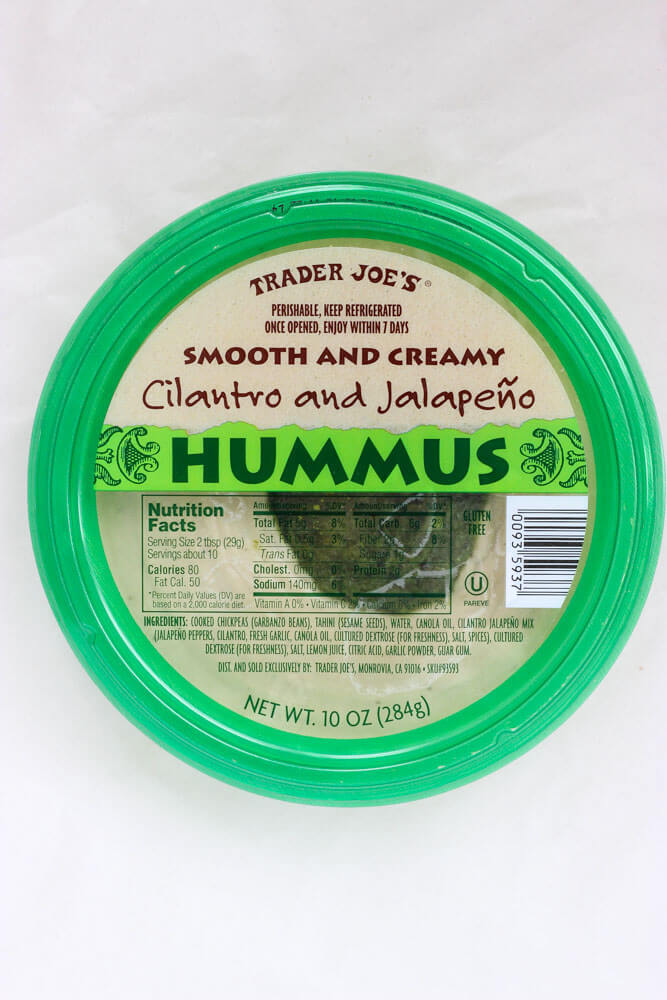 Cost: $2.99
My sister Oksana turned me onto this hummus and I'm glad she did! It's absolutely yummy with crackers, pita chips, veggies or as a spread on a sandwich or wrap. Topped with cilantro jalapeno pesto this hummus adds just enough heat to your snacks and sandwiches. My favorite way is to eat with sliced cucumbers.
3. Coconut Oil Spray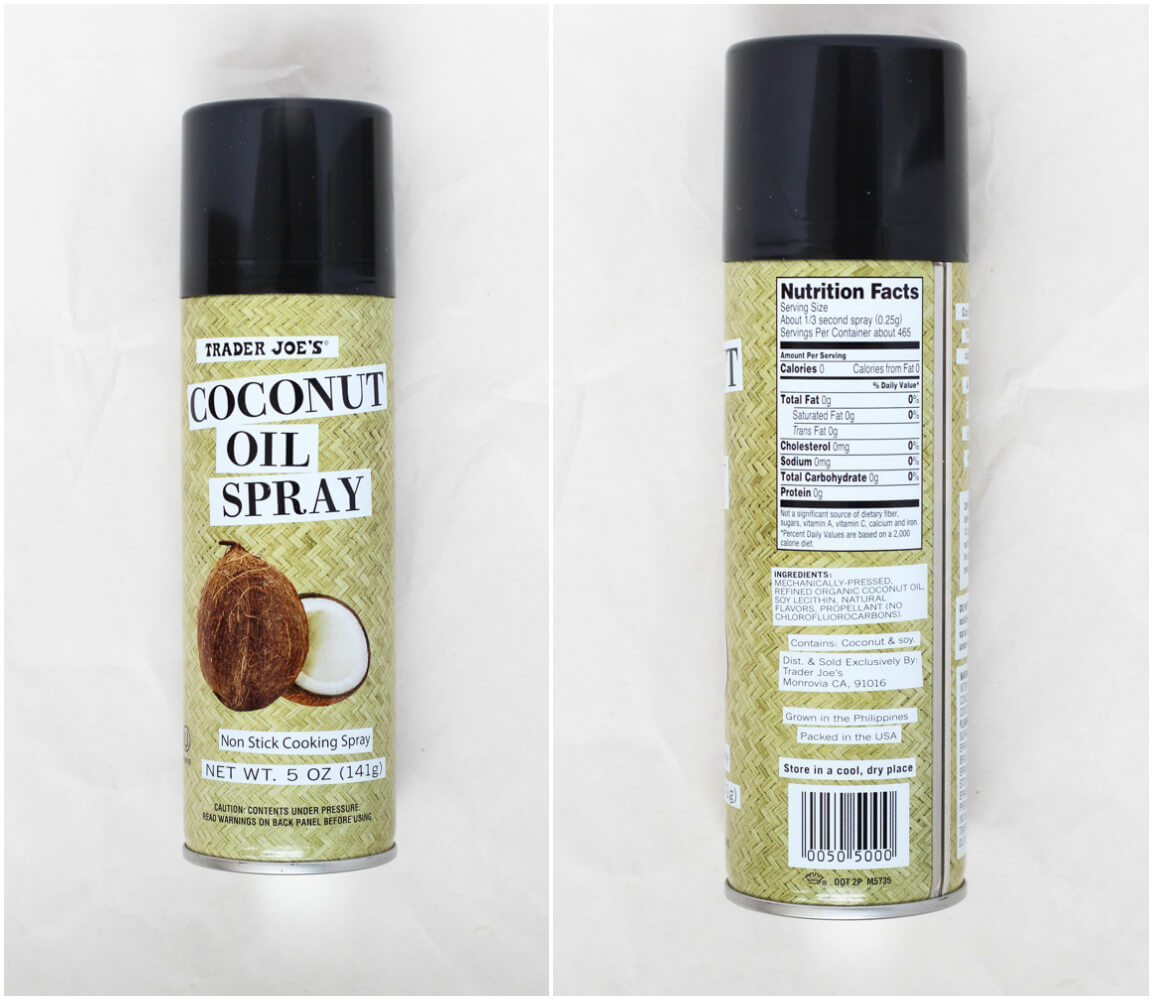 Cost: $2.99
This is a definite bargain. I normally pay way over $3 for a can for a cooking spray not to mention coconut oil spray. What I really love about this one is that it actually smells and tastes like coconut oil vs. PAM coconut spray, which smell like odorless aerosol chemical and tastes nothing like coconut oil. And this one does not drip! I've noticed some cooking sprays leak/drip and leave you with greasy hands by the time you're done cooking. This one does not and it's a must have pantry staple that I can't live without. It makes cooking pancakes or omelettes a breeze.
4. Cheese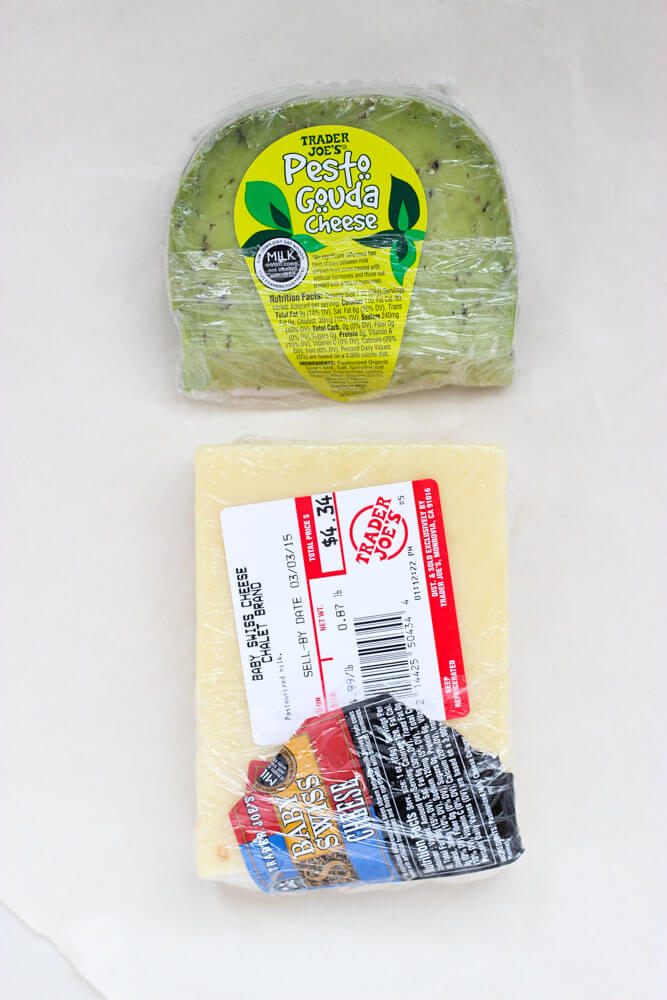 Cost: varies
Ok, so cheese is my weakness! I love pretty much ANY type of cheese, except stinky cheeses (no gorgonzola or blue for this girl). Trader Joe's has a delicious variety of different cheeses at a reasonable affordable cost. Not to mention awesome flavors, like Pesto Gouda (super delish on sandwiches, esp egg sandwiches). I always have cheese stocked in my fridge. We eat it as a snack with crackers or fruits/veggies. Or slice up to serve alongside some good salami and glass of vino.
5. Roasted Plantain Chips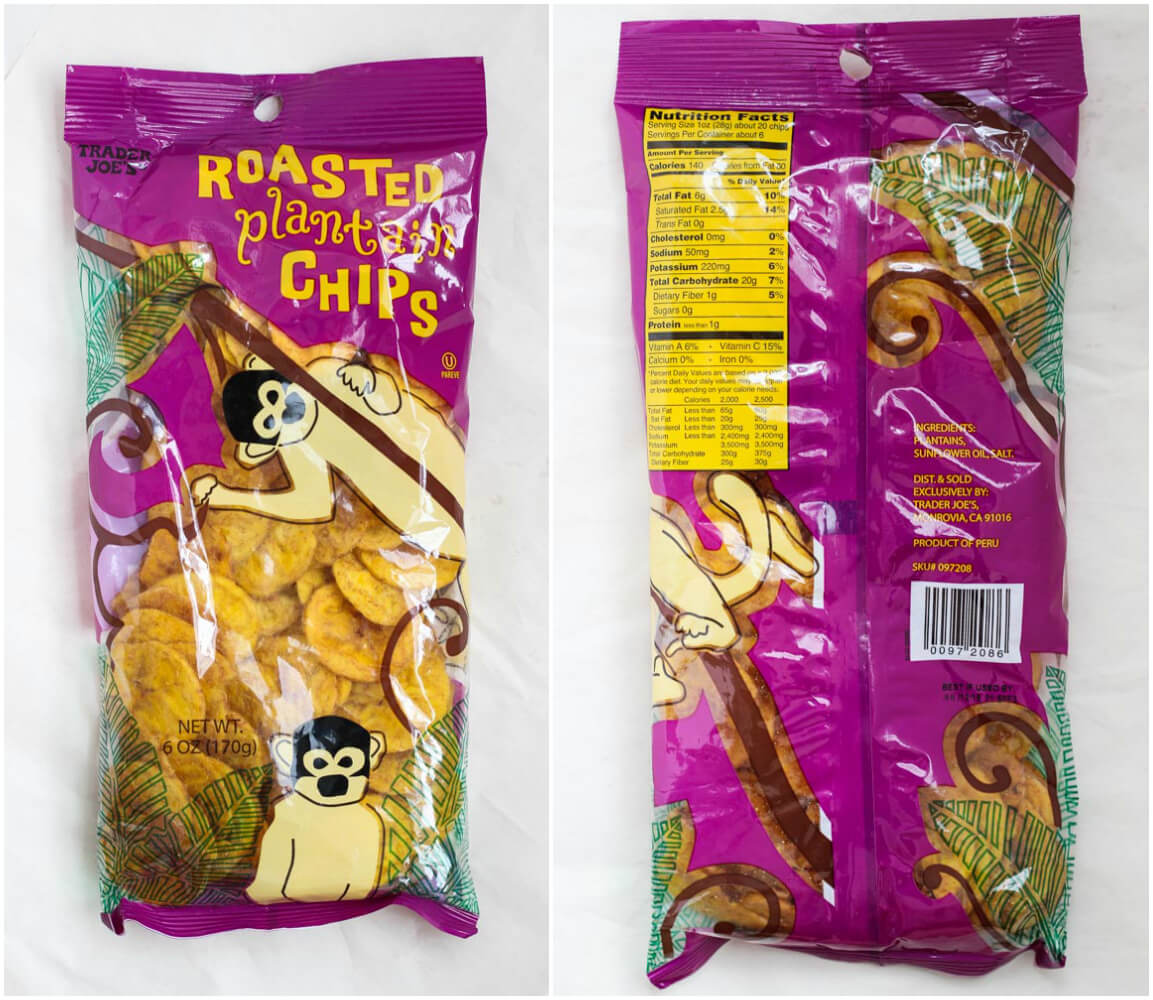 Cost: $1.69
I can't leave TJ without picking up these chips! My girlfriend Bethany turned me on to these. With only three ingredients and at $1.69 a bag, you really can't go wrong with these. Plantains are very similar to bananas, except plantains are almost always cooked before eating, while bananas are eaten raw. They are super crunchy, slightly sweet, and remind me of potato chips but of course with ingredients I can pronounce and half the fat. You can eat them as is or dip in hummus, eat with side of fresh veggies, or even crush a top of a green crispy salad.
6. Chianti Red Wine Artisan Salami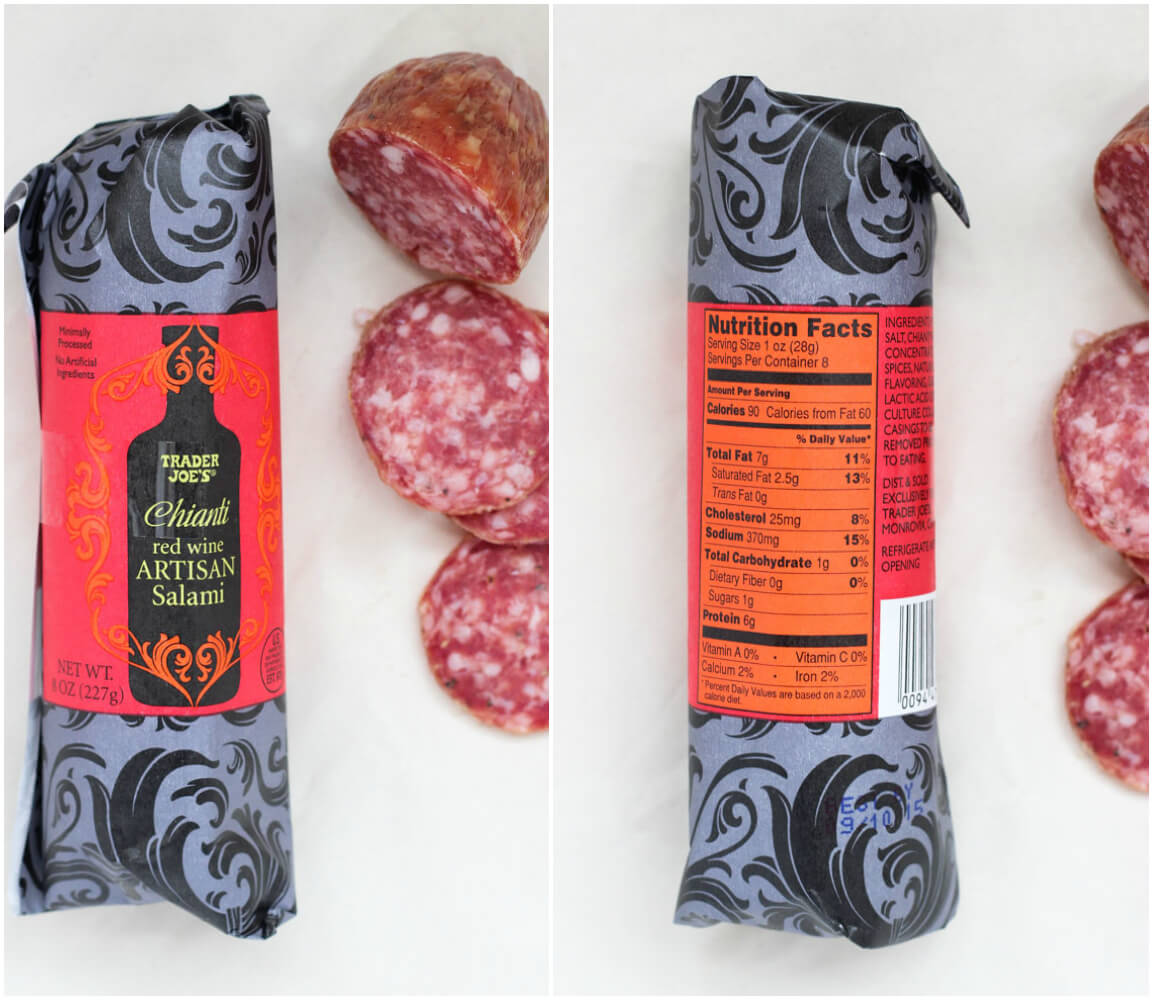 Cost: $4.49
This is another item that my sister turned me on to. I'm picky about salami. There's no doubt about it! It's all processed meat so it's hard to find salami that has somewhat of clean ingredients. I normally buy this brand of salami at my local grocery store but at $9.99. Even at ten bucks that's still a little pricey. So when I discovered this Chianti Red Wine Artisan Salami at $4.49 for 8 oz. I did a happy dance. Not only is it a bargain but it tastes amazing. Not too greasy, not too salty and with just enough of fat pockets to serve alongside any cheese!
7. Organic Free Range Chicken Broth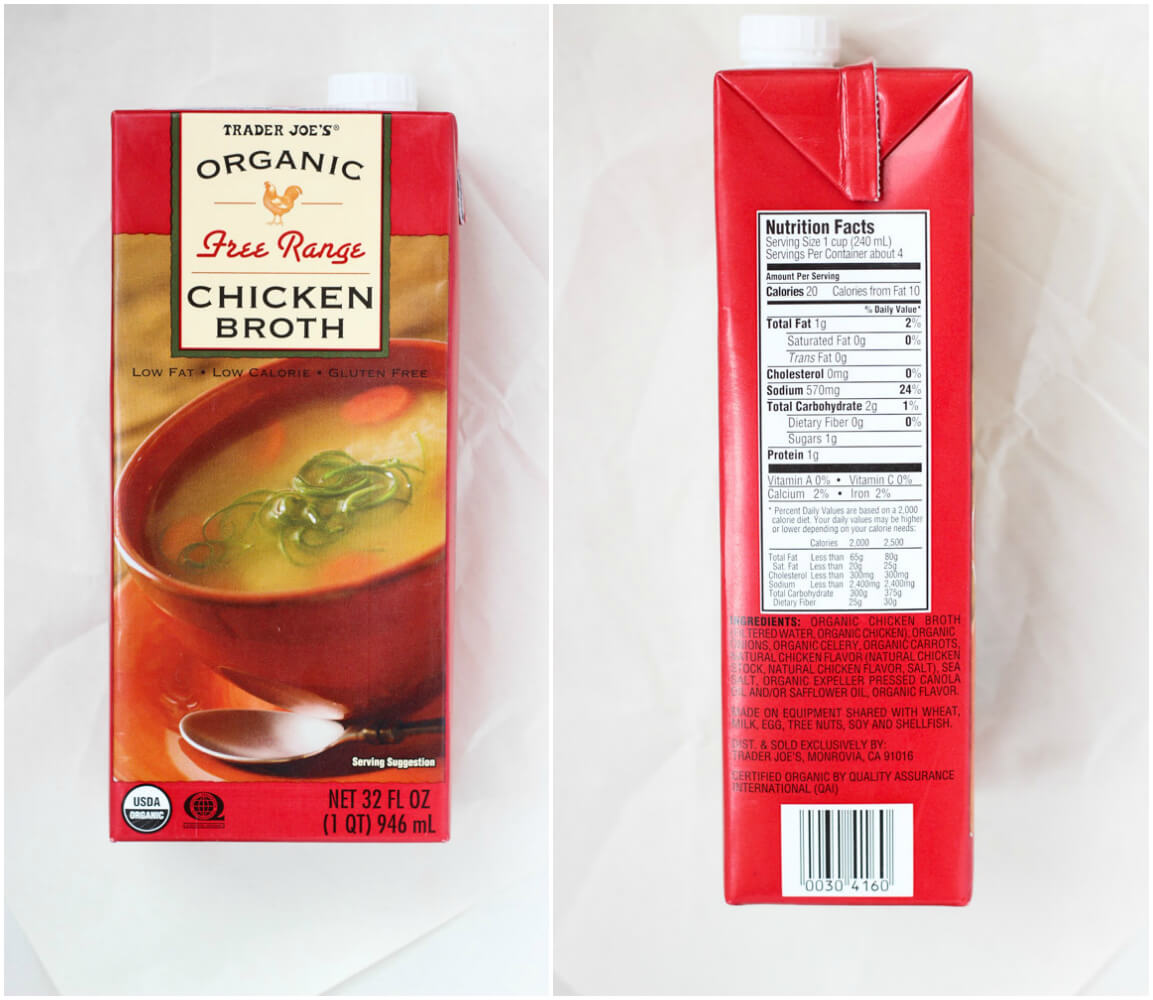 Cost: $1.99
So I'm a big "make your own chicken broth" type of person but let's be honest here, sometimes I got not time for that! So, when I do buy chicken broth, I always look for organic and of course it has to have clean ingredients. Because even organic can have bunch of junkie stuff in it. This one from TJ has great chicken flavor and not so bad ingredients (not the best) but at only $1.99 you're getting a bargain! I mean $1.99 for organic chicken stock! That's unheard of. I normally pay close to $3 for organic 1 quart carton of broth at my local grocery store. So this is by far one of the most affordable items on this list.
8. Pound Plus Dark Chocolate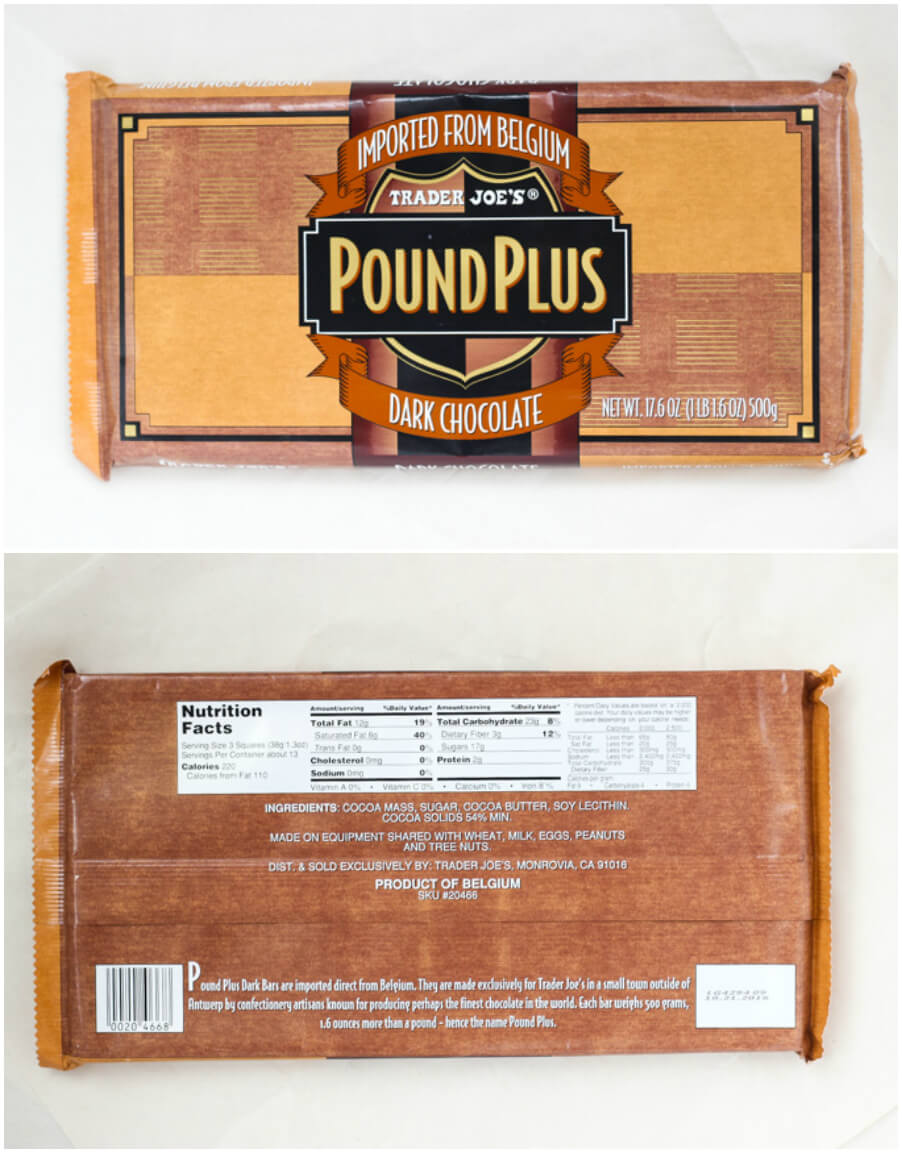 Cost: $4.99
Have you seen a chocolate bar so big? I haven't until I met Trader Joe's Pound Plus chocolate bar. Trader Joe's is known for their chocolates and sweet treats, which I always disregarded until I came across this ginormous chocolate bar. You might ask why anyone would want so much chocolate? Well, it's a no brainer – to bake with (wink, wink). No seriously, I normally pick up their pound plus bars to use for when I'm baking. It's a product of Belgium with great taste and major bargain when you compare for what you would pay for something like Ghirardelli which most major grocery stores offer in their baking aisles. These also come in Milk Chocolate, Bittersweet Chocolate, and 72% Dark Chocolate.
Now, it's your turn! I want to know what you guys go for at Trader Joe's. Leave a comment below letting me know your picks and don't forget to tag me @littlebrokenblog on Facebook or Instagram showing me your Trader Joe's haul. I want to see it!!!
All of the nonperishable items listed above are available on Amazon but at a higher cost. If you have a Trader Joe's near you, I would suggest purchasing these at your local TJ store but in case you do not, here are the links to the items mentioned above available through Amazon:
Aioli Garlic Mustard Sauce; Coconut Oil Spray; Roasted Plantain Chips; Organic Free Range Chicken Broth; Pound Plus Dark Chocolate