Quick and easy homemade dinner in about 30 minutes with six simple ingredients! Light and fresh spring inspired angel hair pasta with homemade lemon basil sauce, tender chicken thighs, and asparagus.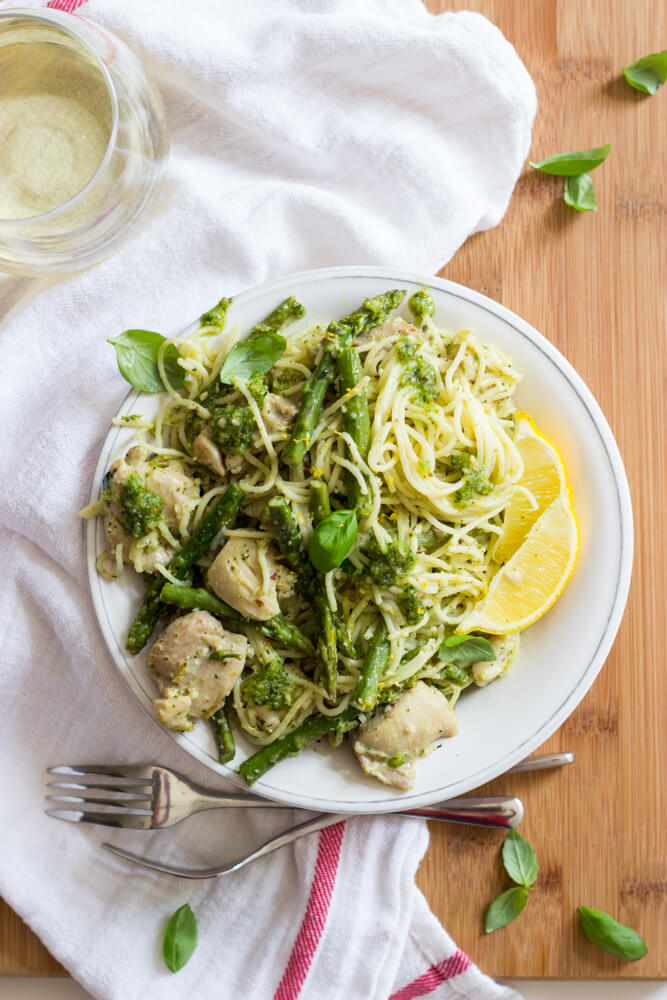 It's spring in a dish kind of day! It involves ton of spring flavors, like asparagus, lemon, homemade basil pesto, delicate angel hair pasta, and of course chicken. I'll be the first to admit, we're not huge pasta lovers around here but once in a while I get a craving for big bowl of pasta, preferably in some kind of creamy sauce, with side of fresh salad. I mean you just got to eat pasta once in a while. You know what I mean? Plus it's friday and fridays are ususally cheat days for us.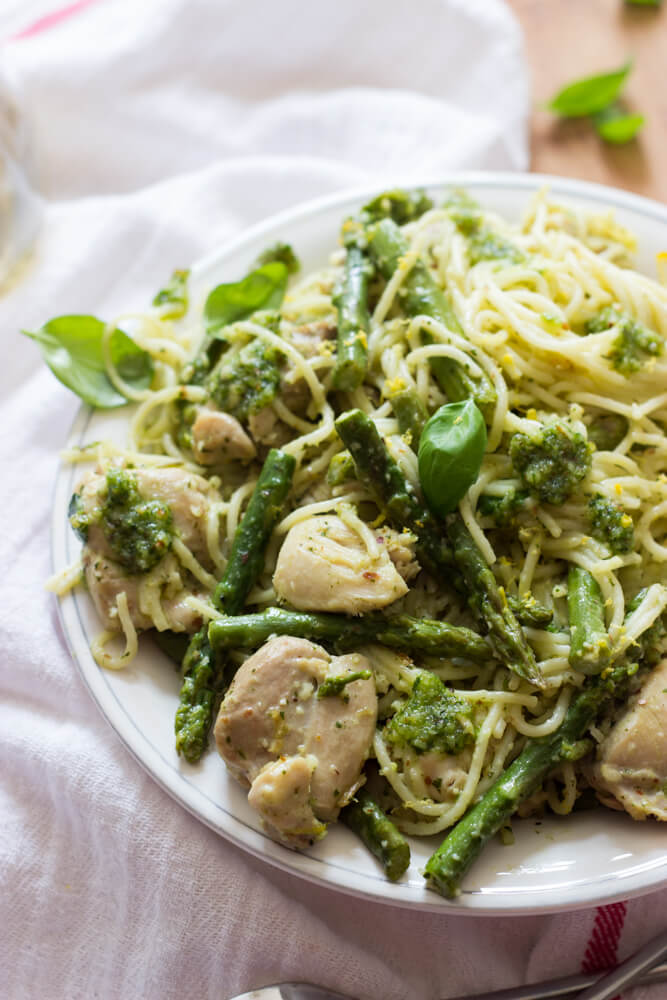 Fridays are also our eat leftovers from the week type of day. But once in a while there are no leftovers and I'm not sure if I should jump from joy or cry in a corner. Because 1) no leftovers means clean fridge and that means less food waste but it also means 2) I have to cook dinner and on a friday night that's the last thing I want to do unless it's this dish! This dish can not be a more perfect Friday-type of dinner. Why?! Because it's an ultimate lazy dinner.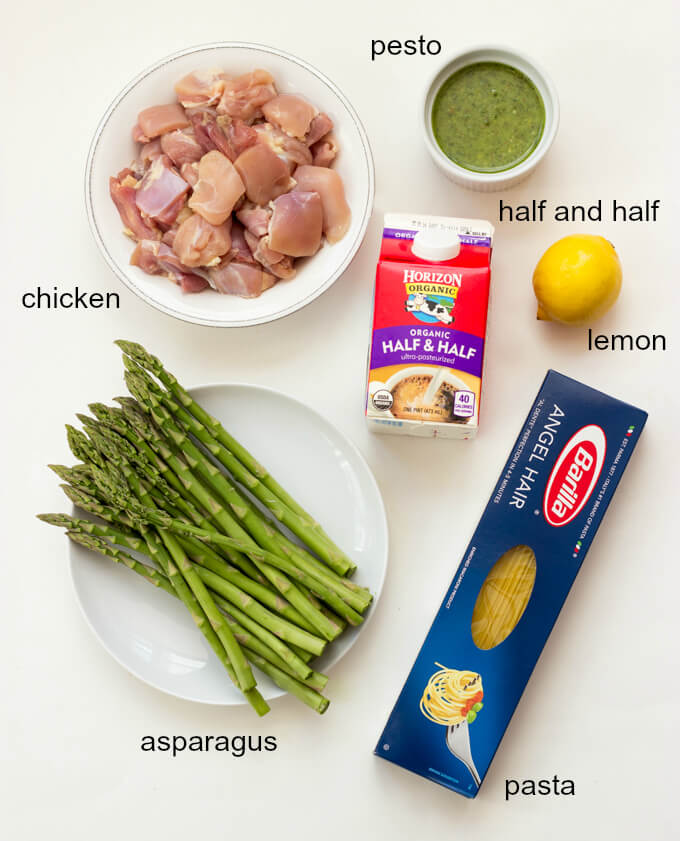 only 6-ingredients – yes only 6!
takes about 30 minutes – just imagine what you can do with the rest of the time
simple ingredients (and nothing out of a can) – LOVE that ♥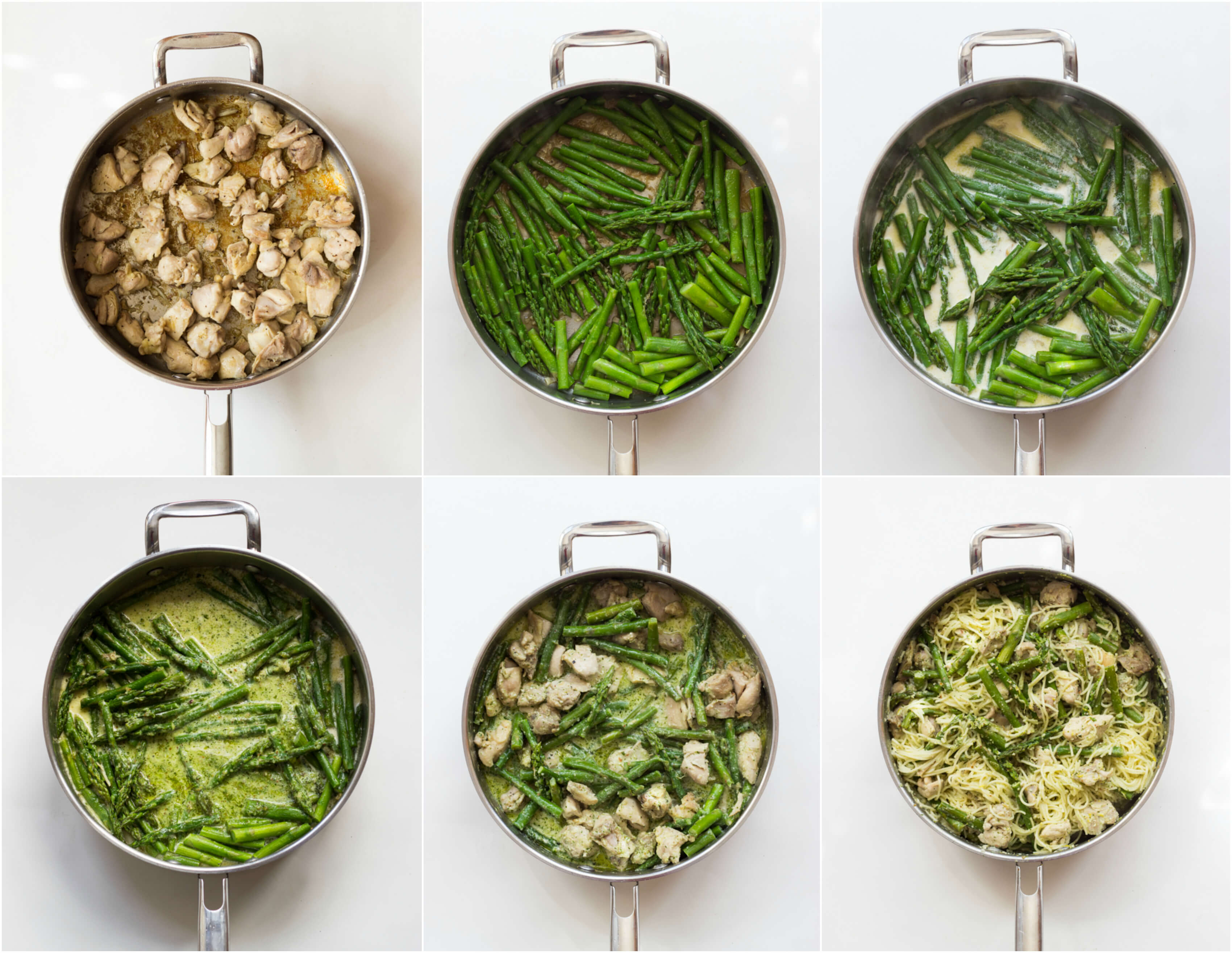 You can put this together very last minute to feed a family or a crowd. You start off with cooking the chicken. I love using chicken thighs. Not only do they cook quick, but are juicy, and fraction of what chicken breasts cost. Then goes in the asparagus and then the lemon basil sauce. The sauce is simply basil pesto, half and half, fresh lemon zest, and juice.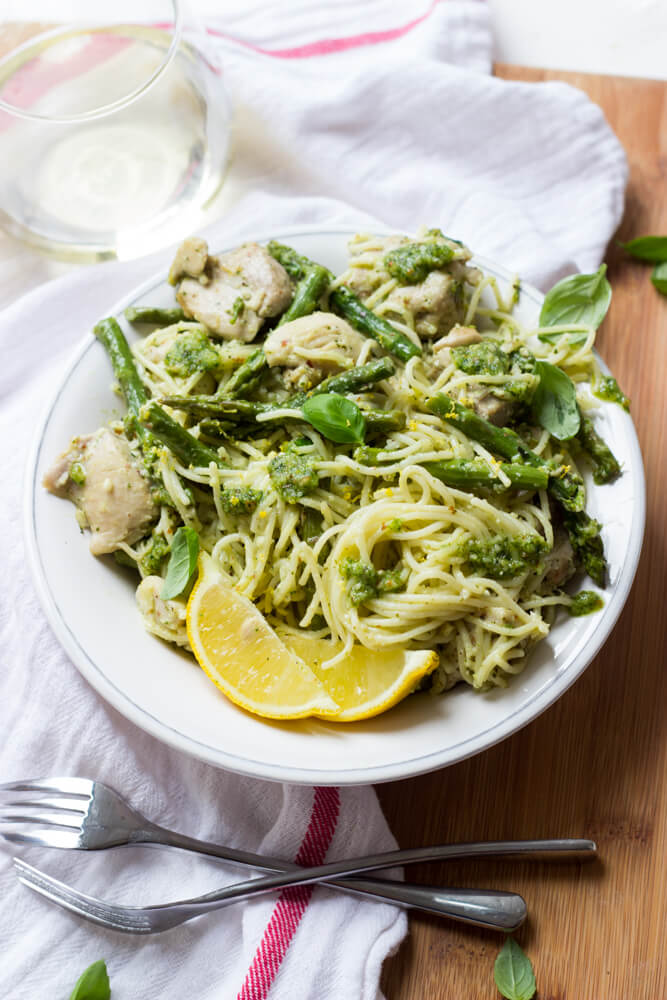 It might be like an extra tiny weenie step but I so so recommend making your own pesto for this one. I linked my favorite pesto recipe below. It's made in a food processor with only couple pulses. The taste is so much fresher and the sauce turns out much creamier. Everything tossed with delicate cooked angel hair pasta.
Serve it up with a huge family favorite salad and you've got one stinkin' tasty dinner ♥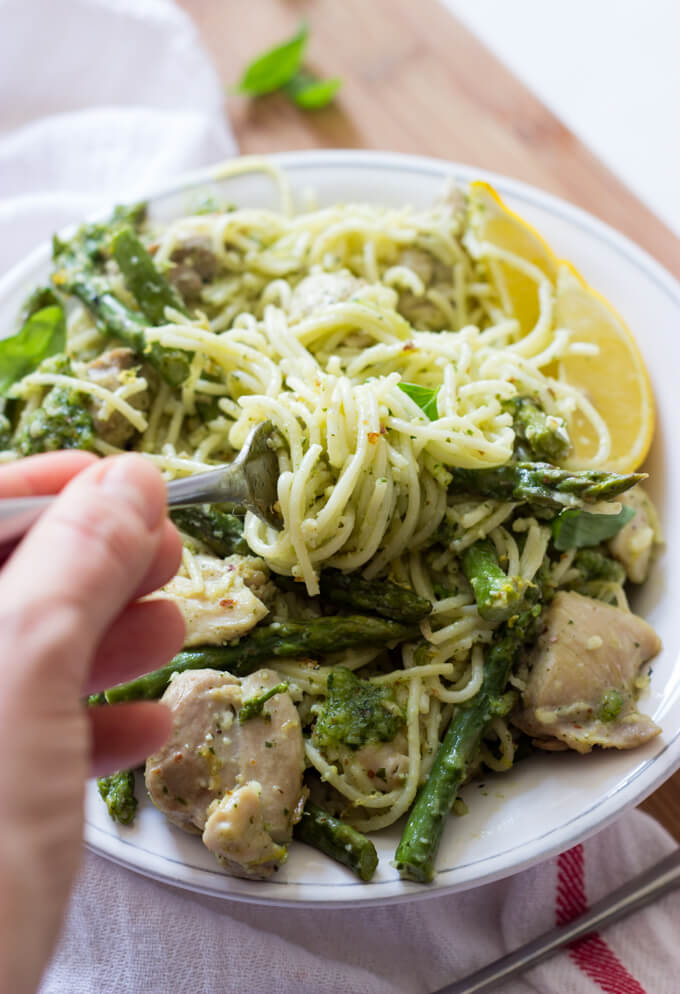 Make it. Snap it. Show it. Instagram @littlebrokenblog or snapchat → littlebrokenblg
Lemon Basil Angel Hair Pasta with Chicken and Asparagus
Author:
Katya @ https://www.littlebroken.com
Ingredients
1½ lbs. boneless, skinless, chicken thighs, cut into bite size pieces
1 lb. fresh asparagus, trimmed + cut into 2-inch pieces
½ cup half and half
½ cup basil pesto*
zest 1 medium lemon + ½ juiced
8 oz. dry angel hair pasta
olive oil (about 2 Tbsp.)
salt and pepper
Instructions
Heat a 3-quart saute pan over medium-high heat. Add just enough olive olive to cover the bottom of the pan, about 2 tablespoons. Add chicken, season with salt and pepper to taste, and cook for 8-10 minutes, stirring occasionally, until cooked through. Remove the chicken to a bowl.
Add ¼ cup water to the pan, reduce heat to medium, and add asparagus. Cover the pan and simmer asparagus until tender crisp, about 5 minutes.
In the meantime cook pasta in salted water according to package directions. Reserve 1 cup pasta water before draining.
To the asparagus, add half and half, and bring to a simmer. Then stir in the pesto, chicken, zest of lemon, juice, and ⅔ cup of pasta water. Toss cooked pasta with the sauce. Add more pasta water as needed. Taste for salt and pepper.
Serve immediately.
Notes
I highly recommend making your own basil pesto. I tried the recipe with homemade pesto and pesto from the store and pesto from the store produced more oily sauce whereas homemade pesto produced more creamier and fresh sauce. Totally worth it.
© Little Broken. All images and content are copyright protected. Please do not use my images without prior permission or claim my work as your own. Feel free to Pin, Tweet, Facebook and share away with a link back to the recipe post. If you want to republish this recipe, please re-write the recipe in your own words and link back to this recipe.