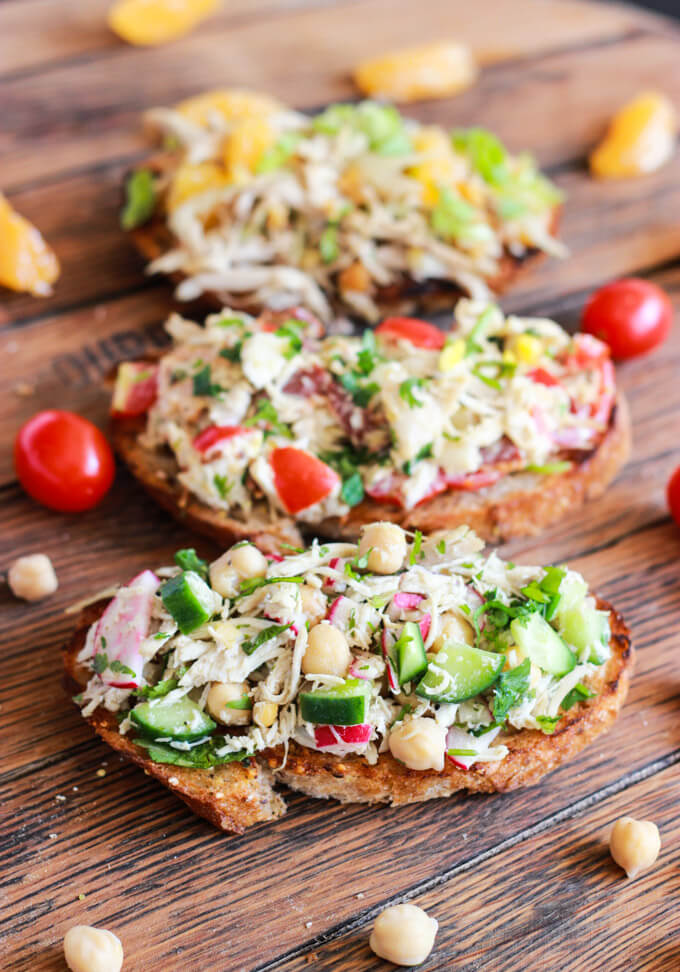 Chicken salad is a great way to use up leftover chicken or in my case broth chicken. Last week I had more chicken than I could handle in one week so I went chicken salad crazy.
There are so many different ways to make a chicken salad: chunky, ground up and fine, shredded, extra creamy, extra onions, no grapes. List goes on. There is really no wrong way with a chicken salad. As long as you have cooked chicken, you can pack the salad with any additional ingredients per your liking.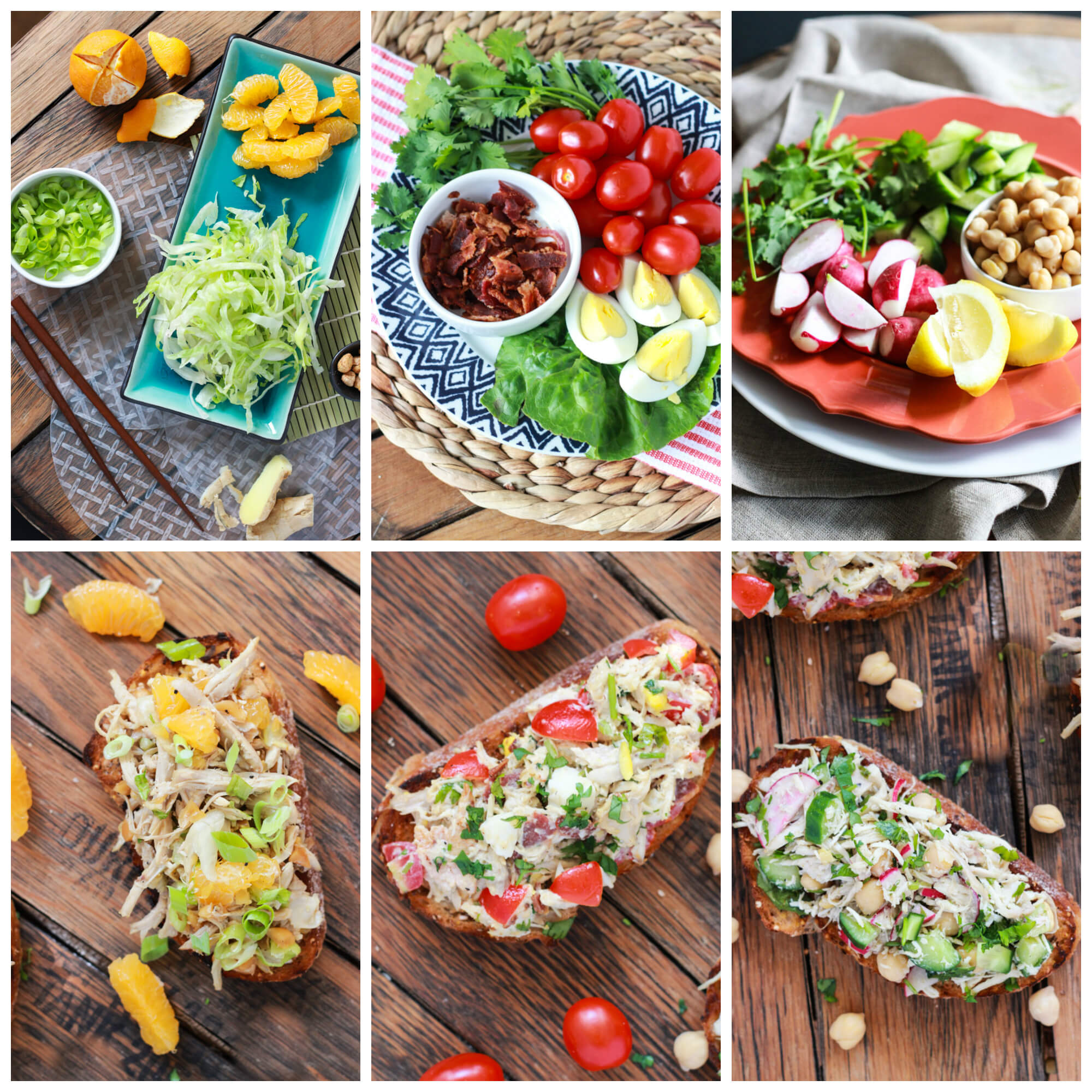 I'm sharing three of the favorites that I rotate in my house: Asian, Creamy Cobb and Middle Eastern. These crisp and cool salads have a refreshing combination of different ingredients to satisfy any taste buds. They are super easy to make as all can be prepared a day in advance and served as an appetizer or light lunch .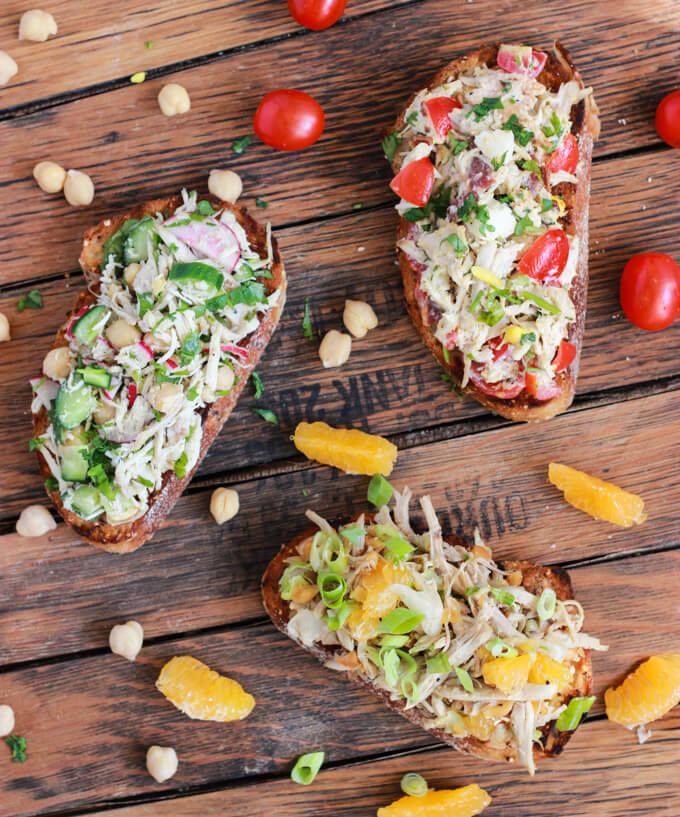 Chicken Salad 3 Different Ways
Author:
Katya @ www.littlebroken.com
Ingredients
Asian Chicken Salad
1½ cups shredded cooked chicken
1 mandarin orange, peeled, skin removed and cut into chunks
1 cup shredded lettuce
2 Tbsp. roasted peanuts, chopped
2 Tbsp. chopped scallions
3 Tbsp. Sesame-Ginger Dressing (recipe follows)
salt & pepper
Creamy Cobb Chicken Salad
1 cup shredded cooked chicken
2 hard-boiled eggs, chopped
⅓ cup chopped grape tomatoes
3 slices cooked bacon, crumbled
1-2 Tbsp. chopped cilantro
3 Tbsp. Olive Oil Mayo (recipe follows)
salt & pepper
Middle Eastern Chicken Salad
1 cup shredded cooked chicken
⅓ cup chickpeas
⅓ cup chopped cucumber
⅓ cup sliced radishes
2 Tbsp. chopped cilantro
¼ tsp. cumin
2 Tbsp. extra-virgin olive oil
1 Tbsp. fresh lemon juice
salt & pepper
Instructions
For each salad, combine all the ingredients in a bowl. Add salt and pepper per taste.
Chill in the refrigerator for 30 minutes. Serve with crackers, toast, pita bread, pita pockets, romaine lettuce leaves or croissants.
Sesame-Ginger Dressing
Combine in a food processor ¼ cups extra-virgin olive oil, 2 Tbsp. balsamic vinegar, 1 Tbsp. low-sodium soy sauce, 1 chopped clove garlic, 1 Tbsp. honey, ½ tsp. sesame oil, 1 Tbsp. peeled and minced ginger. Add 1 Tbsp. of water and process until smooth.
Olive Oil Mayo
Place 1 large egg and 2 Tbsp. lemon juice in a food processor, cover, and let it come to room temperature, about 30 minutes. Add ¼ cup light olive oil (not extra virgin), ½ tsp. dry mustard and ½ tsp. salt; process until ingredients are combined. While the processor is running, drizzle in an additional 1 cup of light olive oil in a very thin stream; about 2-3 minutes. Mayo should be nice and thick. Store in refrigerator.
© Little Broken. All images and content are copyright protected. Please do not use my images without prior permission or claim my work as your own. Feel free to Pin, Tweet, Facebook and share away with a link back to the recipe post. If you want to republish this recipe, please re-write the recipe in your own words and link back to this recipe.