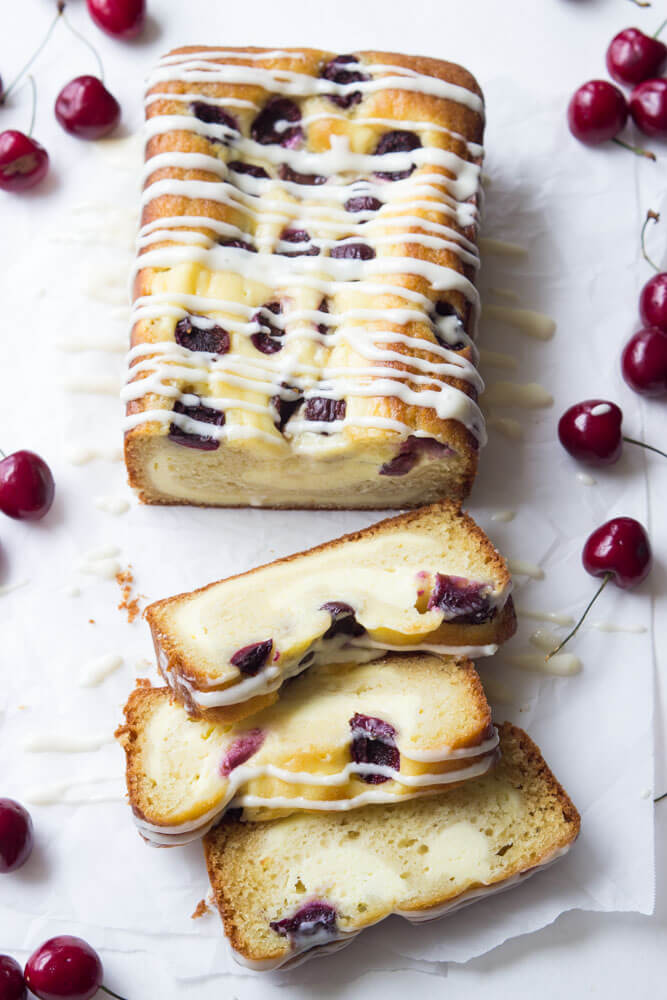 As you guys know, I'm not a huge baker at all but I even surprised myself with this cake! It's soft, moist, creamy and tender. All in one. No lies here. I promise. This coffee cake is a delicious companion to a cup of coffee or tea. Or in my case more like a midnight snack. Plus cake for breakfast is so acceptable here. Cherries are so so in season now and this is the way to make the most of them now!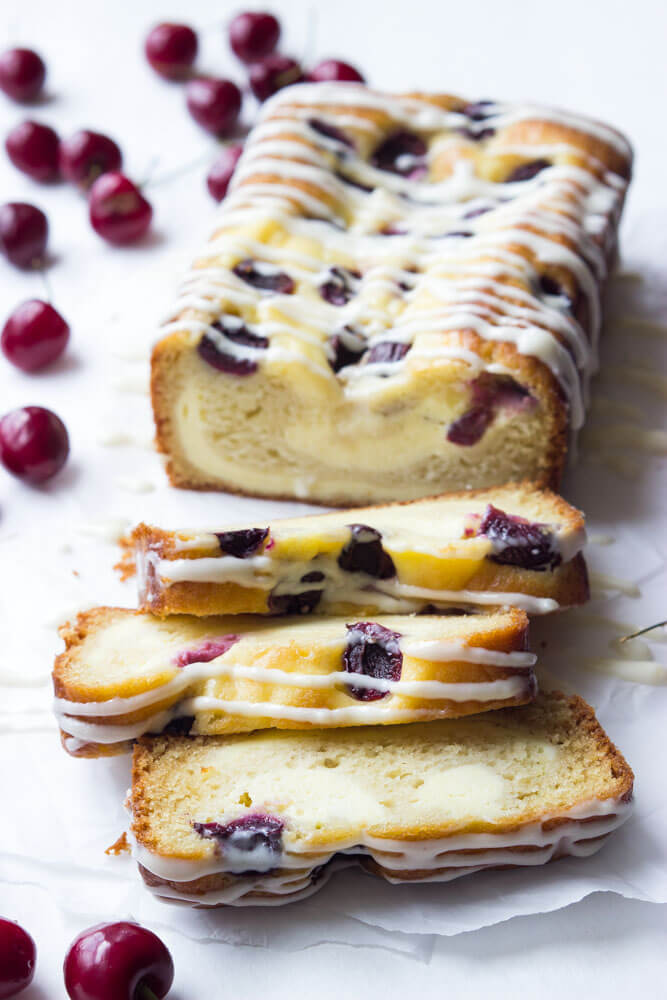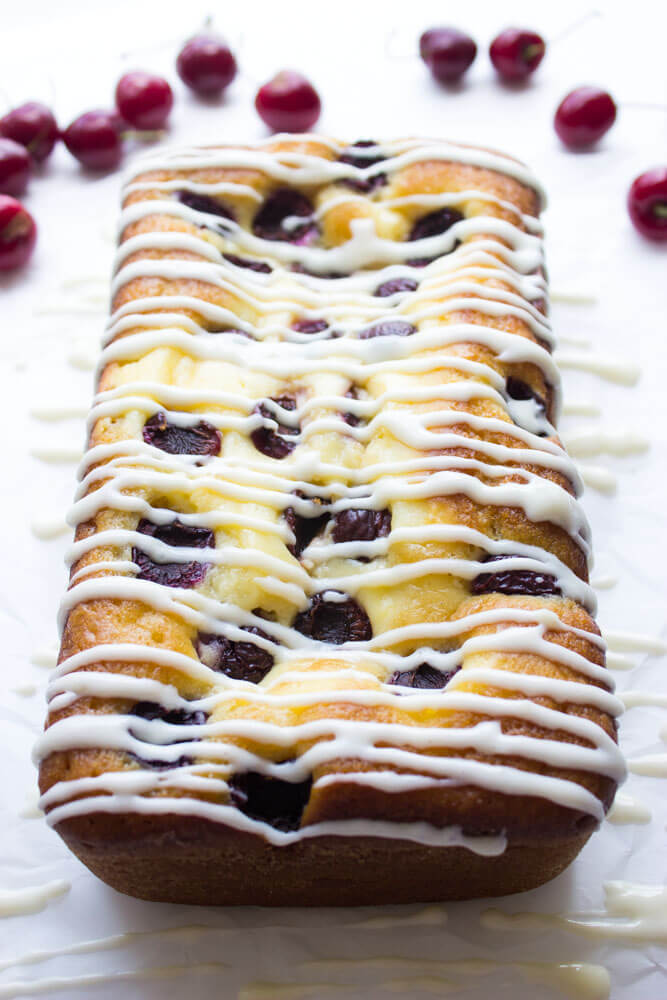 I hate to talk up a cake and overuse the term "moist" but seriously this cake is super moist and just melts in your mouth. I'm coming to a conclusion that anything baked with buttermilk is the best thing ever. It has five delicious layers, starting with a layer of moist coffee cake, followed by a creamy smooth cream cheese filling, another coffee cake layer, cream cheese filling, and then scattered juicy sweet cherries. Lastly, the whole cake is drizzled with creamy buttery sweet vanilla flavored cream cheese glaze.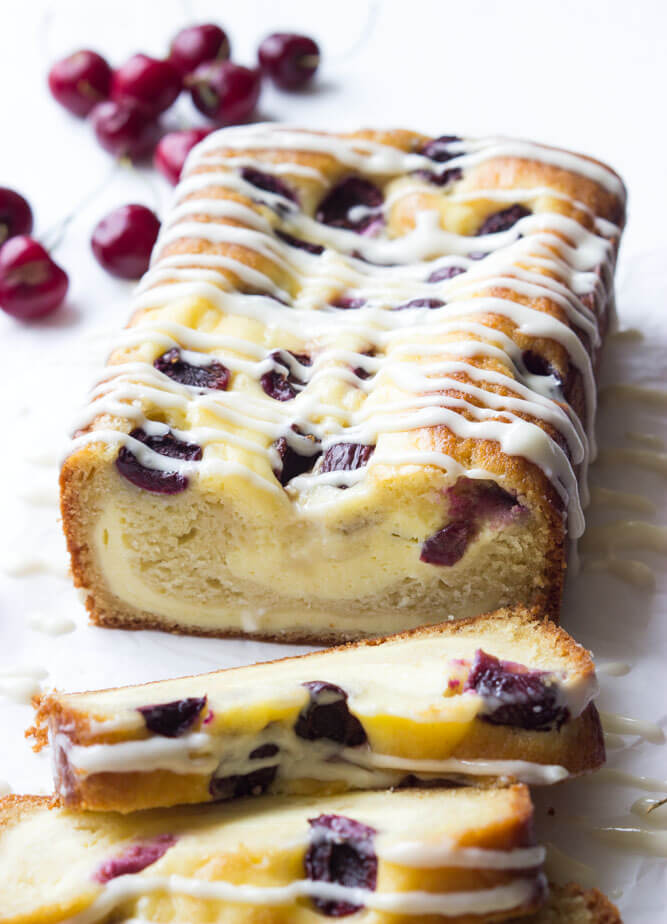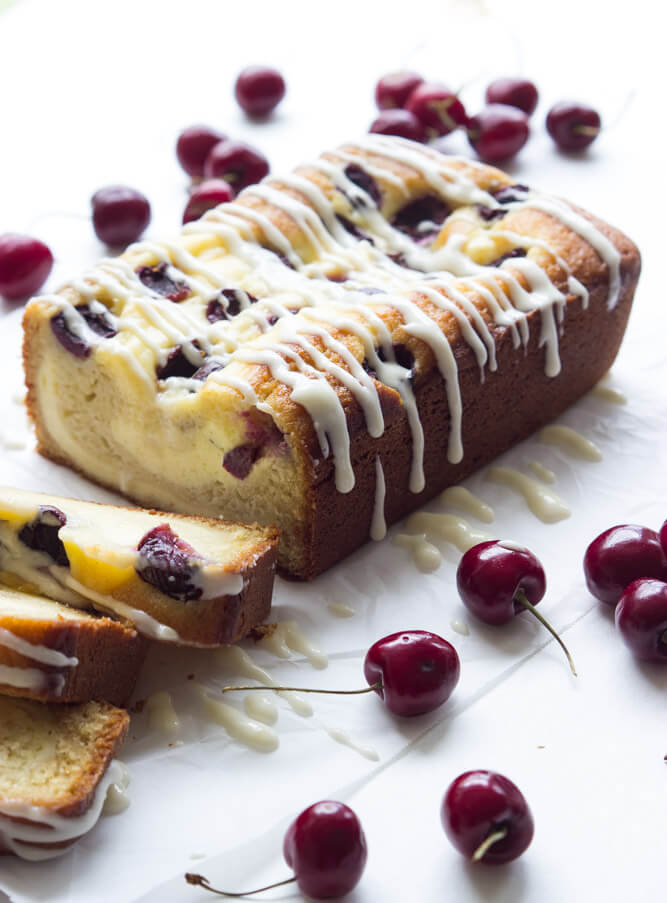 I used sour cream and buttermilk here to give the cake moisture, richness, and lightness. I added luscious cream cheese filling in between the cake layers for creaminess. Sweet fresh cherries on top and drizzle of glaze to finish the cake. OMG guys! The cream cheese glaze is everything. If you have leftovers, it makes the most delicious fruit dip or crepe filling.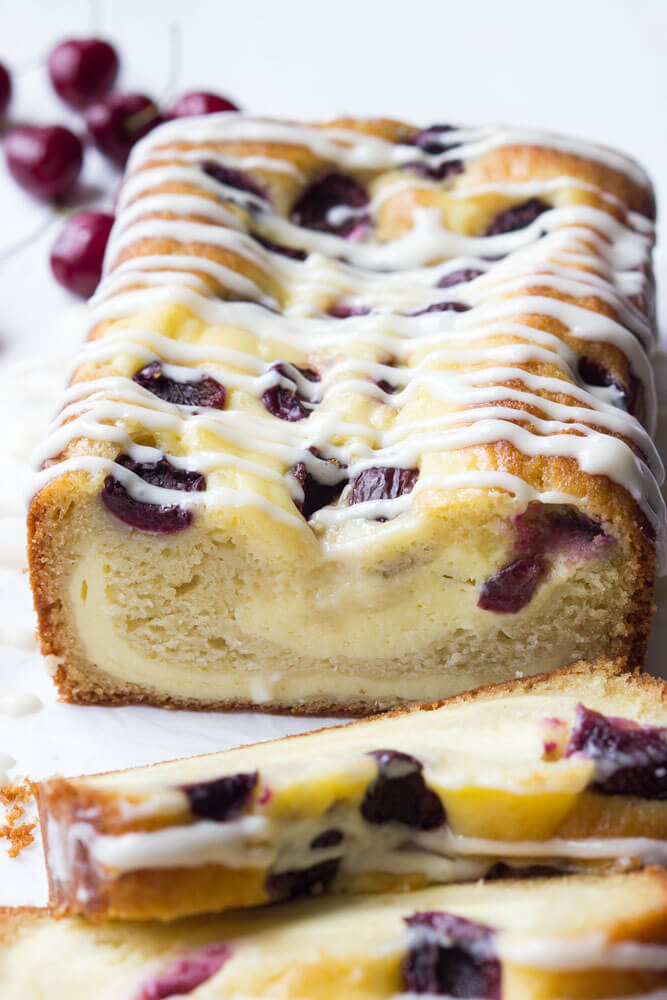 Serve this for a lovely brunch or casual weekday dessert. Store at room temperature, covered, for a day or two. It just gets more moist and flavorful. After that, I would pop it in the fridge. But I doubt it will last that long 🙂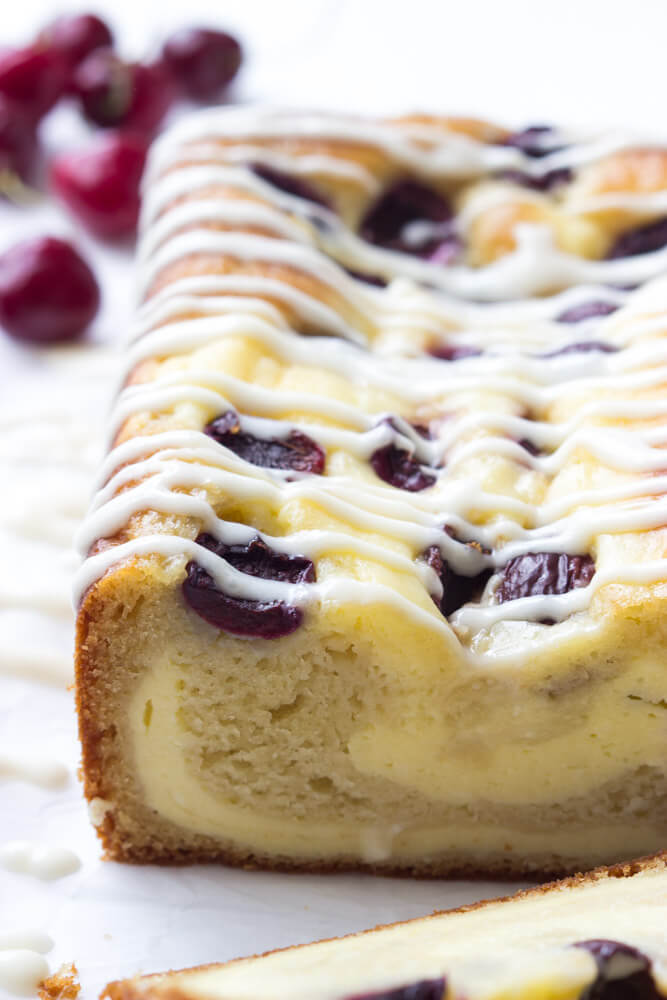 Tag me @littlebrokenblog and follow me showing me your food creations, whether from LittleBroken.com or your own: Facebook, Instagram, Pinterest.

Cherry Cream Cheese Coffee Cake with Vanilla Cream Cheese Glaze
Author:
Katya @ https://www.littlebroken.com
Ingredients
Cake Layer
1 cup all-purpose flour
½ cup granulated sugar
½ tsp. baking powder
½ tsp. baking soda
1 egg
½ cup sour cream
¼ cup buttermilk
¼ cup canola oil
1½ tsp. vanilla extract
½ cup pitted and halved fresh cherries
Cream Cheese Layer
8 oz. cream cheese, at room temperature
¼ cup granulated sugar
1 egg
Glaze
2 oz. cream cheese, at room temperature
1 Tbsp. unsalted butter, at room temperature
½ cup powdered sugar
2 Tbsp. milk
½ tsp. vanilla extract
Instructions
Preheat the oven to 350F.
Butter and flour a traditional loaf pan. Set aside.
Prepare the cake layer by whisking together the flour, sugar, baking powder, and baking soda in a medium bowl.
In a separate bowl, beat together the egg, sour cream, buttermilk, oil, and vanilla just until combined. Add dry ingredients gradually to the wet and beat to combine. Set aside.
Prepare the cream cheese layer by beating the cream cheese until smooth. Add the sugar and egg; beat just until combined.
To assemble the cake, add half of the cake batter into prepared loaf pan. Spread half of the cream cheese mixture over the cake batter. Add remaining cake batter and then the remaining cream cheese. You will have four separate layers when finished. Sprinkle the cherry halves over the top and bake for 40-45 minutes or until toothpick inserted into the middle comes out clean.
Let cake cool for 5-8 minutes at room temperature before removing to a wire rack to cool completely.
While the coffee cake is cooling, prepare the glaze by beating together the cream cheese, butter, sugar, milk, and vanilla until smooth. Add more milk as needed to suit your taste and consistency of the glaze.
Drizzle glaze over the cooled cake. Slice and enjoy!
© Little Broken. All images and content are copyright protected. Please do not use my images without prior permission or claim my work as your own. Feel free to Pin, Tweet, Facebook and share away with a link back to the recipe post. If you want to republish this recipe, please re-write the recipe in your own words and link back to this recipe.