Crockpot Bolognese Sauce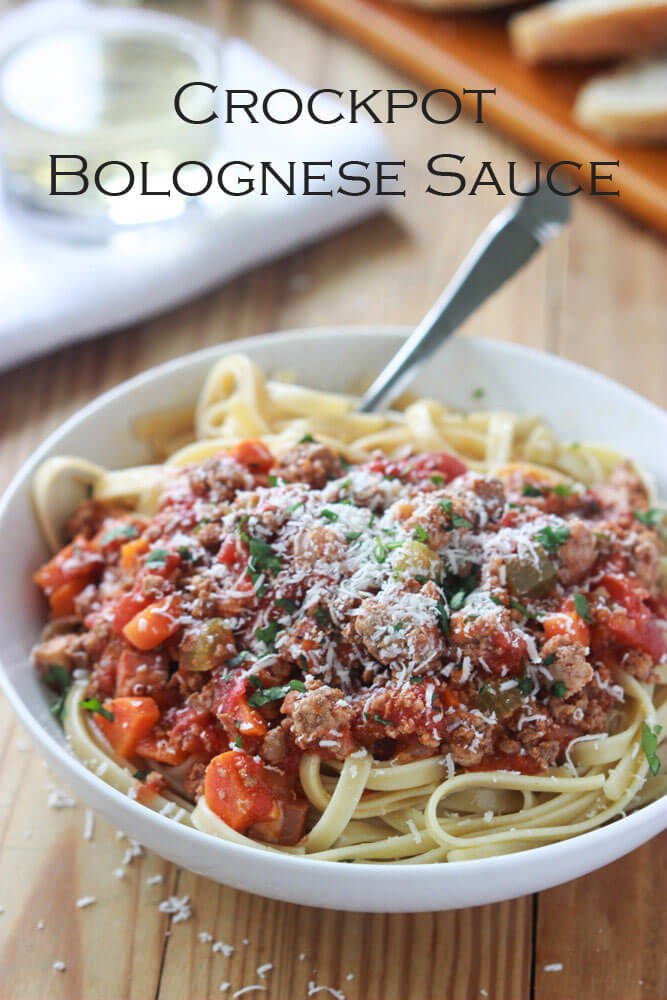 Happy Sunday!
I hope you guys are having a great weekend. I've had a lazy weekend so far and its been great! Weather here has seriously been perfect! It's cooling down but still sunny and we've had one of those low key weekends just chilling with the family at home. It doesn't happen often but when it does, I try to enjoy it as much as possible because we all know Monday is just around the corner and it's back to school, work, and not enough sleep, at least in my case.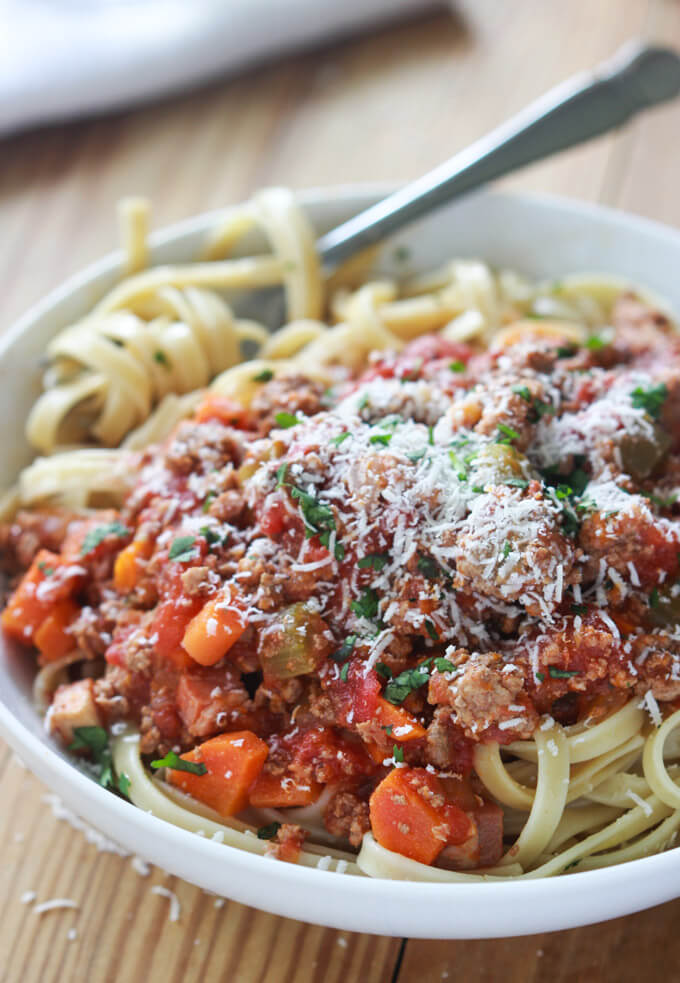 One of the things I like to do to make my week a little less hectic is to try to incorporate at least one crock pot recipe into my week. Crock pot recipes normally make great leftovers and take very little prep time. That's why I love this Bolognese Sauce. It's the best of the two AND there are so many ways to serve this sauce!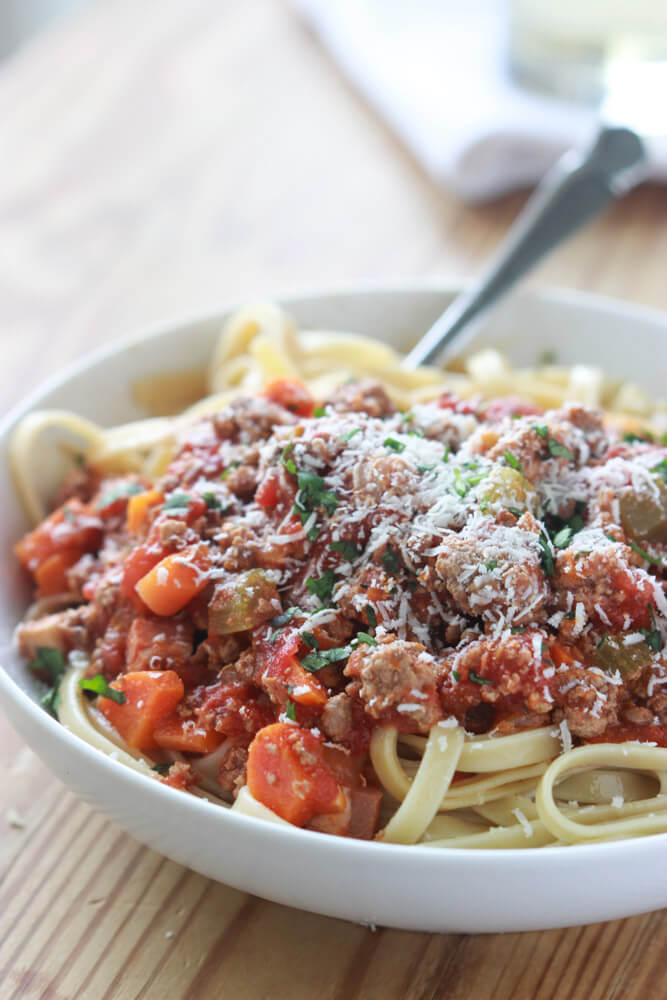 It's a meat and tomato based sauce that is easy to prepare in a crock pot. Ground beef and pork cooked with pancetta, carrots, onion, celery, and garlic. I used whole tomatoes for more chunkier texture but you can substitute crushed, if you want a less chunkier sauce. Everything simmered in red wine and little bit of milk.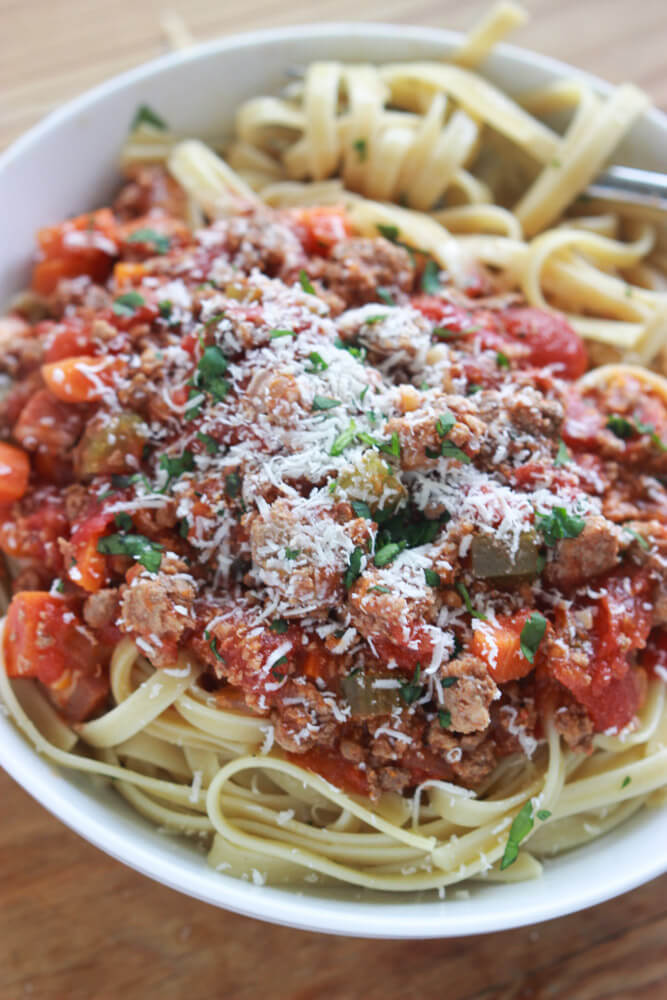 As you guys know my recent obsession with bay leaves so I added a couple for a nice flavor. Also I discovered cheese rinds! They sell them at my local supermarket usually near the parmesan cheese. Never realized they already sell them like that and are very inexpensive compared to Parmigiano-Reggiano cheese. I love adding them into soups!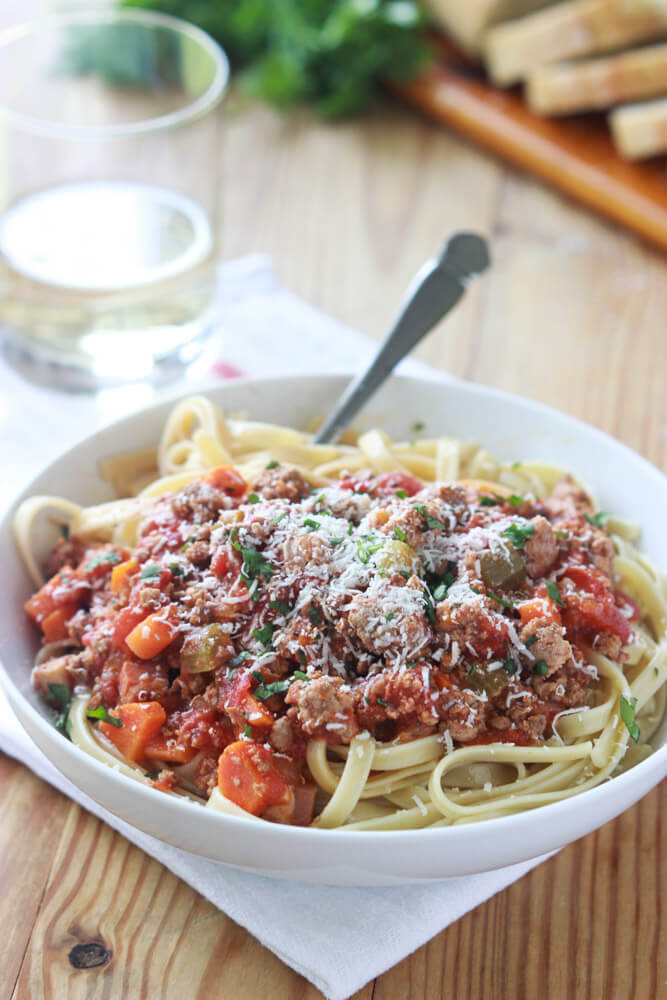 Best part of this sauce is that you can do so many different things with it! I served leftovers over mashed potatoes just over the weekend. It was a delicious comfort meal. You can also serve this over spaghetti or fettucine. Spaghetti is my fav. Add the sauce into a pasta bake with some cheese or any other casserole that calls for a meat sauce. You can also make bolognese lasagne using this sauce. Or top a baked potato with it and sprinkle with some shredded cheese for an ultimate loaded potato.
Last summer we went away to NC where we normally rent a ginormous house with bunch of family and friends and spend the week pretty much eating, drinking and sun bathing. We pack ton of food to take with us and I had a batch of this sauce in the freezer that served as multiple dinners that week. My point… it freezes very well. Use large ziploc bags and lay them flat in the freezer for easy defrosting. Then bring the sauce to a simmer and serve right away.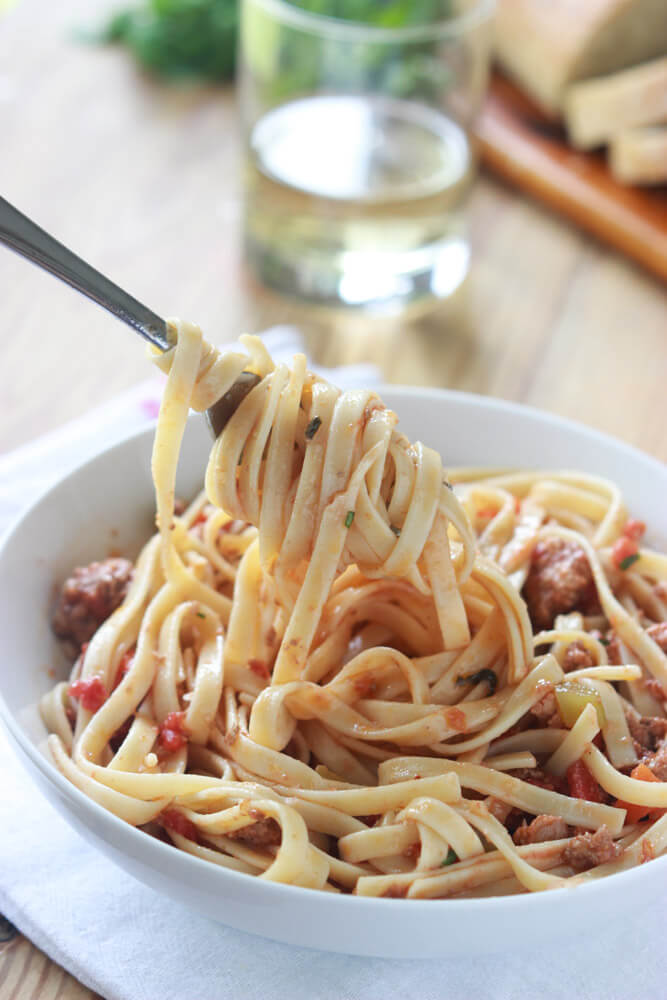 I show you how to make this 30-Minute Meat Lover Chili using this sauce! It's seriously the bomb guys! Super tasty and quick, especially if you have this sauce already ready to go.
Print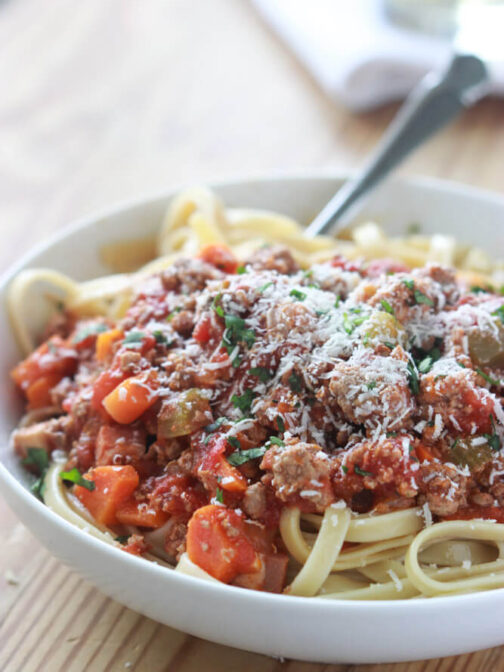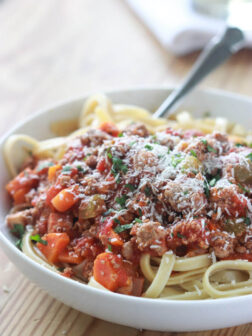 Crockpot Bolognese Sauce
Prep Time: 15 mins
Cook Time: 4 hours 30 mins
Total Time: 4 hours 45 mins
Yield: 12 1x
---
1 lb. each ground beef and ground pork
2 Tbsp. olive oil
4 oz. pancetta, diced
1 large onion, diced
2 carrots, peeled and diced
4 celery stalks, diced
5 large garlic cloves, minced
1/3 cup tomato paste
1 cup dry red wine (I used Pinot Noir) or substitute 1 cup of chicken broth
1 cup milk
2 cans (28 oz. each) whole tomatoes
2 bay leaves
1 Parmigiano-Reggiano cheese rind
sea salt and fresh ground pepper
---
Instructions
In a large dutch oven type pot, over medium-high heat, warm 1 tablespoon of oil. Cook beef and pork, seasoned with salt and pepper until pink is no longer visible, about 12 minutes. Remove with a slotted spoon to a bowl.
Add pancetta to the pot and cook until golden brown, about 7 minutes. Remove with a slotted spoon to the cooked meat.
Reduce the heat to medium, add onion, carrots, and celery. Cook until soft about 8 minutes. Add the remaining 1 tablespoon of oil if you feel like you need more oil but you should have plenty of grease left from cooking pancetta.
Add garlic and cook for 1 minute. Add tomato paste and cook for 2 minutes. Add wine; simmer for 5 minutes. Add meats, pancetta, milk, tomatoes, bay leaves, and cheese rind. Season with salt and pepper. Bring to a simmer while breaking down tomatoes into smaller chunks.
Transfer the mixture into a crockpot and cook on high, covered for 4 hours or low 6 hours.
Discard bay leaves and cheese rind.
---
Notes
Freeze the sauce in large ziploc bags up to 3 months.