Creamy chicken dish with tender mushrooms in a simple, yet flavorful sauce. It's the ultimate comfort food to enjoy on a cold winter day!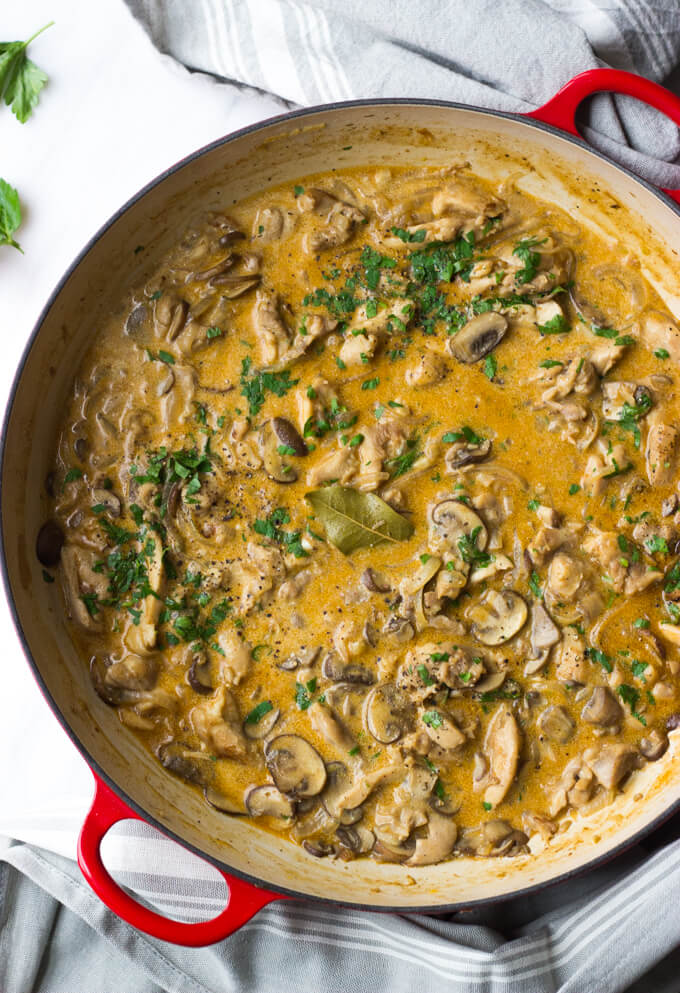 I grew up eating kyritsa v smetanye (literal translation chicken in sour cream). It's my nostalgia food. My mom would sauté bone in chicken pieces with ton of onions, mushrooms, and bay leafs until they were falling off the bone, then she would stir in sour cream at the end to create a creamy sauce. She would later serve the chicken over buckwheat or mashed potatoes. It's one of those dishes that if I close my eyes, I can still taste. Back then I never realized that it had an official name – chicken stroganoff.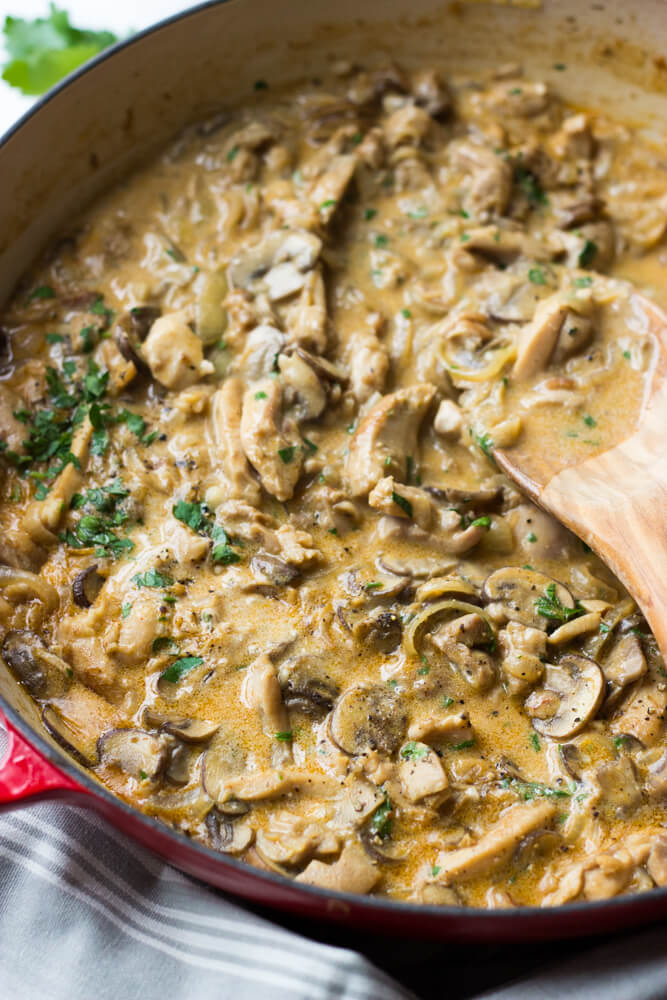 These days, I make my own variation of this childhood meal. I sauté onions, garlic, and mushrooms until tender. Instead of bone in chicken pieces, I like to use boneless, skinless, chicken thighs. They're quick to cook and always turn our super tender. Before I add the sour cream, I like to create a liquid base by adding chicken stock and little bit of flour. The flour acts as a thickening agent. Then I season the sauce with salt, paprika, bay leaf, and worcestershire sauce. Simmer for good 20 minutes until the chicken is tender and stir in sour cream and fresh chopped parsley.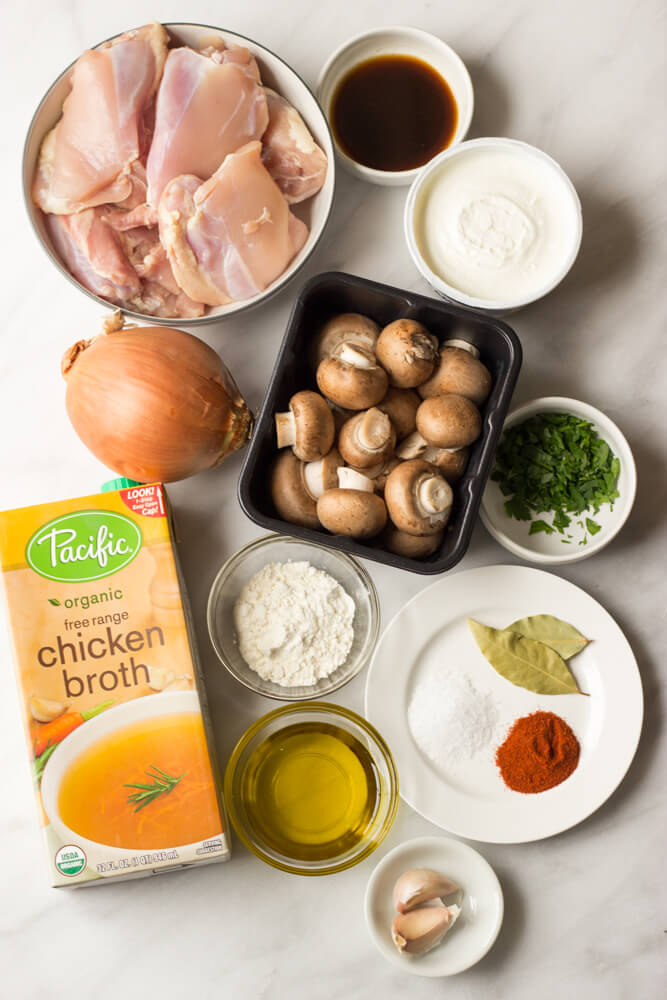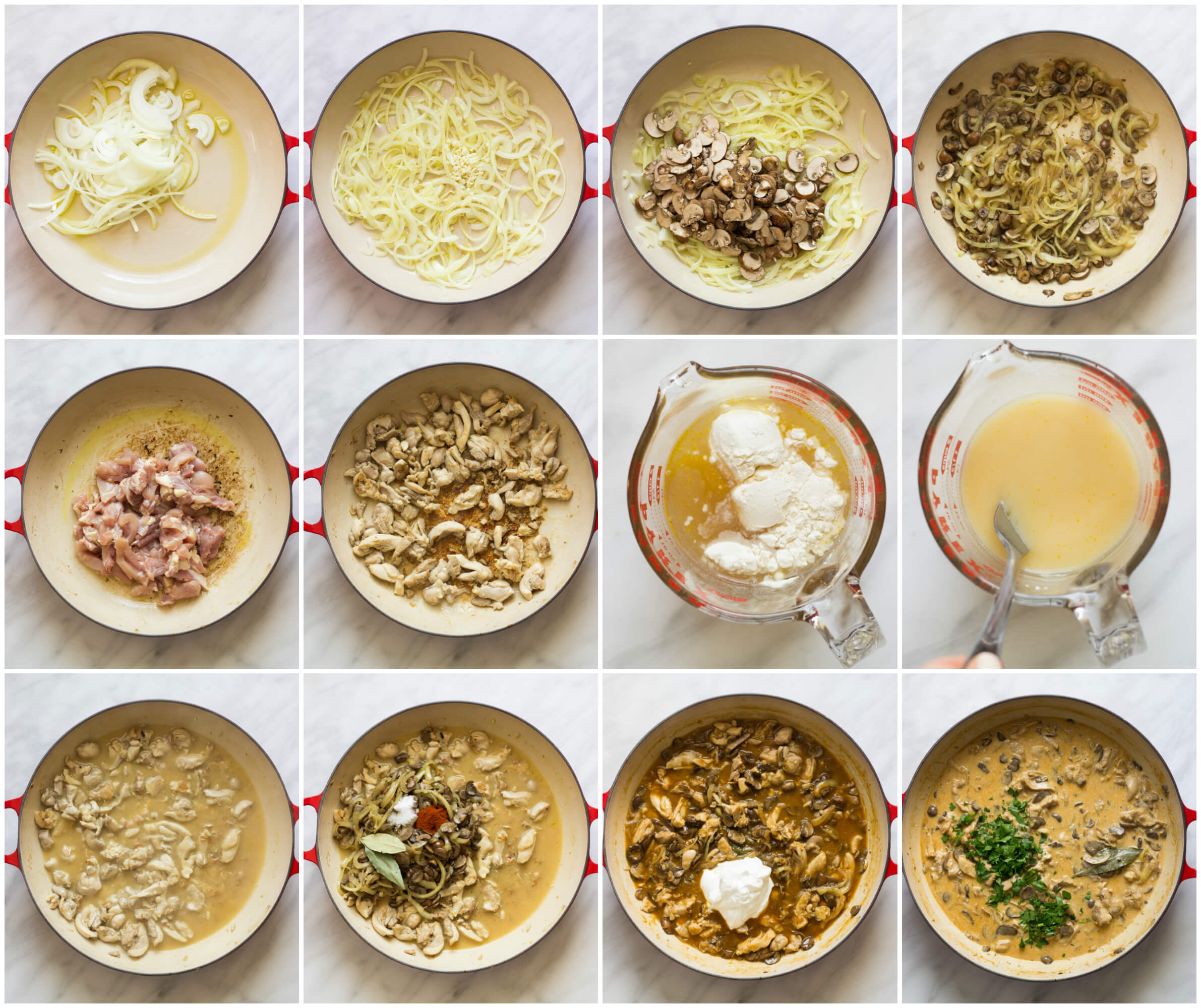 It's absolute heaven! Super tender, flavorful, and the sauce over cauliflower mash is so stinkin' good! You can technically serve it over egg noodles, rice, mashed potatoes, but since we're trying to be a little healthier this month, cauliflower mash is a delicious low-carb alternative to mashed potatoes. I included a really simple recipe in the notes section below.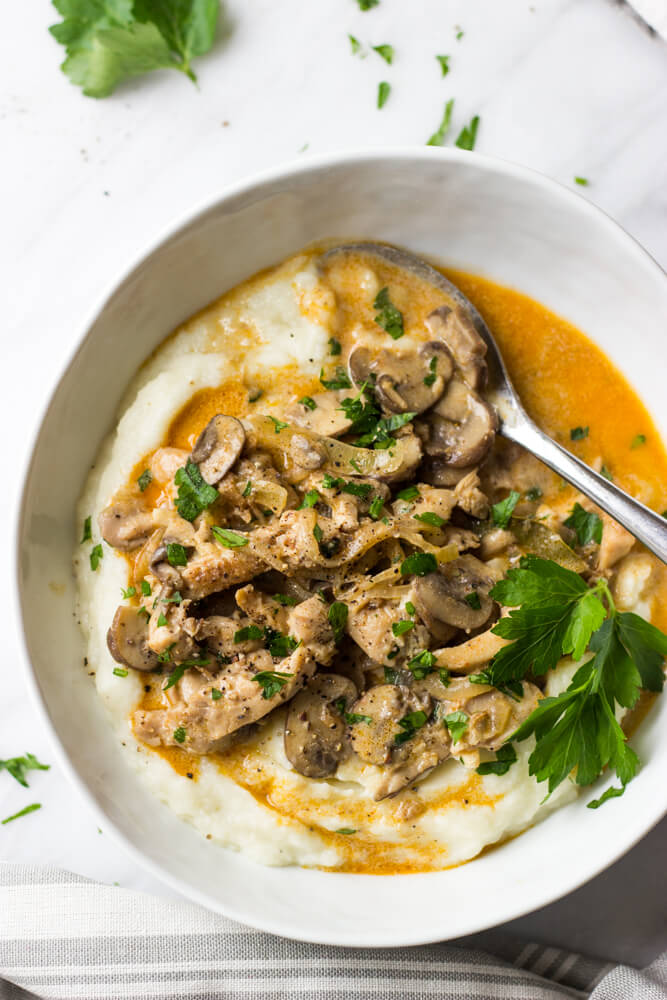 Make it. Snap it. Show it. Instagram @littlebrokenblog or snapchat → littlebrokenblg
Chicken Stroganoff
Author:
Katya @ https://www.littlebroken.com
Ingredients
4 Tbsp. extra-virgin olive oil, divided
1 medium yellow onion, thinly sliced into half rings
2 garlic cloves, minced
8 oz. baby bella or white mushrooms, thinly sliced
1½ pounds boneless, skinless, chicken thighs, cut into strips
1½ cups chicken stock
2 Tbsp. all-purpose flour
1 tsp. kosher salt
1 tsp. paprika
2 bay leafs
1 Tbsp. Worcestershire sauce
½ cup sour cream (full fat)
2 Tbsp. fresh parsley, finely chopped
black pepper, to taste
Instructions
In a large sauté pan, heat 3 tablespoons of oil over medium heat. Add onion and cook until soft, about 4-5 minutes. Add garlic and cook until fragrant, about 30 seconds.
Add mushrooms and cook until lightly golden, about 8-10 minutes. Make sure to not overcrowd the mushrooms or they will seep out and just simmer in their liquid instead of browning. Remove the mushroom mixture to a plate.
Increase the heat to medium high and add the remaining 1 tablespoon of oil to the pan. Once the oil is hot, add chicken and cook for about 6 minutes or until no longer pink and lightly golden.
While the chicken is cooking, create a slurry by whisking in the flour into the chicken stock. Add the slurry to the chicken and with a wooden spoon scrape up all the bits from the bottom of the pan until released. The mixture will come to a quick simmer and lightly thicken.
Stir in the cooked mushrooms, salt, paprika, bay leafs, worcestershire sauce, and black pepper, to taste. Reduce heat to low and simmer the chicken for 20 minutes, partially covered, stirring occasionally.
Stir in the sour cream and parsley. Remove from the heat and discard the bay leafs. Serve over cauliflower mash.
Notes
To make a quick cauliflower mash, you will need 3 pound head of cauliflower, cut into florets. Cook the florets in salted water for 10 minutes or until fork tender. Drain thoroughly and add to a food processor along with 1-2 Tablespoons of unsalted butter. Puree until smooth. Season with salt and pepper, to taste.
© Little Broken. All images and content are copyright protected. Please do not use my images without prior permission or claim my work as your own. Feel free to Pin, Tweet, Facebook and share away with a link back to the recipe post. If you want to republish this recipe, please re-write the recipe in your own words and link back to this recipe.