Creamy chowder loaded with fresh corn and zucchini is the best summer food! This lightened up chowder is made with fresh corn from the cob, no flour, and half and half.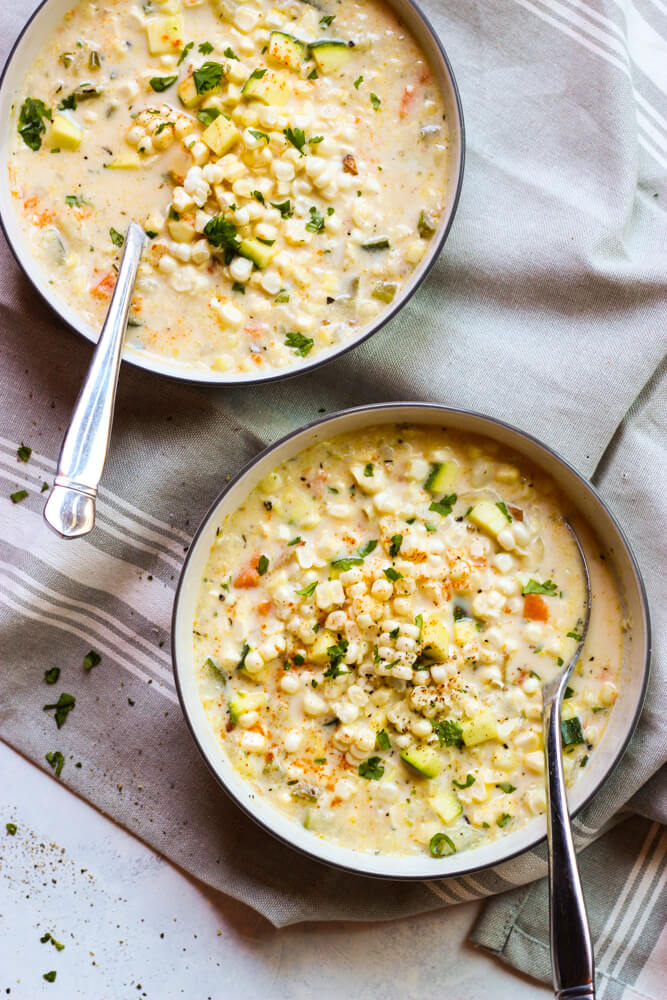 There is no doubt we love soup in our household! I think it's a Russian thing. I grew up eating soup or borscht almost every day, usually for lunch. Now, I've carried on the same tradition in my house. My kids LOVE LOVE soups and I love it that they do! It gives me a chance to pack them up with all kinds of veggies without hearing them fuss about it. So for us having soup year round is absolutely normal, even in the summer time!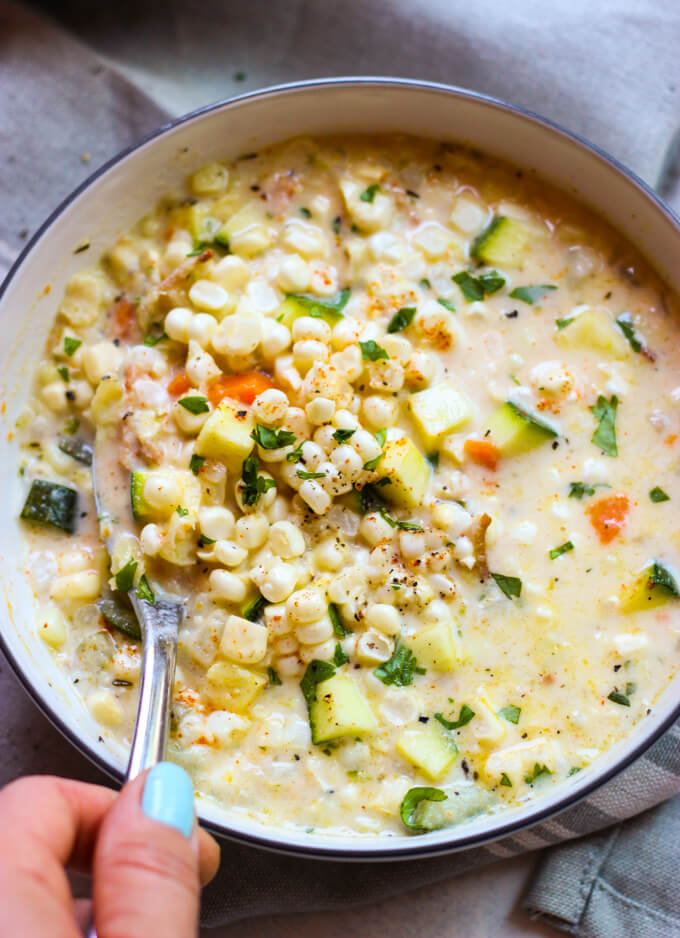 This fresh sweet corn and zucchini chowder is summer in a bowl! Made with sweet corn from the cob, zucchini, celery, carrots, onions, and potatoes. It's a veggie packed soup that is not only tasty but so good for you.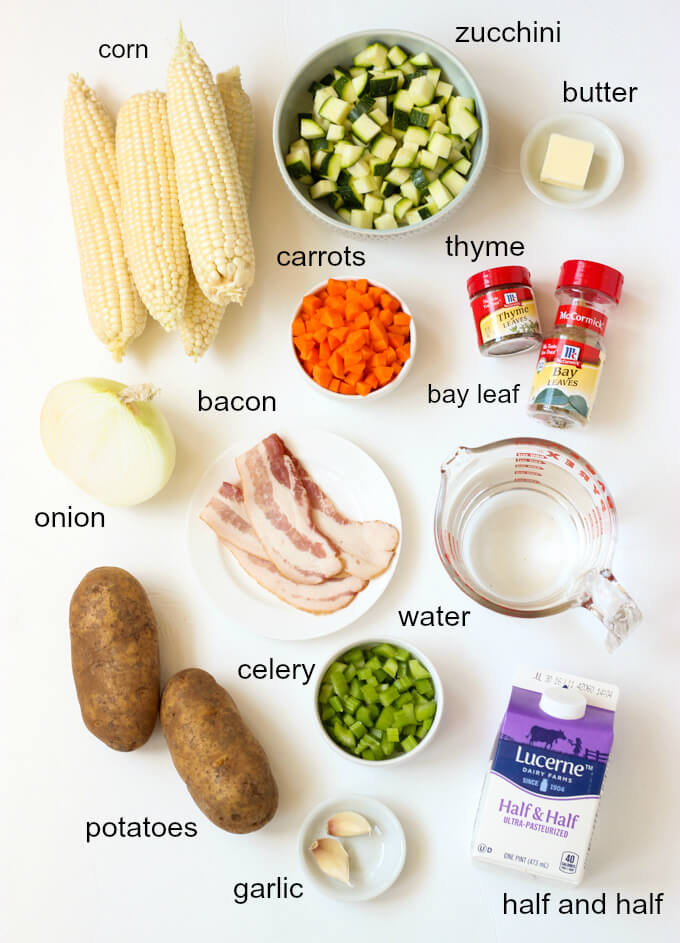 I took the idea of a traditional corn chowder and loaded it up with more veggies, cut out the flour completely, and instead of heavy cream, used half and half to lighten it up. You get the same scrumptious creamy taste, double the veggies, with a bit of smokiness from the bacon BUT without the crazy calories!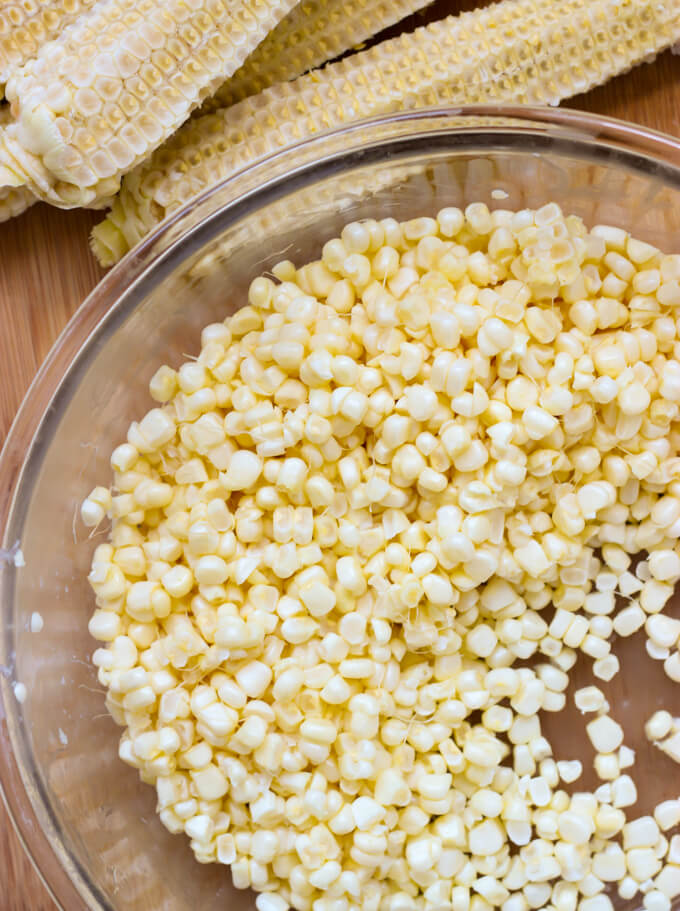 Key to creating thick and creamy chowder without the added flour or heavy cream is puréeing some of the chowder. I've used and talked about this technique in some of my favorite soups. You basically take about two cups of cooked chowder and purée it until smooth in either a blender or food processor, then stir the mixture back into the chowder. I so so love using this technique to lighten up some of my favorite soups!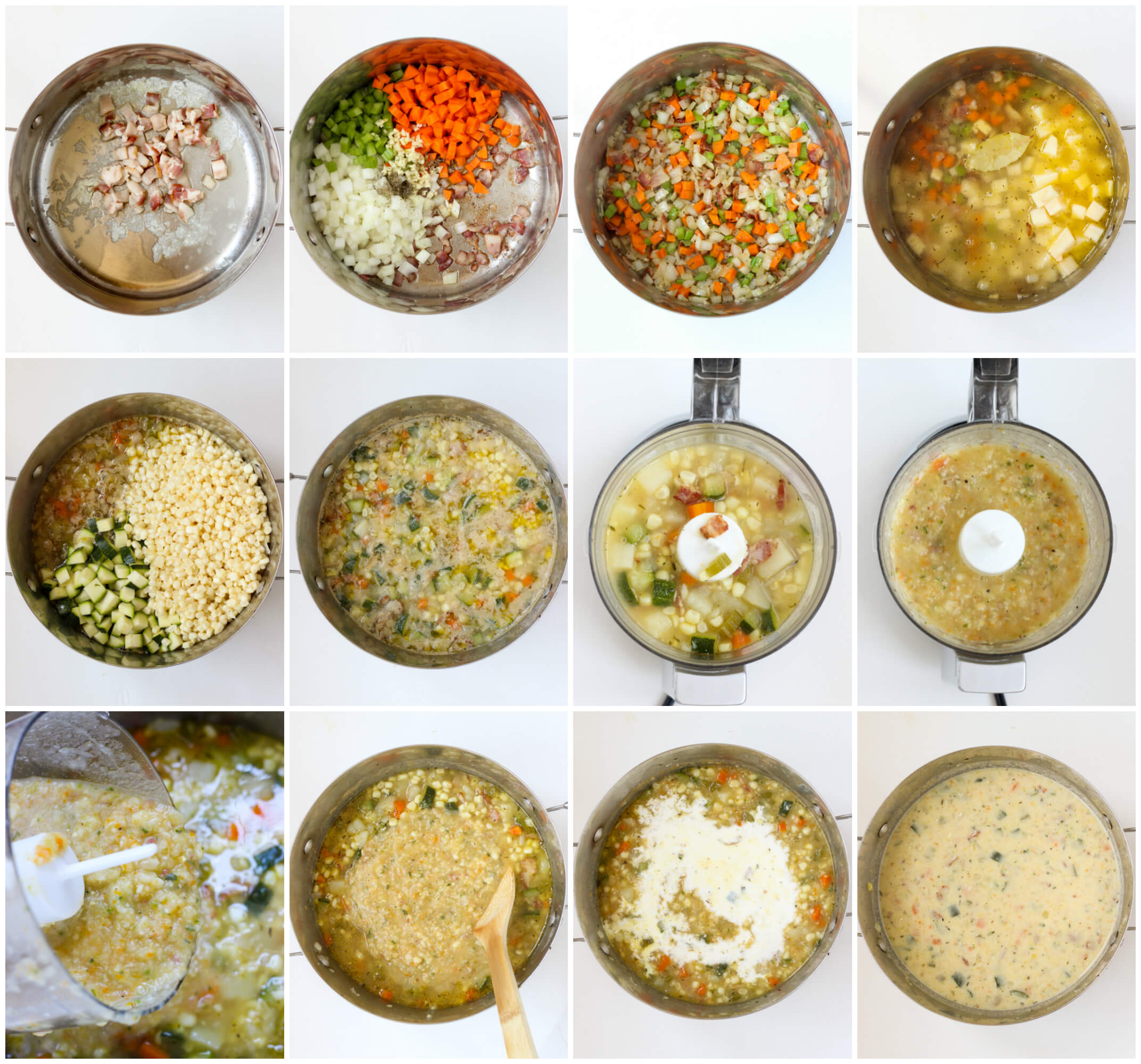 To serve, a sprinkle of fresh chopped parsley and cayenne pepper is absolutely a must. Well, cayenne pepper is very optional but SO recommended!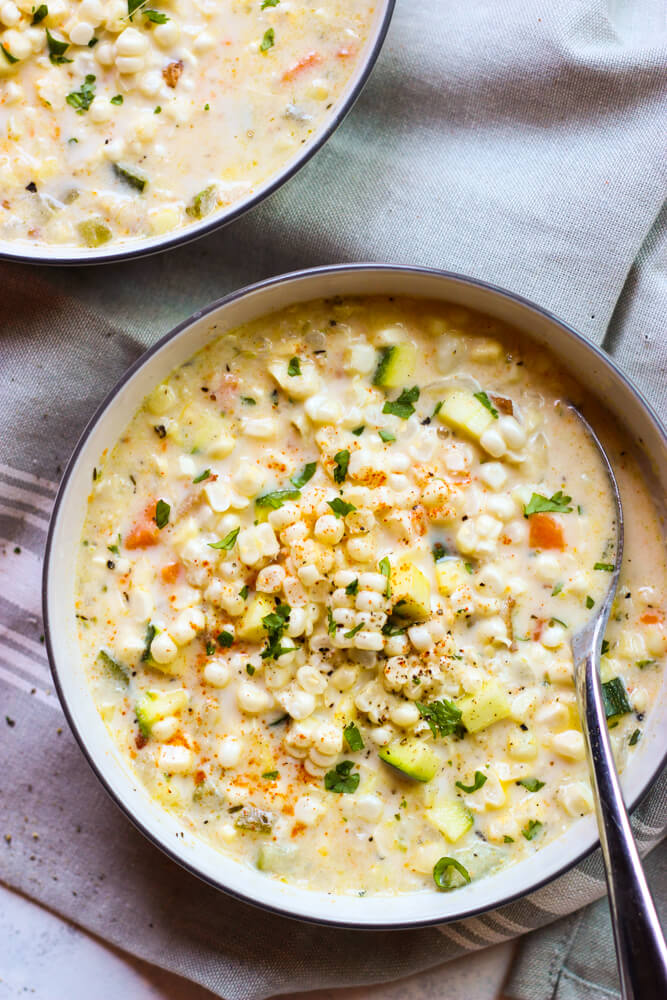 Make it. Snap it. Show it. Instagram @littlebrokenblog or snapchat → littlebrokenblg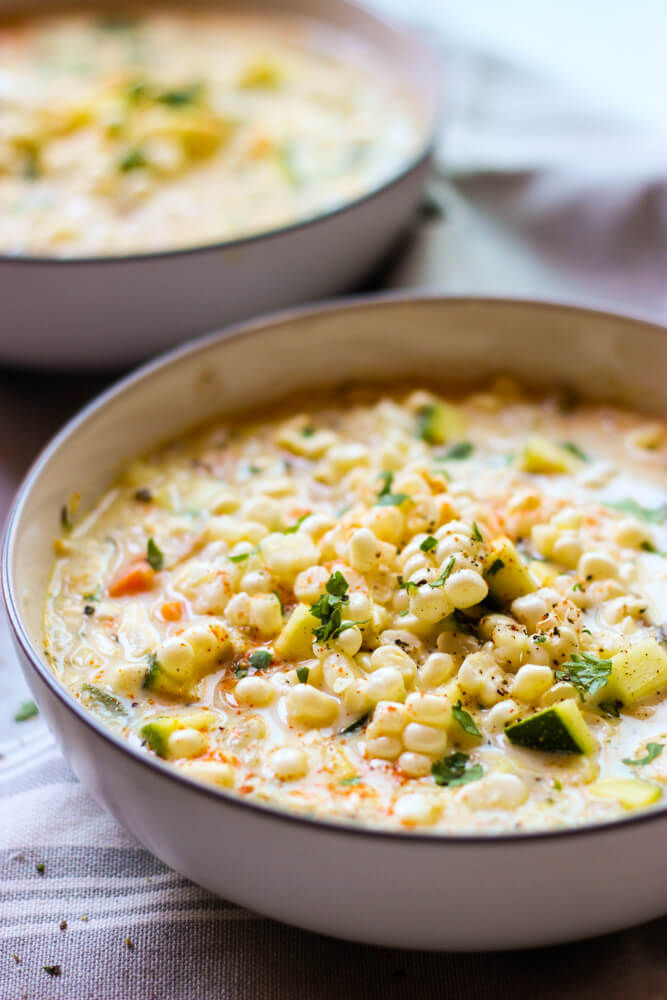 Summer Fresh Corn and Zucchini Chowder
Author:
Katya @ https://www.littlebroken.com
Ingredients
1 Tbsp. butter
2 strips bacon, chopped
1 cup chopped yellow onion, about ½ large onion
2 celery ribs, chopped (1/3 cup)
1 medium carrot, peeled + chopped (1/2 cup)
2 garlic cloves, minced
½ tsp. dried thyme
2 medium (1 lb.) russet potatoes, peeled, diced into ½-inch cubes
4 cups water
1 bay leaf
4 ears of sweet fresh corn, husk + silk removed and kernels cut from cob (2¾ cup corn)
1 medium zucchini, diced into ½-inch cubes, (1½ cups)
1 cup half and half
salt and fresh ground black pepper
chopped fresh parsley, to garnish
cayenne pepper, to serve, optional
Instructions
In a large heavy-duty bottom stockpot or dutch oven, melt butter over medium heat. Add bacon and cook until bacon renders its fat and begins to brown, about 3-4 minutes.
Add onion, celery, carrots, garlic, and thyme; cook until vegetables begin to soften, stirring couple times, about 5 minutes.
Add potatoes, water, and bay leaf. Raise the heat to medium high and bring to a simmer, then lower the heat back to medium and simmer for 8-10 minutes or until the potatoes are halfway cooked.
Add zucchini and corn; season with salt and pepper, to taste, and simmer for additional 8-12 minutes or until the vegetables are completely tender.
Discard the bay leaf and then transfer 2 cups of chowder to a food processor or blender; puree until smooth. Stir the mixture back into the pot. Add half and half and cook just until heated through. Taste for salt and pepper.
Serve garnished with fresh chopped parsley and sprinkle of cayenne pepper, optional.
Serving size 1 cup